Iceland is one of the world's ultimate islands of contrasts… fire and ice; long nights with colorful northern lights and daylight for 20 hours; glaciers and steaming hot geysers, waterfalls galore, pretty puffins, and magical elves. It is a fierce landscape of volcanoes, plains of mossy, craggy cliffs, and black sand beaches. It is an island still being formed by water, ice, and fire and closer than you believe. On this trip, you will discover the best of Iceland.

Why you'll enjoy this trip:
♦  Soak in the mineral rich and soothing powers of the Blue Lagoon.
♦  Discover how Iceland grows its own vegetables at Frioheimar and try your own hand grown tomato soup!
♦  Let the Northern Lights take your breath away as you hunt for this spectacular natural phenomenon with a local guide.
♦  Relax at the stylish Fosshotel in beautiful surroundings and modern comforts.
♦  Discover the variety of natural attractions from magnificent waterfalls to puffin colonies and lava tubes to glacial lagoons.
Itinerary
Day 1 - Arrive Reykjavik, Iceland
Arrive in Reykjavik and begin your group tour of Iceland as you head toward the famous Blue Lagoon. The lagoon is a geothermal wonder of nature, with pleasantly warm mineral rich geothermal seawater in the middle of a lava field. The high natural levels of silica, minerals  and algae give the Lagoon its rich blue color – hence the name Blue Lagoon. Later, a city tour will show us the highlights of the capital.
Welcome dinner and overnight at your Reykjavík hotel.
Day 2 - Iceland Countryside
After breakfast, we drive north out of Reykjavik and through the tunnel under Hvalfjordur, one of the country's longest fjords. We make a visit at the Settlement Center museum in Borgarnes. We continue through the pretty lake-dotted valleys of the Borgarfjördur district where the ice-age glacier covered the area about 10,000 years ago. We will then make a brief stop at Deidartunguhver, Europe's largest hot spring, where around 200 liters of 97C hot water flows from the earth every second. Enjoy our short stop at the beautiful waterfalls of Hraunfossar and Barnafossar in the river Hvítá before returning to Borgarnes. 
Lunch and dinner and overnight in Borgarnes.
Day 3 - Iceland Countryside
The first highlight of the day is Thingvellir, the great lava arena in a rift valley, where the divide between the Eurasian and the North American tectonic plates is clearly visible. Founded by the Norse settlers in 930 AD in Thingvellir, you will see the world's oldest still-existing national parliament. Get ready to visit Gullfoss, which is often described as Iceland´s most beautiful waterfall, and the famous Geyser area, Strokkur, the world´s most active, is likely to spout several times. We make our final stop at Friðheimar, known for using geothermal heating for cultivation of tomatoes and cucumbers – come and enjoy their famous tomato soup.
Light lunch in Frioheimar. Dinner and overnight in Selfoss.
Day 4 - Iceland Countryside
Today we will drive along the south coast and visit the magnificent waterfall of Seljalandsfoss. It is a narrow and high waterfall which plunges over the mountains of West Eyjafjöll. From there we head to Vík, a village east of Mt. Reynisfjall in Myrdal. In Vík and the neighboring coastline, there is a wealth of contrasts and landscapes renowned for their natural beauty. Mt. Reynisfjall and its cliffs have few rivals in Iceland for richness of vegetation and bird life and the black sand beach Reynisfjara is a large breeding colony for the Arctic tern. According to local folklore, three rock stacks rise up to 66m from the sea: Skessudrangar, Landdrangar and Langhamrar and are said to be trolls turned to stone at sunrise. Then we continue towards Kirkjubæjarklaustur, which in the old days was known as "Kirkjubær" (Church Farm) and was an important farming village. 
Day 5 - Iceland Countryside
From Klaustur, we travel along the south coast to Skaftafell. Skaftafell National Park was designated as  one of Iceland´s three National Parks in 1967. Towering mountains, imposing glaciers, gulches with clear brooks and beautiful waterfalls, birch woods, a wealth of wild flowers and lush vegetation give credence to its status. The most majestic of its several waterfalls is Svartifoss ("Black Falls") that cascade over a wall of symmetrical columnar basalt that resembles an organ. En-route to our stop for the evening, we visit glacier lagoon Jökulsárlón and the museum Þórbergssetur in Höfn. The museum is dedicated to one of Iceland's most significant twentieth century author, Þórbergur Þórðarson. 
Day 6 - Iceland Countryside - Reykjavik
Today, we start by making a stop at the breathtaking waterfall Skógarfoss, which is 60m high and one of the most impressive waterfalls in the country. After, we experience the Folk Museum at Skógar before continuing to the power plant Hellisheiðarvirkjun for a Geothermal Exhibition about geothermal energy in Iceland. 
Overnight at your Reykjavik hotel.
Day 7 - Depart Reykjavik
Depart Reykjavik anytime this morning and say goodbye to Iceland.
Want More Time?
Pre & Post Tour Accommodation Options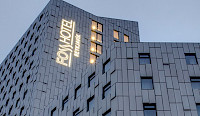 Fosshotel Reykjavík