Cruise past the lush slopes of centuries-old vineyards, exquisite villages mellowed by time, and the purple majesty of the lavender fields. Experience the agrarian life of a bull herder and olive grower, then marvel at magnificent Roman ruins of Arles. Discover the gypsy heritage of  Saintes-Maries-de-la-Mer, enjoy a train ride through the salt tables of the walled city of Aigues-Mortes, and tour Saint-Guilhem-le-Désert, the most beautiful city in France. This awe-inspiring cruise takes you through the heart of some of the most beautiful landscapes found in France all on an intimate luxury barge.
Itinerary
Day 1 - Depart for Marseille, France
Arrive at your departure airport and check-in for the overnight flight to Marseille, France.
Day 2 - Arrive Marseille – Aix-en-Provence
Upon arrival in France, we transfer to our hotel in Aix-en-Provence. Once check-in to our hotel the remainder of the day is at leisure to discover this dense and easily walkable town.
Located at the foot of Mount Sainte-Victoire and surrounded by impeccably preserved countryside and dotted with Provençal fortified towns, lies Aix-en-Provence. Founded by the Romans in 123 BC it is considered the historical capital of the region. Aix today shows off its rich architectural heritage through the superbly restored and maintained bourgeois homes, small squares bursting with flowers, private mansions, and ancient fountains. Paul Cézanne, whom many consider the father of modern art, was born here on January 19, 1839.
Day 3 - Aix en Provence – Arles – Embarkation on the M/S Anne-Marie
Lavender awaits today! After breakfast, we journey into the French countryside for a tour of its famous and beautiful lavender fields. We travel on countryside roads passing colorful lavender fields on the Plateau of Valensole with our local guide. There is plenty of time for photos!
We continue to the estate of a lavender farmer and learn the cultivation, distillation, and the properties of pure lavender and lavadin (a hybrid plant).
Later, we transfer to the M/S Anne-Marie for embarkation. After comfortably settling into your cabins, we'll be introduced to our crew at a welcome cocktail reception. Tonight, we'll enjoy dinner on board and remain in port. 
Day 4 - Arles – Gallaecian
Our day begins as we set off on foot for a guided visit of Arles. Arles is over 2000 years old with exceptionally well-preserved ancient architectural masterpieces and is a real open-air museum. This important cultural site welcomes visitors with open arms. During our visit, we will see the Roman Amphitheatre (or Arena), the Theatre Antique and St Trophime Square with its cloisters and church that were part of the Arles Route, one of three routes leading to Santiago de Compostela. We'll continue our tour with a visit to the Forum Square and finally the Roman Baths of Constantine.
We return for lunch on board the M/S Anne Marie and then head off by coach for the Grand Servan estate in Tarascon, a traditional olive farm which produces the famous Provençal olive oil. Here, at the foot of the Montagnette and set around a traditional Provencal farmhouse (or bastide) from the 18th century, the owners have planted a large orchard of some 150,000 olive trees. We tour the estate in hay trailers, pulled along by tractors. The owners will give you an explanation on how to plant and cultivate olive trees and how the Provençal "yellow gold", or olive oil, is produced. The visit finishes with a tasting of the products on the estate.
Afterwards, we'll return to the MS Anne-Marie and spend the afternoon cruising to Gallician on the Rhône River and the Rhône à Sète Canal. 
Day 5 - Gallician – Aigues-Mortes
Today, the beauty of Provence comes alive as wet off on a panoramic safari of the Camargue. We admire the rivers, marshland and lakes, the pink flamingos, bulls and the famous white Camargue horses.
We later stop in les Saintes-Maries-de-la-Mer, renowned as a pilgrimage center for gypsies from all over Europe. The town of Les Saintes-Maries-de-la-Mer acts as the capital for those who are passionate about the Camargue and are entranced by its wild, natural beauty, its culture and its lively, authentic traditions.
In the morning we set out on an excursion to the Camargue.  Afterwards, you can enjoy some free time in this splendid city before cruising to Aigues-Mortes; arriving in the early evening.
Day 6 - Aigues-Mortes – Palavas-Les-Flots
After breakfast, we travel to the old walled town of Aigues-Mortes. This city's rich and preserved heritage located in the marshlands is one of the loveliest, natural settings in Provence. You board a train which will take you on a 90-minute guided journey through the salt tables, finishing at the Museum of Salt.
Afterwards, we'll return to the barge and spend the afternoon cruising to Palavas-Les-Flots. This spa resort town has a rich identity reaching back more than three centuries. The remainder of the day is at leisure to stroll through this charmingly romantic Mediterranean seaside town.
Day 7 - Palavas-Les-Flots – Sète
Your adventure begins today as you discover a 'manade' and the life of its herders during a visit by wagon and participate in a bull-sorting. Before returning to the barge, we'll have a delicious snack with fresh products from the farm.   
Later, a relaxing afternoon and night is spent cruising towards Sète Tonight, be entertained with local performers and an occasion to enjoy some dancing.
Day 8 - Saint-Guilhem-le-Désert
Known the world over for its shellfish, we head to Étang De Thau. Here, we'll discover the shellfish farmers and fishermen and taste some of the shellfish while taking in the beauty of the basin from a terrace.
Your afternoon is dedicated to a tour of Saint-Guilhem-le-Désert, one of the most beautiful villages in France. We'll depart from Sète with our guide towards the Pont du Diable (Devil's Bridge), located at the heart of the Hérault Gorges. You'll be delighted by this picturesque town and its abbey (exteriors only). Afterwards, we'll visit a wine estate followed by a tasting of wines from the Languedoc region.
Afterwards, we return on board for our gala dinner and final evening. 
Day 9 - Depart Sète
Enjoy one last breakfast on board before disembarking at 9:00 am and transferring to the airport for the journey home.
Want More Time?
2-Night Paris/TGV Extension Package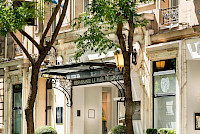 Renaissance Paris Nobel Tour Eiffel Hotel | $499 pp double