When to Go 
Vermont is a four-season destination depending on the type of travel experience that you are looking for. Each season offers distinct and exciting opportunities for travelers to enjoy from skiing in the winter and spring's maple syrup season, to summer festivals and autumn's glowing fall foliage. 
Spring in Vermont, March-May is the time of year when the maple sugar flows and the flowers begin to bloom. If you are interested in the maple sugaring process March is the time to head for Vermont, a state that makes 40% of America's maple syrup. March is also the time of year when skiers can take their final runs on the slopes.
June - August is when Vermont hosts a number of fairs and festivals. Golfing, hiking, mountain biking, and kayaking are just some of the back to nature opportunities visitors can enjoy.


In September and October Vermont is ablaze with color thanks to the amazing number of maple trees that grow here. In addition to fall foliage, Vermont hosts a number of harvest fairs and festivals. A number of activities from hayrides to scenic train rides and boat cruises can be enjoyed against the beautiful backdrop of fall foliage. 
Winter in Vermont begins in December and can last into March. Here outdoor enthusiasts will find 20 alpine ski resorts, 30 cross-country touring centers, and 7,300 acres of pristine alpine terrain. Whether you ski, snowshoe, snowmobile, ice fish, or simply relax by a roaring fire, winter in Vermont is magical.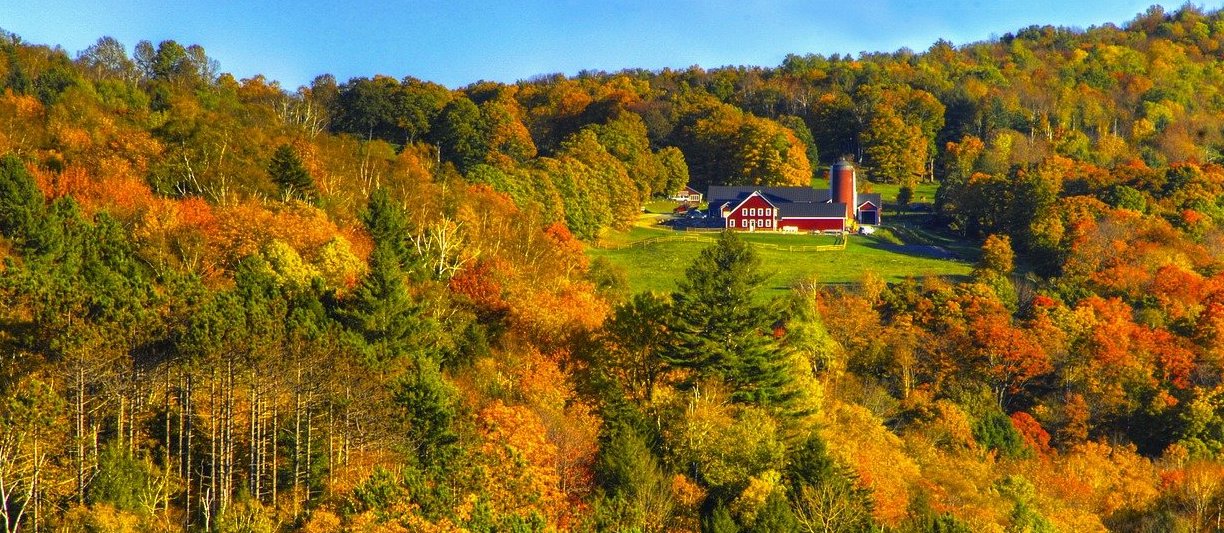 ---
Why Go?
Vermont is well known for its independent thinking and great natural beauty. Bordered on one side by the Connecticut River and by Lake Champlain on the other, Vermont is one of America's most mountainous states with the beautiful Green Mountains! Vermont is divided into three distinct regions, North, Central, and South that boast vibrant towns, beautiful scenery, and interesting commercial, historic, and natural attractions making it easy to discover new adventures.
---
Northern Vermont 
Northeast Kingdom
Located in the corner of the state against the Canadian Border and the upper Connecticut River, this area is known for its sheer unspoiled scenery where visitors will find 200 lakes, dense forests, and plenty of interesting New England history. An outdoor paradise, the Kingdom Trails are rated as one of the top five bicycle networks in the world. St. Johnsbury is the gateway to the Northeast Kingdom. Amid gorgeous scenery, visitors will find farmers markets, art galleries, the Fairbanks Museum and Planetarium, a Victorian cabinet of curiosities, the Lamoille Valley Rail Trail perfect for walking, hiking, horseback riding, and x-country skiing, and a Victorian downtown center filled with local shops and eateries that is simply charming.
Burlington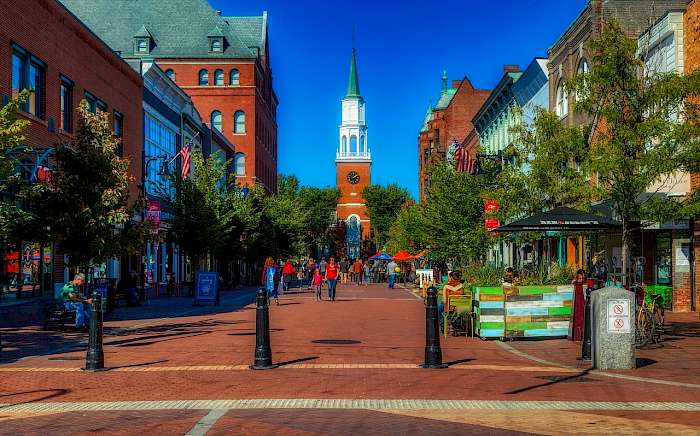 This gateway town to gorgeous Lake Champlain is an endearing mix of classic Vermont with scenery galore and lots of  recreational activities combined with the modern charm of artisan crafts, local microbreweries, and farm-to-table restaurants. Burlington is a city that loves beer, so don't miss going brewery hopping if beer is your thing. Church Street Marketplace is a cobblestone shopping area between Pearl and Main Streets on the National Register. Here shoppers will find outdoor works of art, craft and art galleries, unique local shops, restaurants, and breweries. If you want to shop local this is the place. A walk along the Burlington Waterfront Park is a pleasure any time of year. If you are feeling adventurous, take a boat or ferry ride on the lake. The South End of Burlington is an art-filled hub that is fun to explore. For history, buffs don't miss the nearby Shelburne Museum that is housed in 39 buildings. Among these, there are twenty-five significant examples of historic New England architecture, relocated to the Museum grounds to provide historic settings for the Museum's treasures. 
Norwich 
This scenic village is located on the banks of the Connecticut River and is graced with beautifully maintained 18th and 19th-century homes set around a classic New England Green. A highlight of a trip to Norwich is a visit to the King Arthur Flour Company, truly a baker's paradise. This employee-owned company that has been providing America with flour since 1790 offers a series of hands-on classes.  Located in nearby Quechee, visitors to the Mill at Simon Pearce can shop for glassware, tableware, lighting, and home decor while observing glassblowers at work.  The Mill at Simon Pearce also has a restaurant set against the backdrop of the Ottauquechee River waterfall and covered bridge that has been voted as one of America's Most Romantic by Travel and Leisure Magazine.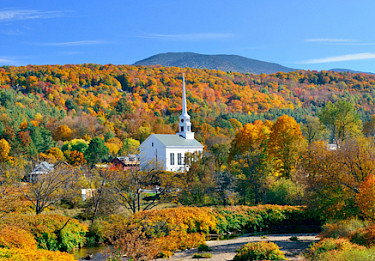 Stowe 
Stowe is a classic 200-year-old New England village located at the foot of Mount Mansfield, Vermont's highest peak. The town has the vibe of a European mountain resort, especially because the legendary Von Trapp Family Lodge of The Sound of Music fame is located here. Visitors will find more than 60 unusual shops and more than 40 restaurants in town. In addition to excellent skiing, lovers of the great outdoors will find many trails to hike on. A favorite is the Stowe Recreation Path and Smugglers Notch. For a birds-eye view of Stowe take a gondola ride up Mount Mansfield, which is especially colorful in the fall. For a taste of haunted New England, stop by Emily's Bridge for a scenic photo. In the 1800s Emily was supposed to meet her paramour here to elope. When he never showed, she killed herself in a fit of desperation and is said to haunt this rustic-covered bridge.
Waterbury

Waterbury is a town for foodies with three delicious stops for visitors to enjoy. Ben and Jerry's Factory Store is located here. The tour is about 30 minutes long and includes a film about the history of the company, a peek at the production floor and, free samples in the tasting room. One of the highlights of visiting the factory is that you get to sample ice cream that is only sold here. The next stop is the Cabot Cheese Shop a name that is synonymous with award-winning cheddar cheese. Visitors watch a short video about the Co-Op and its farmers and then head for the large tasting buffet that consists of every variety of cheese that the company makes. Just down the road in St. Johnsbury is the Cold Hollow Cider Mill where visitors can enjoy a taste of fresh apple cider while viewing the presses in action.
Winooski
This charming mill town is located on the Winooski Falls and is an excellent example of an old New England mill town that has been somewhat gentrified. In addition to several breweries and interesting shops in the historic center, visitors can go to the Mill Museum that brings the rich industrial history of Winooski to life.
---
Central Vermont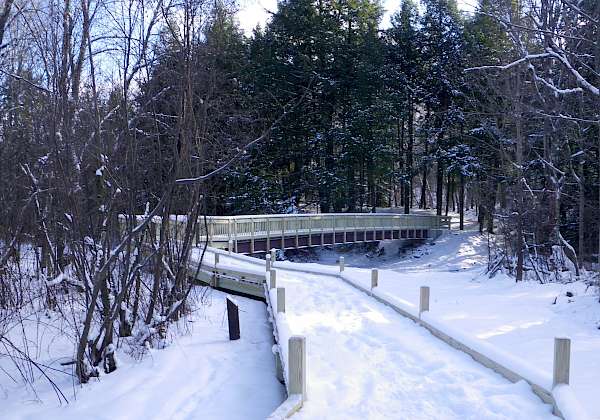 Middlebury 
Located on the cascading falls of Otter Creek this stately town is a mecca for culture, shopping, and recreation. If you like literature make sure you take a walk along the Robert Frost Interpretive Trail that commemorates his poetry; several of his poems are mounted along the trail in the woods and fields. The Green Mountain National Forest also cuts through the town and offers visitors great hiking, cross-country skiing, and access to Vermont's longest bicycle trail. For horse lovers take a tour of the UBM Morgan Horse Farm, home to the oldest continuous Morgan horse breeding herd in the world. The Sheldon Museum is the oldest community-based museum in the country that offers engaging temporary art and history exhibits, and the Vermont Folklife Center curates the cultural experiences of Vermont's diverse communities through exhibitions and presentations. 
Montpelier
The capital of Vermont is lively, engaging, and neighborly. Visitors will find some of the best farm-to-table dining in the state and dozens of shops in one of the state's largest urban historic districts. The Savory Arts Cinema has been recognized as one of the 100 best small art house cinemas in the U.S. and the Vermont Statehouse is one of the oldest and best-preserved in the country. The Vermont History Center explores the rich heritage of this state.
---
Southern Vermont 
Bennington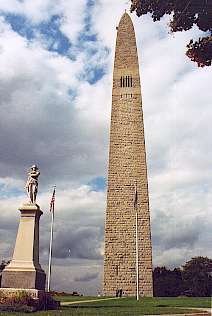 The small town of Bennington, located near the corner of New York and Massachusetts, offers some hidden gems.  If you are a Revolutionary War enthusiast the Bennington Battle Monument standing 306 feet with views of three states represents a strategic location used at that time. There is an observation deck on top of the tower affording a view for miles.  For folk art lovers there is the Bennington Museum that has the largest collection of American folk art artists including Anna Mary Robertson, known as "Grandma" Moses. Bennington also has several historic covered bridges that make a perfect backdrop for photos. If you like pottery don't miss a stop at Bennington Potters, where you can tour the pottery and watch it being made. 
Chester  
Nestled in the slopes of the Green Mountains this town is incredibly picturesque. It is one of the best-preserved examples of Vermont village architecture.  Chester is famous for the Stone Village Historic District with houses made of local granite and the Chester Historic Village District that has many well-preserved Victorian, Colonial Revival, and Federal-style homes. Art galleries, eateries, and antique shops line Main Street. New England Travel Today recently named Chester one of the ten best antique towns in all of New England. Chester is also home to the Green Mountain Railway that offers a scenic ride that is spectacular. On this ride, passengers take in breathtaking views of covered bridges, the Connecticut River, and the Brockway Mill Gorge.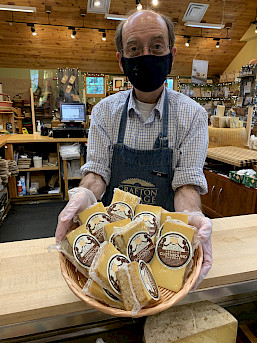 Grafton
At one time, this town was bustling with woolen mills, gristmills, and factories that made everything from butter and cheese to sleighs. Today, this bucolic town makes visitors think of a timeless, small-town New England village. One of the top attractions that harken back to its heyday is Grafton Village Cheese, a modern continuation of a farmers co-op set up in 1892. Visitors not only get to sample cheese they can also watch the cheese-making process from special viewing windows.
Manchester 
This town embodies Vermont with its' charming town center, local breweries, dynamic restaurants, stone walls, and white-steepled churches all set amid great natural beauty. For the adventurous try the zip-line or alpine slide at Bromley Mountain in the summer months and skiing in the winter. The Southern Vermont Arts Center offers permanent and rotating displays and a large sculpture park that beckons explorers. A visit to Hildene, a Georgian Revival mansion was the summer home of Robert Lincoln, the only son of President Abraham Lincoln and Mary Todd Lincoln is a delightful experience. It was lived in by Lincoln's descendants until 1975. Today, a visit to this 412-acre estate includes a tour of 14 historic buildings including the Lincoln family's ancestral summer home, formal gardens, and the observatory.
Rutland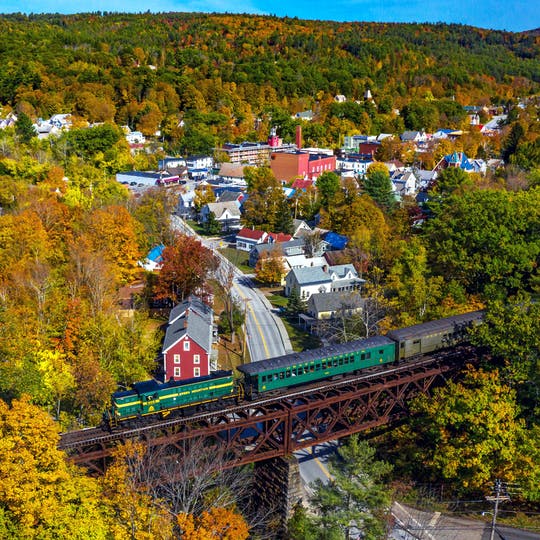 This is Vermont's second-largest city with a historic downtown featuring dozens of shops and restaurants,  a trendy art scene, and many seasonal community events. One of the highlights of this small city is the nationally recognized Norman Rockwell Museum of Vermont uniquely located in a barn. This museum has more than 2,500 of Rockwell's magazine covers, advertisements, paintings, and other public works that show his development as an illustrator. The Chaffee Art Center located in the heart of downtown offers a unique roster of changing exhibits that inspire and cultivate creativity for all those that visit.