When to Go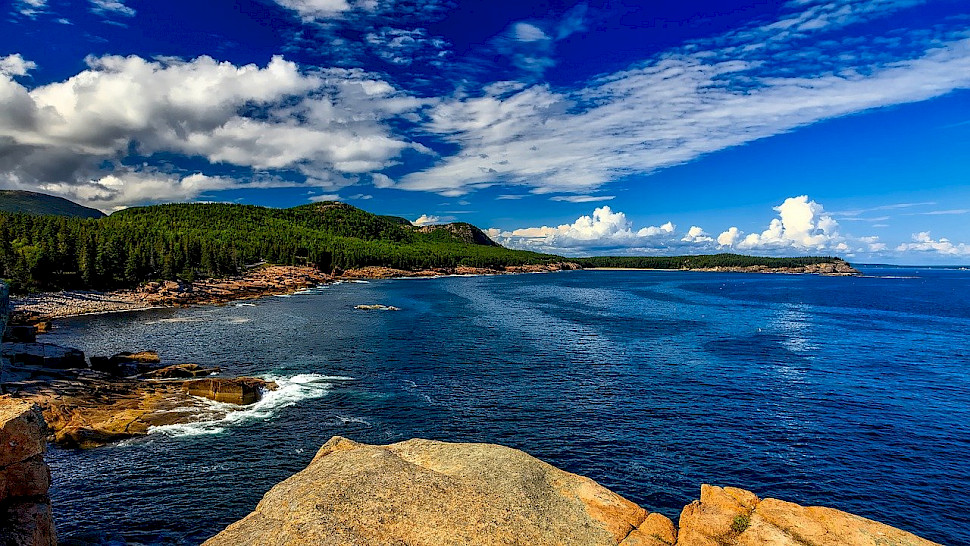 Maine is the largest state in New England that offers four seasons of fun for visitors and residents alike. Maine offers something for everyone from its rugged coastline, vibrant coastal cities to its forested interiors.  Maine's seasonal weather can be as dramatic as its landscape. This state has three climatological divisions, the coastal, the interior, and the northern interior, and each area has different temperatures, with the coldest temperatures being in the northern interior. The coastal area is affected by the Atlantic Ocean, resulting in lower summer temperatures and higher winter temperatures.
Spring in Maine is in March, April, and May and is the most unpredictable time of year. Temperatures range from the 50s through the 20s and, it can snow! Maple sugaring begins in late March. This is the least visited time of year in Maine. May is the month that truly feels like spring and is when most seasonal businesses start to open.
Summer is from June - August, the hottest time of the year. In the Southeastern states, the temperatures are the highest, with some days being humid. Along the coast of Maine, the temperatures are cooler because of the breezes off the Atlantic Ocean. Average summer highs in Maine are usually in the 80s, while night temperatures can fall as low as the 50s.  Summer water temperatures usually stay in the low 60s. 
Autumn is in September and October and attracts many visitors to view fall foliage. Being the northernmost state in New England, the fall colors start to change the earliest, usually early to mid.- September. The average temperatures are in the 60s and 70s, and evenings are crisp and cool.
Maine is known worldwide for its snow, making it New England's top destination for winter outdoor recreation. Sugarloaf is the last ski resort to close in New England in late April or early May. Maine has an average snowfall of 50 to 70 inches along the coast and 60 to 110 inland. Popular winter festivals include Boothbay Lights, Kennebunkport's Christmas Prelude, and Camden's and Rockland's Christmas by the Sea.


Why Go?
Maine is only 200 square miles smaller than the rest of  New England. Its glacier furrowed, craggy coastline zigzags for 3,500 miles and is adorned with over 1,000 islands. This is "Down East," named by sailors that noticed how the southwesterly winds pushed them along the coast "downwind to the east." If you are looking for spectacular scenery, a long and rugged coastline, delicious seafood, and many ways to experience the great outdoors, look no further than Maine. From dining on fresh lobster, hiking, and spotting wildlife in Acadia National Park to sunbathing at Old Orchard Beach and exploring exciting coastal cities like Bar Harbor, Portland, Rockland, Kennebunkport, and Camden, you will want to return to Maine again and again.
Aroostook County
This county takes its name from a Native American word meaning "Beautiful River," and is Maine's northernmost county that borders the provinces of Quebec and New Brunswick. Known today as the "Last Frontier of the East," it is larger than Connecticut and Rhode Island combined. This vast forested region offers world-class wildlife viewing with moose, caribou, deer, lynx, fox, birds, loons, wild turkeys, and other animals often spotted. On the National Register, the Acadian Village retains the cultural heritage of the Arcadians who settled in the St. John Valley in the mid.- 18th century.  The two prettiest times of year to visit are in July when thousands of potatoes are in bloom and during fall foliage season.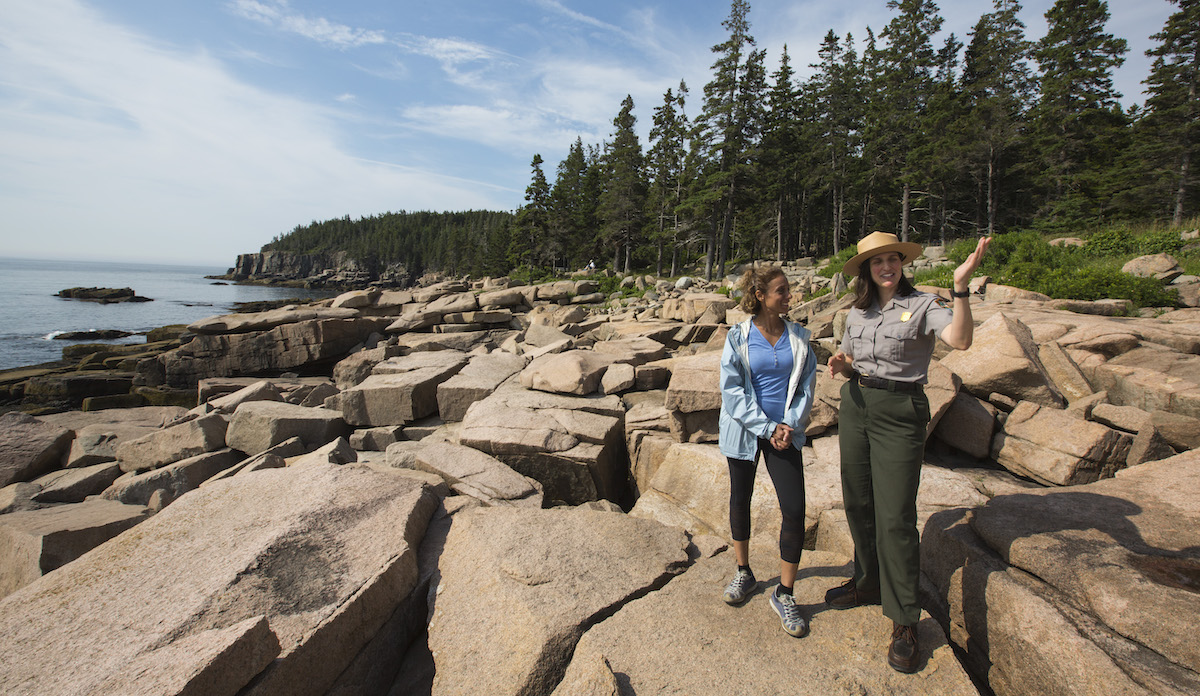 Down East and Acadia National Park
This area is the easternmost portion of Maine, encompassing 2,330 miles of coastline from Bar Harbor and Acadia to the banks of the St. Croix River and its Canadian gateway. Highlights of this 5,600 square mile area include the Blue Peninsula that is home to Castine, one of the oldest towns in New England that predates the Plymouth Colony by seven years. . The crown jewel of the area is Mount Desert Island, where visitors will find Acadia National Park, a treasure trove of recreational delights, and Bar Harbor, a favorite vacation destination for centuries. The smaller villages of Desert Island, such as Seal Harbor, Otter Creek, Pretty Marsh, and others offer a sightseeing bonanza!
A highlight is the 29 mile Schoodic National Scenic Byway, the only public road that goes through the mainland section of Acadia National Park, passing tidal falls, lighthouses, harbors, historic architecture, and beautiful scenery.   Head to Deer Isle on Penobscot Bay, where you can see eight area lighthouses on a special Lighthouse Trail. In nearby Stonington, watch 300 plus lobster boats come into the harbor with their delicious catch of the day! For more dramatic scenery, wildlife, and hiking trails, head to Machias Bay and the Bay of Fundy. A ride to Machias Seal Island from April to August is the time to spot thousands of Atlantic puffins.
Greater Portland and Casco Bay
Greater Portland located in southern Maine on Casco Bay was founded by the British in 1633. Today it is a hub for the arts, entertainment, and fine dining. Cape Elizabeth, Scarborough, Falmouth, Freeport, Yarmouth, and South Portland are towns that make this region sizzle with a fascinating blend of old and new. Highlights include a visit to the flagship LL Bean Store, the Portland Museum of Art, exploring the cobblestone streets and red brick buildings at the Old Port, and visiting Cape Elizabeth's lighthouses. If an on-the-water adventure is on your bucket list you can choose from many popular excursions that offer trips to the Casco Bay Islands.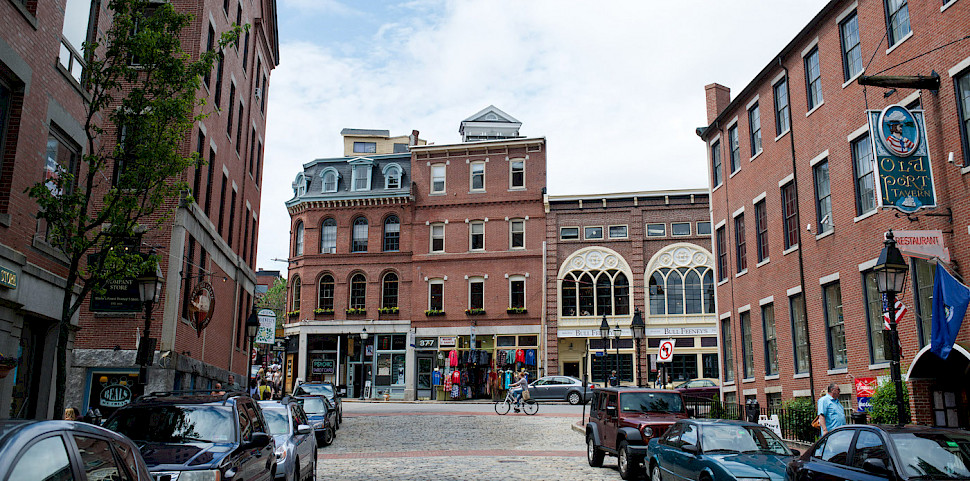 The Kennebec Valley
This area stretches more than 5,000 miles from the state capital, Augusta, to the Canadian border.  In Augusta, visit the Maine State Museum that traces 12,000 years of history and includes a three-story water-powered woodworking mill and, then explore the thriving historic downtown. Visit Old Fort Western Living History Museum that dates to 1754 and is the oldest surviving wooden fort in New England used by Benedict Arnold in the Revolutionary War. The Old Canada Road, a National Scenic Byway, runs through this region, and Moxie Falls, the highest in the state is also located here. The quaint village of Gardiner has a nationally designated Main Street replete with brick-lined streets and a bevy of new shops and restaurants that is fun and easy to explore.
Lakes and Mountains
If you like the great outdoors and hikes with views, this area with ten of Maine's highest peaks, a portion of the Appalachian Trail,  glacial mountain lakes, and even a waterfall tour is a must. Three National Scenic Byways weave their way through the region including High Peaks, Grafton Notch, and the Rangeley Lakes. A cluster of 18 tidy buildings invites visitors to explore the last active Shaker Community in New Glouster, and in the Oxford Hills Region, you can pan for gold in Coos Canyon! For water enthusiasts, don't miss a visit to Poland Spring Preservation Park, home to the Poland Spring Water Museum that includes a visit to the original spring, and the Maine State Building from the 1893 Chicago World's Fair.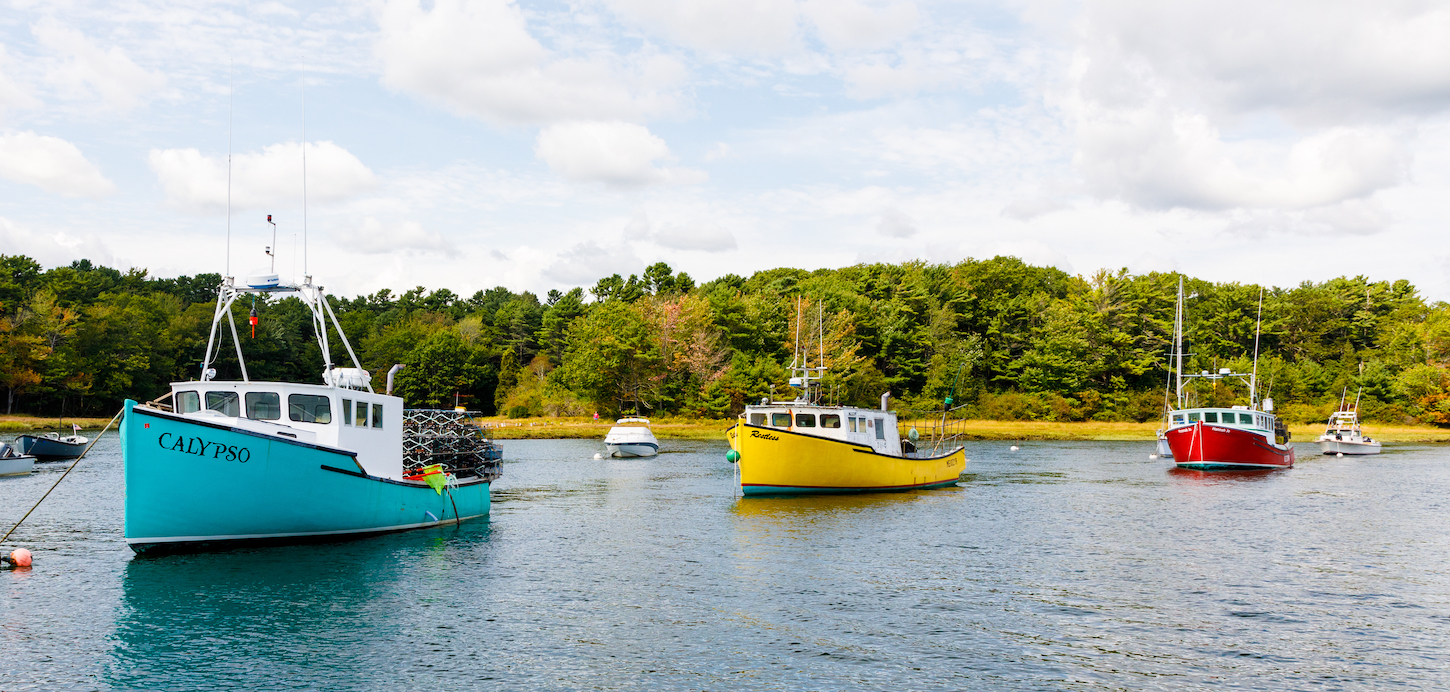 Midcoast & Islands
Picturesque villages, vibrant waterfronts, and a foodie scene that is thriving are what make this area attractive. At the heart of the Midcoast are the classic New England villages of  Camden, Rockport, and Lincolnville that are clustered around Penobscot Bay. For art lovers take a drive along Rte. 1  which is lined with galleries and shops offering locally made arts and crafts. Rockport is home to the Center for Furniture Craftsmanship and offers courses in furniture making. In Bath, visit the Maine Marine Museum that traces this area's rich maritime heritage. If you are looking for Maine's #1 lobster roll, plan a stop at Red's Eats, located in Wiscasset for more than 81 years!
Beaches
Maine's beaches are concentrated in a thirty-mile radius from Kittery to Old Orchard Beach in southern Maine. Boardwalks, waterparks, and amusement parks are perfect for family fun. Old Orchard Beach is voted Maine's #1 beach every year by Maine's largest newspaper. Its centerpiece is the Palace Playground, Amusement Park. It is known for its Pier that has a cluster of ice creme shacks, restaurants, and boutique shops.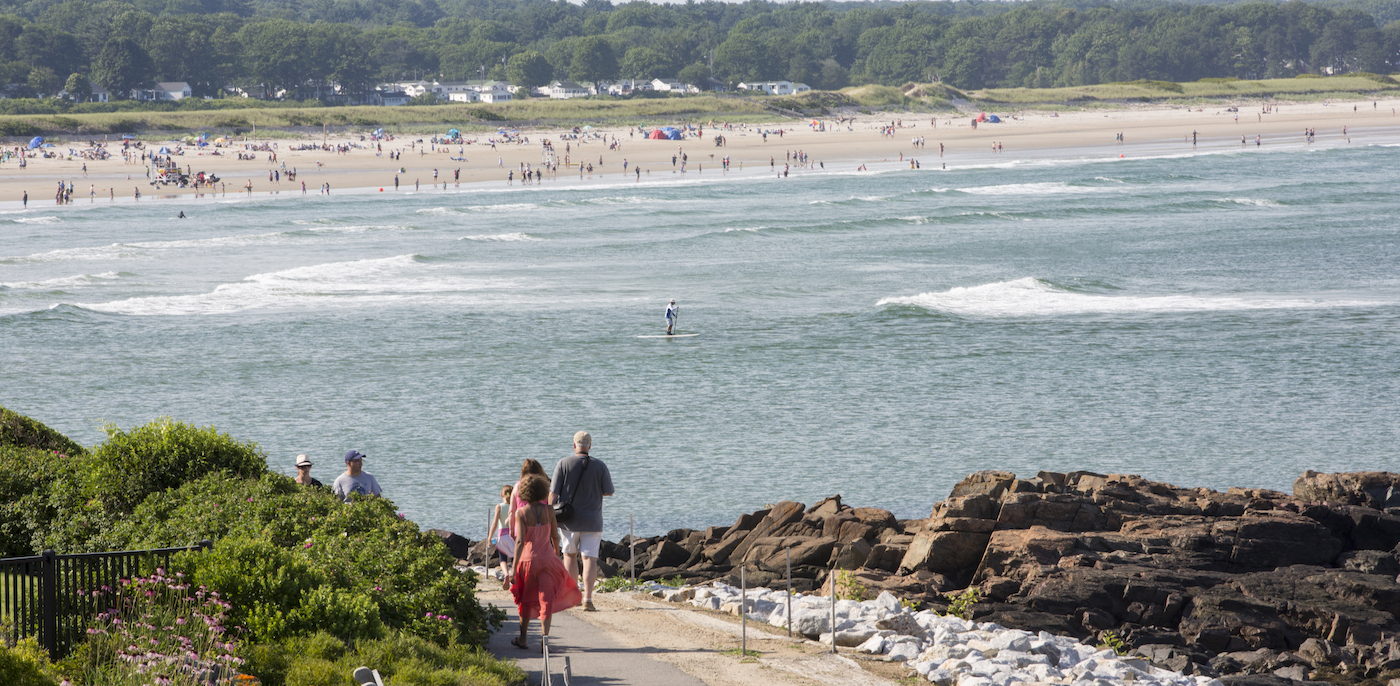 Highlands
Located in the center of the state, this area, which is almost the size of Massachusetts, has Maine's highest peak, Katahdin,  the longest river, the Penobscot, the largest lake, Moosehead, 200 waterfalls, and thousands of miles of hiking and cross country ski trails.  It is known for its vast wilderness that offers great outdoor adventures. It is one of the best places to see Maine's state animal, the moose. Bangor is Maine's third-largest cosmopolitan area with fine dining, galleries, museums, entertainment, and annual fairs and festivals like the Artisans Market, Bangor State Fair, and the American Folk Festival. For a birds-eye view of Bangor, head to Thomas Hill Standpipe's promenade deck. 
For Foodies
 
It goes without saying that steamed lobster and lobster rolls are Maine's most iconic foods. You will see them served from food trucks and roadside "clam shacks," as well as in some of Maine's finest dining establishments. Lobster rolls can be made with buttered lobster or with a touch of mayo and celery, both are served on a split hot dog bun. Damariscotta is famous for its oysters with a fresh and distinct briny taste. Oysters are typically served raw with lemons and hot sauce on the side. Clams, steamed, fried, and in chowder are also popular menu items. The New England Clambake is Maine's most iconic meal. It consists of a bowl of clam chowder followed by lobster, clams, corn on the cob, and potatoes steamed in seaweed. The grand finale of this meal is Maine's official state dessert, wild Maine blueberry pie. The official state treat is a whoopie pie made with two small cakes the size of cookies filled with thick frosting.