When To Go                                                    Tour Information
The dry season, which is considered to be summer, is the best time to visit Costa Rica. Summer is considered to run from mid-December through April. Expect warm weather and lots of sunshine making summer the best time of year to unwind on the beach and explore Costa Rica's verdant rainforests. Unlike many islands in the Caribbean, Costa Rica is below the hurricane belt. Temperatures can range widely between the coast, the rainforest and the mountain environments in Costa Rica, making packing in advance key. 
If you don't mind getting a little wet and want to see this country in an off-peak season, plan a visit between May and November which is considered to be the "wet" time of year and winter. When visiting during the wet season, the mountains can become foggy in the morning.


Why Go?
Ready to find your "Pura Vida"? Costa Rica offers rich cultural and eco-tourism wildlife experiences along with beautiful beaches, interesting shops, fine dining, and the chance to visit the beaches on the Pacific Ocean and the Caribbean Sea.
Tour the Jungle 
Located on Costa Rica's northern Caribbean Coast, Tortuguero National Park is a jungle like maze of canals, lagoons, and estuaries that are like a mini version of the mighty Amazon. It is one of the best places in Costa Rica to spot monkeys, exotic birds, and crocodiles. A float trip is a peaceful way to discover the diverse eco-system and rich biodiversity of this unspoiled area. The park protects many endangered species such as green macaws, jaguars, sloths, and sea turtles.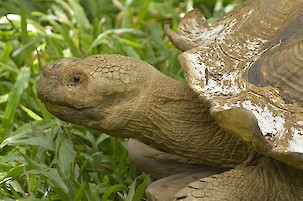 Turtle Talk 
A visit to the Turtle Museum is a highlight of Tortuguero Village where four different species including the Green, Leatherback, Hawksbill, and Loggerhead sea turtles come to nest. The village started out as a small fishing town and evolved into an important center for conservation. At the Turtle Museum visitors learn about mass sea turtle nesting that takes place on the beaches in this area at various times of year. Visitors will also learn about the life of sea turtles, their habitat, and efforts to maintain their habitats.
Visit a Volcano
Arenal Volcano soars into the deep blue Costa Rican sky and is clad in rainforest green. This perfectly symmetrical cone shaped volcano dominates the landscape. It was once the country's most active volcano with an average of 41 eruptions a day! Currently in a "sleeping phase" visitors can hike in search of past lava flows spotting wildlife along the way.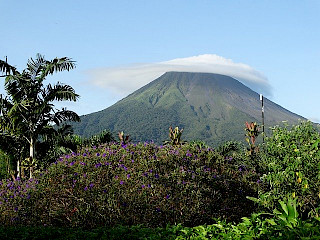 Walk or Ride through a Cloud Forest
There are many ways to explore the lush rainforest of Arenal National Park where wildlife abounds. Visitors can hike on Sky Walk Bridges that brings the canopy and wildlife into view. Another way to experience this area is to take a 20 minute Sky Tram to an observation deck where panoramic views of the jungle spreads out below.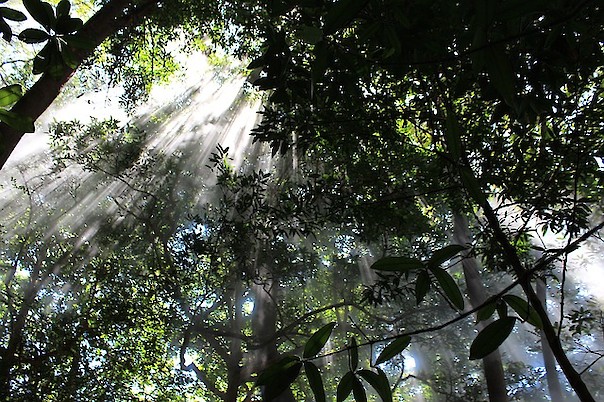 Chasing Waterfalls 
A 15 minute hike to La Fortuna Waterfall near the Arenal Volcano rewards visitors with lush rainforest greenery and the chance to swim in a cool crystal clear pool formed by this 200-foot waterfall.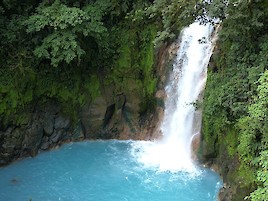 Lake Cruise
Vast and beautiful, Lake Arenal, the largest in Costa Rica sits at the base of the Arenal Volcano. The stunning backdrop of the volcano, pastures, gently rolling hills, and the rainforest make this cruise enchanting any time of day.
Rivers and Mangroves 
A visit to Tarcoles River and the Guacalillo Estuary noted for its mangrove forests gives visitors the rare opportunity to see a variety of wildlife including one of the largest colonies of crocodiles in their natural habitat in the world. On a boat ride through the mangroves visitors may spot up to 50 different exotic birds including the Scarlet Macaw, king fishers, rosette, spoonbills, great herons and many others. This area is an important feeding, mating, and refuge site for birds, mammals, and reptiles.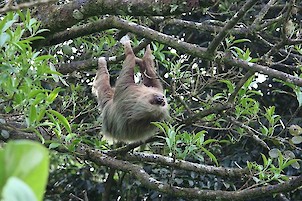 Monkeys, Sloths, and More 
Located on the Central Pacific Coast of Costa Rica Manuel Antonio National Park is known for the two and three toed sloths and howler, red backed, white faced capuchin and squirrel monkeys that make this area their home. The park's lagoons, mangrove swamps, and rainforest are also home to a plethora of colorful exotic birds and mammals.
Unplug on the Beach 
Costa Rica has a lovely shoreline on both the Caribbean Sea and Pacific Coastline. Manuel Antonio National Park has a beautiful beach with the added attraction of a coral reef perfect for snorkeling. There are many beautiful Pacific Ocean beaches in the Guanacaste area, on the Nicoya Peninsula as well as on the Southern Caribbean Coast.