When To Go
Portugal is considered by many to be a year-round destination because it is one of the sunniest places in Europe.  If you are looking for the perfect balance of pleasant weather and fewer crowds the best time to plan a trip to Portugal is between March and May, and September and October. 
A perk of visiting in the fall is that it is harvest time in the Douro Valley, an added bonus for wine aficionados. Visitors in September and October enjoy a summer vibe with blue skies and warm weather minus the crowds, ensuring a more relaxed experience. An added bonus is that during the shoulder season, flights and accommodations are less expensive. 
Spring in Portugal is beautiful.  Although March and April can still be chilly, things begin to warm up by May. In the spring, the gardens and parks in Portugal's cities and villages come alive with colorful flowers. One of the best ways to explore Portugal's villages is on foot, and spring is perfect walking weather. In April many villages throughout the country host Holy Week (Semana Santa) which is marked by processions, traditions, unusual cultural displays, and much more.


The summer in Portugal, June - August, can get very hot, especially in central Portugal. Summer is also the time of year that draws the crowds to this country's beautiful beach resorts and world-renowned attractions. During peak season, many festivals are held throughout the country including the Sea Festival in Madeira, the Medieval Festival in Obidos, a classical music festival in Sintra, and the Southwest Festival in Zambujeira do Mar, a fishing village on the Alentejo coast.
Portugal's rainy season begins in November and runs through February, that said, this country still has more sun, warmer temperatures, and less rain than most of the rest of Europe. A perk of visiting during December is to see the festively decorated towns and villages and to experience holiday markets and events. If you like indoor activities such as exploring museums or taking a foodie tour, winter is a great time to visit. Southern Portugal, including Algarve, that tends to be the driest during this time of year.
Why Go
Portugal offers a vast array of special experiences from vibrant festivals and sunny beach days, to cruises on a river of gold, scenic vineyards, captivating cities, villages lost in time, majestic castles, medieval palaces, stunning cathedrals, and Roman ruins. Portugal offers a memorable journey of friendly people, enriching UNESCO World Heritage Site attractions, a dramatic coastline, and diverse landscapes that will be forever cherished.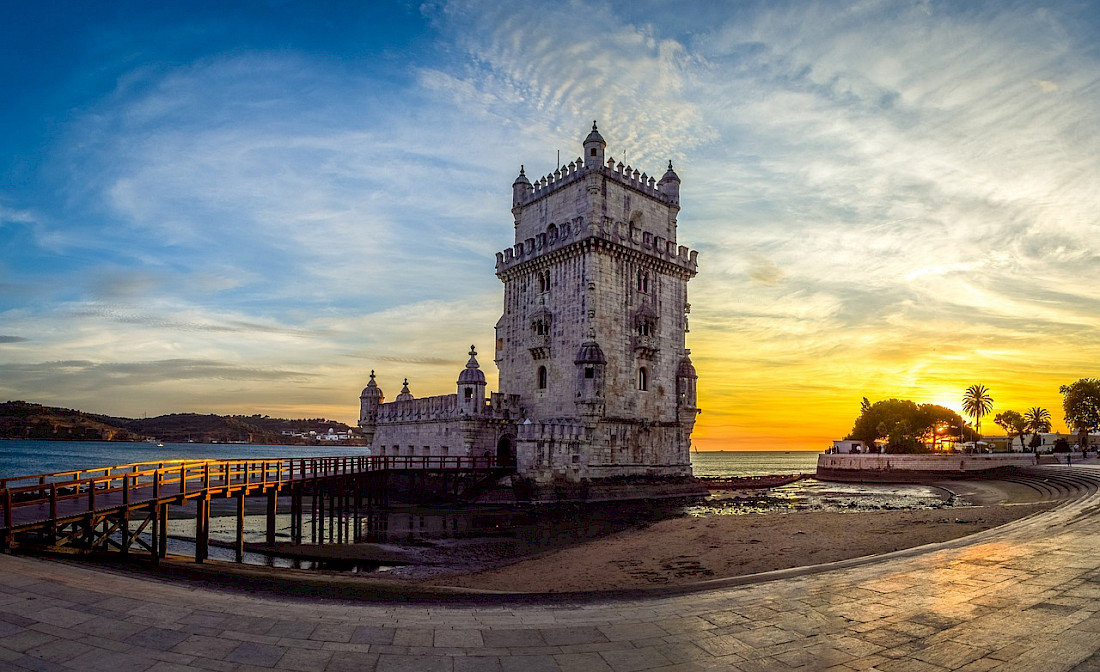 Lisbon
Perched on seven hills and located at the mouth of the Tejo River, Lisbon's laid-back vibe is part of its allure. Colorful maze-like streets wind between centuries-old homes, boutiques, cafes, and buildings, giving this city an Old World mystique amid modern buildings that are slowly dotting the horizon. Libson is an architectural melting pot that has everything from Roman ruins and Medieval castles to the iconic Unesco-listed Jerónimos Monastery, the classic riverfront square known as Terreiro do Paco, and the strikingly futuristic buildings found at the Parque das Nações (Park of Nations). Not to be missed is São Jorge which occupies the former site of a Moorish Castle dating to the 10th century. This castle pays homage to Portugal's first king. To step back in time visit the medina-like neighborhoods of Alfama, Mouraria, or Bairro Alto which are well known for their fado restaurants. Another architectural wonder, listed as a UNESCO monument is the drawbridge at the Belem Tower that was built in the 16th century to guard the entrance to Lisbon's harbor.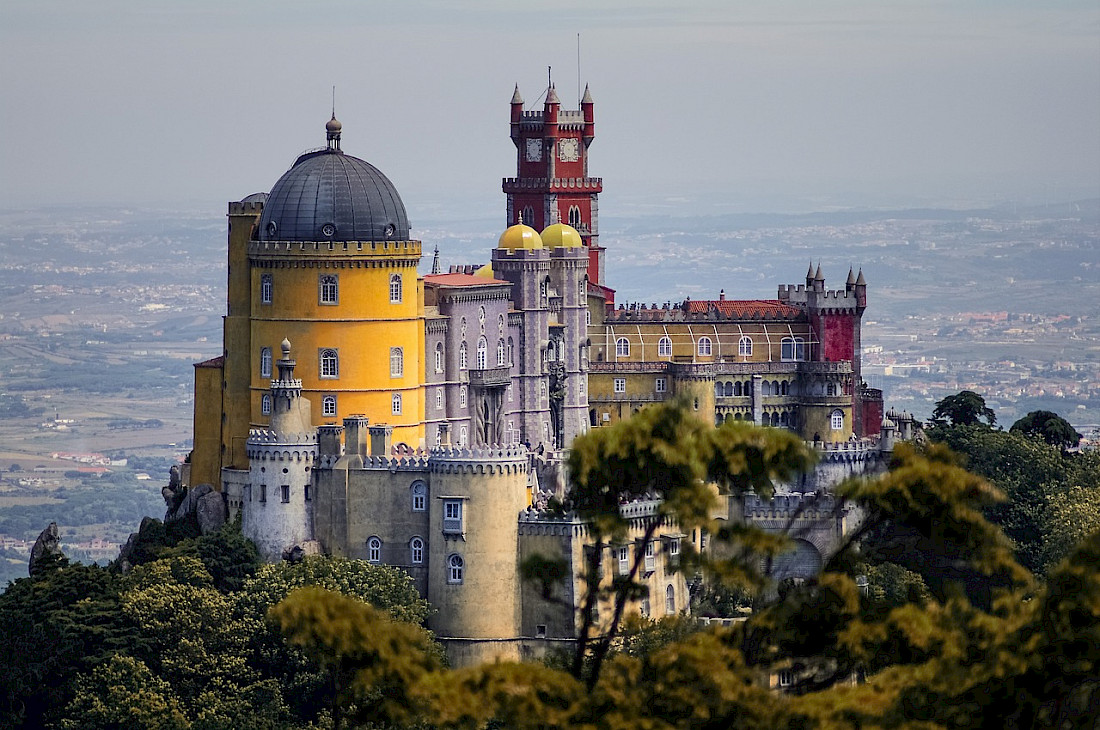 Sintra
Just 30 minutes from Lisbon is the UNESCO World Heritage Village of Sintra, the most popular day trip from Lisbon. Here visitors will tour a variety of castles and estates. The Palacio Nacional de Sintra is a castle constructed from the 13th - 16th centuries. Highlights include the Swan Room's amazing frescos and the heraldic room displaying 72 shields of Portugal's most important families. Not to be missed is the Pena National Palace considered to be the most impressive example of 19th-century Romanticistic architecture in Europe. This yellow and rust-colored palace combines Manueline, Moorish, Gothic, neo-renaissance, and neo-baroque architectural styles. Sitting atop a cliff, the Castle of the Moors dates to the 10th century and offers breathtaking views of the Atlantic Ocean, while the Moorish-inspired Palace of Monserrate overlooks a park of exotic trees and flowers.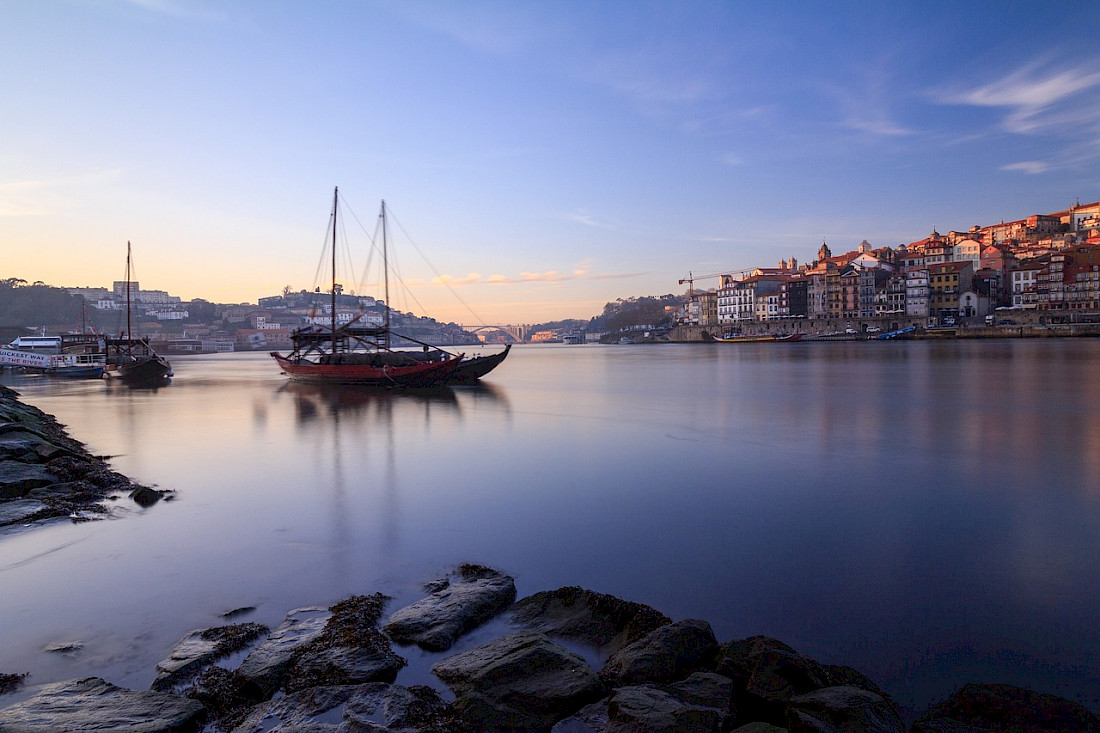 Porto and the Douro River
Set on a scenic estuary of Portugal's famous Douro River, the UNESCO World Heritage city of Porto offers visitors old-world charm with its maze of cobblestone streets, intriguing shops, and restaurants with a nod to 21st-century casual sophistication.  Porto is known as the "City of Bridges" because of the six that arch over the Douro River. The best river view is from the Dom Luis Bridge, where you get a sense of the unique charm of this city, best known as the birthplace of Port Wine. A visit to Porto isn't complete without exploring the historic wine cellars in the Vila Nova de Gaia area where the aging process takes place. 
Porto is also famous for white and blue tiles, called "azulejos" that cover entire buildings. The riverside neighborhood of Ribeira is a treasure trove of medieval houses and buildings adorned with these tiles. One of the most iconic buildings covered with tiles is the Sao Bento Station, which is breathtaking inside and out. Other must-see attractions are the ancient Gothic Monastery of Serra do Pilar and the Porto Cathedral. If you are a bookworm, visit the Livraria Lello Bookstore, which is world-famous for its Art Nouveau architecture. This bookstore dates to 1906 and was thought to have inspired Rowling to write the Harry Potter series when she resided in Porto.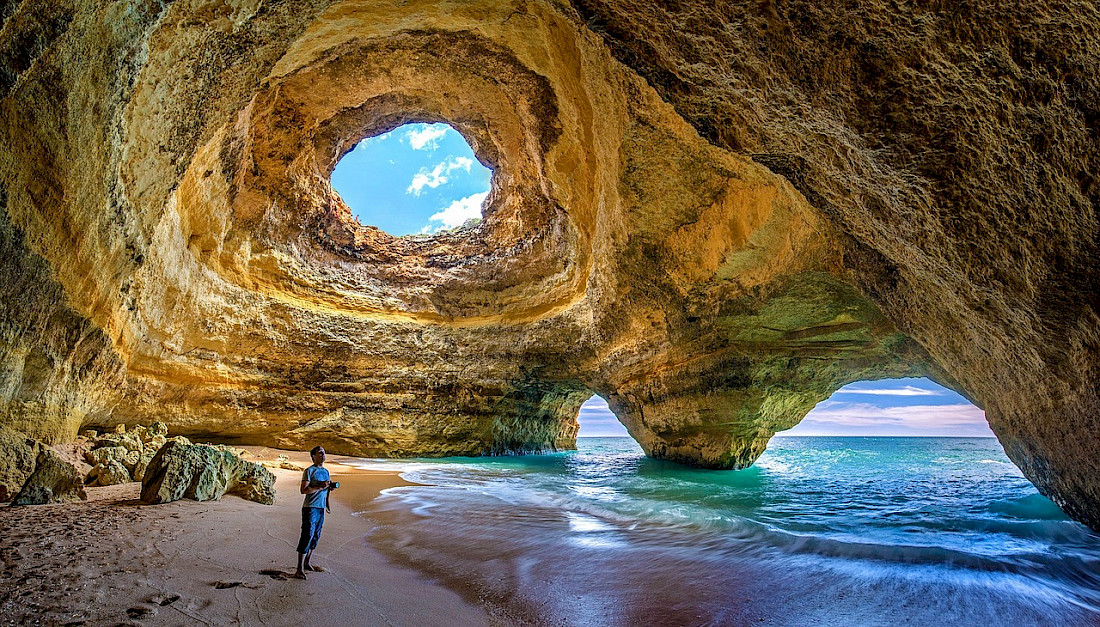 The Algarve, Lagos, Benagil, Tavira
Located in the southern part of Portugal, The Algarve is famous for its beautiful cliff-studded coastline and its beaches boasting crystal-clear azure water. Noted as one of the sunniest places on earth, 82 of the 130 beaches here have the Blue Flag certification which means they follow strict environmental standards. It is also a foodie haven with six two-star and 20 one-star Michelin-rated restaurants serving local foods and wine. Scarlet prawns, razor clams, grilled octopus, salted cod, and Iberico ham made from pork fed with acorns are just some of the dining pleasures. 
If you like castles, head to the Medieval Castle of Lagos which is one of the best preserved in the country. What is impressive is that the walls and towers of the castle still surround the entire town of Lagos. While in  Lagos, don't miss a boat ride around the rugged orange cliffs, pillars, and tunnels that seem to melt into the turquoise water. The most famous rock and cave formations in the region are near the small fishing village of Benagil. Many visitors hike to Cathedral Cave to see its brilliant orange and yellow colors and its ceiling that is pierced by a round opening framing the sky above. Another popular option is to take an architectural tour of Tavira known for its white-washed houses with Moorish-style doors and roofs. Wandering around this village you will also see an ancient Roman bridge and the ruins of a Moorish castle.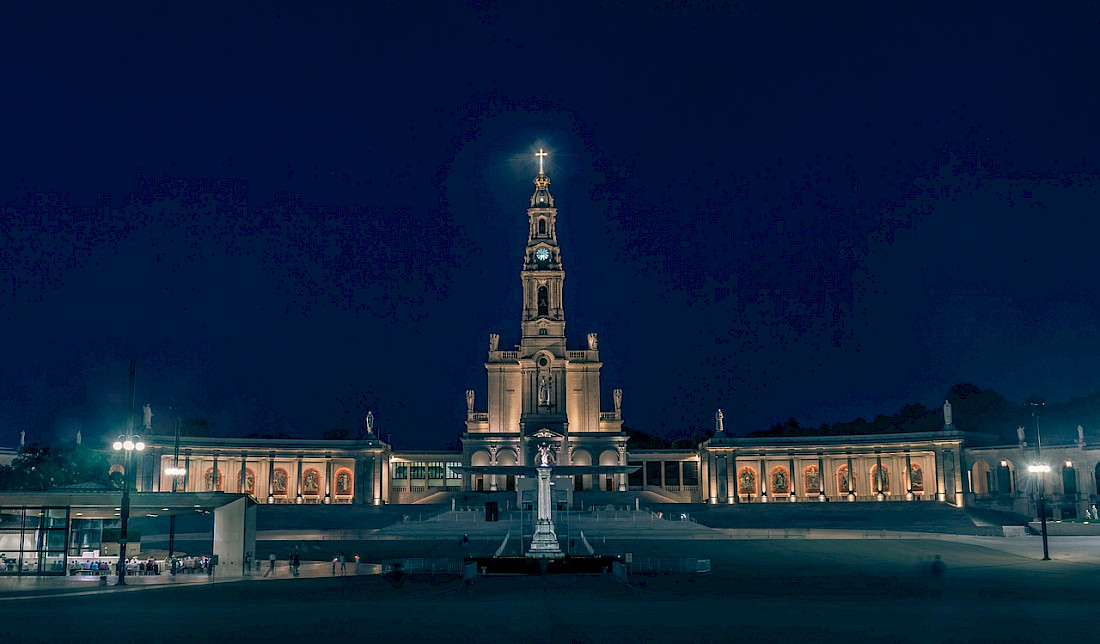 Central Portugal - Fatima, Tomar, Coimbra, Obidos, Aveiro
This area bordered by Lisbon and Porto offers many must-see cities and attractions. The medieval town of Coimbra, for example, is home to the oldest university in Portugal, founded in 1290 giving the town its moniker, "the city of students." Highlights of a tour of the university include the Palace Gate, chapel, academic prison, great hall, and armory. 
Once the stronghold of the Knights Templar, the town of Tomar's history is entwined with theirs. It was one of the last towns to be constructed by the Templars in the 12th century. The main attraction is the Convento do Cristo, a UNESCO World Heritage Site. It was constructed under the orders of Gualdim Pais, a Grand Master of the Knights Templar using architectural methods he learned during the Crusades to the Holy Land. A highlight here is to visit the circular chapel where knights would go to be blessed before battle as they defended Portugal against the Moors.
Obidos is a picture-perfect medieval town totally enclosed within tall city walls, making it a UNESCO World Heritage Site. An unforgettable experience is to walk along the city walls to admire this historic city. It is also fun to wander the winding cobblestone streets that are lined with Baroque-style churches and charming homes decorated with stripes of yellow and blue, potted plants, and hand-painted tiles. 
Central Portugal is also home to one of the world's most famous pilgrimage sites, Fatima. Not-to-be-missed sites here include the Sanctuary of Fatima, the Chapel of the Apparitions, the Basilica of Our Lady of the Rosary, the Monument to the Sacred Heart of Jesus, and the Church of the Holy Trinity. 
The laid-back town of Aveiro is known as the Portuguese Venice because of the scenic canals that wend their way through this bucolic town.  The thing to do here is to take a ride on a Moliceiros, which are Portugal's version of Italian gondolas. Just walking around this town's colorful Art Nouveau-style houses and canals is a pleasant way to spend an afternoon. 
Central Portugal is also home to two UNESCO monastery sites. One of the most impressive monasteries in Portugal, as well as the first, is the Alcobaca Monastery, established in 1153 by King Afonso Henriques. This monastery has the distinction of being one of the most important examples of Cistercian architecture in Europe. Another cultural treasure found in this region is the Monastery of Batalha, a Dominican convent, which is considered to be one of Portugal's Gothic architectural treasures. It took over a century to build starting in 1386 and ending in 1517. It was built to thank the Virgin Mary for the Portuguese victory over the Castilians.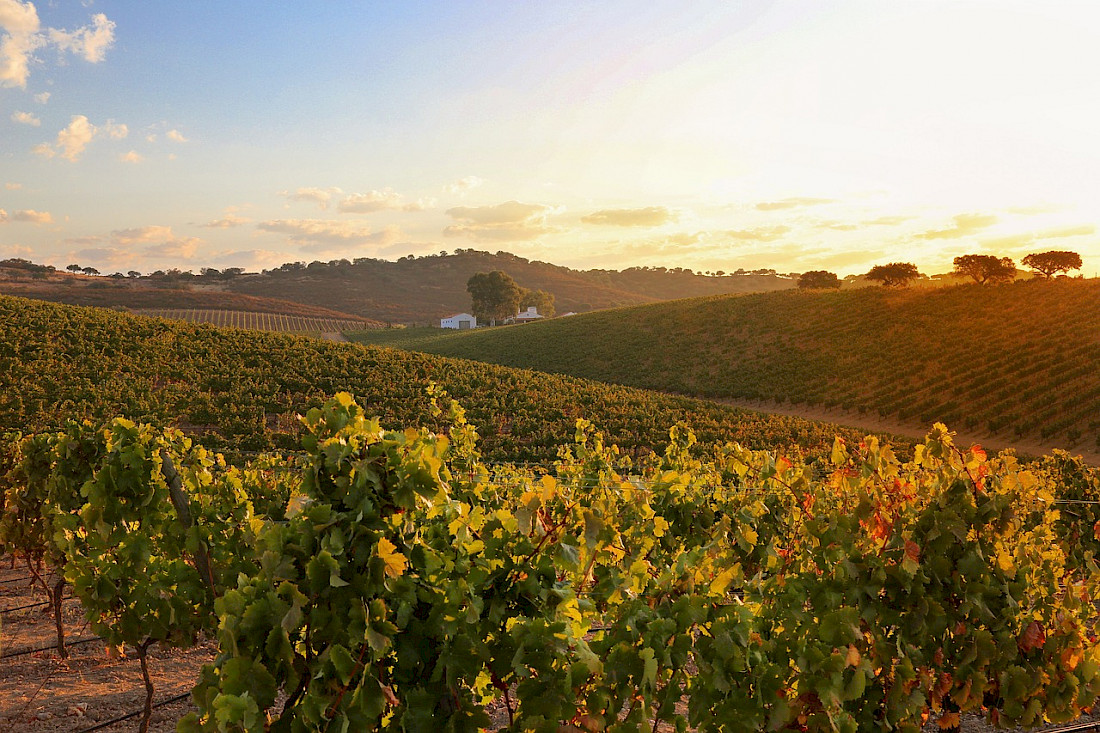 Alentejo,  Evora, Marvo, Elvas, Castelo de Vide
This beautiful landscape is a little different from the rest of Portugal. It is relatively flat and dotted with vineyards, cork oak trees, fields of wheat, and stands of olive trees as far as the eye can see. The Alentejo area is one of the top wine regions in Portugal and has been affectionately called by locals, "the Tuscany of Portugal." A visit here should include a visit to several of the 260-plus wineries that are located throughout the region. 
One of the most fascinating towns in the region is Evora, a UNESCO World Heritage Site. Here visitors find lovely white-washed houses adorned with traditional Portuguese tiles and beautiful potted plants. There are castles, convents, palaces, and even a remarkably preserved first-century Roman Temple dedicated to Diana to explore. There are so many points of interest to see including the Fountain of Portas Moura built in 1556, the Royal Palace, the Prata Aqueduct, and the Baroque-styled Cathedral of Evora which has a pipe organ from the Renaissance. 
Nearby Evora is the village of Elvas, also a UNESCO World Heritage Site. It is home to the incredible Star Fort whose walls surround the city. Just beyond Elvas is the small town of Castelo de Vide, which is considered to be the best-preserved medieval town in Portugal. Wandering among its jumble of white-washed houses with striking red roofs that cling to the mountainside gives visitors a sense that they have stepped back in time.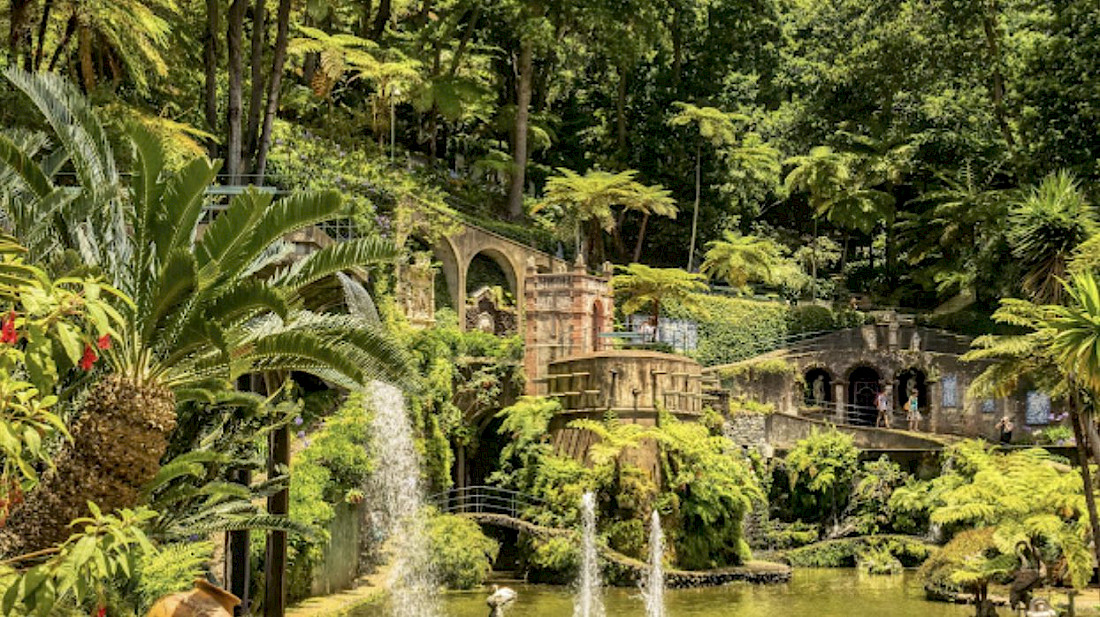 Madeira
This lush island nestled in the Atlantic Ocean just off the coast of Portugal offers delicious food, unspoiled beaches, locally grown wine, and a rich cultural heritage.  It is easy to see why this island is often called "the Garden of the Atlantic" with its emerald green subtropical rainforest-covered mountains, waterfalls, miles of hiking trails, endangered wildlife,  exotic fruits, and formidable wine heritage. One of the many pleasures enjoyed here is to walk along the small irrigation channels known as levadas and get lost in the beauty of nature.  Funchal is the main city and capital of Madeira. Top attractions are the Monte Palace Gardens, the Farmers Market brimming with exotic fruit, and the Palacio De Sao Lourenco, a fort built to defend the city against pirate attacks. 
Food & Drink
Seafood is king in the kitchens of Portugal, with the most famous dish being bacalhau known as salted cod that is baked as a filet, put in casseroles, grilled, or shredded with scrambled eggs, onions, and fried potatoes. Other favorites include grilled octopus with olive oil and potatoes, coarsely salted grilled sardines, seafood rice garnished with spicy chorizo sausage, seafood stew with veggies cooked in white wine and herbs, and a sandwich called Little Frenchie made with cured ham, linguica sausage, steak or roast beef and melted cheese and then garnished with a hot tomato and beer sauce. Not to be missed in the Alentejo area is "carne de porco à alentejana" which is made of marinated pork that's pan-fried with potatoes and clams and smothered in a spiced, garlic and wine sauce.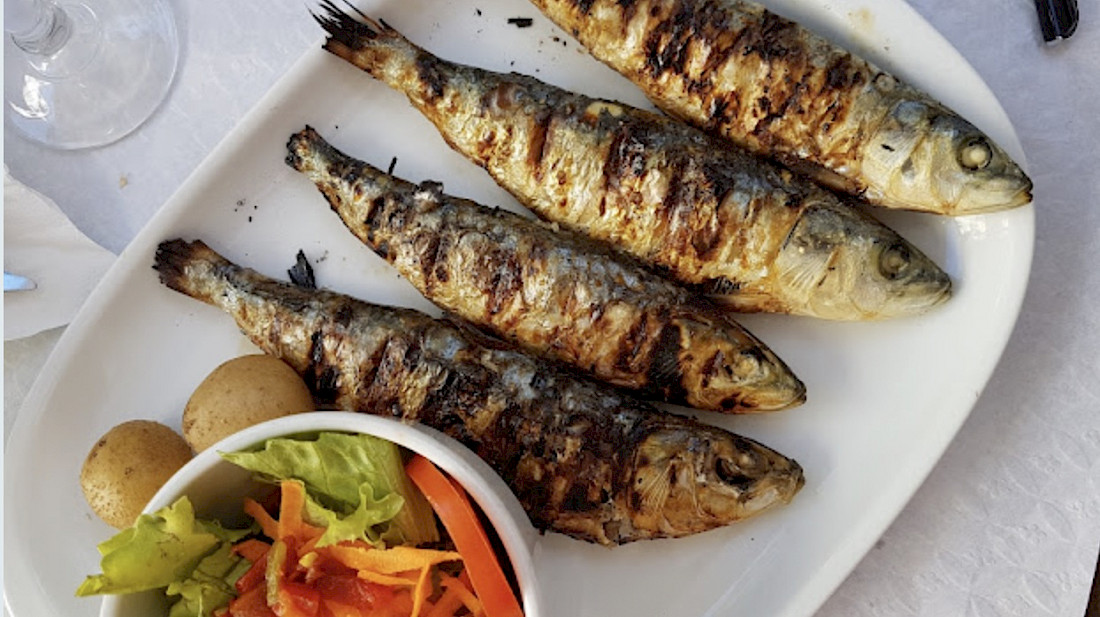 No trip to Portugal is complete without tasting an authentic pastél de nata, the emblematic sweet treat that comprises a flaky puff pastry crust filled with egg custard and dusted with either powdered sugar or cinnamon. This sweet is said to have originated in Lisbon in 1837.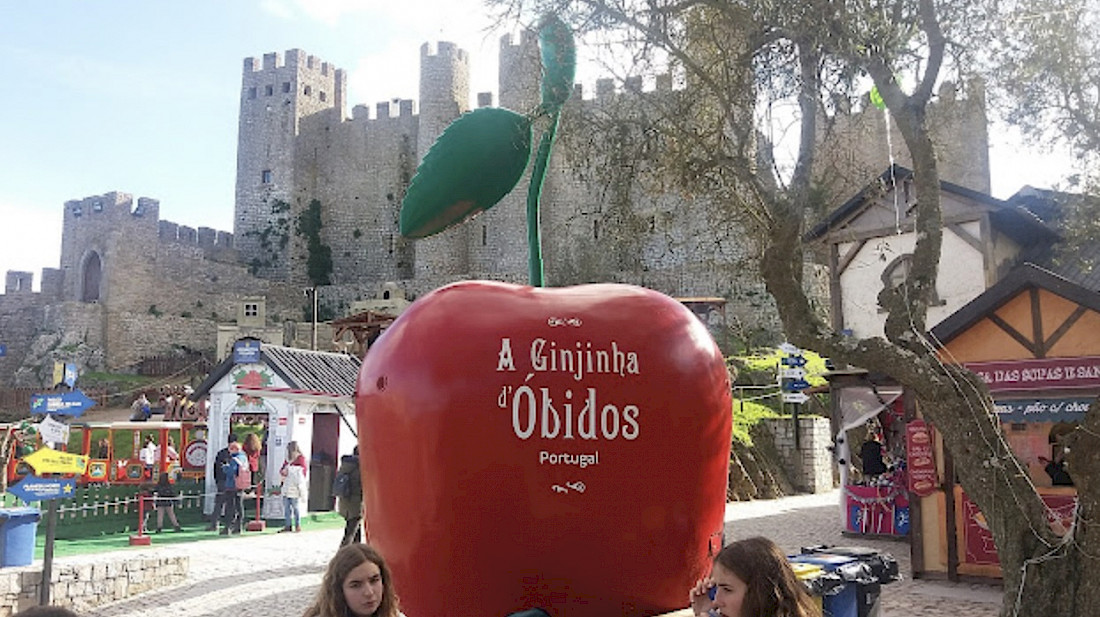 In addition to the world-famous Port, Portugal offers several interesting liquors. Ginja, for example, is a traditional liquor that is made from fortified wine or brandy that has been infused with sour cherries, sugar, and cinnamon. Another cherry-inspired liquor is Beiro which is distilled in the Douro region of Portugal and named after its town. Macieira is the most popular brandy in Portugal that is made with natural herbal extracts, wine, and oak and caramel extracts. Poncha from the island of Madeira is similar to rum and is made by distilling sugar cane and mixing it with oranges and lemons.