When to Go
The best time to visit Iceland is in the summer months particularly July and August because this is when you will have the warmest temperatures and 24-hour daylight. Iceland's weather remains relatively warm in May, and June, and in September and October. There is still ample daylight, all the roads will be open, and,  best of all, you will beat the summer crowds.  The darkest and coldest time of year, November – February is the least expensive time to visit Iceland.


The best time to see whales in Iceland is May-August. This is the time of year to spot humpbacks, minke whales, blue whales, and dolphins.
Hot springs such as the famous Blue Lagoon and others as well as Iceland's public swimming pools are open year-round.
The best time to see the Northern Lights is from mid-October – March because of the extended nighttime darkness. Iceland's weather is finicky and can change in an instant. To avoid disappointment, travelers should not plan a visit to Iceland just to see the Northern Lights.
Why Go?
There are so many reasons to visit Iceland from gorgeous landscapes and friendly people to its' close proximity to America's East Coast.
A Top Tour Eco-Destination 
Iceland is Europe's second-largest island and one of the youngest in the world with one-tenth of its lava being less than 10,000 years old. Eco-tours of Iceland are based on sustainable and responsible travel with government programs in place to protect Iceland's fragile eco-system for generations to come. Iceland's wild and rugged landscape, creeping glaciers, delicate river systems, ancient volcanoes, unusual flora and fauna, geysers, ice caves, and roaring waterfalls make it the premier place to see how one of the youngest islands in the world is evolving.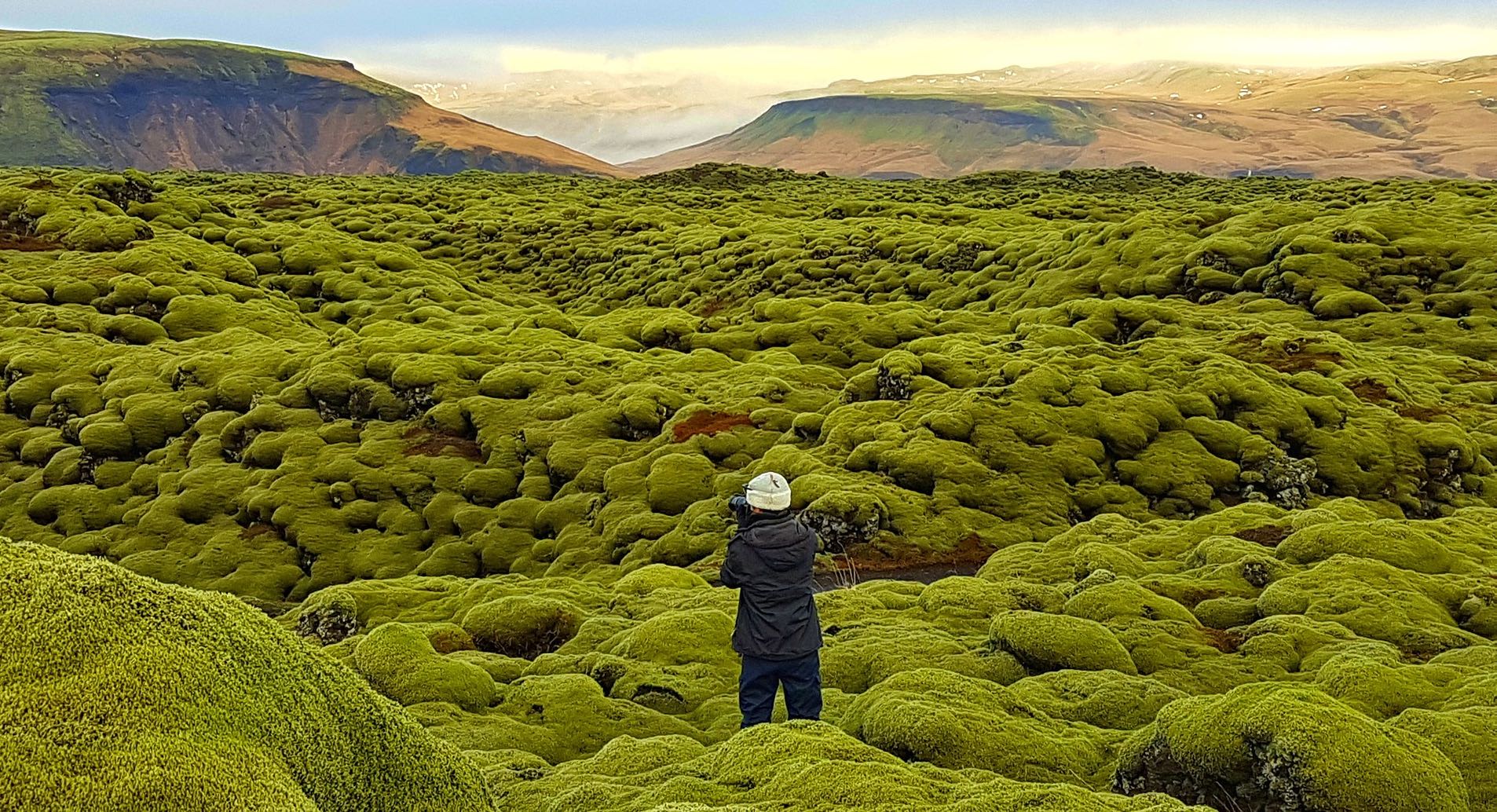 Geological Wonders 
Iceland is a geological hotspot! There are so many geological natural wonders so close to one another that it makes Iceland like no other place on earth. Its volcanic eruptions have created a rugged almost alien landscape that is riddled with a myriad of volcanic features from waterfalls, hot springs, geysers, and volcanoes, to glaciers, glacier lagoons, and an intricate network of ice caves and lava tubes.
Unwind in Hot Springs
In Iceland taking a dip in hot steamy springs is a favorite activity, no matter what the weather. In a nutshell, hot springs are bodies of water that are naturally heated by geothermal energy. Most of Iceland's hot springs are at least 100 degrees Fahrenheit.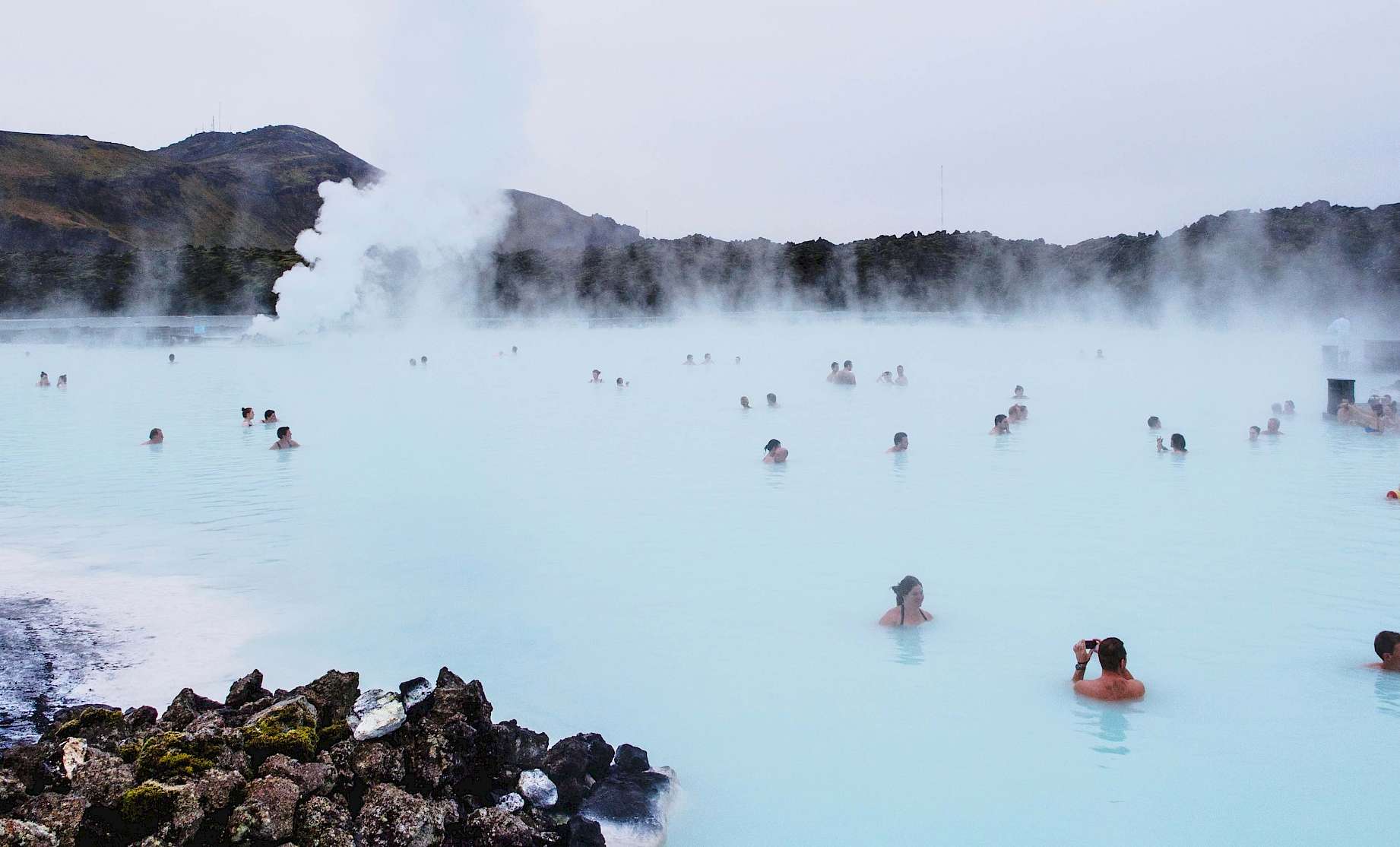 Iceland's unique location on tectonic rifts and the resulting volcanic activity heats the water underground forming hot springs. The mineral-rich water of Iceland's hot springs and the medicinal benefits of a soak such as, improving circulation and relieving aches and pains is the perfect way to unwind. 
Among Iceland's most popular hot springs are the Blue Lagoon, Hrunalaug, Reykjadalur Steam Valley, and Kvika Geothermal Footbath just outside Reykjavik to name a few. One of Iceland's most commercial hot springs is Lake Myvatn Nature Bath in the northern region of the country.
The Northern Lights 
This Arctic phenomenon is another reason why people visit Iceland. When the Aurora is active it lights up Iceland's dark sky, which has very little light pollution,  Iceland's Northern Lights are unforgettable because of their dreamlike colors and amazing shapes. Old Norse legends thought the lights were glinting armor of Valkyries, the female figures that lived and died in battle and took the dead to the afterlife.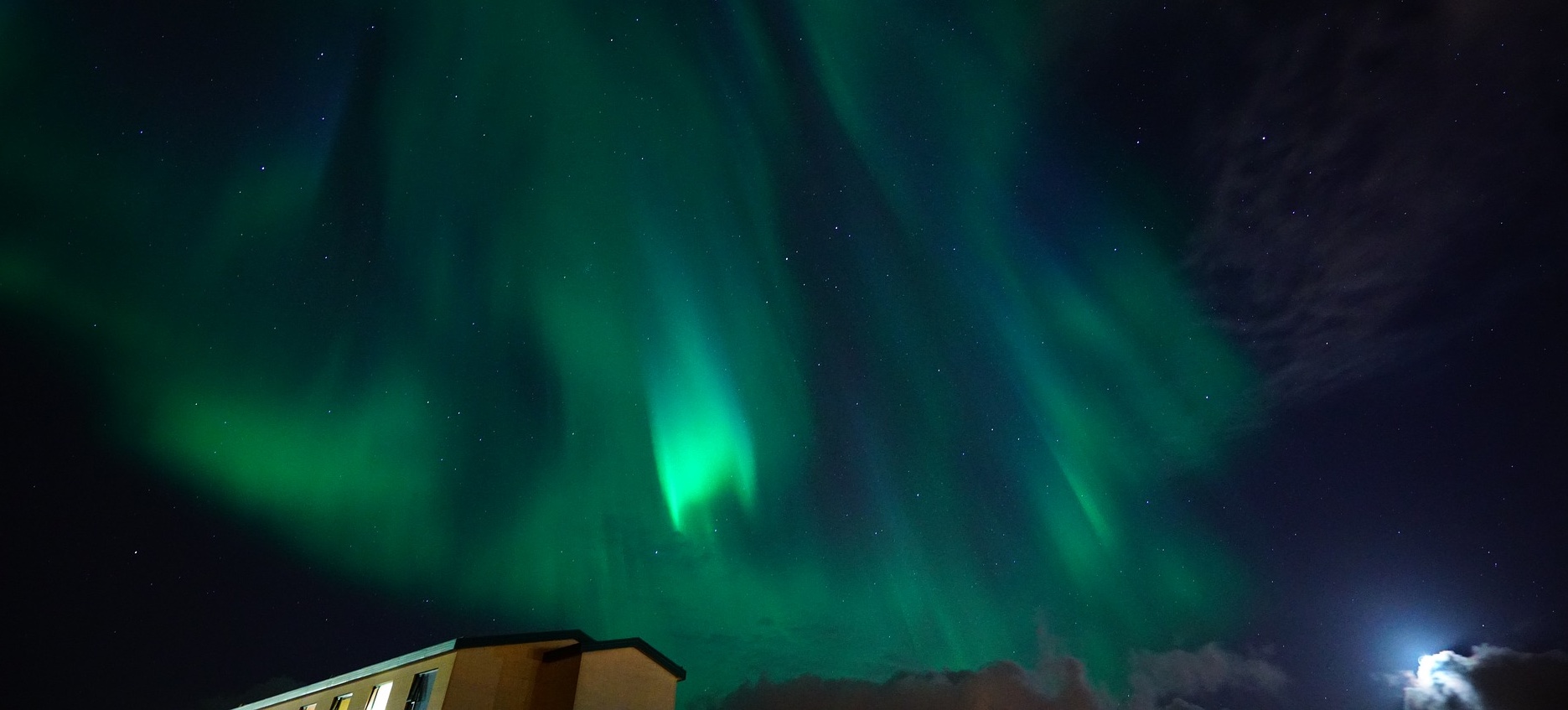 The Northern Lights are caused by collisions between electrically charged particles traveling with the solar wind and the Earth's magnetic field and atmosphere. Due to the nature of the earth's magnetic field, the auroras only appear at the poles, usually above the 60-degree latitude in the north.  Iceland is positioned between 63 degrees and 66 degrees latitude north making it perfectly positioned for the possibility to see the Northern Lights for six to eight months per year.
24-Hour Daylight 
The Midnight Sun is another natural phenomenon that occurs in Iceland. The midnight sun occurs around the polar circles every summer and usually peaks in June. Iceland, being very close to the Arctic Circle, enjoys the magic of the midnight sun from May-August when there is daylight for almost 24 hours.
Volcanoes 
In Iceland, there is always something cooking underground. There are 32 active volcano systems in Iceland with a volcanic eruption-taking place on the average of every three to five days! Even if a volcano isn't active, it is fascinating to stand next to one and take in all the telltale signs, like the steaming ground, lava caves, bubbling mud, and solidified lava flow. The most active volcano in Iceland is Mount Hekla, which has erupted 18 times since 1104. The last time Mount Hekla erupted was in 2000.
Glaciers and Ice Caves 
Iceland is a glacier paradise and has Europe's largest ice cap. Most of Iceland's glaciers hide an active volcano in its ice sheets. One of the most unusual things you can do in Iceland is to explore an ice cave that has formed inside a glacier. These cyan blue, crystal clear, ice caves are ephemeral, they collapse every summer while new caves form every winter.
Glacier Lagoons  
Iceland's glacier lagoons are otherworldly and often referred to as Iceland's crown jewel. The most famous is Jökulsárlón, which is made up of ice chunks that break off and melt from the tip of a glacier. Seeing icebergs floating on a serene blue lagoon against the bright Icelandic Sky or under the Midnight Sun is unforgettable.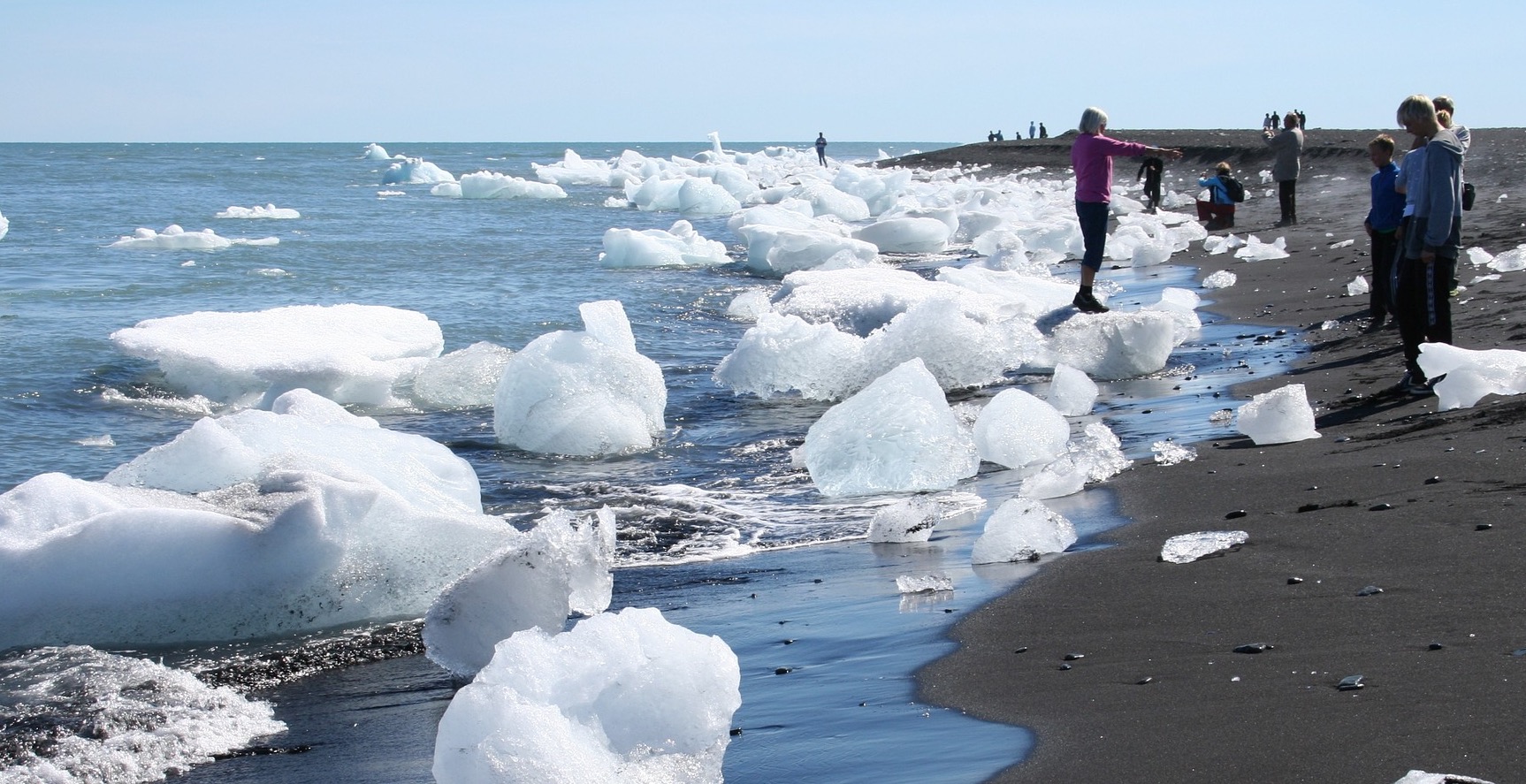 Black Sand Beaches 
Black sand beaches in Iceland are formed from the basalt lava that covers much of the coastline especially in the South of Iceland. Reynisfjara Beach located on the south coast of Iceland near the fishing village of Vik is considered to be the most beautiful and dramatic black sand beach in the country. National Geographic has named this beach one of the top ten non-tropical beaches in the world to visit.
The Waterfalls
There are more than 10,000 waterfalls in Iceland that are a result of glacier melt, rain, and snow. The waterfalls of Iceland vary in size and shape and even water temperature. Although all waterfalls are beautiful in their own unusual way, we are listing our top four must-see waterfalls.
Gullfoss
The most famous waterfall in Iceland is Gullfoss or Golden Falls that is part of the "Golden Circle" route. This magnificent waterfall located in Thingvellir National Park cascades down the cliffside in two tiers, one is 36 feet high, and the other is 69 feet high. The waterfall plunges 105 feet into a pool. Gullfoss gets its name from the golden hue that often shines in its glacial waters.
Skogafoss
One of the largest waterfalls located in South Iceland is Skogafoss. It is 82 feet wide with a 200-foot drop that produces a massive amount of spray. On sunny days because of the spray, a rainbow or double rainbow may appear. The highlight here is that you can walk right up to this thundering waterfall and watch it roar down into the pool below.  For a beautiful view, take 500 plus steps to the observation platform above Skogafoss.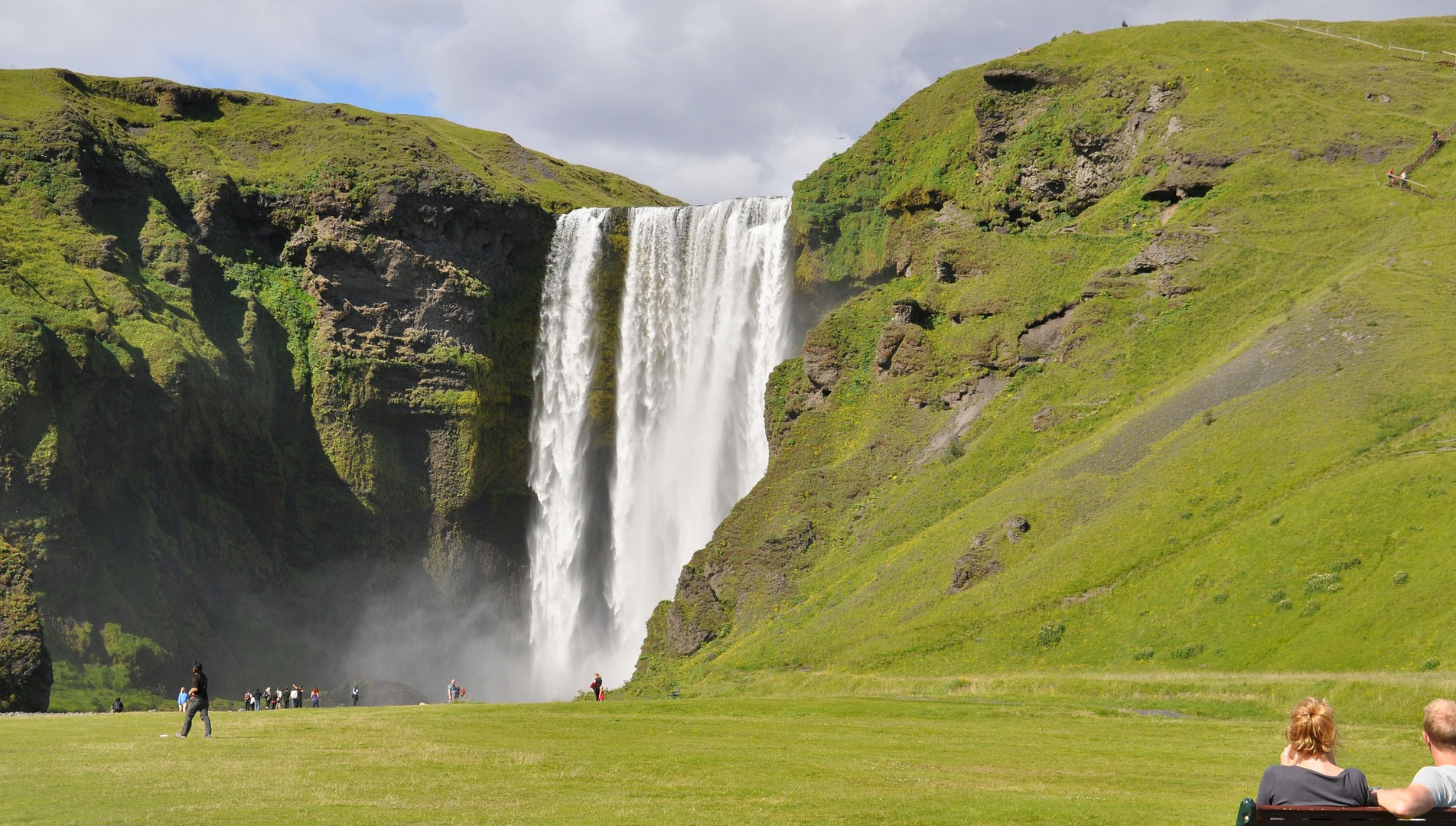 Seljalandsfoss
The wispy windblown character of Seljalandsfoss, located in South Iceland spills over an ancient sea cliff giving this waterfall its' charm. It is 200 feet high and is breathtakingly beautiful. Visitors can walk on a path that goes behind the waterfall. Make sure to bring a raincoat so you don't get soaked. This is just one of 20 waterfalls on the Skoga River.
Dettifoss
Dettifoss located in northeast Iceland is known as one of the most powerful waterfalls in Europe. The misty spray from this cascading waterfall can be seen for miles around. It is located in Jokulsarglijufur National Park and is 330 feet wide with a drop of 144 feet into a canyon. The sediment-rich color of this waterfall is grayish white making it unusual.
Reykjavik 
Home to under 200,000 people this northernmost city in the world is a treasure trove of culture, music, food, shopping, and historic attractions. The following list will help you soak up Icelandic culture.

Explore the lively city on foot
The city center of Reykjavik is safe and easy to navigate on foot. It offers visitors a myriad number of restaurants and shops, many offer local handmade items that are unique to Iceland. There are numerous neighborhoods to see where you will find colorful old-style wood-frame houses, tidy gardens, plenty of street art, post-modern buildings, and, resident cats, a favorite pet among city center dwellers. Public transportation makes it easy, interesting, and inexpensive to explore the city. To get the most out of your walk, download a city center map.
Go On A Shopping Spree
The shopping streets in the center of Reykjavik include Laygavegur, Bankastræti, Austurstræti, Lækjargata, and Skólavörðustígur. If you are looking for classic Icelandic souvenirs make sure to visit The Handknitting Association of Iceland for handmade wool sweaters and knitting gear at Skólavörðustígur 19. Icemart and Idontspeakicelandic, both on Laygavegur offer an interesting variety of handmade Icelandic souvenirs from jewelry made from volcanic rock and reindeer hides, to sheepskin rugs, Iceland tee shirts, and ceramics. Art galleries, record stores, and jewelry makers round out the shopping experience.
Drink Up 
The water in Iceland comes from springs in the ground, so it never comes in touch with pollution. Water in Iceland is free of chlorine, calcium, and nitrate. The quality of tap water in Reykjavik is well monitored and safe to drink.
Try A Hot Dog
Icelandic hot dogs are practically the national dish and are sold at almost every gas station, convenience store, and at local hot dog stands inside malls and on street corners. One of the most famous stands in Reykjavik is called Baejarins Beztu Pylsur (that translates to "best hotdogs in town") that has been serving up these famous dogs since 1937. Icelandic hot dogs have a different flavor from American hotdogs because they're made mostly from Icelandic lamb with a bit of pork and beef. Icelandic hot dogs are topped with white onions, fried onions, ketchup, remoulade sauce, and sweet brown mustard.
Enjoy a Panoramic View
Perlan, is a beautiful domed structure that rises like a pearl overlooking Reykjavik. This unusual building is made of an enormous glass dome that sits on six water tanks that serve as a unique heating and cooling system. A revolving restaurant on the top floor offers fine Icelandic cuisine and a café on the fourth floor offers soup, salads, and Icelandic ice cream. Perlan also houses a museum, a world-class planetarium, and an exhibition called Glaciers and Ice Caves, and Water in Icelandic Nature.
Reykjavik's Museums
Reykjavik has many interesting and unusual museums that reflect this nation's culture and history. We have listed our top 6:        
The National Museum of Iceland tells the history of this island nation beginning with its pagan rituals and ending with contemporary fashion.
The Maritime Museum gives visitors a deeper understanding of Iceland's relationship with the sea and how the fishing industry evolved.
Culture House is located in downtown Reykjavik and houses a collection of paintings, sculpture, and other works of art, alongside cultural pieces, and historic artifacts.
Arbaer Open Air Museum shows visitors what Reykjavik looked like before industrialization. This fascinating open-air museum is a collection of more than 20 buildings that have been preserved and relocated to form a small town, a square, and a  farm. To keep with the theme of the museum, tour guides dress in traditional Icelandic attire and go about their business making a visit here an educational and enriching experience.
The Viking Saga Museum recreates key moments in Icelandic history that have determined the fate of the nation. The exhibits also give visitors a compelling view of how Icelanders have lived for more than a millennium. Life-size replicas of historical figures and specially crafted weapons and everyday items have been made using age-old, traditional techniques. There are 17 exhibits on display.
The Phallological Museum located on the main shopping street of Laugavegur is one of the most unusual museums around.  If you like quirky then don't miss this museum! It displays over two hundred penile parts from almost all of the land and sea mammals in Iceland.