When to Go
Nova Scotia is a maritime province of south-eastern Canada and is formed by a peninsula. Three different bodies of water surround the province and play a role in each season's temperatures. The climate is considered to be a continental climate rather than a maritime climate because temperatures are moderated by the ocean. Because of this, Nova Scotia, on average is the warmest of the Canadian provinces.
Each season in Nova Scotia has its special charm. The best time to visit Nova Scotia is in the summer from mid-June through mid.-September. Summer is considered the high season with temperatures ranging from mid-60 to 80+ degrees Fahrenheit. April and May and late September and October are considered to be the shoulder season when the province is less busy. Temperatures this time of year are quite pleasant and range from 40 degrees to 70 degrees Fahrenheit. Spring is a wonderful time to see the landscape blooming with flowers, while the fall is perfect for leaf peepers that like fall foliage. October is the best month to see fall foliage, especially along the Cabot Trail on Cape Breton Island. 
November to March is the low season, with many temperature fluctuations because Nova Scotia is exposed to cold currents from the north as well as mild currents from the south.  Winter temperatures can go as low as 5 degrees Fahrenheit and rise to 50 degrees Fahrenheit. Nova Scotia also has frequent coastal fog.


Why Go 
Tartan shops and Gaelic signs, stunning vistas, picturesque lighthouses, traditional fishing villages, and beautiful beaches are just some of the pleasures of Nova Scotia. Highlights include the dramatic highlands of Cape Breton, the sylvan orchards of the Annapolis Valley, the Fortress of Louisbourg, whale watching, the bucolic village of Peggy's Cove, the Halifax Citadel, the Maritime Museum of the Atlantic, and the fishing village of Lunenburg. As the "lobster capital" of Canada this delicacy makes Nova Scotia irresistible for seafood lovers.
Halifax
This is Nova Scotia's largest city and the best time to visit is May through October. Halifax's lively waterfront is fun to explore. It is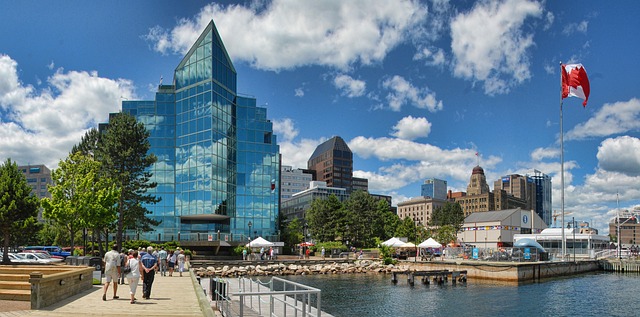 packed with restaurants, shops, breweries, and bars. It is a perfect place to enjoy a lobster dinner, which Halifax is famous for.  For history lovers, the Citadel that towers over the city is a testament to Halifax's military past. Visitors can wander the corridors and learn about the city's involvement in the American Revolution, the American Civil War, and both World Wars. A highlight is the guided tours of the fort by the 78th Highland Regiment. Another top attraction is the Maritime Museum of the Atlantic which recounts the shipwrecks that happened off Nova Scotia's shoreline. Of special interest are the displays documenting the sinking of the Titanic and the city's efforts to save and recover passengers. One of the most interesting attractions is the HMCS Sackville, Canada's oldest warship. Visitors can tour this beautifully restored vessel which includes the mess hall, a gun deck, and the boiler room. For those that want to get off the beaten path, take a ferry through the Halifax harbor to the village of Dartmouth to explore this quaint and cozy neighborhood that has many locally owned shops, galleries, and pubs.
South Shore
This area has some of Nova Scotia's most scenic seaside vistas and attractions. One of the most famous is Peggy's Point Lighthouse in Peggy's Cove. This iconic lighthouse, built in 1868 sits atop massive granite rocks that have been worn smooth by the pounding waves of the Atlantic Ocean. For lighthouse buffs, don't miss Fort Point Lighthouse, the third oldest surviving lighthouse in Nova Scotia located in nearby Liverpool. If you are lucky, you may spot icebergs here in May and June from its 360-degree view.
One of the most scenic villages in Nova Scotia, Old Town Lunenburg, a UNESCO World Heritage Site is not to be missed. It is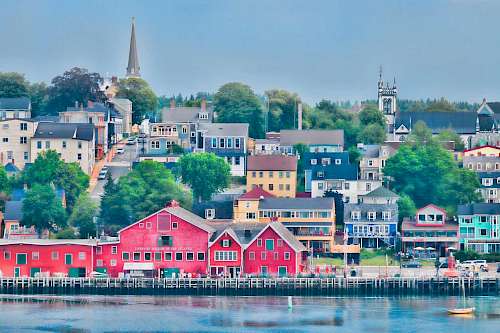 the best surviving example of a British-planned settlement in North America. A walking tour of this quaint village is a step back in time.  While in Lunenburg, don't miss the Fisheries Museum of the Atlantic. Here you will hear tales of rum-running, whales, and terrible storms. Another attraction not to be missed is the Shelburne County Museum which has an impressive collection spanning 200 years and includes displays of Shelburne's rich shipbuilding history. If you like mysteries, take a boat tour to Oak Island, of TV fame, to search for the lost treasure of Captain Kidd or Blackbeard.
Yarmouth and Acadian Shores
This peaceful enclave at the southern tip of Nova Scotia offers a glimpse of Acadian culture at its best. In Argyle, for example, you can tap into the Acadian culture by visiting Le Village Historique Acadian, a recreation of a 1900s seaside village situated on 17 acres that overlook Pubnico Harbor. The Village showcases the industrious and joyful spirit of the Acadian people, celebrating a language and culture that has thrived for more than 350 years. For an immersive experience in Acadian culture, head to Clare and Baie Sainte-Marie, where you will find Nova Scotia's largest Acadian community. In Yarmouth, you will find some of the best examples of Victorian houses in Eastern Canada that were once owned by wealthy captains and shipowners that lived during the town's seafaring golden age. For history buffs, pop into the Yarmouth County Museum to see the Runic Stone with its odd characters that many believe are ancient Norse runes suggesting that the Vikings were in Nova Scotia as early as 1000 A.D.  For lighthouse buffs, don't miss Cape Forchu Lighthouse in Yarmouth. A climb to the top awards visitors with spectacular views.
If you love to look at the nighttime sky, you are in luck as this area is part of North America's first starlight destination - Acadian Skies and Mi'kmaq Lands, where the night sky is brilliant with stars and distant galaxies. 
Bay of Fundy 
The main reason to visit the Bay of Fundy is to see the incredible tides, sea caves, and scenic spots. This area has the biggest and lowest tides in the world caused by the shape of the bay. The best place to watch the tides is at Hopewell Rocks with its "flower pot rocks," well-groomed trails, stunning vistas, secluded coves, and ocean-floor access. If you like waterfalls head to Fundy National Park, and if you want to see sea caves, don't miss St. Martins Sea Caves they are spectacular. For wildlife lovers, Grand Manan Island is a hot spot for whales, among them are finback, humpback, and minke, along with white-beaked dolphins, harbor porpoises, grey and harbor seals, and a huge number of birds. If you are feeling lucky, you may find a 300-million-year-old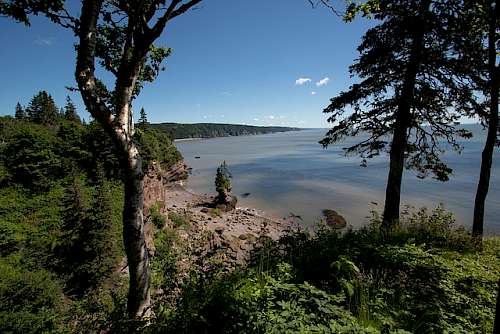 fossil at Joggins Fossil Cliffs, a UNESCO World Heritage Site that is considered to be one of the world's top geological spots.
Annapolis Valley
Annapolis Valley which spans Digby to Wolfville is known for its award-winning wineries and fresh luscious seafood. Digby is famous for scallops, and the city even has a festival to fete this delicate shellfish. Besides scallops, whale watching is one of the most popular things to do in town because the waters surrounding Digby are important feeding grounds for whales. The Fort Anne National Historic Site is the oldest in Canada and consists of a 17th-century fort, a history museum, and a walking trail with interpretive signs. Port Royal National Historic Site features a reconstruction of a French settlement and offers a living history experience. Wolfville is surrounded by a patchwork of farms and is considered the center of the region's wine scene and boasts the highest concentration of vineyards in Nova Scotia. On a more somber note, the Grand Pre, a National Historic Site immortalizes the 2000-strong Acadian community that lived here in the mid.- 1700s that were forcibly marched to boats and deported by the British in 1755.
Northumberland Shore
This region of Nova Scotia is known for its beautiful warm water beaches. It is also known for its Scottish immigrants, shipwrecks, and steam mills. In Pictou, visitors can board the Ship Hector, a replica of a vessel that many Scottish immigrants took in search of a better life in the New World. Afterward, visit the McCulloch Heritage Center which is dedicated to telling the story of Scots in the new world. The Main Museum contains artifacts depicting the heritage and culture of the fishing industry and boat building in the region. For a change of pace, the Museum of Industry has a number of fascinating exhibits related to Nova Scotia's early industry with displays of steam engines, cars, and coal mining. At the Sutherlands Steam Mill, you will see displays of woodworking machinery used to make all manner of things from wagons and sleighs to windows and gingerbread trim.
Cape Breton Island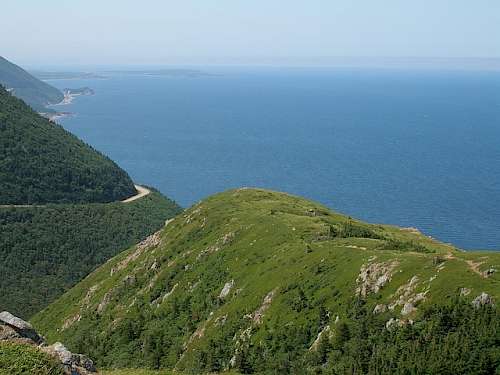 Known for its natural beauty and outdoor attractions, Cape Brenton was named the #1 island in North America by Conde Nate Traveler. A drive along the 185-mile world-renowned Cabot Trail that follows Cape Breton's rocky shoreline is unforgettable. Look for Bald Eagles in the sky and for pods of whales frolicking in the water in the spring and fall. Cape Breton National Park is perfect for lovers of the great outdoors with fabulous hiking trails, and for fishermen, a highlight is fishing the Margaree River. The Margaree Salmon Museum displays many artifacts celebrating the bounty of this river. For a change of pace, learn about the Mi'kmaq culture on Goat Island by experiencing a smudging ceremony, traditional dances, and the art of basketry. Nature lovers should consider a boat tour to Bird Island where they will see thousands of nesting birds including Atlantic puffins.
Eastern Shore
Known for its pristine wilderness and interesting historic attractions, plus the protected 100 Wild Islands coastal wilderness area, this region never disappoints. One of the top attractions is Sherbrooke Village where visitors will experience life in the 1860s when timber tall ships and gold ruled life along St. Mary's River. For nature lovers don't miss the chance to tour the 100 Wild Islands with their white sand beaches, rocky cliffs, and hidden coves. Along the way, look for seabirds and marine life that live in this protected area. At Martinique Beach Provincial Park, Nova Scotia's longest white sand beach you can watch surfers and kiteboarders as you beach comb for sand dollars. 
Food of Nova Scotia
Fresh and local is a way of life in Nova Scotia especially when it comes to seafood. Here you will have some of the freshest lobster, scallops, mussels, oysters, and even caviar that you will ever taste. Here lobster reigns supreme and is served up in a multitude of ways from simply steamed to creamed lobster, lobster poutine, and even lobster beer! Digby scallops are also a must-try. They are world-famous for being succulent and sweet. From bacon wrapped to deep fried, simply steamed on top of linguine, and in chowder, they are delicious. Wild blueberries are the fruit of choice here and Nova Scotia grows more than 40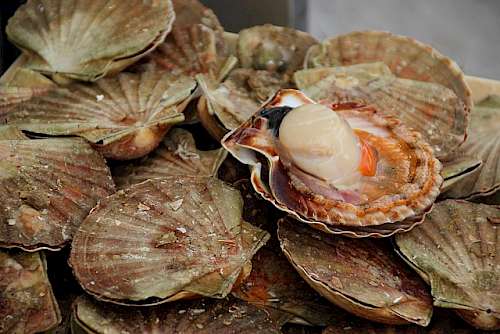 million pounds of them so don't be afraid to go on a blueberry binge! If you need a break from fresh seafood, try the official food of Halifax, the donair. It is made of spiced beef that is cooked on a spit, shaved onto a pita, and doused in sweet garlic sauce. You may want to start your day off with an oatcake, that originated with the Scottish immigrants. Oatcakes pair perfectly with coffee or tea. For a taste of Acadia, try Rappie Pie, a hearty dish that is made up of grated potatoes and meat.