Welcome to Canada!
When one thinks of Canada the first thing that comes to mind are the sophisticated cities like Ottawa, Vancouver, Montreal, Toronto, and Quebec; they are modern, and yet, most of them retain their old world charm. Others, think of Canada's vast expanses - the unspoiled landscape, turquoise waters, towering snow capped mountain peaks, deep green forests, the scent of pine in the air, the playful Northern Lights, the quiet footfall of elk, world-class museums, sublime food, and the wealth of culture and outdoor adventure that can be experienced.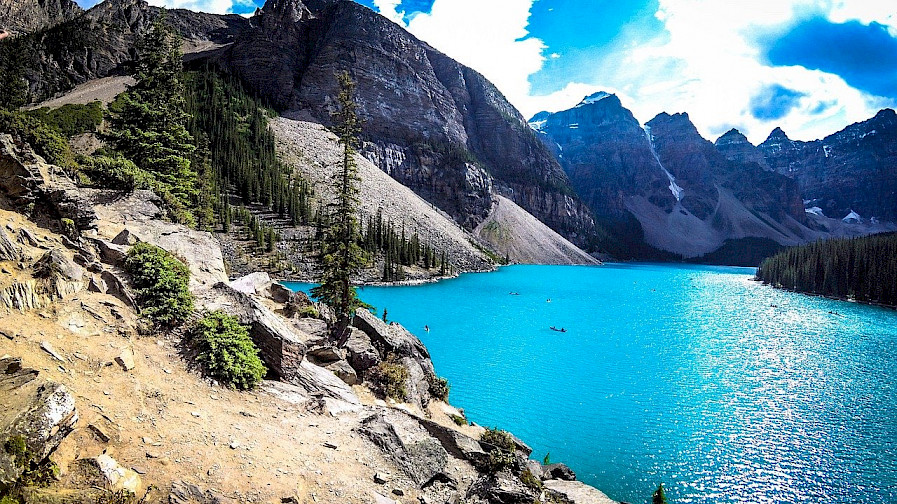 Many visitors come to experience the diversity of Canada that spans more than 3,000 miles from east to west. The variety is endless from the trendy culture of Montreal, the old world charm of Quebec, and the Asian markets of Vancouver, to the shifting sand dunes of the Canadian Prairies, the polar bears of the mysterious north to Prince Edward Island's pink sandy beaches, there is something for every visitor to savor on a bus trip to this great country.
On our tours of Canada travelers will be rewarded with captivating cultures, the great outdoors, terrific food, friendly people, and an arts and culture scene that is remarkable.
---
When to Go
Each season in Canada has its own special charm. It is important to keep in mind that Canada is a vast country and that the temperatures can be quite different in the east and west. A great time of year for example to visit the sub-arctic areas of Northern Canada is in April and November. May – August are considered the peak tourist season. The months of September and October are pleasant with warm days and chilly nights all set against the backdrop of fall foliage colors. If you are a winter sports enthusiast, head to Canada from December to March to experience snowmobiling, dog sledding, skiing, and the famous Winter Carnival in Quebec City.
---
British Columbia
Hugging the Pacific Ocean from the Alaska panhandle in the North to the State of Washington in the South this temperate region is known for its' beautiful mountain ranges, wide swathes of giant evergreen trees, jagged fjords, and a rocky shoreline with numerous islands. It is an ideal destination for guided tours especially prior to hopping on a cruise ship that explores the great Pacific Northwest.
Why Go?
BC is known for its variety and spectacular scenic beauty as well as the endlessly interesting cities of Vancouver and Victoria. 
Vancouver, founded by the British in the late 18th century, is a scenic oceanfront city that is the center of trade and a prime destination for cruise ships making it one of Canada's most visited destinations. Famed Vancouver destinations include Stanley Park, one of the world's largest, the Vancouver Aquarium, the amazing Capilano Suspension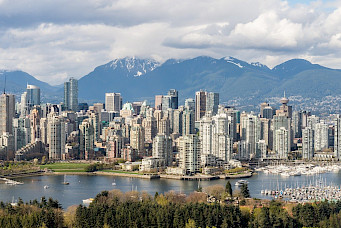 Bridge Park, and the glass bridge cliff walk.
The city of Victoria located on Vancouver Island is known for its distinctive 19th century architecture
including the Royal B.C. Museum and the Butchart Gardens that has been designated as a National Historic Site of Canada. The Haidi Gwaii, often called the, "Galapagos of the North" is located close to the panhandle of Alaska and is the ideal place to experience the remote wilderness of British Columbia.
If you are a foodie you are in luck when visiting this area because Vancouver is a foodie city with a lot of Asian influence. As a matter of fact, Vancouver is the place where the famous California Sushi Roll was invented in 1971! A favorite regional treat is the Japadog that is garnished with seaweed and bonito flakes!
---
Alberta and the West
The Alberta province is a destination not to be missed and lends itself to a guided group tour. Attractions are seamlessly blended between several vibrant cities and the unspoiled beauty of nature. Alberta has five national parks that range from the majestic Rocky Mountains to the lunar like landscape known as the badlands.
Why Go?
Alberta Province is perfect for travelers that love group tours that offer plenty of variety. On our group tours you will discover this beautiful and varied landscape and the cultural heritage that gives it authenticity.
If you like history, it comes alive at Fort Edmonton Park and at the Aviation Museum, that is the last remaining British hanger from WWII.
For outdoor enthusiasts, hit the slopes in Calgary and then stop in at Olympic Park to watch top athletes train. Calgary's wild-west past thrives and, one of the best places to experience it is at Heritage Park Historical Village.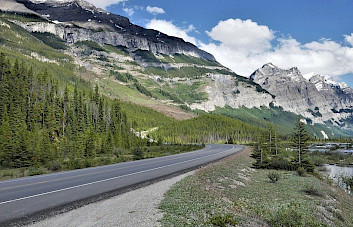 If you like unspoiled natural beauty, head to Jasper and Banff along the Icefields Highway that parallels the Continental Divide. There are more than 100 glaciers along this scenic stretch of road, one more astounding than the next.
The majestic panoramas, fresh pine scented air, waterfalls, and the aqua blue water of Lake Louise and Moraine Lake inspire the senses in a way that very few places in the world can.
A visit to this area wouldn't be complete without exploring the lunar like Badlands. At Alberta's Dinosaur Provincial State Park you can let your inner paleontologist break free as you explore more than 150 full dinosaur skeletons at this UNESCO World Heritage Site.
As for food, get ready to dive into perogies with dozens of different fillings thanks to this areas' large Ukrainian population. Ginger beef is Calgary's nod to Chinese food and Alberta beef is juicy and tender, and must be tried.
---
The Prairies
This vast area of plains, forests, and farmlands are home to the provinces of Saskatchewan, and Manitoba, "the breadbasket" of Canada. On our guided group tours you will understand why so many people settled and farmed on these remote and beautiful plains.
Why Go?
Saskatchewan offers an amazing mélange of landscapes from the shifting sand dunes of Athabasca to plunging chasms, verdant forests, and the rocky landscape of the Canadian Shield where visitors will find a new experience at every turn.
Native American history thrives in this part of Canada. Tipi rings, arrowheads, petroglyphs, and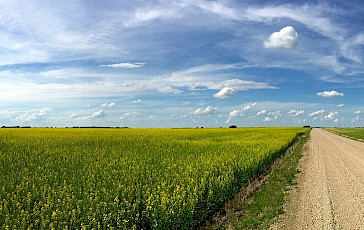 medicine wheels can be found throughout the province. This area is ideal for a tour off the beaten path
Manitoba is an excellent destination for wildlife enthusiasts. Watch polar bears roam in unspoiled beauty in the wilds of Churchill and along the 110,000 lakes and rivers found here.
For an unforgettable wildlife experience go on a Beluga Whale guided tour. It is estimated that 3,000 to 5,000 whales enter the Hudson Bay estuaries to feed and give birth every summer.
If you enjoy the night sky, it is hard to miss the Northern Lights in Churchill. It doesn't really matter when you visit because the Northern Lights appear here almost 300 nights a year due to Manitoba's remote sub-arctic location and low light pollution.
The area of Saskatchewan and Manitoba has the largest proportion of indigenous people and some of the most iconic dishes served up originate with the Native First People. Look for Saskatoon berry pie, and chokecherry jam.
---
Ontario
Canada's most populous province offers something for every traveler. Whether you crave exploring high-energy cities, island hopping on the St. Lawrence River, riding the rails to a remote canyon, watching the pounding water of Niagara Falls, or seeing caribou in the wild, you can experience all this and more. When you take one of our guided tours you will discover why this is an area of contrasts and excitement.
Why Go?
There are so many ways to view Niagara Falls, take a boat cruise for an up close view or journey behind the falls. Up close or far
away, whatever way you choose, the experience of Niagara Falls will stay with you forever.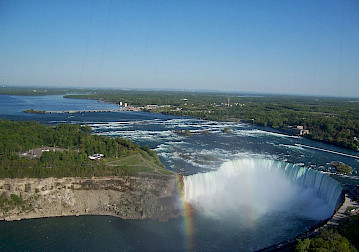 Toronto is Canada's biggest city and as cosmopolitan as they come. It is one of the most culturally diverse cities in the world with Greektown, Little Italy, Koreatown, and Chinatown all within stones throw of each other. You can traverse the world when exploring this dynamic city! For retail therapy don't miss a visit to the world's largest underground shopping mall and for a birds- eye- view head to the 1,815-foot CN Tower, considered to be one of the Seven Wonders of the Modern World.
Soak up the culture and fun in Ottawa, the seat of the government of Canada and home to many important museums and landmarks like the Fairmont Château Laurier, the ByWard Market, and the National Art Gallery.
Riding the rails through Agawa Canyon is a modern journey that takes you into the wilderness of Ontario. If you love nature, this is the rail trip for you! On this guided tour you will pass pristine lakes and rivers, go through Canadian Shield Forests, and pass amazing granite rock formations…all in the comfort of a wide window seat!
If you are feeling nostalgic, be part of a bygone era as you explore the 42 buildings and listen to the stories of artisans and farmers, French and Scottish fur traders, and First Nation people at Fort William Historical Park.
Marvel at castles and estates, listen to legends about pirates, bootleggers, and politicians while cruising the St. Lawrence Seaway.
If you are looking for an unusual cultural connection, exploring the Great Spirit Circle Trail will take you into the lives of the Anishinaabe people and their rich Aboriginal history. Hear their stories, try their food, and take part in their ceremonies for an authentic indigenous experience.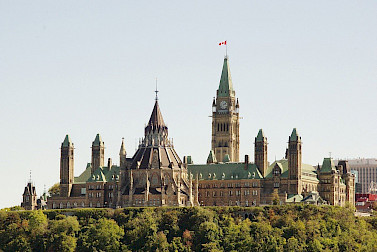 Ottawa's culinary scene is as diverse as Canada. Maple syrup, beaver tails, cheddar cheese, Toronto pasta, and German sausage are just a few palate-pleasing dishes.
---
Quebec
Quebec is like no other city in North America. It is the cradle of French America that dates to 1700. The distinctive culture found here is preserved to this very day on Quebec's cobblestone streets, in its European architecture, and in the welcoming people that make this city their home. From beautiful landscapes to amazing experiences, you will see it all and more on our guided tours.
Why Go?
Quebec City, a UNESCO World Heritage City, is the only walled city north of Mexico and today's visitors get a glimpse of how people lived centuries ago.
Perfect for history buffs and art lovers, Quebec boasts one–of-a-kind sophisticated cafes, intriguing boutiques, and maple sugar shacks that are set against the backdrop of the mighty Saint Lawrence River.
The people of Quebec love winter and so will you! Join in the fun at the Carnaval de Quebec, the biggest winter festival in the world that celebrates the pre-Lenten tradition with folklore, music, parades, ice palaces, outdoor sports, and, feasting! There is even a masquerade ball at the Chateau Frontenac, one of Canada's grand railway hotels. Another winter tradition is the ice hotel that is made from 30,000 tons of snow!
For wildlife enthusiasts' coastal Quebec is one of the few places in the world where you can see a wide variety of whales that are attracted to the rich supply of shellfish found in the Saint Lawrence River.
Quebec is a mecca for foodies. At the winter carnival, don't miss a warming shot of caribou, the traditional drink of port, whisky, and maple syrup! Feasting has always been a tradition here and great restaurants abound. Poutine is the signature dish of Quebec and is found on most local menus. This hearty pile of fries, gravy and cheese curds is a must along with maple candy and syrup.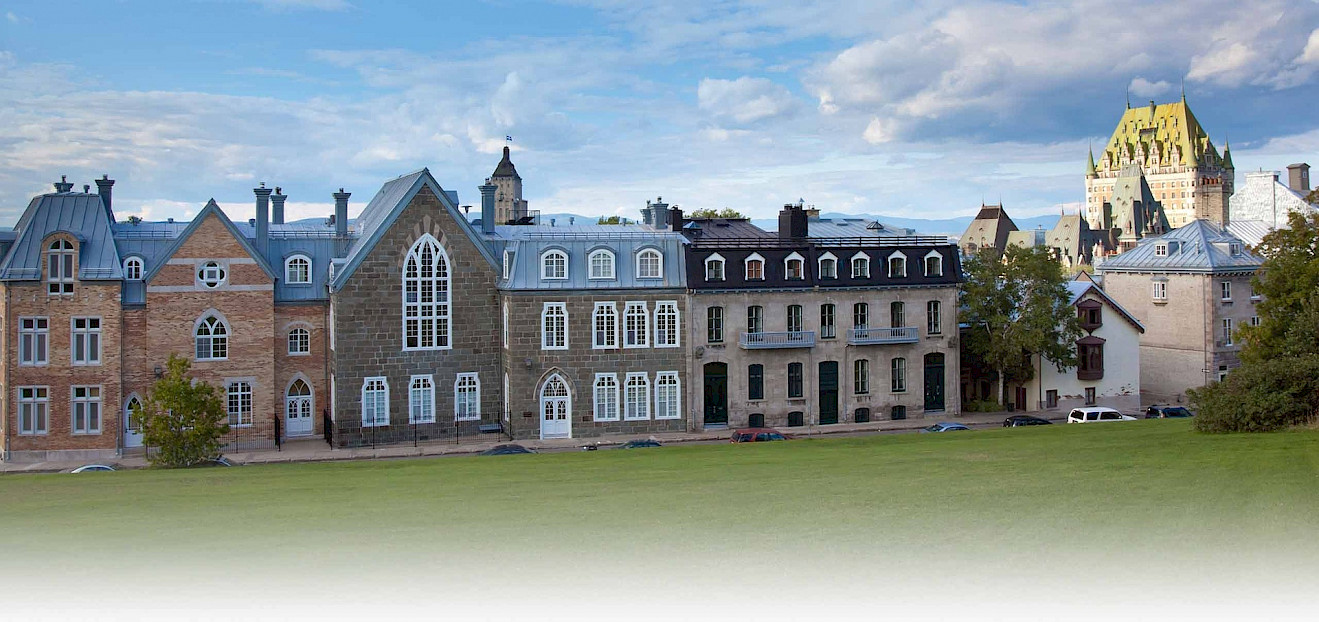 If you want to visit a superlative year-round destination, take one of our guided tours that includes Montreal. With its diversity of attractions, festivals, and shops this destination is perfect for a short getaway.
Montreal is foodie heaven and boasts more restaurants per capita than any other city in North America! The cuisine is extremely diverse. Its main influences are French, Irish, and Canadian aboriginal. Whether you are looking for a special occasion meal or a quick bite, you will find something to please every palate and pocketbook.
The arts scene here is superb.  Movie buffs should head to World Film Festival and music lovers should attend the International Jazz Festival.
Visitors will never be bored in Montreal because there is so much to see and do. Set out to explore the underground network of walkways where you will discover shopping centers and restaurants around every corner. Attraction highlights include the Montreal Bio Dome, Botanical Gardens, Contemporary Art Museum, and the Montreal Museum of Fine Art.
If you like neighborhoods, Montreal won't disappoint, there is always something to be discovered. Of special interest is Old Montreal with its cobblestone streets and upscale shops and cafes.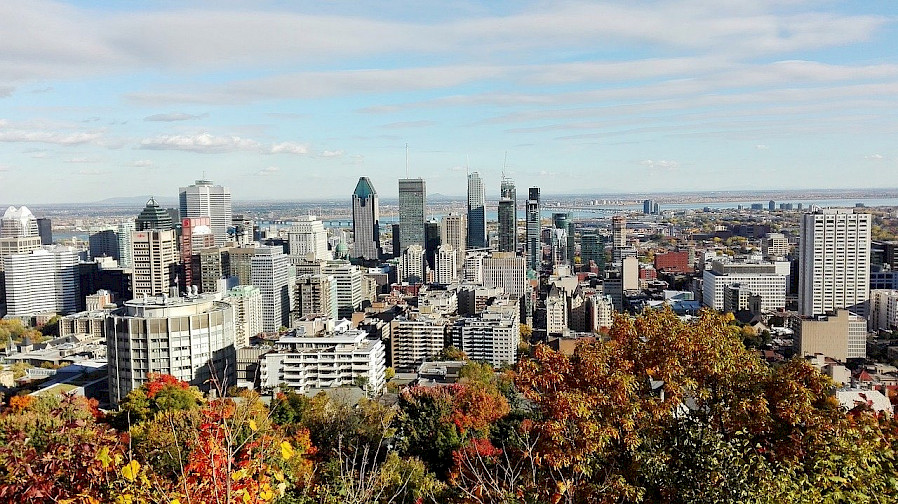 ---
Atlantic Canada
This rocky shoreline was the first to be discovered by Europeans and consists of New Brunswick, Newfoundland and Labrador, Nova Scotia, and Prince Edward Island. Quaint and interesting this area retains a mix of centuries old traditions of their founders that hailed from Britain, Scotland, Ireland, and France. On our guided tours we will make sure you see all the high-points of this region that is capped off with some of the best seafood in the world!
Why Go?
The Bay of Fundy in New Brunswick is a treasure trove of wildlife experiences from hiking, and bird watching, to self-guided geology walks and kayaking. In the summer, 12 species of whales come to feed in the bay's waters including half of the world's
endangered North Atlantic Right whales. A robust number of festivals and museums plus the charming Gothic, Queen Anne, and Greek revival architecture of St. Andrews by the Sea make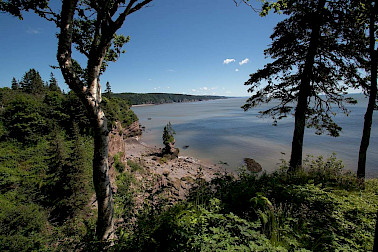 this area a haven for visitors.
Newfoundland and Labrador, one of the most rugged and unspoiled provinces of the North Atlantic is a nature lovers dream and ideal for the eco traveler. St John's is known as the seabird capital of America with over 35 million seabirds including the Atlantic Puffins. Here, you don't have to go all the way to Norway to experience the incredible beauty of fjords or feel the spray of some of the highest waterfalls in the Americas. Sheer beauty abounds here in the Torngat Mountains that is home to polar bears, glaciers, and caribou. One of the most unforgettable experiences is to watch the world's largest population of humpbacks frolic and feed in iceberg alley.
Tartan shops and Gaelic signs, stunning vistas, picturesque lighthouses, traditional fishing villages, and beautiful beaches are just some of the pleasures of Nova Scotia. Highlights include the sweeping views from Cape Brenton, the Fortress of Louisbourg, whale watching, the bucolic village of Peggy's Cove, the Halifax Citadel, the Maritime Museum of the Atlantic, and the fishing village of Lunenburg. As the "lobster capital" of Canada this delicacy makes Nova Scotia irresistible for seafood lovers.
Rocky red shores and pink sand beaches, Anne of Green Gables, and authentic local charm encapsulate Prince Edward Island. Quiet and quaint seaside experiences, scenic lighthouses, and neat white and green houses dot this small island. For a close up look at the island's wild rock formations head to Thunder Cove and don't miss a visit to St Dunstan's Basilica and Province House. Canada's smallest province offers so many unexpected experiences from a visit to the home of a world wide best selling author to one of the world's longest bridges, making this a memorable destination.
Prince Edward Island: A Beautiful Journey
If you love seafood, the North Atlantic province is where you will eat your fill of lobster, Ruisseau oysters, digby scallops, haddock, smoked salmon, and clams. Nova Scotia also has some terrific breweries, distilleries, and wineries that round out the culinary experience.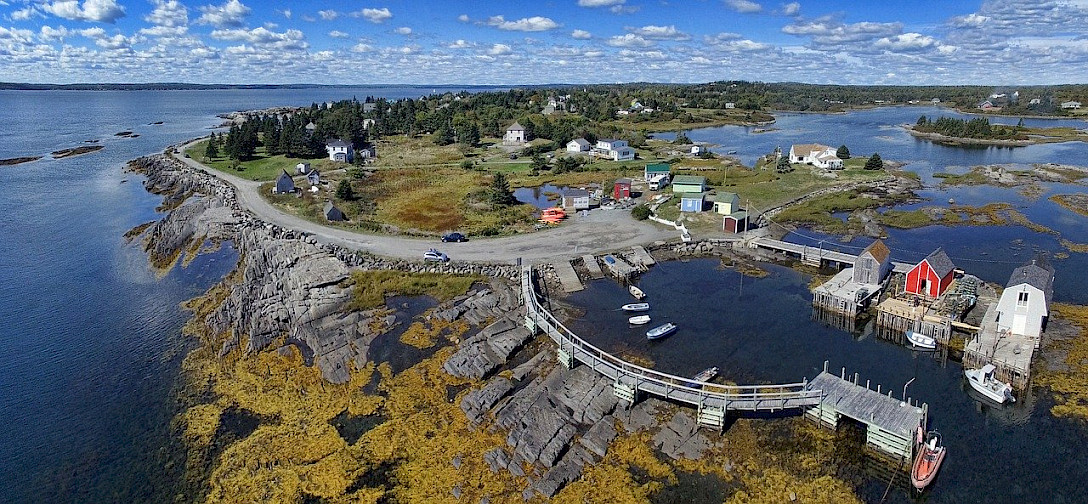 ---
Why Tours of Distinction?
Over 15 Escorted Tours to Canada
Over 50 Years of Escorted Travel     |     Custom & Scheduled Departures      |     Mostly Inclusive     |     Over 500,000 Travelers
Learn More (/why-tours-of-distinction/what-makes-us-distinct/)