Travel Tip Tuesday | Flight Delays
Why Are Flights Delayed?
There are a million little things that can sometimes go wrong when traveling by air that is out of our control. One of the most common hiccups is flight delays. According to the Bureau of Transportation Statistics, just 16.3% of all flights were delayed in 2021 as opposed to 18.5% in 2019.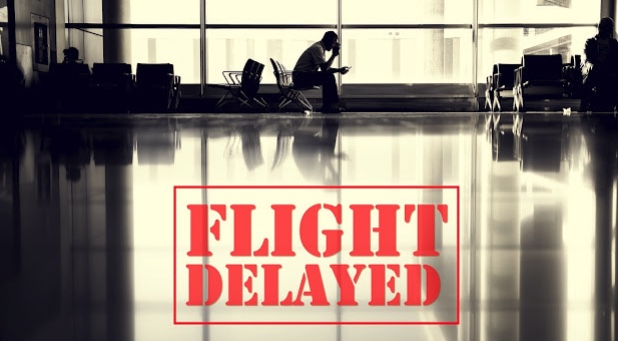 ---
When an airline reports a delay, it is placed in one of five categories created by the Air Carrier On-Time Reporting Advisory Committee. The five categories are defined as follows:
Air Carrier: The cause of the cancellation or delay was due to circumstances within the airline's control (e.g. maintenance or crew problems, aircraft cleaning, baggage loading, fueling, etc.).
Extreme Weather: Significant meteorological conditions (actual or forecasted) that, in the judgment of the carrier, delay or prevent the operation of a flight such as a tornado, blizzard, or hurricane.
National Aviation System (NAS): Delays and cancellations attributable to the national aviation system that refer to a broad set of conditions, such as non-extreme weather conditions, airport operations, heavy traffic volume, and air traffic control.
Late-arriving aircraft: A previous flight with the same aircraft arrived late, causing the present flight to depart late.
Security: Delays or cancellations caused by evacuation of a terminal or concourse, re-boarding of aircraft because of a security breach, inoperative screening equipment, and/or long lines in excess of 29 minutes at screening areas.
Currently, 17 U.S. air carriers report on-time data to the U.S. Department of Transportation and the Bureau of Transportation Statistics (BTS). To check airline statistics for regularly scheduled flights visit the BTS website which allows you to search historical data by flight number, airline, and airport. If a flight has a long history of delays, you might want to consider an alternative.
No matter what the reason is for your flights' delay when you speak to an airline representative, be polite. It is not their fault that the flight has been delayed, and losing your temper is not likely to help your situation. 
Traveling with Tours of Distinction and one of our experienced group tour directors is an added bonus because of the years of experience in navigating delays and assisting small-group tour members with alternative options if the situation warrants it.