Travel Tip Tuesday - Sanitize Your Seat
Travel and Leisure Magazine and USA Today among many other news outlets reported that Southwest Airlines will no longer disinfect armrests and seat belts between flights. Due to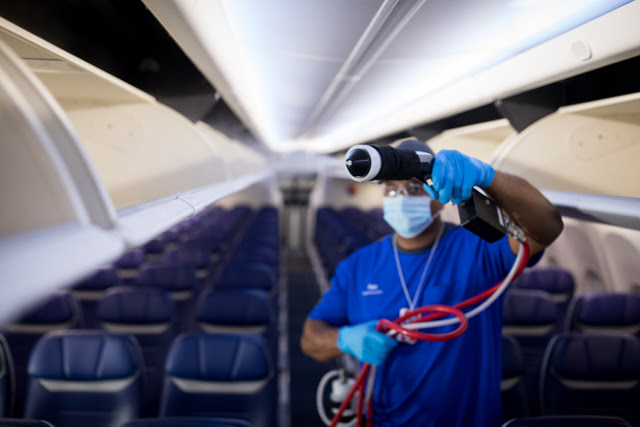 increased flights, Southwest is now only cleaning high touch areas like bathrooms and tray tables between flights. A memo obtained by USA Today describes this reasoning to employees of Southwest as " the most important areas to clean between each flight as they are prone to contamination from Customer use and food/beverage consumption."
Southwest does disinfect the planes overnight and the cleaning crew spends six to seven hours cleaning all interior surfaces. The airline also noted in a press release on their website that they have an electrostatic spraying process that forms an anti-microbial coating that kills viruses on contact for thirty days and that each flight uses HEPA air filers. In addition, Southwest is continuing to board people in smaller groups and, is testing thermal cameras at select airports to take passengers' temperatures.
In terms of face masks, Southwest has also just updated its policy on acceptable forms of face coverings.  Face coverings with holes in the covering including those with exhaust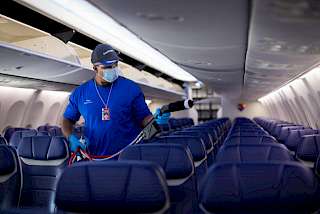 valves or those made solely of materials like mesh or lace fabrics will not be accepted. Face coverings also cannot be secured under the chin, including bandanas and face shields. Neck gaiters may be worn as face coverings as long as they cover the nose and mouth and can be secured under the chin. Southwest will continue to offer face masks at all their airport locations for any customers that forget to bring a face mask.
Customers can and should request disinfectant wipes before sitting down. If you are wiping down your seat, don't forget the seatbelt buckle, arms, touch screen, side buttons, and the overhead light.