Travel Tip Tuesday - Foods You Can Fly With
Have you ever wondered what foods the Transportation Security Administration allows you to bring on a plane? Packing ahead and knowing what you can and cannot carry on is important to know in order to avoid additional screening or worse, confiscation of items. That said, when it comes to food, the TSA agent in your security line has the final say whether you can fly with it! Here is an abbreviated list of what you can fly with.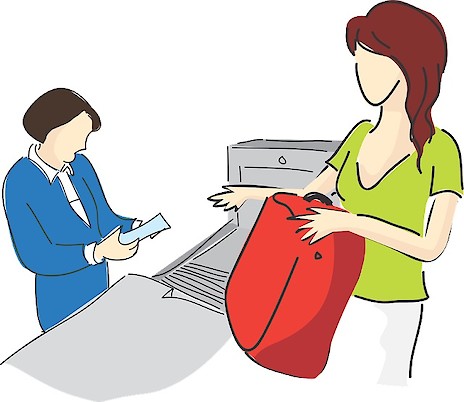 1. Alcoholic beverages with more than 24% and not more than 70 % alcohol are limited to checked bags, the alcohol is limited to 1.3 gallons per person in unopened retail packaging.

2. Baby food and formula is allowed in reasonable quantities in carry on bags but must be removed and screened separately.

3. Less than 3.4 ounces of bottled water is allowed in a carry on bag as well as in checked bags.

4. Solid food such as bread, candy, cereal, nuts, cheese, chocolate, coffee beans, cooked meat, seafood, vegetables, cookies, pies, cakes, pizza, solid food, spices (dry), tea bags or loose tea leaves, protein or energy powders, crackers, dried fruits, fresh eggs, gum, salt, sandwiches, snacks, can be transported in either your carry on or checked bags.

5. Passengers flying from Hawaii, Puerto Rico or the U.S. Virgin Islands to the U.S. cannot take most fresh fruits and vegetables due to the risk of spreading invasive plants.

6. Frozen food and gel ice packs are allowed as long as they are frozen solid when presented for screening.

7. Less than 3.4 ounces of honey, coffee or tea (liquid), salad dressing, salsa, soda, yogurt, soup, sauces, maple syrup, oil, vinegar, peanut butter, creamy dips or spread, gravy, wet pet food, ice cream, hummus, jam, jelly, juice, can be carried on the plane.

8. A live lobster can be carried on in a clear plastic spill-proof container.

For items not listed here snap a photo and send a question to AskTSA on Facebook.  They answer questions daily weekdays from 8 a.m. to 10 p.m. ET and from 9 a.m. to 7 p.m. weekends and holidays.