The Biltmore | America's Grandest Estate
Visiting Biltmore Estate - America's Largest Home
Set amid Pisgah National Forest of Asheville, North Carolina, the story of the Biltmore Estate begins with George Vanderbilt; the son of William Henry Vanderbilt, the oldest son of Commodore a.k.a. Cornelius Vanderbilt who started the family's transportation empire. George had no interest in the family's railroad business, he had two older brothers handling that and in contrast, to his older siblings, he enjoyed traveling, collecting art, reading, and architecture.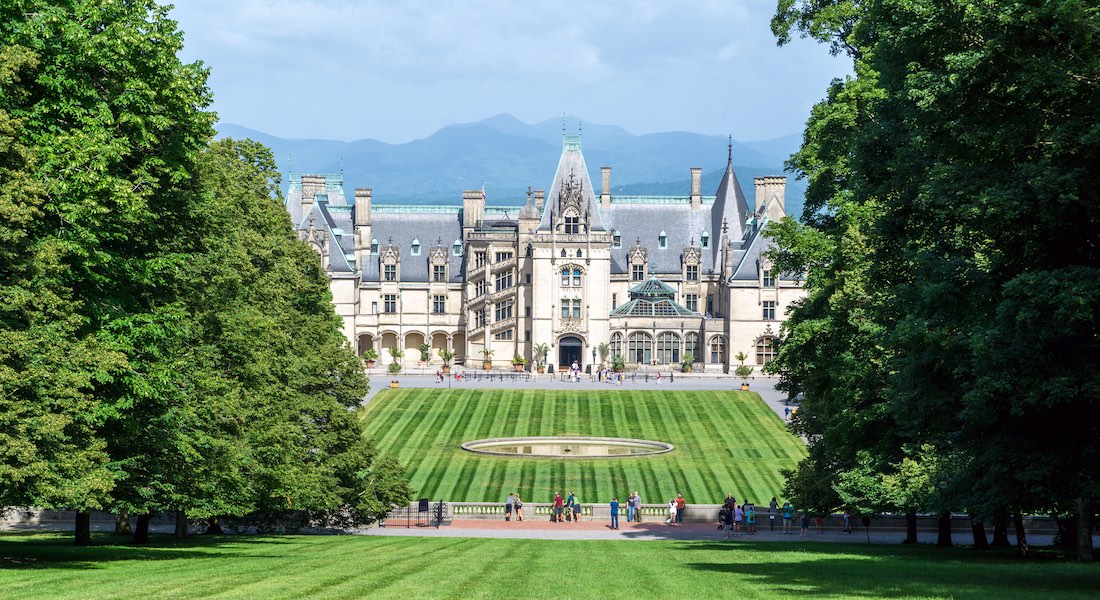 ---
When George's father died in 1888, George was left with $13 million. At that time, it was de-rigueur for a man of his social standing and wealth to build a summer cottage. His older brother, Willie K, and his wife, Alva, for example, built Marble House in Newport. George decided to make his mark when he first saw the peaks of the Blue Ridge and Smokey Mountains in Asheville, North Carolina, a place that was a popular society destination because of its fresh mountain air.  When George saw the Pisgah Peak and the beauty of the surrounding landscape, he envisioned a blank canvas on which a stately estate could be painted.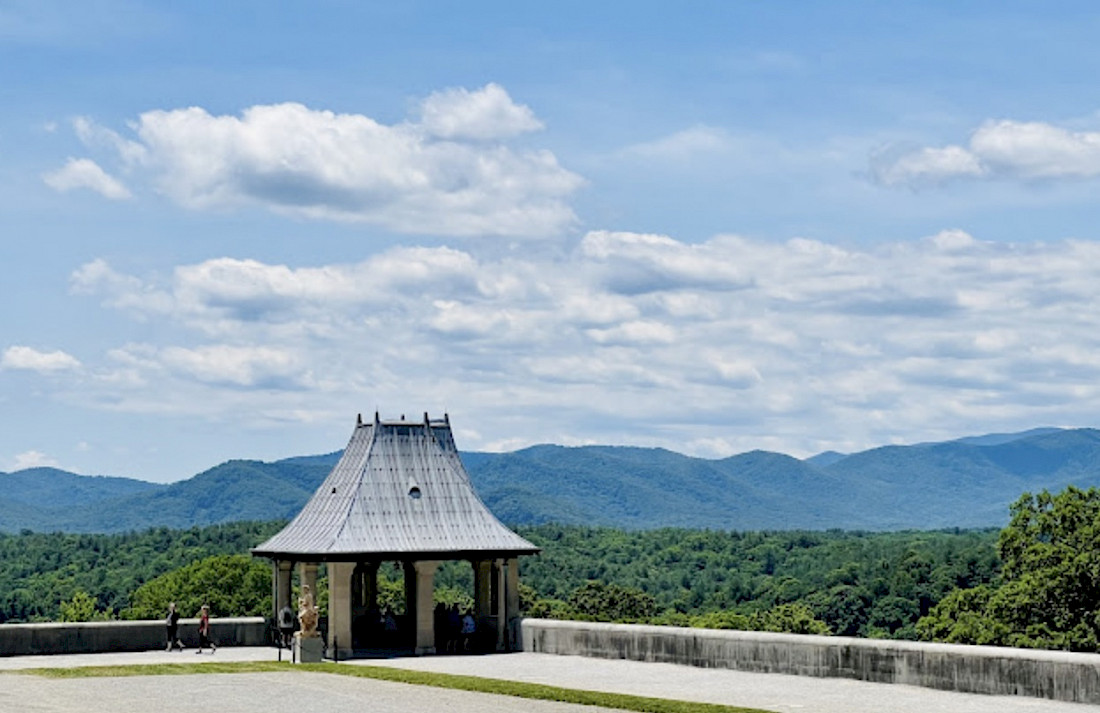 Lucky for George had the money to bring together the extraordinary team of Richard Morris Hunt (designer of Metropolitan Museum of Art's Great Hall and many Newport summer cottages) and Frederick Law Olmsted (designer of NYC Central Park and the U.S. Capitol Grounds) among others, that would make his vision a reality. A vision that today is known as America's Palace by some and is referred to by the Vanderbilt-Cecil family, owners of the estate, as America's Largest Home.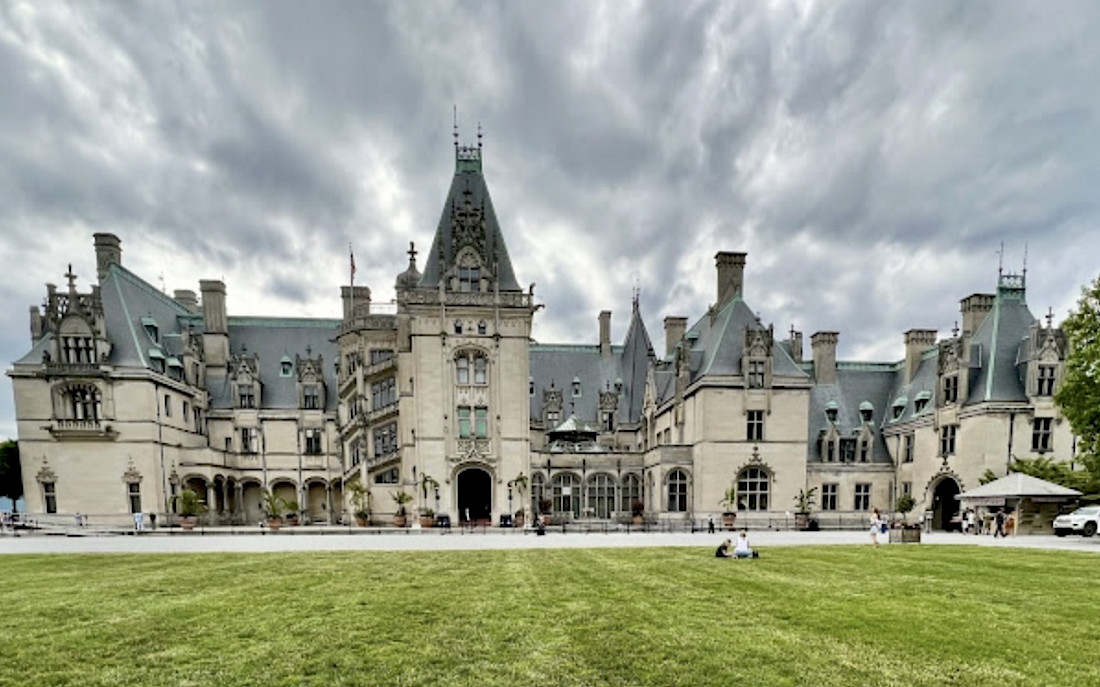 The estate of Biltmore that we see today was as unique in its day as it is today for many reasons. The approach that landscape architect Olmsted took was more European than American. The Biltmore was conceptualized as a scientifically managed forest, the first in the United States, as a game preserve, and as a place for timber crops, that was run much like the nobles of Europe ran their estates for centuries. Olmsted was also commissioned to create 75 acres of formal and informal gardens which so many people admire today. As for Hunt, he was commissioned to build a 250-room French Renaissance-style chateau.  Today the house is 175,000 square feet with 35 bedrooms, 43 bathrooms, and 65 fireplaces. Work on the house and grounds began in 1889.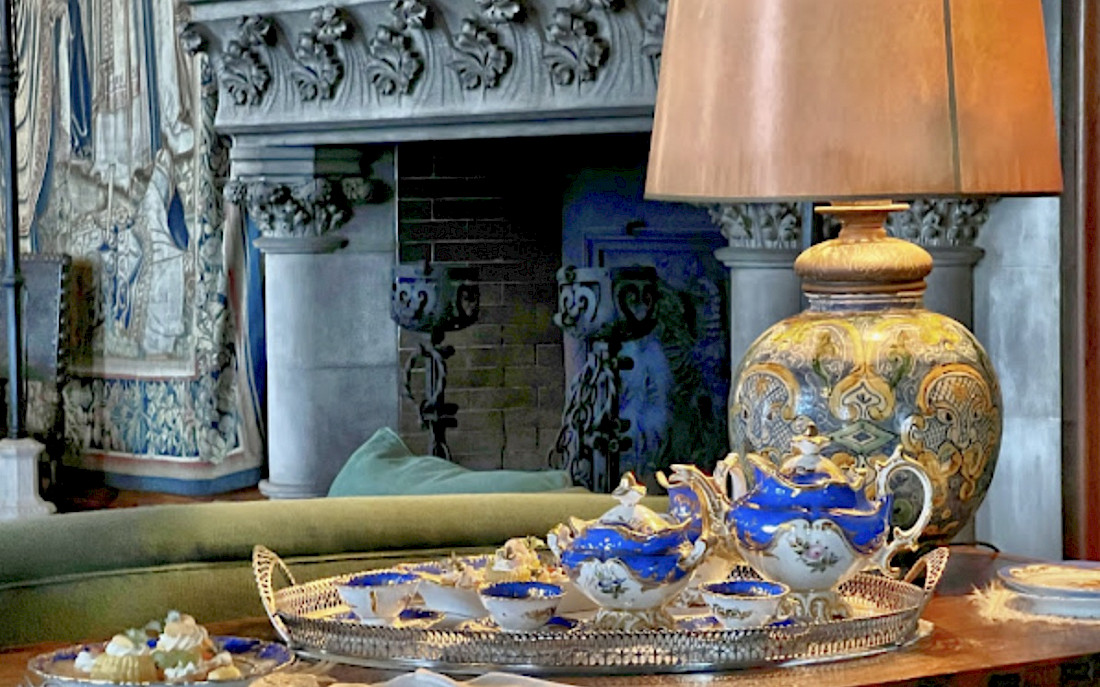 As work was going on at Biltmore, George left on a buying trip to Europe. There he met Edith Stuyvesant Dresser and married her after a short courtship. After a quiet honeymoon in Italy, George brought Edith to Biltmore. It is hard to imagine what this new bride thought of this enormous palace that was to be their family home.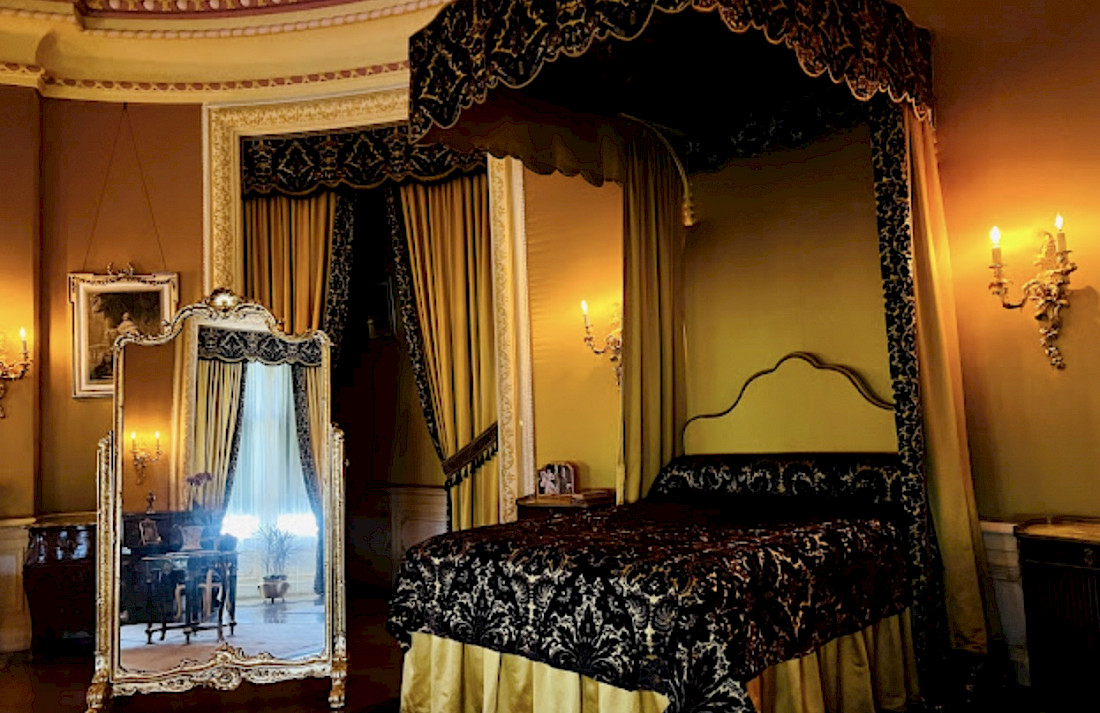 A new era in George's life and at Biltmore began with his marriage to Edith. Edith must have been astounded to see George's vast collection of art - paintings by Sargent, Degas, and many others, Antoine-Lois Bayre bronze sculptures, Durer prints,  prized oriental carpets, and decorative flourishes that embellished every aspect of the house. Edith's golden oval bedchamber, which can be toured today, would have delighted Louis XV, and George's crimson bedroom embellished with dark hand-turned walnut Baroque furnishings is fit for a king. George's bedroom was influenced by a room he visited at the Hatfield House in England in the 1890s.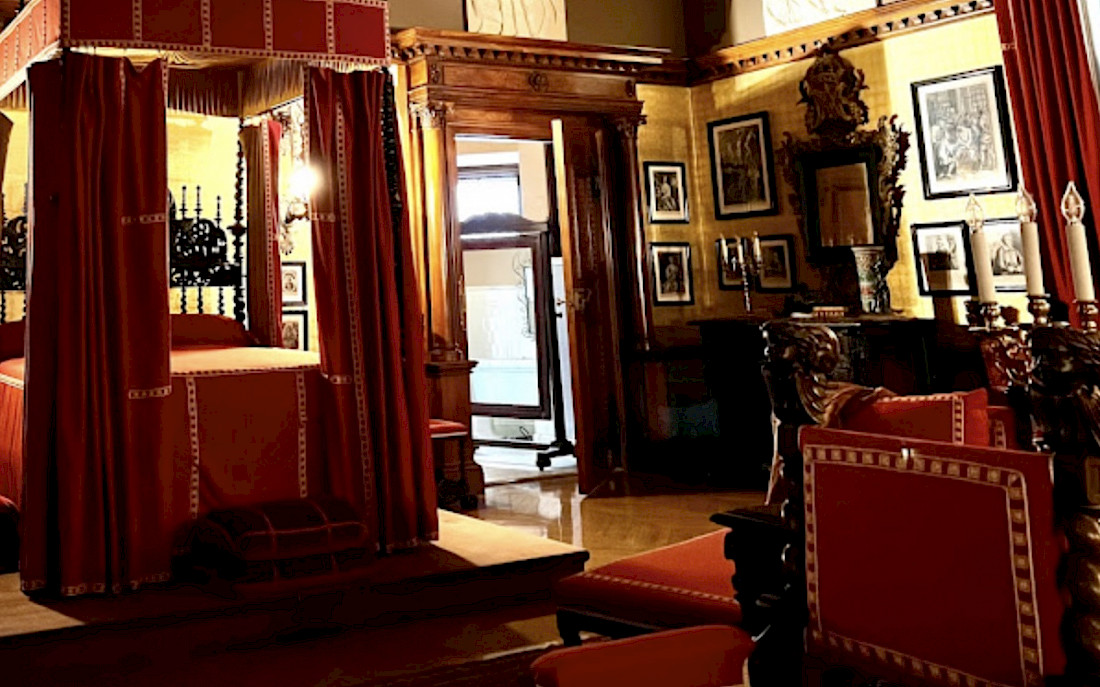 There is also a grand banquet room with castle-worthy chandeliers and a grand tapestry gallery with magnificently decorated fireplaces. A favorite room of many, then and today, is the library which is a testament to George's love of the written word. Here visitors can gaze at more than 20,000 volumes lining the walnut shelves that are overlooked by The Chariot of Aurora painting circa 1720 from the Pisani Palace in Venice.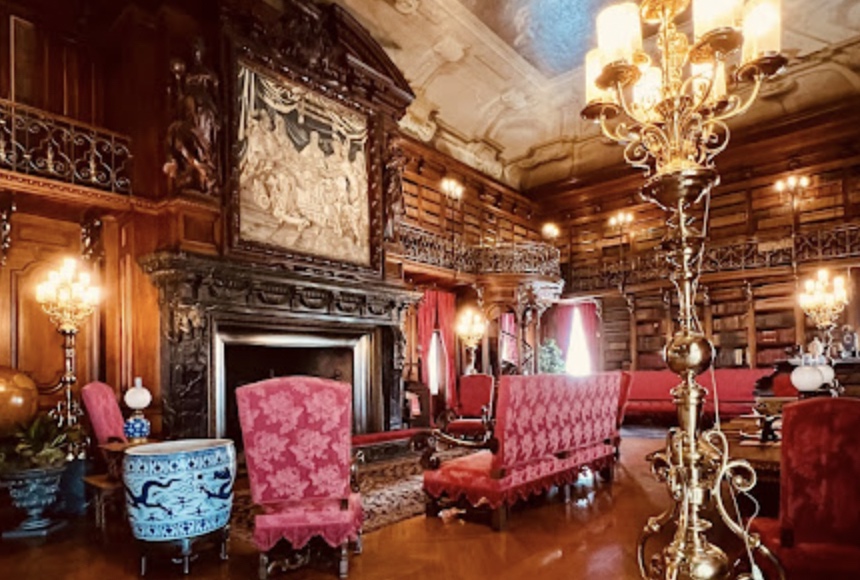 George passed away at the age of 51 in 1914 leaving Edith and his daughter, Cornelia to manage the estate. Edith had been very involved in helping educate the local community by establishing a thriving social and work center for families in the area. Although the estate would pass to Cornelia when she turned 25, Edith had to decrease the estate's financial burden in order to maintain the ownership of all that she and George had worked to create. She sold 87,000 acres to the United States Forestry Department saving the estate and ensuring the preservation of the forest that George cultivated and loved so much. This land became Pisgah National Forest, one of the first national forests in the United States.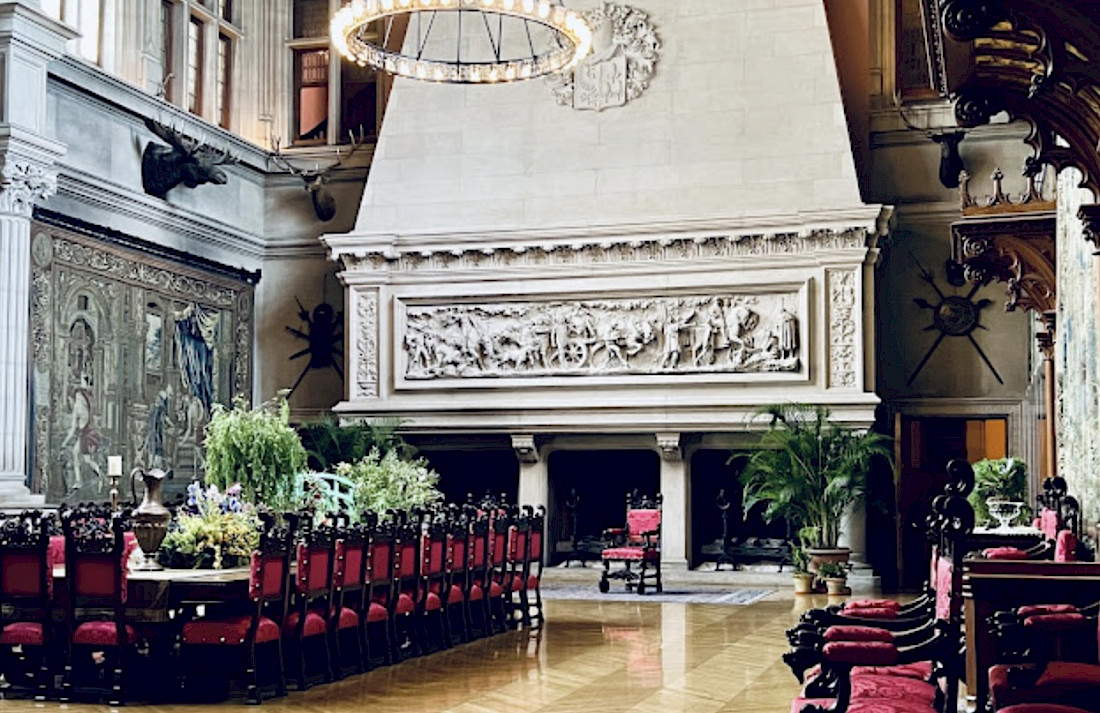 In 1924, Cornelia married British diplomat, John (Jack) Cecil at the Biltmore, one of the last occasions when the entire Vanderbilt clan got together with Edith walking her daughter down the aisle.  Just ten months after the wedding, George Henry Vanderbilt Cecil was born at Biltmore House and Edith married Senator Peter Goelet Gerry of Rhode Island. In 1925, Cornelia came into full possession of the estate and trust fund. To celebrate this milestone, Cornelia and Jack threw a party at Biltmore for thousands of friends. After having her second child, William Amherst Vanderbilt Cecil in 1928, they decided to open the Biltmore to the public in 1930 in order to raise funds.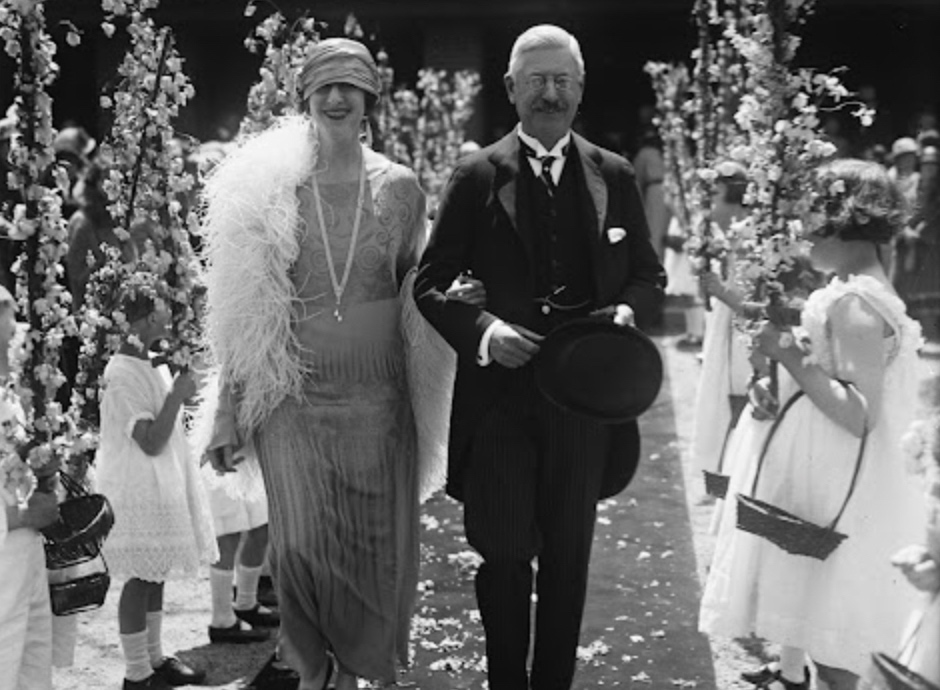 Cornelia wanted something more out of life and her independent spirit could not find happiness at her 175,000-square-foot estate. Cornelia left her husband and sons for the life of an artist and writer. Jack and her two sons, William and George, continued to live on and manage the estate, with the help of Edith eventually forming a Board of Directors.  As time passed, Cornelia requested and was bought out of the estate. She resided in England with her third husband, never returning to Biltmore. She established a charity in England with the proceeds from the estate that is still thriving today.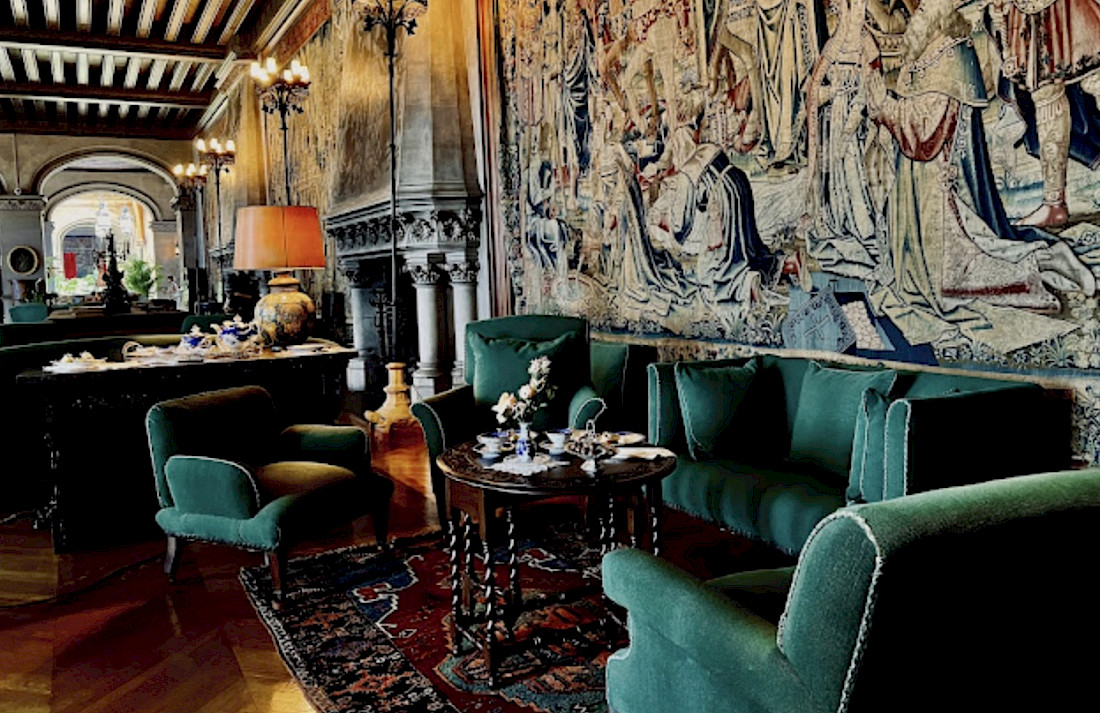 Biltmore is still family-owned and managed by Bill (William Jr.), George and Edith's great-grandson. Private ownership means that the estate gets no tax breaks and is not eligible for any grants. In order to maintain the estate, George and Edith's descendants have continued to keep the house open to the public and have added two hotels on the property and a winery, the most visited in the United States. The family has made most of the 8,000 acres available to the public, there are hiking trails, bike trails, horse and carriage rides, and canoe rentals. Visitors can eat at several restaurants, some are housed in refurbished horse stables, visit a blacksmith's shop, pet farm animals, and shop in unique shops chock full of specially created "Biltmore items."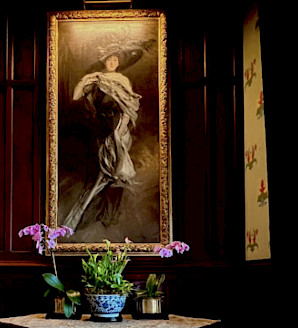 Riding in a shuttle on the forested Approach Road through the grand iron gates to the esplanade, visitors get their first glimpse of the Biltmore House and the mountains beyond, which is an awe-inspiring sight. Strolling past the stone lions and into the guest hall where the family greeted thousands of guests, you feel immediately welcomed. Touring the house transports you back in time to the long-lost Gilded Age. Marvel at the stately dining rooms, gaze up at the painted ceiling in the library, imagine sitting by the fire in the tapestry gallery and sleeping in one of the 35 cozy guest rooms with their amazing mountain views. Wander the estate, breathing in the fresh air scented with flowers, relax on the loggia where George Edith and Cornelia relaxed, and wander through the gardens that have a bespoke history of their own. 
Walking the rooms, halls, and gardens of the Biltmore Estate is a journey that takes you back in time, and one that you will cherish always. Visit the Biltmore on Tour of Distinction's guided group tour Music Cities USA featuring Memphis, Nashville and the Biltmore.