Spotting Sloths in Costa Rica
How to spot elusive sloths on your next trip to Costa Rica.
Everyone seems to be fascinated with sloths! They are popular on TV, the internet, at the zoo, and even in animated films.  I am
not sure why sloths are trending, but I tend to think it is because we appreciate their laid back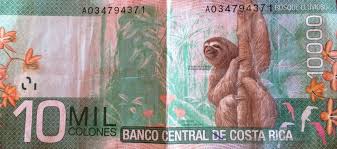 demeanor in this increasingly hectic world.  Today sloths can be found on an increasing number of items from totes and pillows, to coffee mugs and keychains. As a case in point, in Costa Rica, the sloth is so beloved it is actually on their currency!

One of several reasons why I took a guided tour to Costa Rica was to spot the ever-elusive sloth. About the size of England, Costa Rica packs in a lot of variety from rainforests and beaches, to volcanoes and mountain lakes in a relatively small area. It is also said to be one of the best places in the world to see sloths in their natural habitat. Of the six species of sloths worldwide,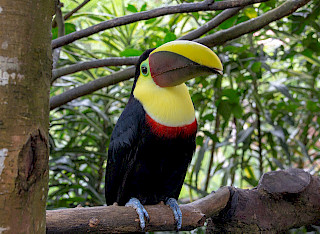 Costa Rica is home to two; Hoffman's two-toed sloth and the brown-throated three-toed sloth. Hoffman's two-toed sloth is nocturnal making it nearly impossible to spot. The brown-throated three-toed sloth is still tricky to spot without a guided tour because of its canopy colored fur. 
Manuel Antonio National Park
Named after a Spanish Conquistador, Manuel Antonio National Park with its lush vegetation, spectacular white sand beaches, turquoise waters, and picturesque overviews is teeming with wildlife. Bird lovers will spot over 300 species of birds from the fiery billed aracari to the mangrove hummingbird.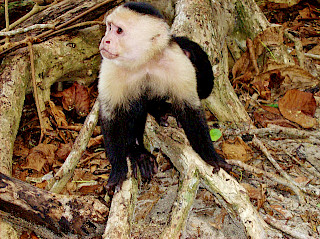 The range of the biodiversity is amazing with over 100 mammals including three of Costa Rica's monkey species, the Central American Squirrel, Mantled Howler and the white-faced capuchin monkey.  The squirrel monkey only lives in the rainforest around Manuel Antonio and Corcovado National Parks and is now considered endangered. Keep your ears peeled for the booming roar of the mantled howler monkey that is one of the most memorable sounds you will hear in the rainforest. Not to worry, even though they sound fierce, they spend most of their time napping on tree branches. The white-faced capuchin monkeys are most commonly spotted and have been known to steal visitors' food!
I was really happy that my group tour itinerary with Tours of Distinction included a guided nature walk in Manuel Antonio National Park, named as one of the most beautiful parks in the world by Forbes Magazine. This park is also the best place in Costa Rica to spot three-toed sloths. 
Exploring the Rainforest
There are three trails through the rainforest that will bring hikers up close to wildlife that makes this dense jungle habitat their home. The trails are well maintained with clear paths and elevated boardwalks that provide the easiest access to Costa Rica's lowland rainforest. The trails are also relatively flat making them easy to walk.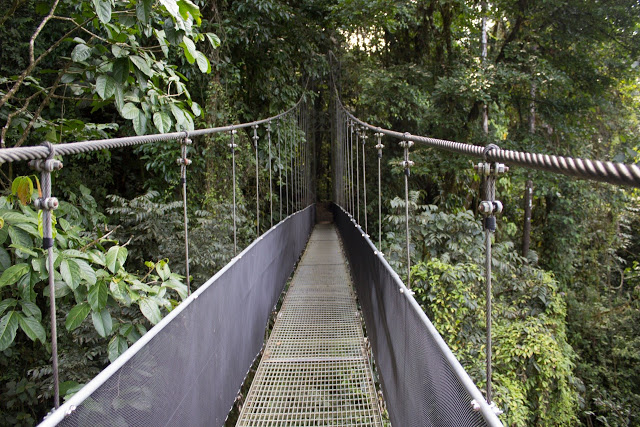 My tour guide and I started our adventure on the main trail that is just under a mile and a half long on flat terrain making this an easy and pleasant walk, especially early in the morning. The trick here is to beat the heat and the crowds. Capuchin, Howler, and Squirrel monkeys are social and can be seen cavorting throughout the forest, I first noticed them at the entrance to the trail begging for handouts. It is illegal to feed wildlife so keep the treats for yourself!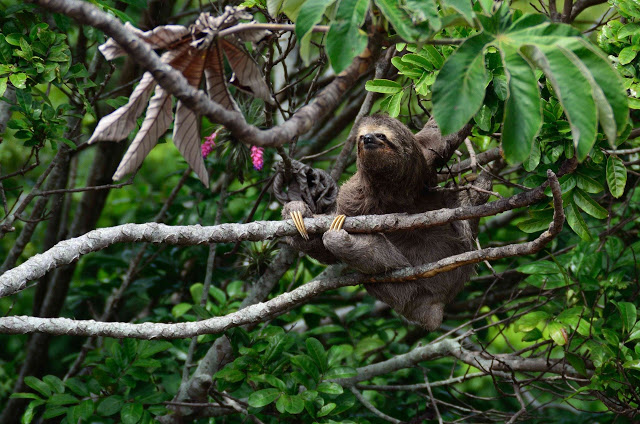 The first thing my guide pointed out was the variety of trees found in this lowland rainforest, one of the few surviving coastal rainforests in the region. There are guacimo, colorado, madrono, bully cedar, silk cotton, and the endangered sura black locust trees. The rainforest is dense and most of the trees are artfully strung with thick vines and lianas…it was like walking into the garden of Eden!  I was glad I was on a guided tour because I never would have been able to identify any of them. In addition to telling me about the trees, my guide helped me spot many animals and birds that I would have otherwise missed.

The highlight of this rainforest sojourn for me was to spot at least one three-toed sloth hanging languidly upside down high in the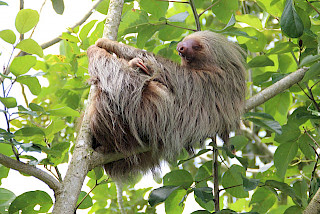 canopy.  Sloths don't move a lot making them difficult to spot. As a matter of fact, they have one of the slowest digestive systems in the world. It can take up to two weeks for them to digest one meal! Instead of doing more, they sleep more in order to conserve energy; in fact, they can sleep upwards of 20 hours a day. This odd-looking animal, that is related to anteaters and armadillos only descend from their canopy perch about once a week to relieve themselves, and this is when scientists say they are most vulnerable. 

In addition to not moving a lot in the canopy, the fur of a sloth is tinted green. This makes them almost invisible to the naked eye.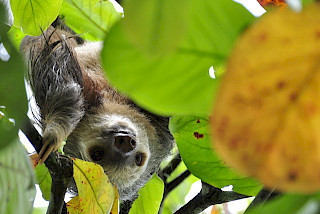 My guide had a telescope that made spotting sloths high in the canopy a bit easier.  In the wet season, the fur of the sloth is inhabited by algae, fungi, mites, and moths that tint their fur green. In the dry season, the fur is a bit cleaner with a browner hue.

Slowly (like a sloth) barely walking on the Sloth Trail (Sendero Perezoso), and then standing quietly, looking up into the canopy, I finally saw the one mammal I had always wanted to see in the wild, a three-toed sloth…and not just one!  I actually saw five three-toed sloths draped like furry rugs over cecropia trees…. it was amazing!  And, yes, they are in-comprehensively adorable! Part of the Sloth Trail encompasses an elevated boardwalk that winds its way through the rainforest and is said to be the best place to spot sloths; and from my experience, I would have to agree.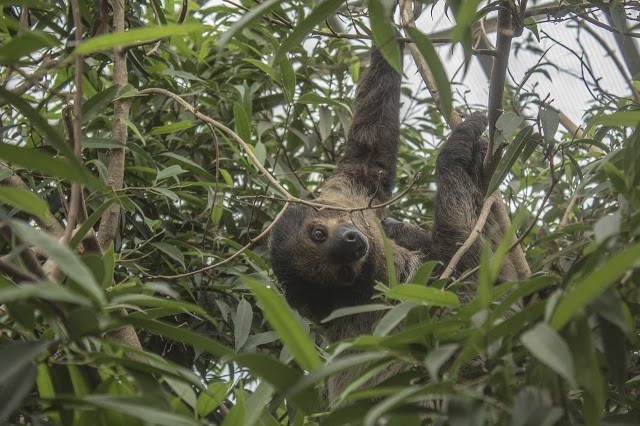 Sloth Tips
If you really want to see a sloth and a multitude of other wildlife, a naturalist guide is essential. Look for a certified guide, ask to see their Institute of Costa Rica Tourism card.
Arrive @ the park @ 7 a.m. when it opens to beat the heat and the crowds. The park is closed on Monday.
 
As a rule of thumb, to spot a sloth, just look up!  Sloths are tree dwellers and can be found in the canopy.
 
The weather can change rapidly in a rainforest (hence the name rainforest!). Even though it may look sunny when you start out, be prepared - pack some rain gear, just in case.
 
Costa Rica is a tropical country, so bring plenty of water along with you. Hydration is key, so is suntan lotion!
 
Respect the wildlife, don't feed them.