Travel Tip Tuesday | Seatback Pockets
How to Get Clean Your Seat-back Pocket.
Great for planes, trains, motor-coaches and boats!
You have your boarding pass, passport, carry-on, and water bottle, you have wiped down your area with disinfectant wipes, and are ready to settle in for a relaxing plane, train, or motor coach ride. The next thing you may do is to stash your book, water bottle, and snacks in the seat-back pocket in front of you. This was never a good idea! Don't ever do that again as these seat-back pockets are one of the gross places right up there with the food tray!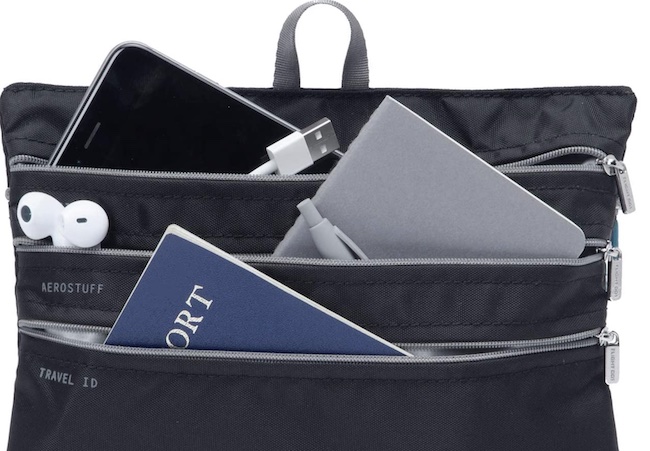 There are a few clever ways to avoid using the seat-back pocket and still have all your travel essentials and goodies at your fingertips. One way is to use a Seat Pak made by Flight 001. This handy organizer is made out of water-resistant nylon and has a loop that is designed to hook on the top of the latch of tray tables. The front side is separated into three compartments and the backside has one full-sized compartment perfect for a laptop or kindle. It isn't big and is made of stretchable polyester making it convenient to stash in a separate plastic bag after you use it.
Another product manufactured by the Airplane Pocket store is the Sanitary tray and table cover. It has four stretchable pockets that are perfect for storing your personal items in addition to a large pocket for your laptop, two medium-size pockets for your kindle, water bottle, and phone. There is a smaller pocket for your glasses or earbuds. Made from 100% polyester, this pocket is water and germ resistant and, best of all it is machine washable. The organizing pockets are also reusable for a clean fresh table cloth on your tray so you can travel in comfort and style as it acts as a tablecloth. The Airplane Pockets are lightweight and foldable so it fits easily in your carry-on luggage. This pocket is FAA-approved and doesn't impede other passengers wanting to get out of their seats.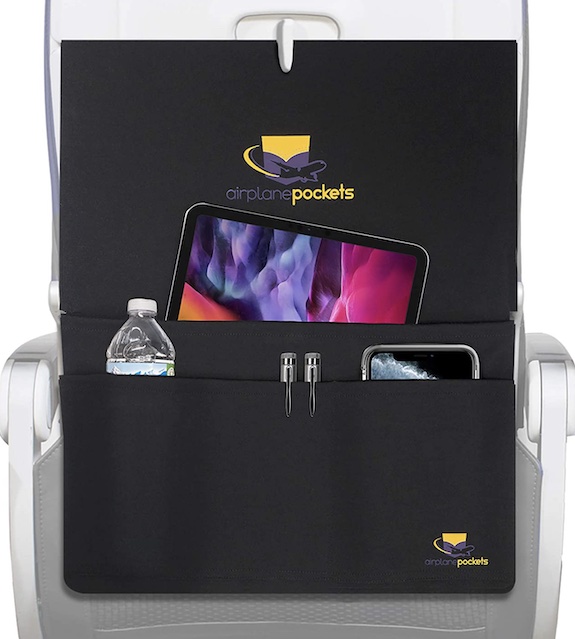 Although a little different in function, the final suggestion is to get a Genius Pack High Altitude Flight Bag. This gadget wraps around the airplane or motor-coach tray in front of you providing quick and safe access to your essentials. Best of all, you don't have to stash stuff in the seat-back pocket or struggle fetching stuff from the overhead bin. You can recharge your cellphone and fit up to six magazines as well as your laptop or iPad in this pack. There are also special pockets for your passport, headphones, pens, and snacks. It can be attached to a carry-on making it convenient and is made of water-resistant fabric keeping your goodies dry inside in case of spills. 
If you are looking for a travel-friendly product to avoid using the seat-back pocket, you might want to consider one of these handy pockets. The only danger is to remember to take it with you when you get off the plane, train, or motor-coach, especially if you have packed all your travel documents in it.