Worlds Most Popular Hot Dogs?
Iceland's Famous Hot Dogs
When most of us think of Iceland we think of unspoiled natural beauty, shimmering glaciers, cascading waterfalls, puffins, the Northern Lights, and relaxing in hot springs. As for food, most of us think… smoked salmon, lamb, and cod. Only those in the know think of hot dogs!

Unlike Iceland's National Dish, hákarl, or fermented shark, I opted to try Iceland's "unofficial" National Dish, the hot dog. It is so popular with locals that even the name in Icelandic is contested. Some believe that the word for a hot dog should be Pylsa which is influenced by the Danish word for sausage, while others think it should be called Pulsa, a word with Norse influence. Either way, trust me, these deliciously different hot dogs are worth a try.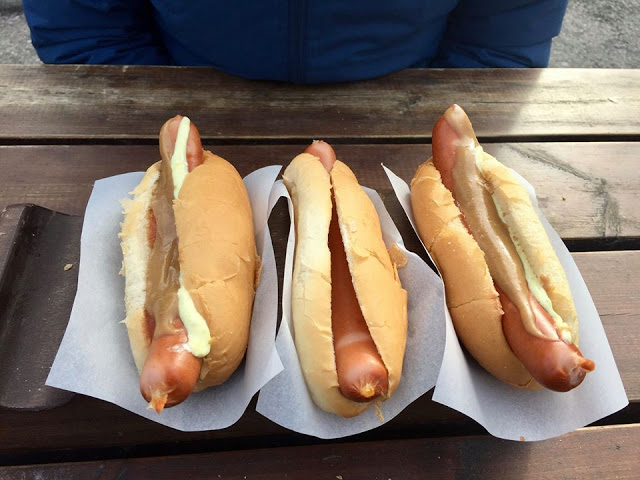 In the U.S. most hot dogs are made from pork or beef, in Iceland, the primary ingredient is something that is raised all around the country and numbers people two to one. Lamb is what makes these hot dogs so different and, added to the mix is a dash of Icelandic pork and beef. This isn't just any lamb, it is grass-fed, free-range, hormone-free, Icelandic lamb. As for the dash of pork and beef, no worries, the cows and pigs in Iceland live on small farms in one of the most unspoiled environments in the world. I daresay that the "Viking" rendition of the American hot dog is, in general, a healthier guilty pleasure. Best of all, Icelandic hot dogs are made with their natural casings so they have a delicious snap when you bite into them!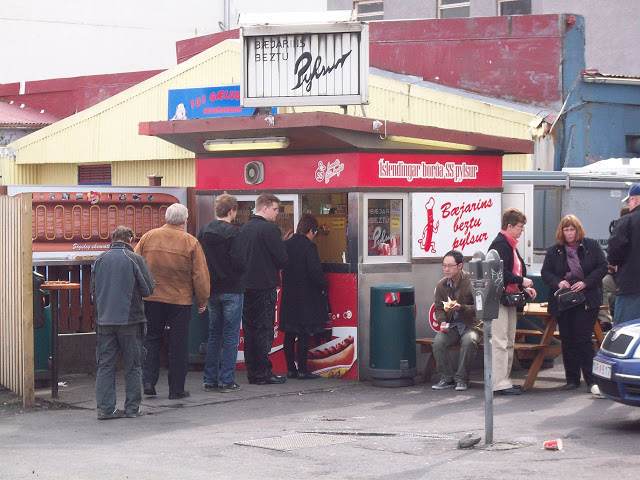 Part of the fun of eating an Icelandic hot dog are the condiments, all of them have an Icelandic twist. Served on a warm steamed bun the Icelandic hot dog is served with sweet brown mustard called Pylsusinnep, raw white onions, crispy fried onions, and a remoulade sauce made with mayo, capers, mustard, and gherkins or herbs. The hot dog is served in a cardboard box or wax paper, so, make sure to grab some extra napkins because you will devour them standing up!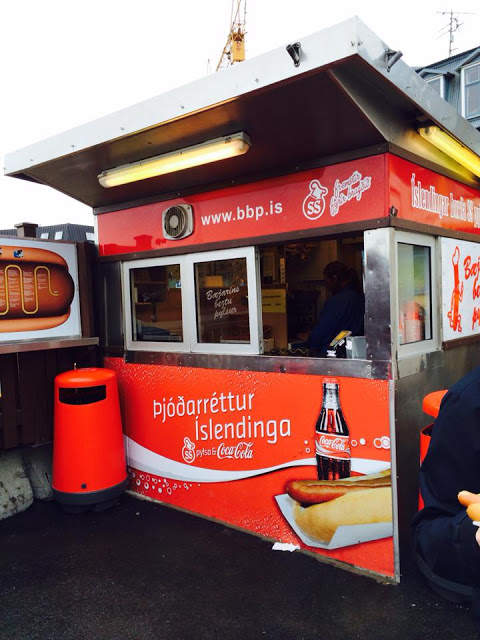 My advice is to try your first Icelandic hot dog with everything and, for your second, as they are deliciously addictive, experiment with the condiments offered. To order an Icelandic hot dog with all the authentic toppings just say "ein með öllu" that can be pronounced "ane meth alt."  Remember to bring small change because hot dogs cost around $380 ISK or around $3 U.S. dollars. Be prepared to wait because there is always a line! And, it is important to remember to just order two to save yourself the trouble later!
Iceland's most famous hot dog stand, Bæjarins Beztu Pylsur, which translates to "the best hot dog stand in town,"  dates back to 1937 and is run today by the granddaughter of the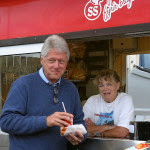 original owner. There are three hot dog stands located in downtown Reykjavik and one at the airport. These four stands sell well over 1,000 hot dogs a day, quite a feat for a country with 350,000 plus people.

If you are wondering why this hot dog stand is so famous all you have to do is taste one! Popular with visitors and residents, a long line of luminaries have also enjoyed a hot dog at Bæjarins Beztu Pylsur including President Bill Clinton, Ella Fitzgerald, Metallica, cast members from The Game of Thrones, Ben Stiller, James Hetfield, Kim Kardashian, and Anthony Bourdain.  In 2006, The Guardian, a British newspaper, chose it as the best hot dog stand in Europe and, today, it is highly recommended as a destination in most guidebooks. Deliciously put when you are in Iceland, don't miss a hot dog – it is just one of many pleasures that await when visiting this geological wonderland!
For Your Chance to try the famous Iceland Hot Dog, explore our 8-day fully inclusive tour.