New England's Best Small Towns
What Are the Best Small Towns in New England?
From Maine to Rhode Island, New England has an amazing number of small towns that have huge appeal! If you are looking for a destination that includes more than big city lights and a crowded shoulder-to-shoulder vibe, check out these trips to quintessential New England small towns.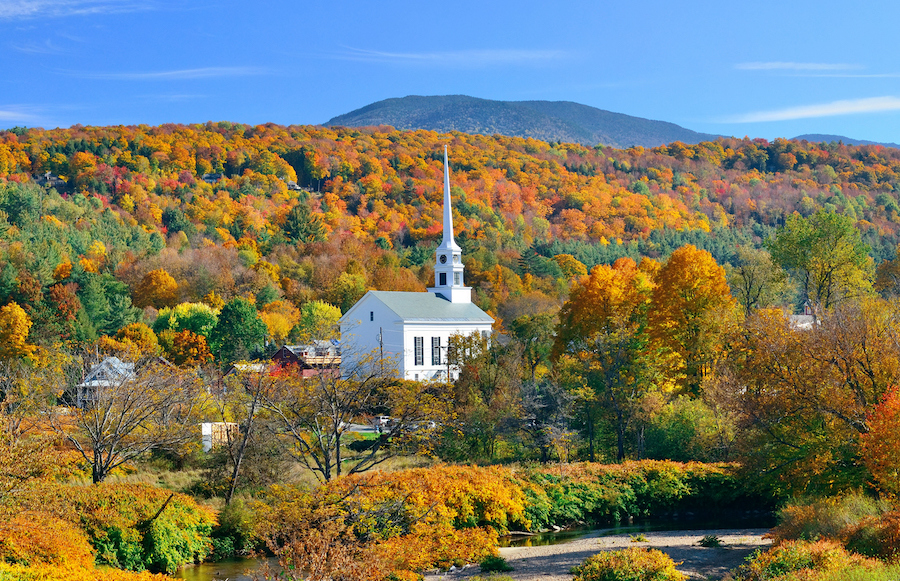 Our list of beautiful small towns in New England are featured in our new tours of the Northeast. If you are looking for a new destination with lots to do, fewer visitors, a small population, and lots of elbow room we hope that this list will make your trip planning a little easier.
---
Newport, RI
Newport is America's most aristocratic resort that boasted an opulent summer colony when the Vanderbilt's and the Astor's discovered its refreshing summer climate. As fortunes in banking and railroads grew so did Newport's summer cottages, which eventually matured into the most extravagant palaces of the 19th and early 20th centuries for America's wealthiest families. A highlight of any visit to Newport is to tour the mansions that line Bellevue Avenue including Marble House, The Breakers, The Elms, Kingscote, Chateau-Sur-Mer, Chepstow, Issac Bell House, Hunter House, Rosecliff, Rough Point, and others. Another popular activity is the 3.5 mile Cliff Walk that hugs the edge of Newport's shoreline and passes by the backyards of many of the town's most amazing mansions. For retail therapy head to Thames Street in downtown Newport where you will find a wide array of shops, cafes, restaurants, and bars. For art lovers don't miss the National Museum of American Illustration. Sports fans should check out the International Tennis Hall of Fame that displays 25,000 artifacts and thousands of images depicting the history of tennis.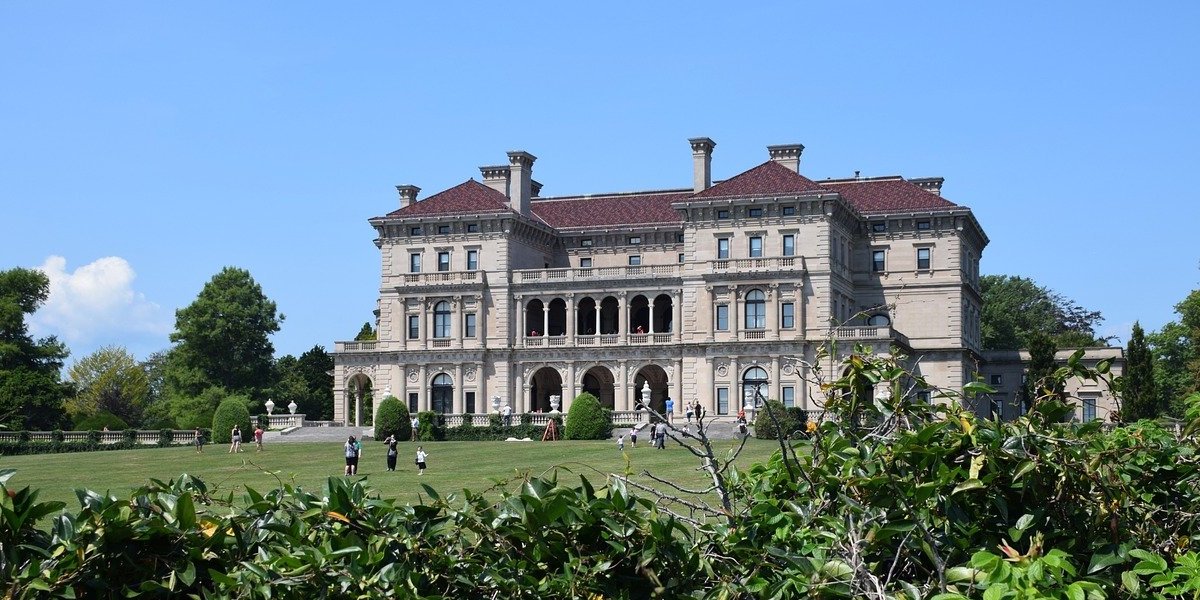 Block Island, RI
Named one of the "12 Last Great Places in the Western Hemisphere" by the Nature Conservancy this island paradise with its' dramatic cliffs, Victorian architecture, and unspoiled beaches makes you feel as though you have entered another era. If you are looking for a classic New England seaside town, this is it. Just steps from the ferry landing in Old Harbor, take in the scene at one of the waterfront restaurants that line Water Street before setting out to check out the views at Mohegan Bluffs that stand about 200 feet above sea level. There is a staircase down to Corn Cove that offers a spectacular vantage point for perfect photos of these clay cliffs. For lighthouse, lovers take a tour of The Southeast Lighthouse located a block away from the Mohegan Cliffs and, the Northeast Lighthouse that is set in a wildlife preserve.  If you just want to unwind in Victorian charm, then simply linger on the lawn at the Atlantic Inn.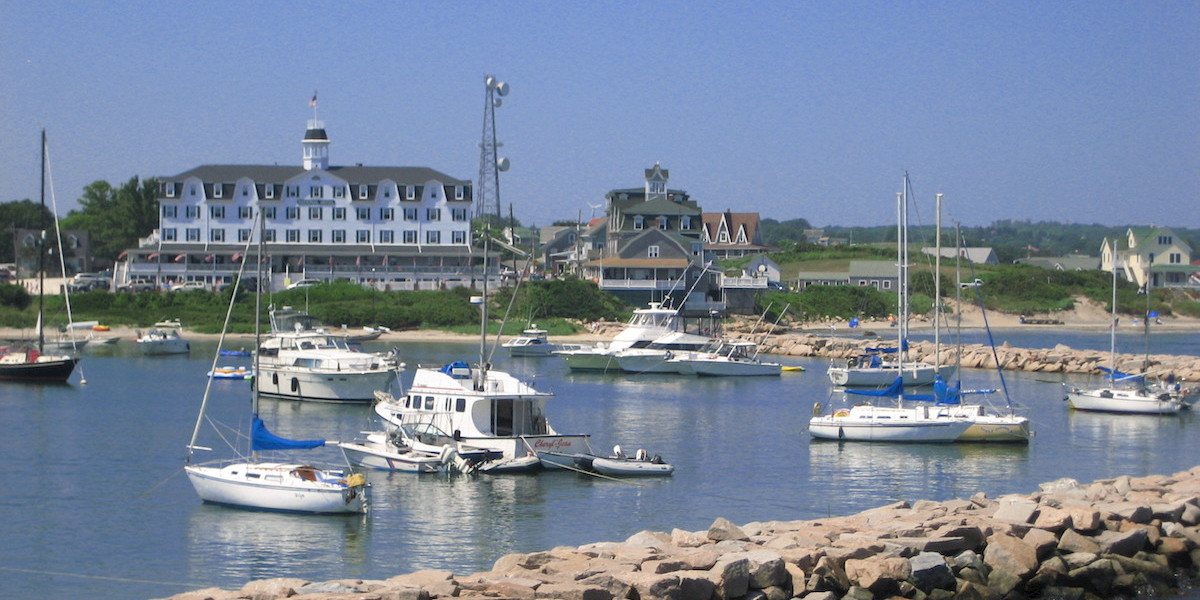 Mystic, CT
There is a lot more to Mystic than pizza! This seaside town, located on the North Atlantic has a nostalgic nautical ambiance with museums, forts, and lighthouses that celebrate the maritime heritage of Connecticut. It was once the center of a shipbuilding industry that brought fame to the town in the 19th century. The must-see attraction, Mystic Seaport, is an authentically replicated New England village that has tradesmen demonstrations representing what life would have been like here two hundred years ago. Visitors can watch craftsmen make candles, see blacksmithing and shipbuilding, and even explore the oldest wooden whaling vessel in the world. Mystic's waterfront Main Street is charming with shop after shop of unique items from paintings and pottery to apparel and eateries including the famous, Mystic Pizza. The boardwalk and Mystic River Bascule Bridge that stops road traffic when it goes up so boats can pass by adds to the charm of the town. To round out a "mystic" experience take a cruise along the calm waters of the Mystic River that passes historic homes known as "Captain's Row," tall ships, and lighthouses. For tour  information https://www.toursofdistinction.net/tours/day-trips/sail-away-argia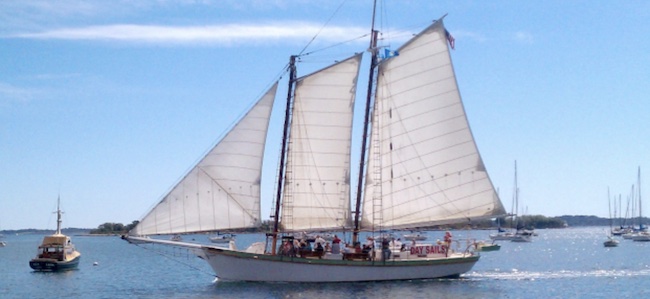 Essex, CT
This quaint riverside village has a Main Street that is lined with early Federal and Colonial-era homes that are meticulously maintained making it no surprise that this town is on the list of "The 100 Best Small Towns in America."  Essex exemplifies the feeling of what a small town should feel like with 14 miles of tree-shaded sidewalks lined with historic homes, shops, eateries, picture-perfect marinas, and parks. A local favorite is the Old Griswold Inn that has been serving visitors and locals alike since 1776. The Essex Steam Train and Riverboat ride take visitors through idyllic countryside that is picture-perfect. The Connecticut River Museum tells the story of the Connecticut River and its people through three floors of displays and exhibits that include a replica of the Turtle submarine piloted during the Revolutionary War. The museum also offers a cruise aboard a re-created vessel Adriaen Block constructed in 1614.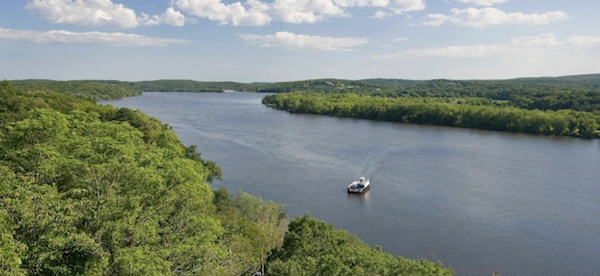 Litchfield, CT
This stately village in the northwest corner of the state with its long village green-lined with lovely homes, shops, and the most photographed church in New England is like stepping back in time. A drive through Litchfield's designated historic district on Rte. 63 North and South is a treasure trove of Americana. You will pass homes where George Washington stayed, the site of the Harriet Beecher Stowe House, author of Uncle Tom's Cabin, and the site of the Pierce Academy, the first school for girls in America. Not to be missed is the Litchfield History Museum and the Tapping Reeve House and Law School, the first of its kind in the country. Just beyond the Green is White Flower Farm, a nationally known nursery with beautiful display gardens. For nature lovers, there is White Memorial Foundation, the largest nature sanctuary in the state with 40 miles of hiking trails and an informative Natural History Museum. Close by is the Ripley Waterfowl Conservancy with one of the largest collections of birds in North America. Here visitors will find more than 80 species totaling 400 birds from around the world. To cap off the day in Litchfield, head to Haight Brown Vineyard, the first farm winery in the state for a wine tasting and tour.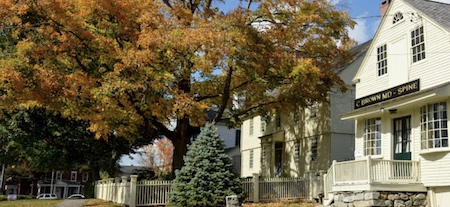 Norwich, Vermont
A  picturesque village located on the Connecticut River, Norwich has large stately homes and a quintessential village green with a classic Congregational Church. Surprisingly, Norwich is also a foodies paradise! To the delight of beer drinkers, Norwich is home to Jasper Murdock Ales, the longest-standing brewery on the Vermont beer trail. Visitors to the historic Norwich Inn can sample a selection of traditional English -style ales accompanied by a fine cheddar cheese made with Jasper Murdock Whistling Pig Ale in an atmospheric pub. A highlight of any trip to Norwich and a baker's delight is a visit to the King Arthur Flour Company. This is the country's oldest flour company that now offers classes in its Baking Education Center taught by professional bakers. The classes range from Beauty and the Baguette, Do The Twist: Pretzels, to Creme Puffs & Eclairs, Sticky Fingers: Breakfast Buns, and many more! The Norwich Farmers Market is a foodie extravaganza that runs year-round with vendors galore. Hundreds of fresh veggies, smoked meats, artisanal cheeses, heavenly soaps, beeswax candles, baked goods, sandwiches, and much more are offered. A visit to Dan and Whit's General Store opened in 1930, is like stepping into a time machine where you will find a wide array of unique and thoughtfully selected merchandise that runs the gamut!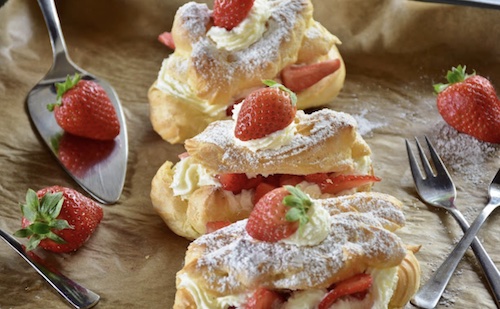 Waterbury, Vermont
Nestled in Vermont's Green Mountains Waterbury offers a wide range of recreational delights and is considered to be one of the best bike towns in the state with acclaimed trail networks including Perry Hill. The historic downtown offers award-winning farm-to-table dining, local craft breweries, and great independent shops offering merchandise that you won't find anywhere else.  If you work up a thirst, head to the rustic Tasting Room at Cold Hollow Cider Mill and sample their hard cider while relaxing on seats made from their old wooden cider pressing racks. Waterbury is also home to Ben and Jerry's and a factory tour and visit to the ice cream tasting room is the perfect way to end the day in this charming community. A special VIP highlight is the hands-on, private ice-cream-making class with one of Ben and Jerry's flavor gurus!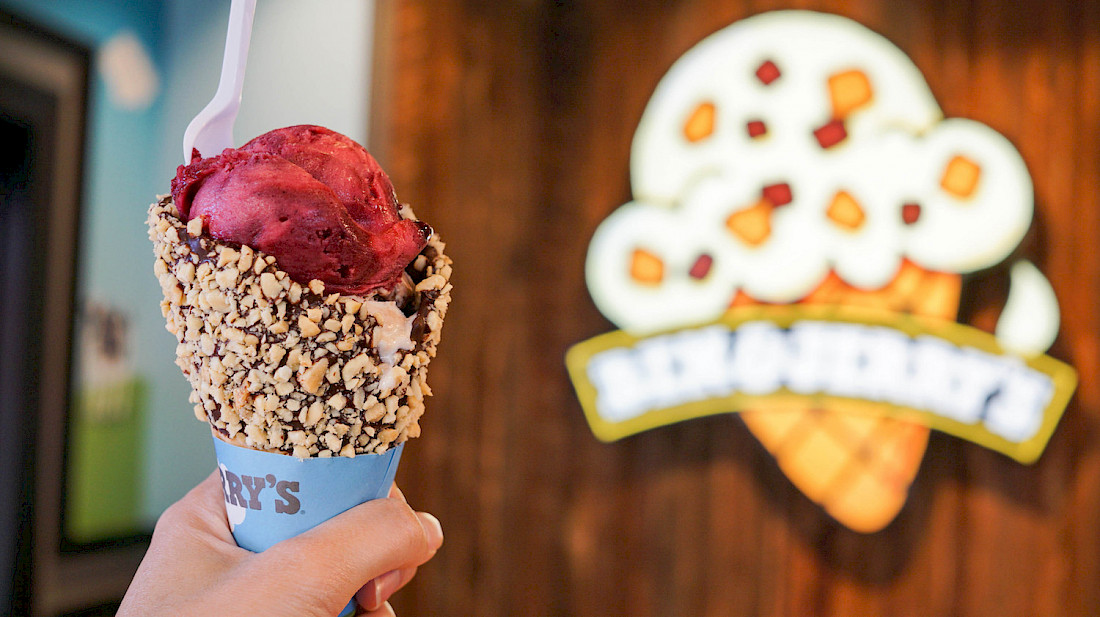 Kennebunkport, Maine
Nestled on the southwest coast of Maine, Kennebunkport is most commonly known as being the summer home of President George H.W. Bush. Originally, an agricultural and shipbuilding settlement, today, Kennebunkport with its lovely beaches, sweeping coastal views, and excellent amenities make it an ideal small-town getaway. While enjoying the cool Atlantic breeze, you can walk past mansions belonging to Sea Captains on  Summer Street, explore the historic neighborhood of Dock Square, take a leisurely walk down Ocean Avenue where sailboats and fishing vessels are moored, and walk along the granite Rockland Breakwater to a historic lighthouse  The downtown area is noted for its variety of interesting shops and eateries. For a change of pace, visit the Seashore Trolly Museum and take a ride on a tram that dates to the early 1900s. There are also many opportunities for an on-the-water adventure with the most popular being whale watching and lobstering excursions.  If you enjoy history, pop into the frilly Gothic-inspired yellow "Wedding Cake" house, once the home of a prominent 19th-century shipbuilder. It is considered to be the most photographed house in Maine. For foodies, don't miss the chance to try the local brews that are best washed down with a luscious Maine lobster roll made with fresh lobster, mayo, and celery.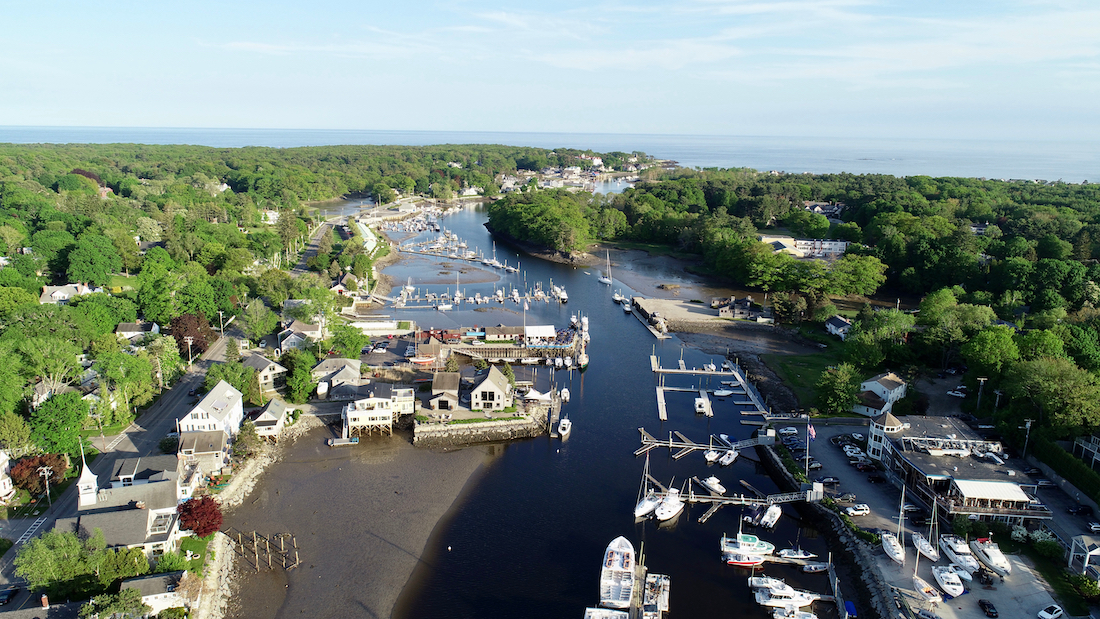 Rockport, Maine
Situated between Rockland and Camden, Rockport, named "One of America's Prettiest Towns," by Forbes shouldn't be missed. Considered the hidden gem of mid-coast Maine, visitors will find a beguiling mix of shops, dining, outdoor recreation, and a picture-perfect harbor. The downtown area is best explored on foot and is filled with art and craft galleries, whimsical street art, and restaurants serving up traditional lobster rolls and blueberry pie.  One of the highlights is a scenic day or sunset excursion aboard a traditional schooner or windjammer that offers magnificent views of Penobscot Bay and Indian Island Lighthouse. To meet some of Rockland's most famous four-legged residents head to Aldermere Farm, home of the Belted Galloway cattle, more commonly known as "Oreo cookie cows," because of their black and white stripes. No visit here is complete without a photo op with the statue of Andre the Seal who wintered at the New England Aquarium in Boston and summered in Rockport Harbor, entertaining visitors with Harry Goodrich for 25 years until his death in 1986. A blockbuster movie and book were written by Goodridge about Andre the Seal.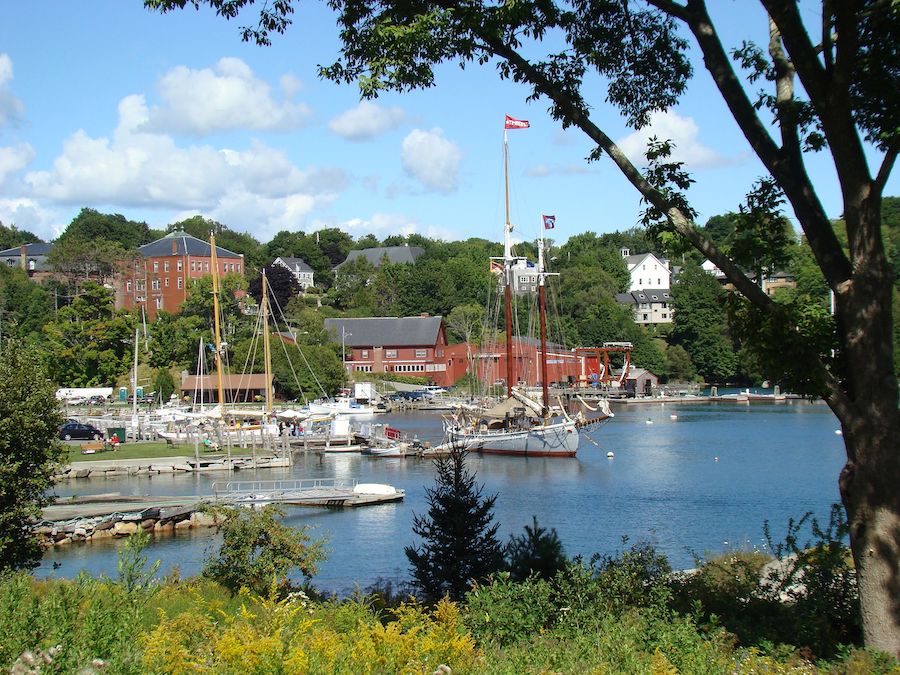 Wolfeboro, NH
Wolfeboro is the quieter side of Lake Winnipesaukee that has attracted the rich and famous for centuries. The sign that welcomes visitors to town claims that Wolfeboro is "the oldest summer resort in America." They stake this claim on the fact that the first mansion was built here in 1770 by Governor John Wentworth on what is known today as Lake Wentworth. Wolfeboro is nestled on the banks of this cool, calm, unspoiled lake that is surrounded by mountains. Stately homes, lovely neighborhoods, and a downtown boasting an interesting mix of arts and crafts shops and galleries, bookstores, bakeries, cafes, and restaurants add to the ambiance of this seemingly timeless town. If you like history don't miss the Wright Museum of WWII with its extensive collection of 1939-1945 historically significant WWII items and memorabilia that represent both the home front and battlefield. The New Hampshire Boat Museum has displays of boats, motors, and boating items documenting this area's love of boating. A highlight here is the chance to go for a ride on a replica 1928 style Hacker-Craft. At the end of the day, the lake is a big attraction; one of the best places to enjoy the beauty of the lake and watch the boats go by is at Cate Park.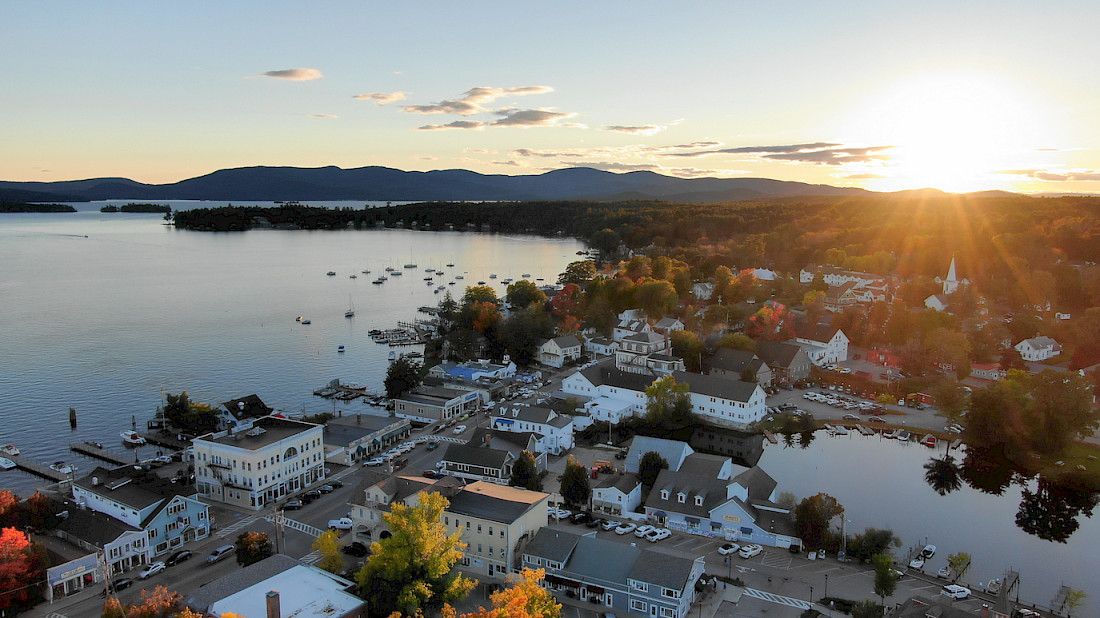 Portsmouth, NH
This walkable, vibrant, coastal city was originally settled as a seaport, where merchant ships traveled up and down the Piscataqua River.  Today Portsmouth, one of the oldest working ports in the United States sees more than five million tons of cargo on import and export ships from trading partners worldwide in addition to pleasure boats and fishing vessels. Called "one of the most culturally rich destinations in the country," by the National Trust, Portsmouth offers visitors a unique melange of historic buildings, museums, historic sites, cultural centers, restaurants, clubs, cafes, and distinctive artisans boutiques. The best way to understand the cultural heritage of this small city is to take a harbor cruise. Get ready to be transported through 400 years of history from the settlement of the region in 1623 to the harbor's modern-day role in the economy of the town and the safety of the nation. A historic must-see is the Strawberry Banke Museum located on the original site of the town's seaport. This site is now an indoor-outdoor living history museum that depicts local life from the 1600s until the 1950s. A visit to Governor John Langdon House takes visitors back to post- Revolutionary America, and the early days of this country and, a visit to the Warner House allows visitors to experience a sea captain's house that was built in 1716 and stayed in the same family for six generations.  For art lovers, don't miss the Ogunquit Museum of American Art, which is associated with two of America's oldest art colonies that directly contributed to the rise of American modernism. For tour information https://www.toursofdistinction.net/tours/day-trips/picture-perfect-portsmouth