America's Medieval Castle Locations
Historically, castles were built by European kings and the nobility in medieval times to keep intruders at bay with their turrets and watchtowers, draw bridges, and thick walls. Another reason for construction was to remind the common folk who was in charge! If you think you have to go to Europe to see castles, think again, America has a remarkable selection of castles that welcome visitors. Although America's castles don't date to the middle ages and, are not nearly as old as those found in Europe, they are amazing to visit as a testament to the American interpretation of medieval and gothic architecture.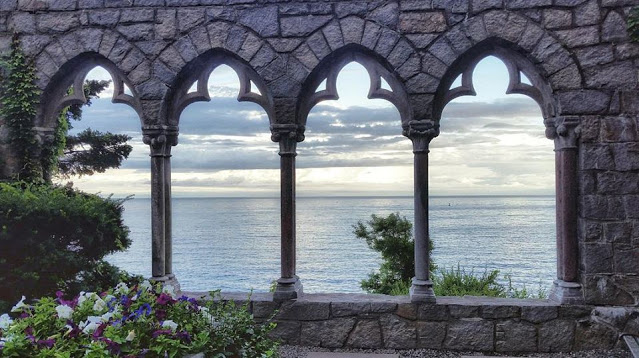 American castles, often built in the mid.19th and early 20th centuries by titans of industry were inspired by their European counterparts. Many castles are elegantly appointed with period furnishings, beautiful art collections, breathtaking views, and magnificent gardens. Tours of Distinction put together a top ten list of the most fabulous medieval castle experiences in America that will bring you back in time to the middle ages or make you feel as though you are in a Gilded Age fairytale.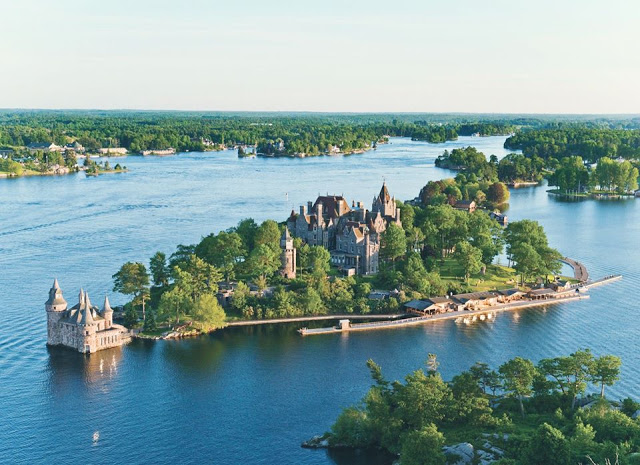 Boldt Castle - New York
Boldt Castle is nestled in the unspoiled beauty of St. Lawrence River's 1000 Islands and is inspired by castles on the Rhine. In 1900, millionaire hotel magnate George C. Bolt, proprietor of the world-famous Waldorf Astoria Hotel in New York decided to commission a full-size castle in Alexandria Bay on Heart Island that would rival any castle in the Rhineland. He hired 300 workers to construct this edifice. The castle rose to six stories and has 120 rooms in addition to tunnels, a powerhouse, Italian gardens, children's playhouse, a basement bowling alley, and an indoor swimming pool. Bolt Castle also has medieval flourishes like a drawbridge and dovecote. The "Alster Tower", named after fortifications on the Alster River in Germany, was conceived as a play area. This was Bolt's dream castle and not a single expense was spared or detail overlooked. Before the castle was completed, tragedy struck in 1904 with the death of his wife, Louise. All construction came to an abrupt halt and Bolt Castle was abandoned and never completed. In 1977 it was acquired by the Thousand Islands Bridge Authority and slowly brought back to life.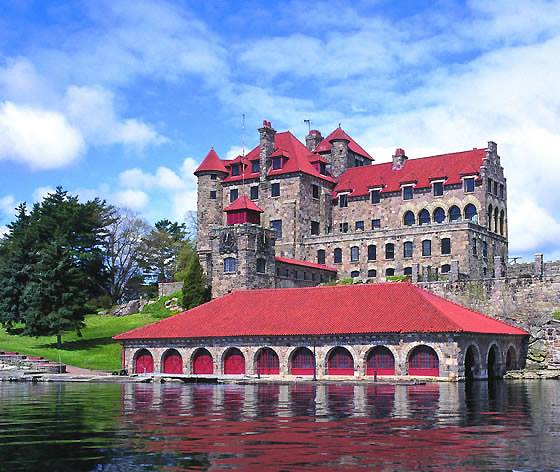 Singer Castle - New York
Once called "The Towers" Singer Castle was constructed on Dark Island between 1902-1904 by Frederick Gilbert Bourne, President of the Singer Manufacturing Company. Mr. Bourne wanted to surprise his wife, Emma, and their children with an island hunting retreat. The architect of the castle, Ernest Flagg designed the castle after Sir Walter Scott's novel Woodstock Castle.  Bourne purchased Dark Island in 1902 and hired Italian masons to construct his castle out of local granite. The castle has four floors, 28 rooms, a four-story tower, and an elegant boathouse. The design of Singer Castle also includes tunnels, dungeons, turrets, secret passages, and many other fanciful architectural details. The decor of Singer Castle has the feel of a medieval hunting lodge that is replete with moose, deer, elk, and caribou heads. Tours of the castle include the great hall, library, dining and breakfast rooms, the drawing-room, 4th-floor dormitory, wicker bedroom, loggia, and terrace.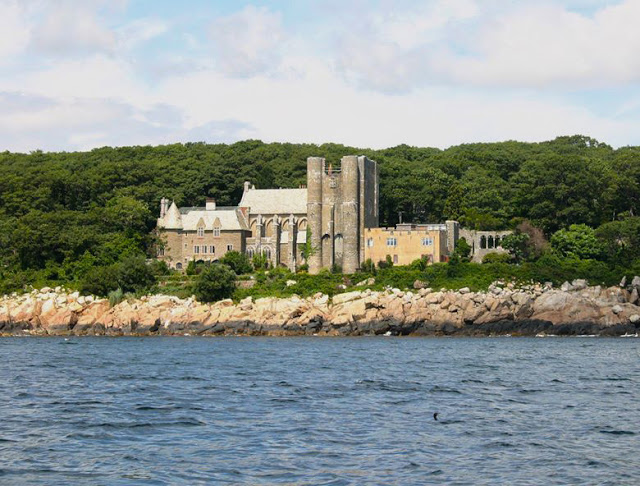 Hammond Castle - Massachusetts 
Hammond Castle is a medieval-styled castle that overlooks the harbor of Gloucester, Massachusetts. It was constructed from 1926-1929 by John Hayes Hammond, Jr., an eccentric American inventor that was a protege of Alexander Graham Bell and Thomas Edison. The exterior of the castle is built of  Cape Ann granite that was mined from nearby hills. Much of the interior is composed of actual pieces of European castles, churches, and buildings that Hammond purchased on his travels. Hammond built this castle to house pieces he collected including a treasure trove of Roman, Medieval, and Renaissance artifacts. Drawbridges, towers, a great hall entered through the doors of a church, library, laboratory, and inner and outer courtyard add to the medieval ambiance of this castle. Hammond Castle has many whimsical special effects including a swimming pool that looked two feet deep, a rain-making system with special pipes to simulate rain, and twinkling stars over the garden. Current with the trends of the time, Hammond was fascinated with the occult and entertained many well-known psychics. He even conducted experiments in an attempt to determine if ESP used electromagnetic frequencies as a carrier wave.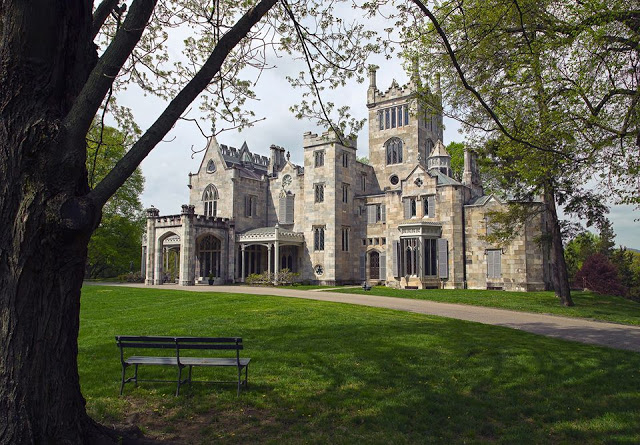 Lyndhurst Castle - New York
Lyndhurst designed by Ferdinand Mangold was built in the Gothic Revival style. It is nestled on 67 park-like acres overlooking the Hudson River. One of the most prominent architects of the time, Alexander Jackson-Davis was commissioned in 1838 by  New York City Mayor, William Paulding to build the estate as his retreat from the city. The house featured fanciful turrets, an asymmetrical outline, and other unusual elements that reflected the new Romanticism trend in which Gothic architecture played an important part. In 1864, businessman George Merritt bought the estate and renamed it Lyndhurst after the Linden trees that were planted on the estate. Merritt hired Davis to double the size of the castle adding a four-story tower, a new porte-cochere, dining room, two bedrooms, and servant quarters. In 1880, railroad tycoon Jay Gould bought the estate and used it as a place of retreat from the pressures of his business life.  In 1938 the house was acquired by Anna, Dutchess of Talleyrand-Perigord who bequeathed the estate to the National Trust for Historic Preservation. Today visitors touring the house will find many priceless original furnishings including more than 50 pieces designed by the architect, along with stained glass, some by Tiffany, vaulted ceilings, and marble floors. The rooms of the house reflect the lives of the major families that lived here that give visitors a glimpse of what life was like in the 19th and early 20th centuries. The grounds are an excellent example of 19th-century landscape design with sweeping lawns that are accented with shrubs and specimen trees.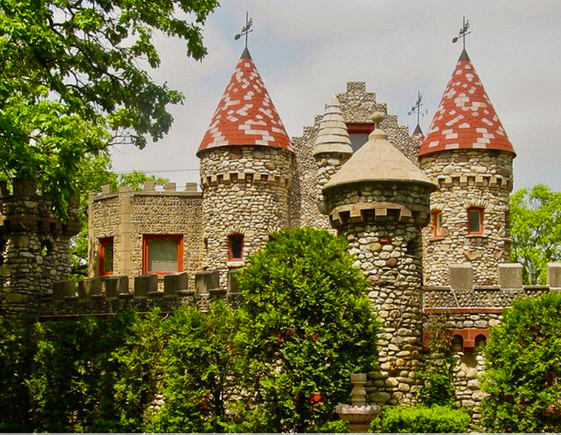 Bettendorf Castle - Illinois
Once upon a time, there was a little boy from Luxembourg who played along the Rhine River and explored the historic castle in his hometown, Vianden. In 1931, this little boy, Theodore Bettendorf, immigrated to the United States and began to build his castle in Fox River Grove. Bettendorf's Castle was inspired by Castle Vianden in Luxembourg, one of the largest fortified castles west of the Rhine River built between the 10th and 14th centuries. Bettendorf worked on his castle for the next 36 years. Sitting high on a bluff this Gothic-style castle is covered with local stone and has crenelated battlements with walkways, a guard tower, and a gatehouse with a functioning drawbridge. A water-filled moat, wishing well, dungeon, courtyard, and overlook on the bluff's edge are other highlights. Outdoor tours are offered of this remarkable castle, which is a work of love for his homeland by one man.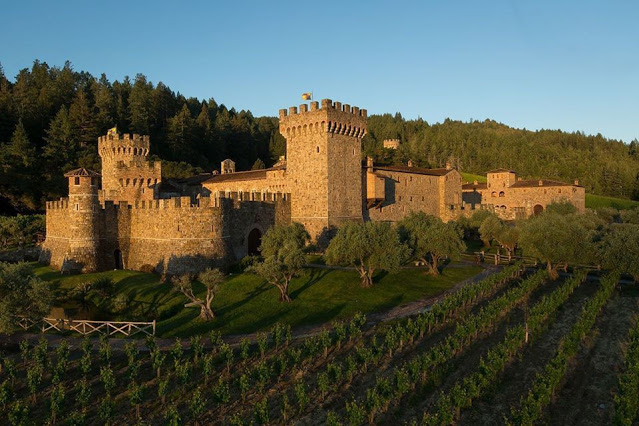 Castello di Amorosa - California
Castello di Amorosa is a castle and a winery giving lovers of architecture, history, and wine a double treat. Located in Napa Valley, this 13th century authentically styled Tuscan castle winery was the vision of vineyard owner Dario Sattui. Construction began in 1994 and took 15 years to complete using the same methods and building materials that would have been used 700 years ago. More than 8,000 tons of hand-chiseled stones and one million antique bricks imported from Europe were used in the construction process. This 107 room castle is considered an architectural gem with all the elements of an authentic medieval castle replete with a moat, drawbridge, towers, ramparts, courtyards, loggias, stables, a chapel, armory, and even a torture chamber! Inside, visitors find antique furnishings imported from Europe and some of the most beautiful vaulted wine cellars in the world.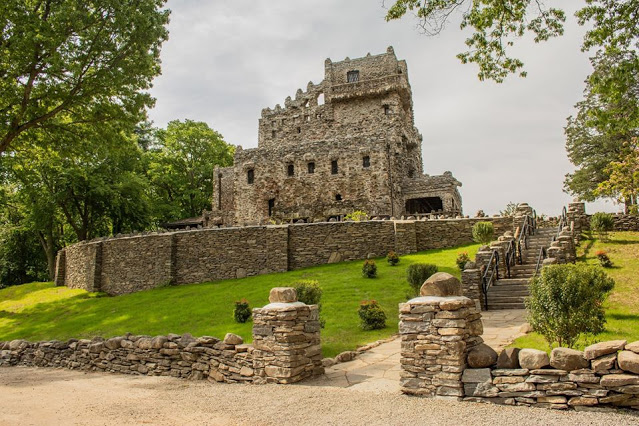 Gillette Castle - Connecticut
Built high on one of the hills known as the Sevens Sisters and overlooking the Connecticut River Gillette Castle resembles a medieval fortress. This quirky stone castle built of local chalk and grey fieldstone was designed and constructed between 1914 and 1919, by William Gillette, an actor made famous by playing Sherlock Holmes. Gillette not only portrayed Holmes more than 1,300 times he helped to develop the character as we know it today. This 24 room castle has 47 different steampunk like doorknobs, puzzle locks, secret doors, and a secret room. Gillette had hidden mirrors installed that allowed him to spy on his guests that included Albert Einstein and Calvin Coolidge.  Another quirk was the small gauge railroad, now installed at 
Lake Compounce in Bristol that ran around the estate. This is one castle that Sherlock Holmes would have found intriguing!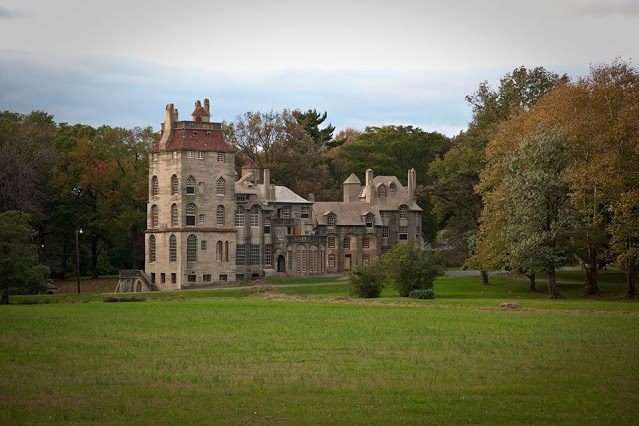 Fonthill Castle - Pennsylvania
Fonthill Castle was built between the years of 1908 and 1912 by Henry Chapman Mercer, an expert in prehistoric archeology, an artisan and maker of unusual tile, and writer of Gothic tales.  Mercer built this whimsical castle without any plans and the entire structure is reinforced with concrete, a new innovation in its' day. This storybook stone castle was modeled after a 13th century Gothic Rhine castle although the end result mixes several architectural styles. Fonthill has many Gothic doorways, 22 stairways in unexpected places, several hallways that are dead ends, and forty-four different rooms, with one room having ten entrances! The interior walls and floors are lavishly decorated in Mercer's colorful mosaic handcrafted tiles. Fonthill has 18 fireplaces and over 200 windows, each is a different size and shape and studded with Mercer's colorful mosaic tiles. Mercer built this house to display his hand made Moravian tile and prints. A special highlight is that most of the furniture and decorative furnishings, as well as many personal effects, remain where they were placed by Mercer. A visit to this castle offers a glimpse into the creative genius of Henry Mercer.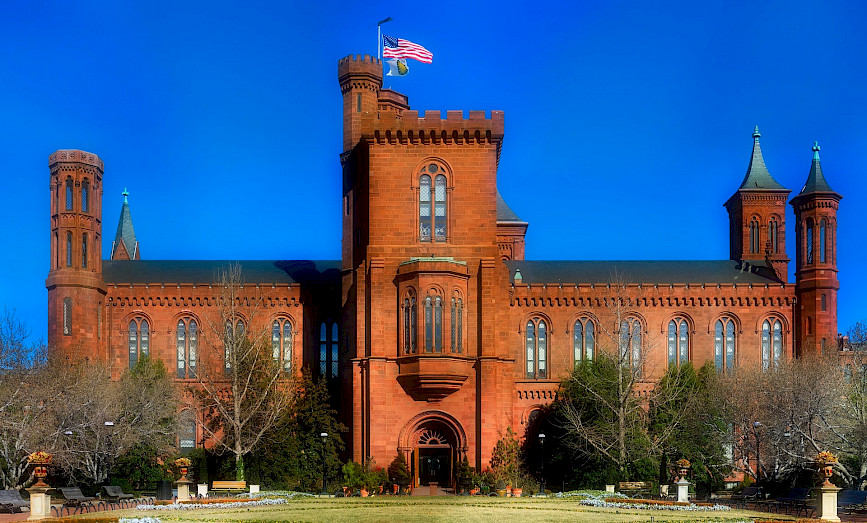 Smithsonian Castle - Washington D.C.
The Smithsonian was established from a donation of $500,000 from French-born, British raised James Smithsonian, a man that never stepped foot in Washington DC! His will stipulated that if he were to die without heirs, that the money should go to the United States to found an establishment under his name, the Smithsonian Institution in Washington. The  Smithsonian Institute was officially created by Congress in 1846, ad architect James Renwick, Jr. was commissioned to build what we now call the Castle.  This edifice is considered to be an excellent example of the medieval revival style of architecture known as Romanesque. It features nine towers, some have conical roofs, arched doorways and windows, square towers, and an asymmetrical facade made of red sandstone from Seneca Creek, Maryland. Over the years several reconstructions have taken place. Today amid Victorian arches and exquisite woodwork the Castle houses the Smithsonian Information Center. Here visitors find interactive 3-D maps pinpointing the 16  properties of the Smithsonian, and the National Zoo making planning easy before setting out to explore.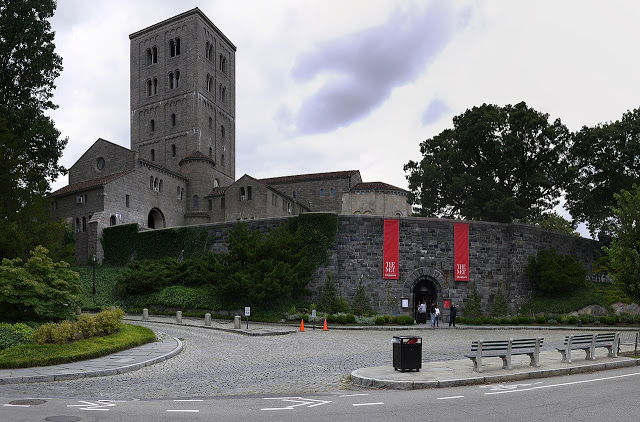 The Cloisters - New York
Owned by the Metropolitan Museum of Art, the Cloisters, designed in the style of the Romanesque and Gothic periods is a journey back through the centuries. Overlooking the Hudson River, this property was designed to evoke a sense of medieval European monastic life. It is one of the best places in the United States to view medieval art. This stunning complex contains medieval gardens, a series of chapels, and themed galleries including Romanesque, Unicorn, Spanish, and Gothic rooms. Large collections of medieval art are shown in authentic architectural settings of French monasteries and abbeys. The entire complex is centered around four cloisters, the Cuxa, Saint-Guilhem-le-Desert, Bonnefont-en-Comminges, and Trie that were purchased and dismantled in Europe and put back together in New York in 1938. Several not to be missed masterpieces include the Gothic Chapel with 13th and 14th tomb effigies, the Langon Chapel with a variety of medieval art from various countries, and the Unicorn Tapestry collection thought to have been created between 1495 and 1505 for French nobility.