How You Can Celebrate Mardi Gras Home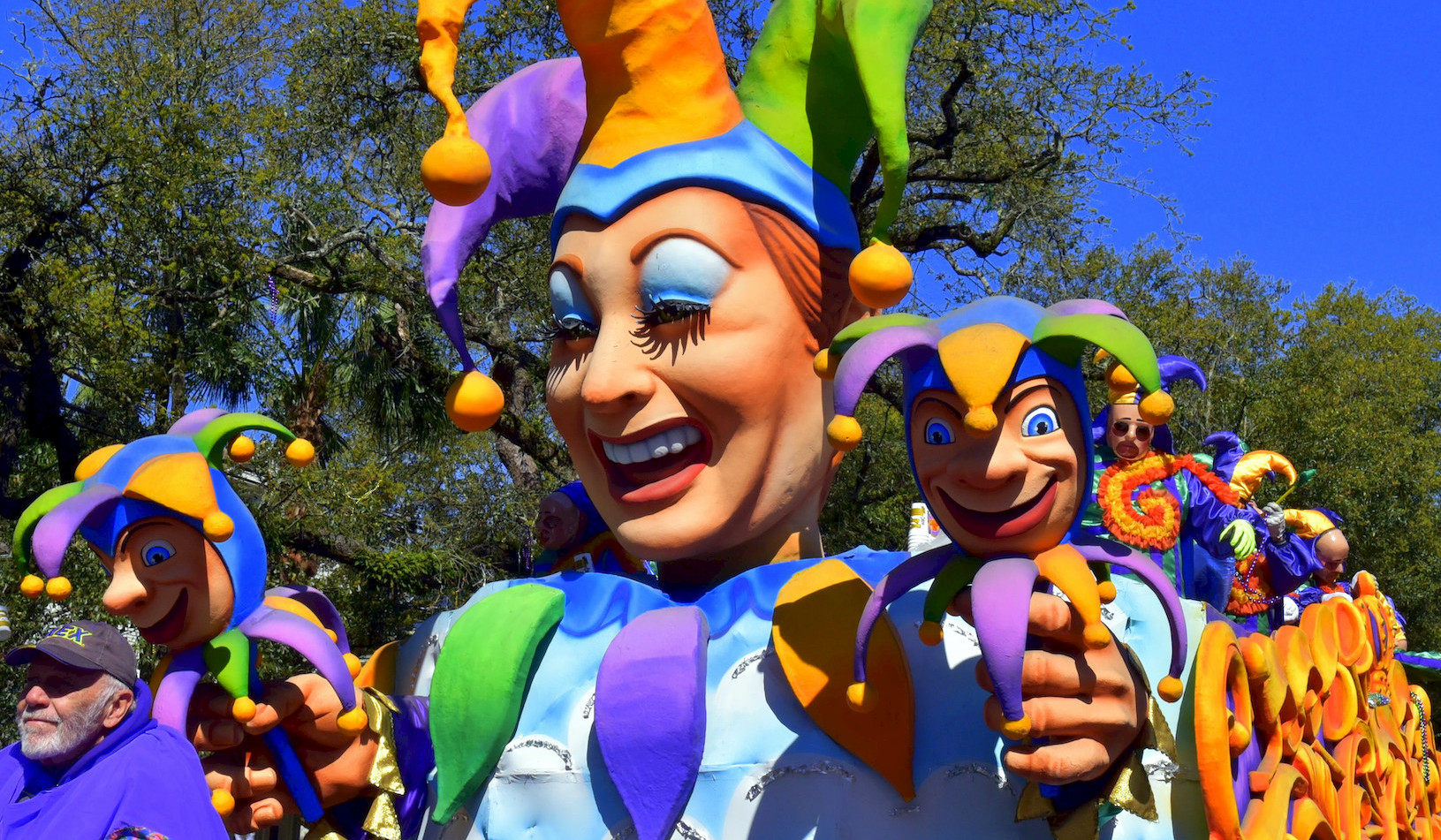 Mardi Gras is a splendid celebration – it is a kaleidoscope of color, music, revelry, and joy. It is one of the few regional festivals that have spread across the country. It is a festival that says - catch the gold beads, dress up in outrageous costumes, dance, drink, and be merry! It is a festival that says, tomorrow we shall be virtuous, but today, we party! Mardi Gras is the French word for Fat Tuesday and is celebrated in towns along the Gulf Coast including Louisiana, Alabama, and Mississippi. Most of us think of New Orleans, known affectionately as NOLA by the locals as Mardi Gras party central. 
---
The History
Historians have traced the origin of Mardi Gras to Medieval Europe. It is thought to have originated in Rome and Venice in the 17th and 18th centuries. Eventually, this pre-Lenten celebration moved to France and from there it moved to Louisiana. The first Mardi Gras celebration was held in 1703 in the tiny settlement of Fort Lous de la Mobile, which is now Mobile, Alabama. New Orleans was founded in 1718 and the first Mardi Gras was celebrated there in the 1730s. Louisiana's governor, the Marquis de Vaudreuil, established elegant society balls which became the model for the New Orleans Mardi Gras balls of today. By the late 1830s, New Orleans held street processions of markers with carriages and horseback riders to celebrate Mardi Gras. 
By 1856, dazzling gaslight torches or "flambeaux," floats and a masked ball was added to the festivities. In honor of a visit of a Russian Grand Duke, a parade was started in 1872 and is one of the most popular spectacles of the celebration today. The colors of Mardi Gras are purple, green, and gold and were selected to honor the visiting Grand Duke's imperial house colors. These royal colors are symbolic; purple stands for justice, gold for power, and green for faith.
The floats, that are the centerpiece of today's parades are financed by private social clubs known as Krewes that work year-round to get them ready. By law, all riders on the floats must wear masks and on Fat Tuesday, decorative carnival masks are legal for everyone else. Many people get into the spirit of the celebration by wearing elaborate costumes, wigs, and masks. The most delicious aspect of New Orleans' Mardi Gras traditions is the King Cake which is only eaten at this time of year.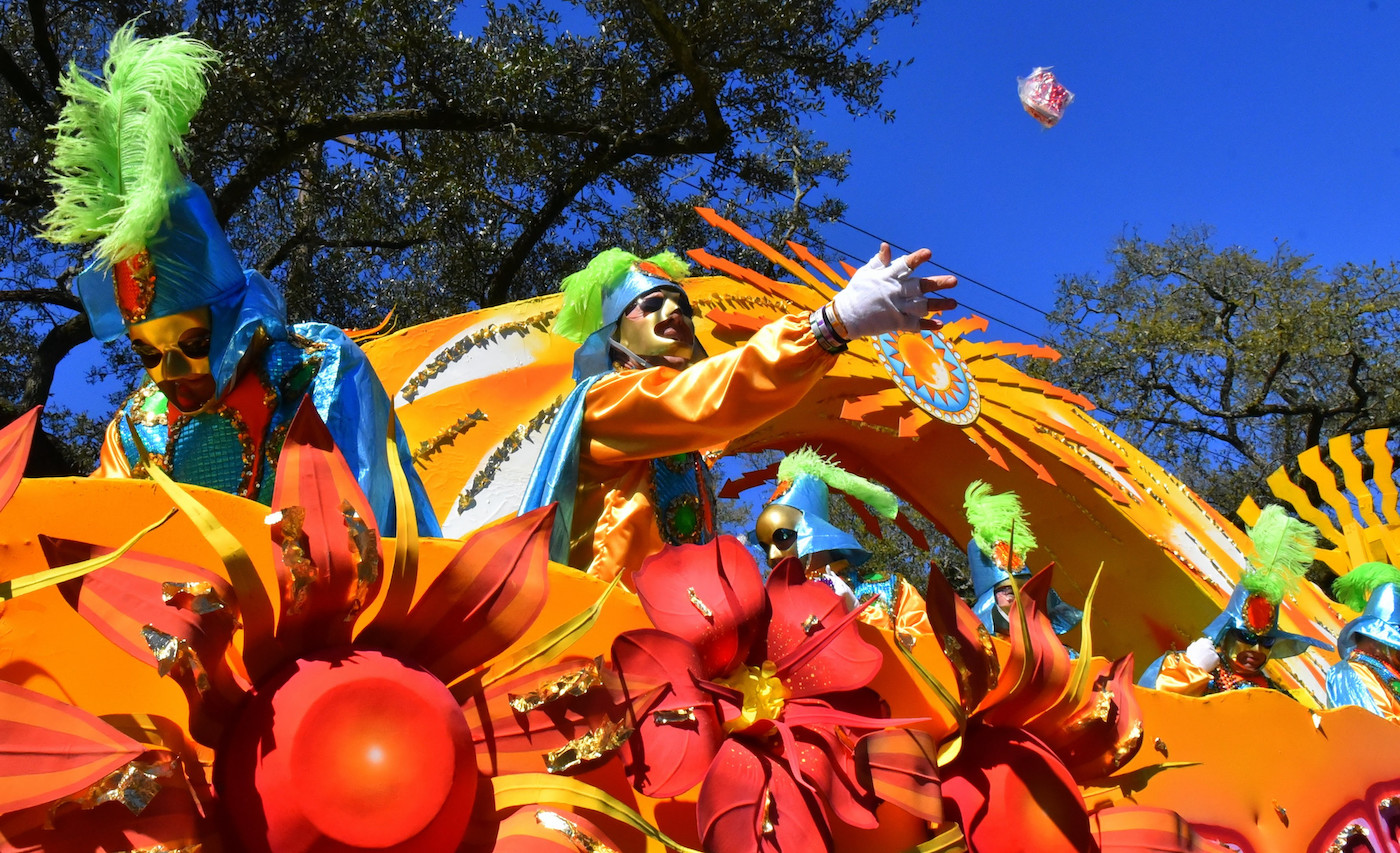 How to Celebrate Mardi Gras @ Home
Even if you can't make it to NOLA this year, there is no reason why you can't celebrate Mardi Gras at home. This holiday isn't limited to just those folks that live in New Orleans, it is celebrated all over the world. It is easy to adopt some of the traditions of Mardi Gras no matter how far you are from New Orleans!  Here are our favorite ways to get into the spirit of this celebration.
Decorate Your House & Dress the Part
This is a great opportunity to brighten up a dreary February day and night! Decorate your house in gold, green and purple. For your dining table put on a green table cloth, use gold napkins and glittery gold placemats and plate chargers. Complete the look with purple confetti or beads around the placemats and glowing purple candles at the head and end of the table. For a centerpiece use an assortment of purple flowers wrapped in gold surrounded by colorful masks and glittering Mardi Gras beads. And, don't forget to dress the part by wearing something gold, green, and purple - the more glittery the better!
Pass Out Party Favors & Colorful Masks
Throws from the colorful floats of the Mardi Gras parade are one of the most beloved traditions. Head to the store and stock up on coins, beads, and other trinkets that you can give out to your friends and family. Make sure to have a selection of colorful masks on hand to liven things up. It is fun to look like you have just left the revelry of Bourbon Street with colorful beads and trinkets around your neck. After all, masks are such a big part of the celebration.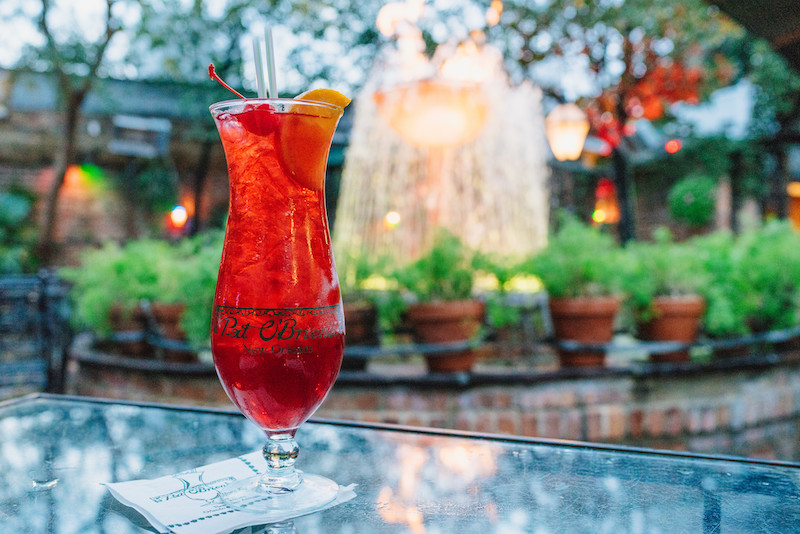 Mardi Gras for All Y'all
A three-night signature celebration is being planned virtually in 2021, called Mardi Gras for All Y'all that is being presented by NOLA.com and Blain Kern's Mardi Gras World. This live streaming event will have appearances by Emeril Lagasse, Hoda Kotb, Preservation Jazz Band, Archie Manning, Marine Forces Reserve Band, Ashton Ramsey, and Jimmy Buffett. There will also be special guest performances by Grammy Lifetime Achievement Award Winners Leo Nocentelli and George Porter, Jr.
The Music
Music inflames temperament and adds to the festivities of any Mardi Gras party at home. Everyone knows that food and music are the heart and soul of NOLA. Organized by the New Orleans Visitors and Convention Bureau, you can tune into concerts that are live-streamed directly from the clubs of NOLA. You will find everything from steamy jazz and funky brass to soulful blues, honky-tonk piano, and much more.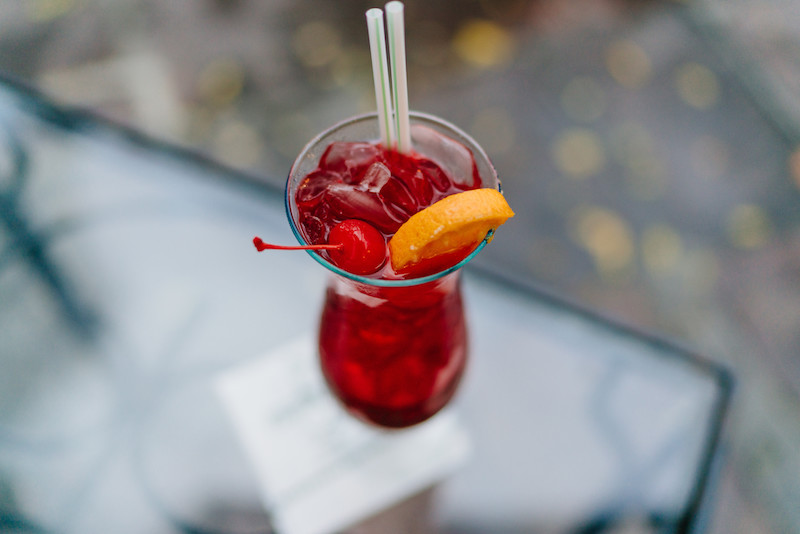 Shaken, Stirred, and Savored!
If you like cocktails then you will feel right at home in New Orleans where vendors sell drinks of all manner outside and in. If you want to start your celebration off with a cocktail try the Sazerac, the cocktail most linked with New Orleans and, as of 2008, the official cocktail of the state of Louisiana. It is named after the Sazerac de Forge et Fils brand of cognac brandy that is the original main ingredient.  Often described as a cousin of the Old Fashioned the Sazerac's secret ingredients, a dash of absinthe and bitters, makes this cocktail a strong aromatic drink that embodies the spirit of NOLA. For a recipe click here. 
Another popular drink is the sweet, red Hurricane, a rum-based drink served in a glass that resembles a hurricane lamp and embellished with a cherry and slice of orange. First served at Pat O'Brien's in the French Quarter in the 1940s, this drink remains one of the most popular today. For a recipe click here.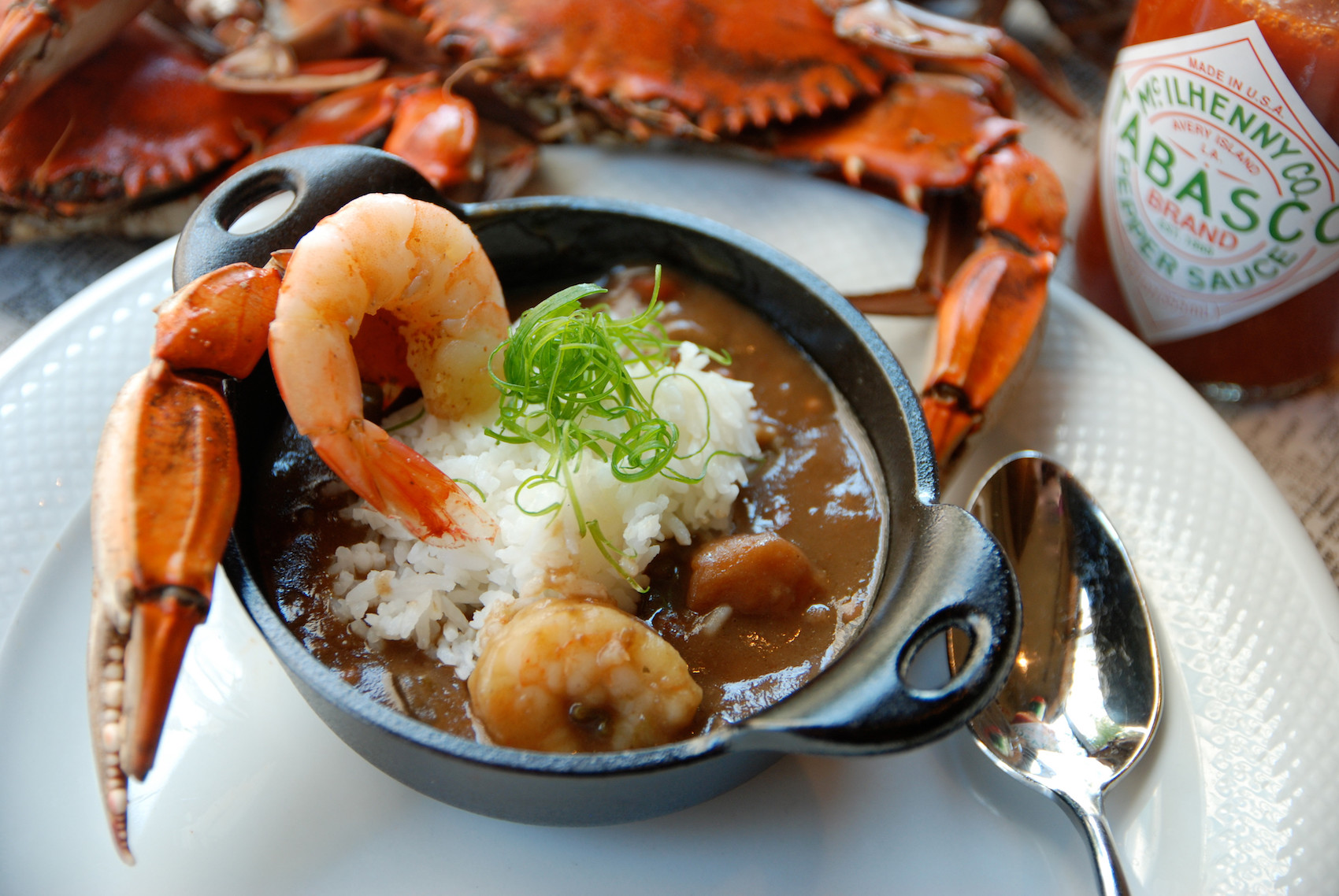 Cook Themed  Food or Order Out
Cook an inspired NOLA meal like po'boys or gumbo, jambalaya, crawfish Étouffée, or red rice and beans. Perhaps the most iconic dish of New Orleans is gumbo, a thick seafood stew served over rice. The roots of this dish go back to its French and African heritage. There are a number of variations of gumbo and each one is delicious.
A trip to NOLA isn't complete without having sweet and creamy pralines. Aunt Sally's Creole Pralines have been around since the early 1900s and are still made the traditional way starting with Louisiana pecans. For a special surprise to add to your festivities, order a Mardi Gras NOLA gift basket from Aunt Sally.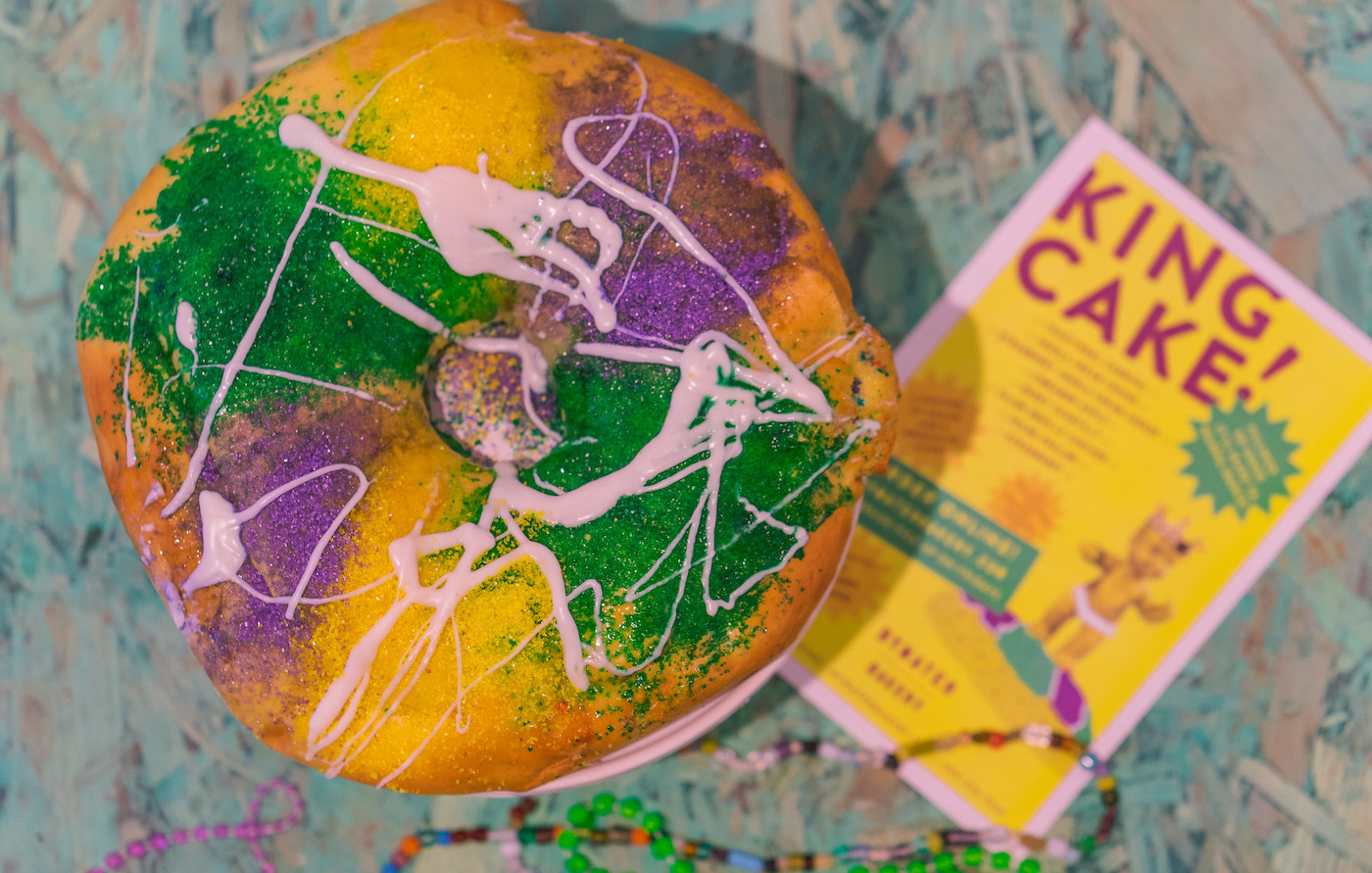 Bake a King Cake
The King Cake is only available during Mardi Gras. It is a circular cake that looks like a braided crown that is frosted with green, gold, and purple icing and sugar. The cake is made of rich brioche dough and can be filled with pralines, cinnamon, chocolate, or cream cheese. Basically, a King Cake is baked like your average bundt cake, except that buried inside the batter is a tiny, plastic baby figurine. There are two theories of why a plastic baby is baked into the cake. The first is that the baby is symbolic of the infant Jesus because of the religious connections of this holiday to King's Day. The second theory is that whoever had the piece of cake with the baby in it was crowned King or Queen of the Mardi Gras celebrations. Today, it is a symbol of good luck. 
If you don't want to make a King Cake from scratch you can order Mam Papaul's King Cake mix on Amazon that includes praline filling, colored sugar, and even a plastic baby!
We hope that until you travel with us to NOLA and take our Mississippi River Cruise that these suggestions will make your Mardi Gras at home fun and festive…it's time to let the Good Times Roll!