Imagine visiting an Island that has no cars, and is surrounded by calm lake waters and fragrant evergreen forests. An Island where 80% of its landscape is an unspoiled National Park; and one that has a living Victorian village where the only mode of transportation is by horse and carriage or bicycle. 
Mackinac Island, the jewel of the Great Lakes, is all this and more!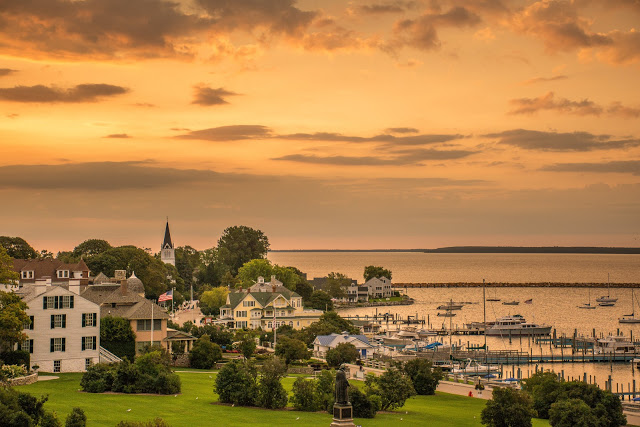 Visitors to Mackinac Island often feel they have stepped back to a more genteel time because of its elegant Victorian architecture and the signature sound of the clip-clop of horses as they pull carriages around this unspoiled island that has banned cars since the 1800s. Here, you will find the queen of Victorian Era resorts, the Grand Hotel, you can take a leisurely stroll or horse and carriage ride through a "living" Victorian village, sample fudge made from a traditional recipe that has not changed for more than a century, and tour Fort Mackinac, that dates to the 1700s.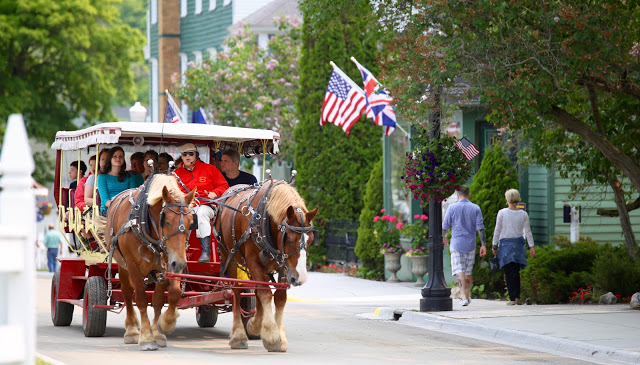 In 2015, Travel and Leisure Magazine called this charming four-square-mile island located on Michigan's Lake Huron the "world's friendliest island". 
It is no wonder that the island snagged the number one spot. Most of the island is undeveloped and unspoiled, the service and amenities are excellent, and the attractions are varied and interesting. Best of all, residents of the island are friendly; many affectionately refer to visitors as "fudgies" because very few visitors leave the island without sampling its specialty…fudge!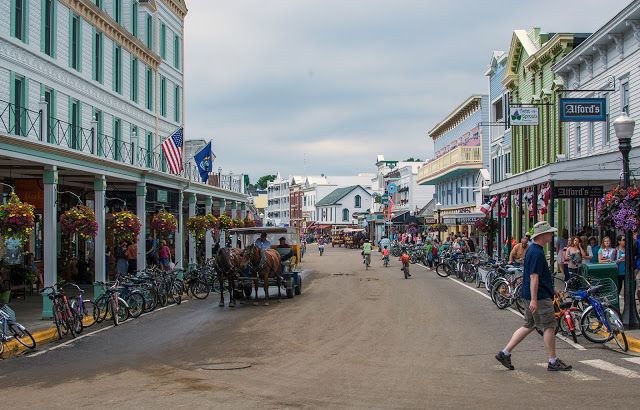 Downtown Mackinac Island
Lined with colorful Victorian styled shops, restaurants, art galleries and boutiques, downtown Mackinac Island is a shopper's paradise that has something for everyone. Downtown is also the best place to rent a bicycle or go on a horse and carriage ride. If you are planning a shopping expedition, make sure to wear a comfortable pair of shoes!
If you are a foodie, there are more than 50 restaurants to choose from, ranging from family friendly to fine dining. For more information about restaurants click here. At night, many of the restaurants and pubs offer live entertainment, from big band music to rock, folk, blues, jazz, and country, the choice is yours and the scene is convivial!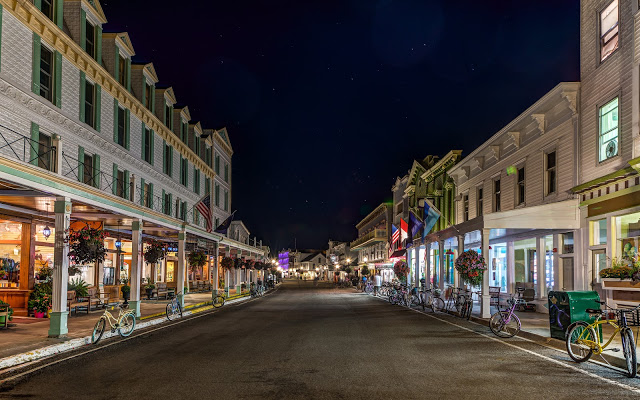 "America's Fudge Capitol"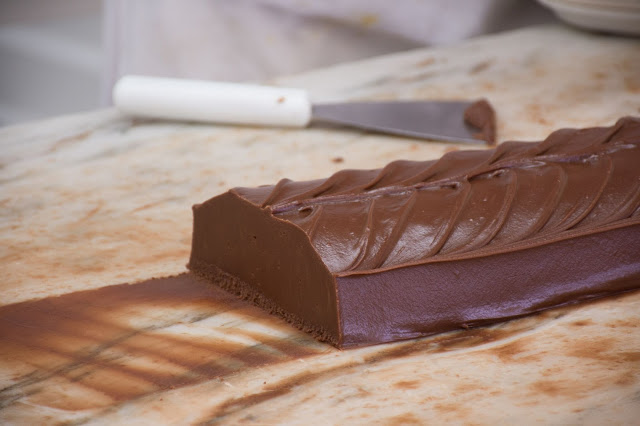 Mackinac Island claims to be "America's Fudge Capitol", and after sampling the endless varieties of fudge, you might believe that this is fact, not fiction! The tradition of making fudge was born in the years following the Civil War and is alive and well today. Many recipes used here have not changed since the 1900s. Keep an eye peeled for Murdick's Fudge located downtown; it is the oldest fudge making shop on the island that has been serving this delicious delicacy since 1887.
Downtown for History Buffs
Downtown isn't only for shoppers, history buffs can explore five beautifully preserved historic buildings, including: the Biddle House, the Benjamin Blacksmith Shop, McGulpin House, the American Fur Company Store and Dr. Beaumont Museum, and the Mission Church.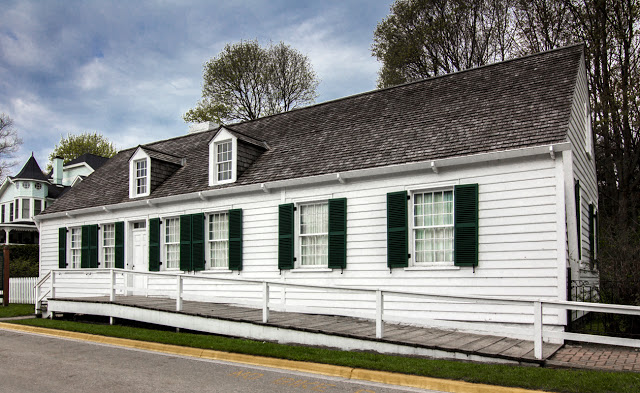 Once the home of a fur trader, the Biddle House dates to 1797 and is of French Canadian construction. A highlight of the house is the open hearth cooking demonstrations and hands-on crafts classes. Close by, the McGulpin House is a rare example of Canadian architecture that was built around 1780. It is a gable-roofed French Canadian structure made of squared horizontal logs with dovetail corners.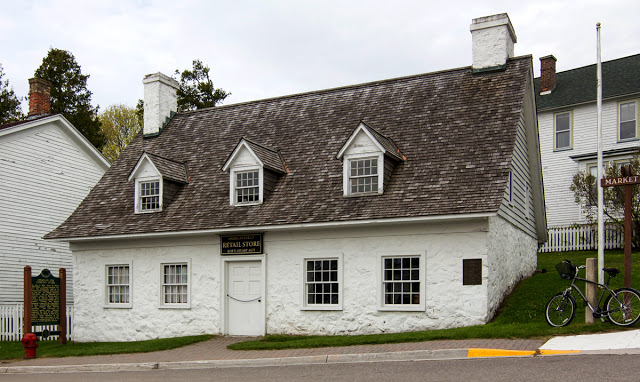 The American Fur Company Store and the Dr. Beaumont Museum has exhibits that include a period setting of what the store looked like in the 1820s and is staffed with a costumed interpreter. It also has a gallery explaining Dr. Beaumont's observations on the digestive system.
The story goes that in 1822, a French Canadian traveler was accidentally shot in the American Fur Company Store and that Dr. Beaumont nursed him back to health. The wound never healed properly and through an opening to the stomach, the good doctor was able to compare the digestibility of food. From his observations, Dr. Beaumont published a groundbreaking book on the digestive process in 1830.
The Arch Rock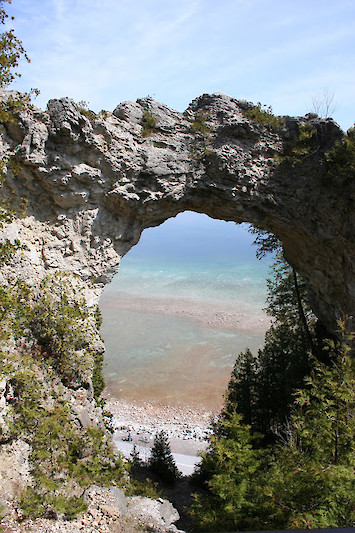 Regardless of how you view Arch Rock, from above or looking down through its frame, you will be in awe. This dramatic and extremely rare geologic formation was created thousands of years ago during the Nipissing Era when the water levels of Lakes Huron and Michigan were much higher than they are today. Over the centuries the receding water and wind eroded the soft rock below leaving only the hard breccia rock exposed that forms the symmetrical archway that we see today. 
Arch Rock rises 146 feet above the water and is 50 feet at its widest point.
Mackinac Island State Park
Breathtaking vistas, historic landmarks, nature trails winding through verdant forests, and spectacular rock formations are just some of the delights found at Mackinac Island State Park. Visitors can take a horse and carriage ride through the park, go horseback riding, bicycle or hike on 70 miles of trails that make their way through this unspoiled wilderness.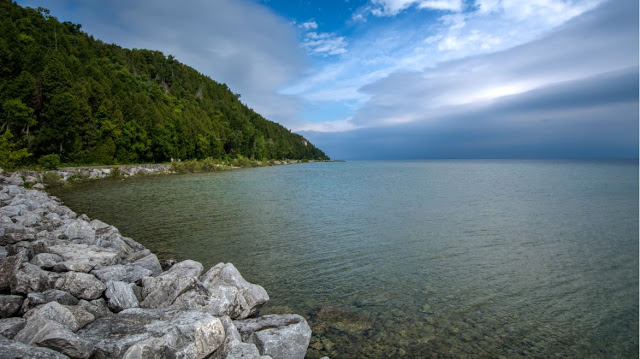 The Park has many historic landmarks such as the palatial summer cottage of Michigan's Governor and Anne's Tablet, a bronze memorial that commemorates the work of novelist Constance Fenimore Woolson. There are two benches here with a fabulous eastern view that overlooks the town and harbor making it a perfect spot for photos and a picnic lunch.
For History Buffs:

Don't miss Skull Cave that was used by Alexander Henry, one of the British survivors of the June 2, 1763 attack on Fort Michilimackinac. He was taken to the cave by his friend, Ojibwa Chief Wawatam for protection. Henry reported that this cave was full of skulls and bones!
Fort Mackinac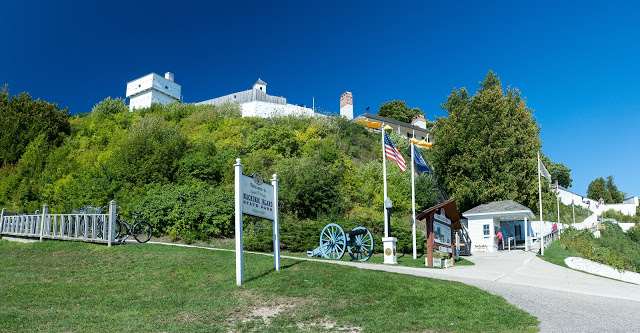 Fort Mackinac was built by the British Army during the American Revolutionary War. It looms 150 feet above the Straits of Mackinac and overlooks Marquette Park, which was a garden for the soldiers living in the Fort. Entering the Fort is like stepping back in time to 1775 when the American Revolution began. Visitors are invited to explore the 16 buildings of the Fort that are open and furnished with period settings or themed exhibits. A special treat is the dining experience at the Tea Room located in the Fort with its excellent view over Marquette Park.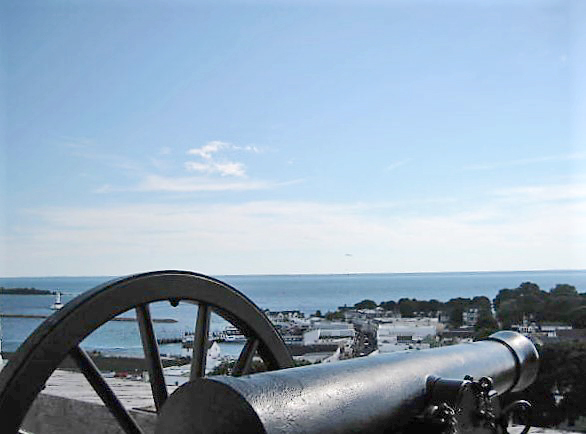 In addition to its stunning panoramic views, highlights of the Fort include tours by costumed interpreters, hearth cooking demonstrations, and the exciting experience of watching cannon and musket firing demonstrations. Be sure not to miss the 15-minute movie in the King's Storehouse that tells the story of the attack at Michilimackinac. If you like to shop, before you depart check out Sutler's Museum Store where you will find items unique to Fort Mackinac. 
Tour Mackinac Island With Tours of Distinction
TOD is offering an exclusive eight-day excursion to Mackinac Island, August 18-25, 2018. 
The tour includes:
Roundtrip motor-coach and ferry transportation
14 meals
7 nights hotel accommodation
Tours of Distinction Tour Director
A variety of sightseeing has been carefully planned, and includes:
Niagara Falls
Henry Ford Museum
Rock and Roll Hall of Fame
Greenfield Village and Tour
Cranbrook House
Lunch at the Grand Hotel
Carriage Ride and Tour of Mackinac Island
Vineyard Tour
Tasting and Lunch in the Fingerlakes
Frankenmuth, Bavarian Village