Travel Tip Tuesday | Keeping Awake
5 Tips to Stay Awake on a Long Motor-coach Drive
Traveling by motor-coach is so rewarding because all the responsibility of navigation and driving in traffic is put in the hands of a professional driver. When you hit the road on an escorted group motor-coach tour, it gives you time to soak in the scenery, which is always changing. Traveling by motor-coach is the perfect way to unwind, and some of us are even lulled to sleep as the motor-coach rolls down the highway. If you don't want to miss out on the scenery, below are five tips that might help you stay awake to enjoy every moment of the journey.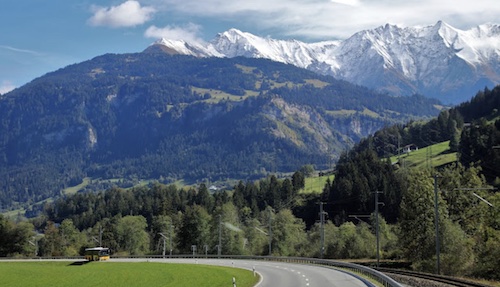 ---
1) Get Social
Traveling with a friend or making a new one is a perfect way to pass the time and share the experience of what you are seeing and why you are traveling. Conversation stimulates the mind and helps you stay awake and engaged.  If the conversation happens to lag, you can always play time-honored road games like I Spy and Last Letter Games.
2) Stay Entertained
If you tire of talking and soaking up the scenery, pack a few items that will keep you entertained. An i-pad with movies, a kindle with your favorite books, or your cell phone with games and music are all great options. If you are less of a techie, bring a book or listen to an audiobook.
3) Be Comfortable
Choose your seat carefully, a ride in the back can feel bumpier, and opt for a window seat if you plan on taking photos. Take off your shoes and make sure that you dress comfortably and, in layers. For lower back problems bring an inflatable back pillow and to get your neck just right, bring a neck pillow as well.
4) Be Productive
If you are enjoying the scenery, occupy some of your time with taking photos, and if you like to write, start a travel journal of your trip. Make sure to get out at any rest stops to stretch and to pick up some postcards to write to friends back home. And, don't forget to send a postcard to yourself - they make great trip mementos. 
5) Stay Hydrated
Dehydration can cause drowsiness, so it is always good to drink enough water while traveling. Bring along healthy snacks to munch on to keep your energy up. Things like nuts, fresh fruits, veggies, and trail mix are perfect to eat on the road.  If you really need a boost, drink something with caffeine in it for that extra jolt.
With these ideas in mind, you will be surprised how short that perceived long motor-coach ride can really be! After all, half the fun of any road trip is getting there.