Travel Tips - Keep It Safe: Electronic Hotel Room Key
Keep It Safe - Electronic Hotel Room Key
When travelers check into a hotel, most often they receive an electronic room key with their room number written on it by the front desk personnel. There are several important ways that travelers can keep their electronic hotel keys safe.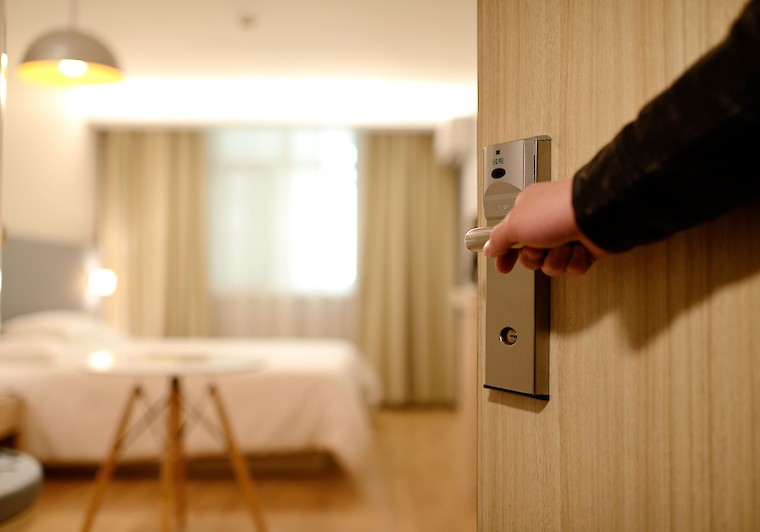 About Electronic Hotel Key Cards
Electronic room key cards are similar to ATM cards because they have an attached magnetic strip that is coded by the check-in computer, and read by the lock on the hotel room door. A new electronic key card with a new code is created for each new hotel guest.
The only drawback to the electric card system is that they can become demagnetized. When this happens, they don't work. As a rule of thumb, if you don't want this to happen, make sure that you don't place your electronic key card next to your credit cards. Their magnetic strips or chips make them lose their code.
If your electronic room key card is demagnetized, be sure that hotel staff asks you for your photo I.D. before issuing you a new electronic key card.
Keeping Electronic Hotel Key Cards Safe
Every traveler knows that it is helpful when first checking into a new hotel to have your room number written on the sleeve of the hotel room card key. Keeping the key in the sleeve with the room number on it isn't safe or prudent.
There are a couple of easy ways to keep your card safe in case it is stolen, or if you lose or misplace it.
Try to memorize your room number as soon as you check into your room. Keeping it "in your head" is sometimes the best way to go!
Before you blacken out the room number on the sleeve, take a photo of it with your smartphone. This photo will allow you to refer to the number if you forget it. Be sure to put your room key in your favorite travel pouch or wallet, and ditch the sleeve with the blacked out number. 
For extra back up, you can take a photo of the door of your room with the number on it.
Another backup option is to text yourself the number of your room without any reference as to where or what this number relates to. 
If you are traveling alone, it is best not to get two room keys. If you do, make sure that you don't leave the extra key out in the open or in the power slot. Keep the extra key with you, or lock it in the hotel safe.
Tours of Distinction - The World Awaits!
For more than 45 years, Tours of Distinction has understood that your vacation time is precious. Travel is a way of life for members of our team and we want to share our discoveries and in-depth knowledge with you. Our clients seek authenticity and our team's expertise and hands-on assistance will ensure that your journey with us is fun, fulfilling and, that it fits your budget.  Our goal is to make sure that every day of your journey with Tours of Distinction is the best that it can be.
For almost a half a century, Tours of Distinction has offered a diverse collection of small escorted group and individual tour itineraries carefully crafted by our Professional Travel Team. We specialize in everything from carefree day trips and multi-day adventures to 7-14 day journeys of a lifetime, nationally and internationally. Whether you are a first-time traveler or a seasoned globetrotter, we are here to provide you with expert service. When it comes to travel, service and our years of experience make all the difference.
For Tours of Distinction, travel is not just a "business" it is a lifestyle that inspires a sense of community that spans the globe.  
We would like to welcome you… to our "Tours of Distinction" and invite you to enjoy the magic, excitement and exhilarating experiences of travel with us…the world awaits!