Iceland - Rejuvenation with Tours of Distinction
Iceland - Rejuvenation with Tours of Distinction
Iceland abounds in natural wonders from feisty volcanos, desolate black lava plains, geysers that send jets of water sky high, to odd rock formations, bubbling mud, and, best of all, outdoor hot water pools to enjoy, no matter what the temperature outside is. This tradition dates to Viking times; and a soak today is as rewarding, relaxing, and healthy as it was back then! The geothermal energy that forms these pools, found in this land of "fire and ice" is not only a place where locals socialize; they also represent an essential source of clean energy that Icelanders have depended on for centuries.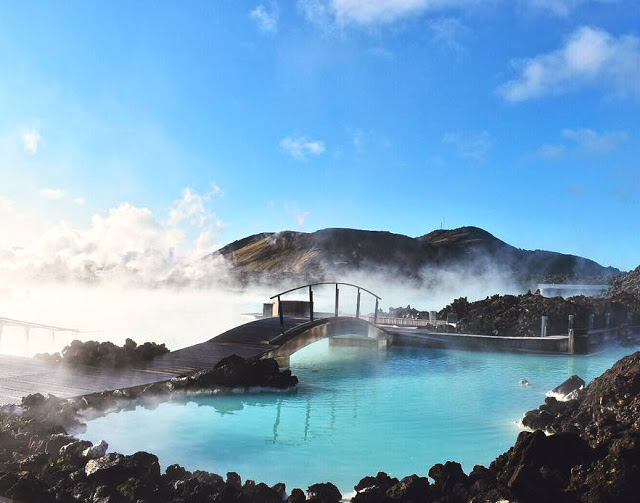 To experience Iceland like a local, Tours of Distinction has set up a visit to the Blue Lagoon, one of the best places in the country for an outdoor soak that was named in 2012  by National Geographic as one of the "Wonders of the World." This is why Tours of Distinction has organized an excursion here as just one of the many highlights of the "Iceland Inspired" tour departing November 2 and returning November 9, 2018.  This exclusive and "inspiring tour" will only accommodate a maximum of twenty-four very lucky people.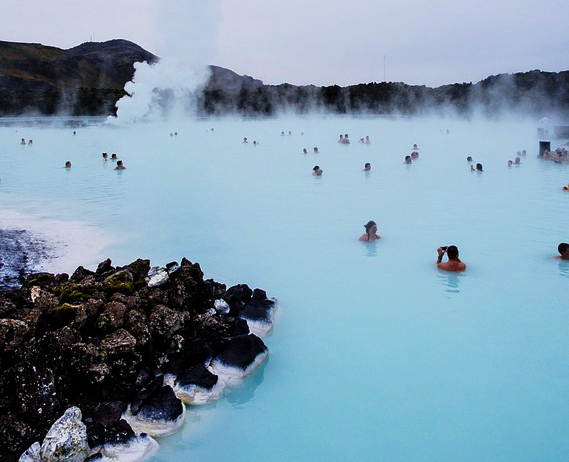 The Blue Lagoon
Iceland's foremost spa, the Blue Lagoon is set in a stunning field of black lava and is an ideal introduction to Iceland, especially after a five-hour transatlantic flight. As the motor-coach winds its way through the black lava fields keep on the lookout for steam that rises in the distance. Entering the gates of the Blue Lagoon, you feel like you are entering a mystical place, steam is rising in all directions from the silica encrusted black lava rocks. The air is warmer, and you know, you are visiting somewhere extraordinary.
Rejuvenation is in the air!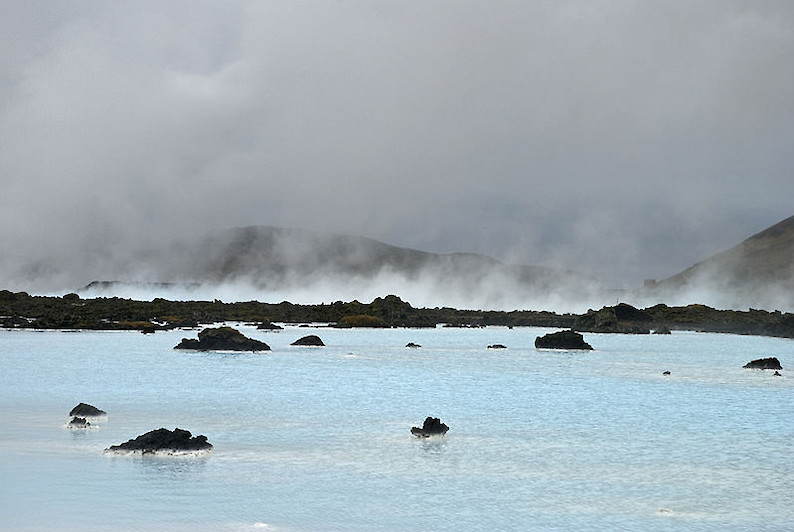 The Blue Lagoon maintains a very relaxed and subdued atmosphere. After you check in and receive a wristband and locker key head to the changing room, it has a distinctly European touch. There are towels, bathrobes, and slippers waiting. All visitors are required to take a full body shower before changing into a bathing suit. There are places outside to hang your robe and stash your slippers.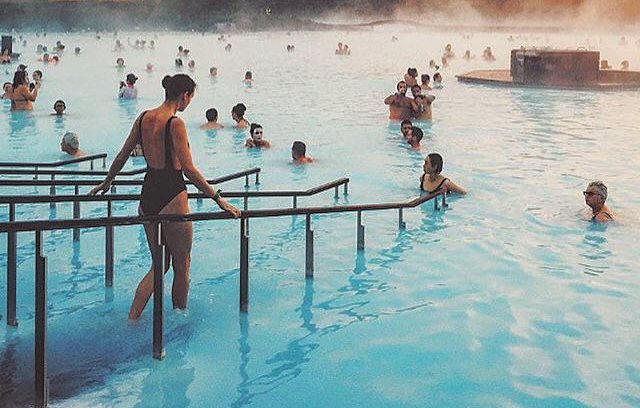 Entering the giant pool of the Blue Lagoon visitors are met with an otherworldly and welcoming sight of rising plumes of steam and milky blue water that is between a perfect 98 and 104 degrees Fahrenheit. 
There are also many interesting and tasteful amenities found in the pool. If you want to quench your thirst, swim up to the Blue Lagoon's bar that offers smoothies, juice, soft drinks, beer, and wine. For a respite from the pool head to the steam room located in a specially constructed earthen room. And, make sure not to miss the beauty bar that offers free masks!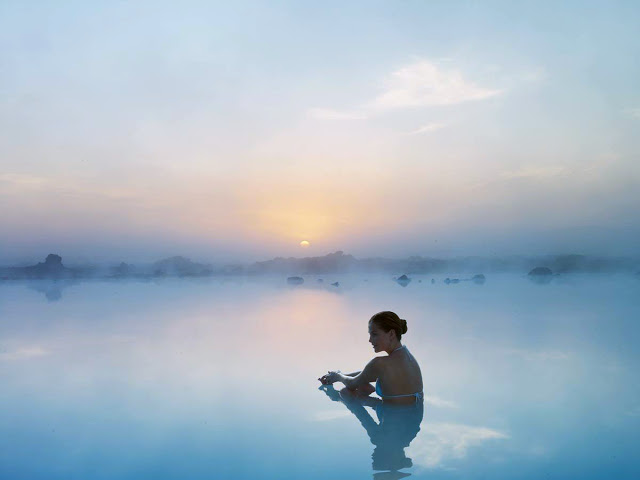 Skin Benefits of the Blue Lagoon
What gives the Blue Lagoon its milky blue appearance is the high content of white silica.
Many visitors put the silica on their face and body, there is a beauty station set up in the pool with free algae and silica masks that provide the full "spa" experience. Apply as much silica as you want and leave it on for at least five minutes then wash it off with water from the Blue Lagoon - that is after taking a selfie! Although silica is not harmful to your hair if you get your hair wet it can become stiff and hard to manage until you wash it.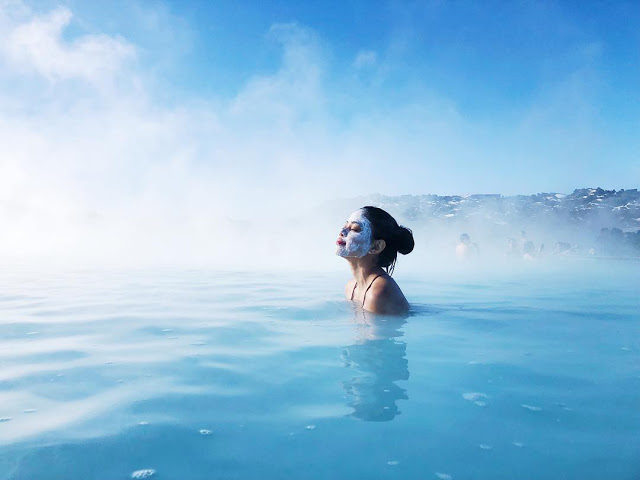 What makes the water of the Blue Lagoon unique is that it is a combination of seawater and fresh water that is very high in silica. It is also home to a couple of algae plants that only exist here. Silica enhances the skins barrier function bringing strength, protection, and radiance while algae increase collagen production that nourishes the skin and reduces the appearance of fine lines and wrinkles. The Blue Lagoon also has a Skin Shop (near the exit door) with products made from the geothermal seawater, silica, algae, and minerals.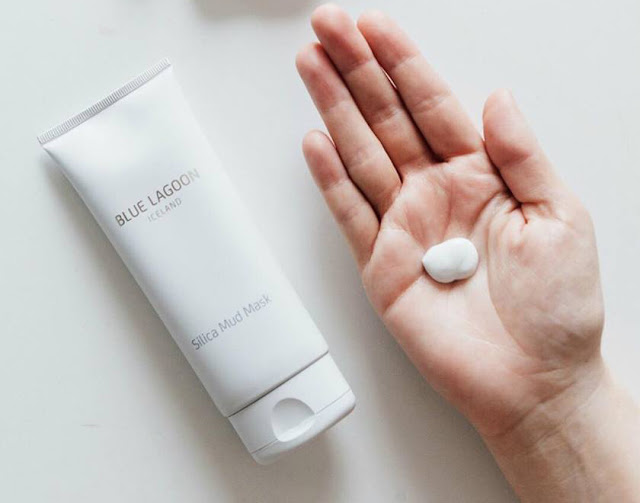 History of the Blue Lagoon
Ironically, the Blue Lagoon was created accidentally in 1961 because of the overflow from a nearby power plant, called Svartsengi. The water was expected to disappear into the permeable lava field, but sedimentation gradually made the coarse lava field watertight, and the lagoon continued expanding. No one could have anticipated that this coincidental event created the most frequented tourist attraction in Iceland.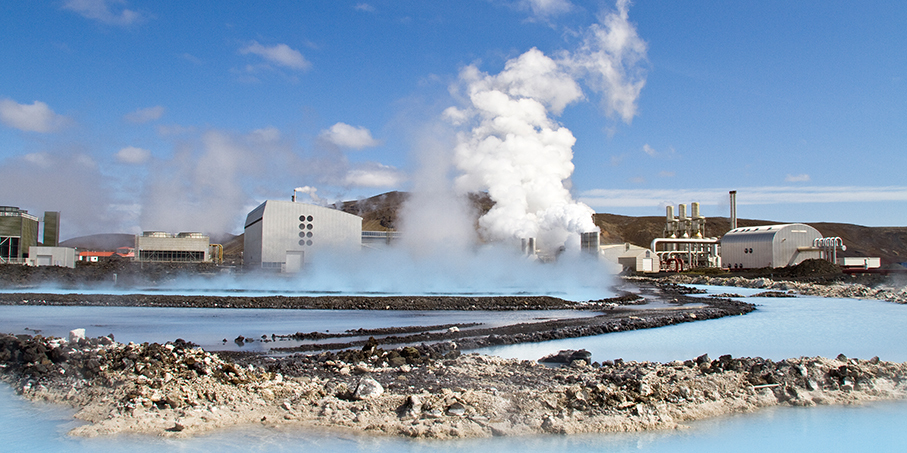 The Svartsengi Geothermal Power Plant is located on one of the major high-temperature areas of the Reykjanes Peninsula and supplies the Reykjanes Area with electricity, hot water used to heat homes as well as providing perfectly clean overflow water to the famous Blue Lagoon. The Svartsengi Power Plant is the first geothermal power plant in the world to combine the generation of electricity and the production of hot water for district heating. Today, the total production capacity of the Svartsengi Power Plant is 75 MWe and 150 MWth. The Power Plant in Svartsengi has been developed in 6 successive phases since 1978.
Source: Visitreykjanes.is and Verkis.is
Iceland with Tours of Distinction
Iceland Inspired is a small group tour of Iceland with no more than 24 participants and will depart November 2 from Boston and return November 9.  
This eight-day tour includes:
6 nights accommodations
Deluxe motorcoach transport
Roundtrip air from Boston
Comprehensive sightseeing
Tours of Distinction Tour Director
14 meals
Gratuities
Special excursions include:
The Blue Lagoon
Glacial Lagoon
Gullfoss
Thingvellir
Froheimar Farm
Entrance to Ice Cave at Langjökull Glacier
South Skoafoss Waterfall
City Tour of  Reykjavik
Hellisheiöi Power Plant
The Northern Lights
…and much more!
About Tours of Distinction
For more than 45 years, Tours of Distinction has understood that your vacation time is precious. Travel is a way of life for members of our team and we want to share our discoveries and in-depth knowledge with you. Our clients seek authenticity and our team's expertise and hands-on assistance will ensure that your journey with us is fun, fulfilling and, that it fits your budget.  Our goal is to make sure that every day of your journey with Tours of Distinction is the best that it can be.
For almost a half a century, Tours of Distinction has offered a diverse collection of small escorted group and individual tour itineraries carefully crafted by our Professional Travel Team. We specialize in everything from carefree day trips and multi-day adventures to 7-14 day journeys of a lifetime, nationally and internationally. Whether you are a first-time traveler or a seasoned globetrotter we are here to provide you with expert service because when it comes to travel, service and our years of experience make all the difference.
For Tours of Distinction, travel is not just a "business" it is a lifestyle that inspires a sense of community that spans the globe. We would like to welcome you… to our "Tours of Distinction" and invite you to enjoy the magic, excitement and exhilarating experiences of travel with us…the world awaits!