The Most Haunted Things to do in Savannah
Why is Savannah the Most Haunted City in America?
Savannah is magical. It is a place embellished with antebellum charm, swirling in mystery and bursting with a Gothic charm all its own. Along with New Orleans, Saint Augustine, and Salem, Savannah is often touted as one of the most haunted cities in America. To understand Savannah's supernatural status you have to do a deep dive into the history of this charming southern city.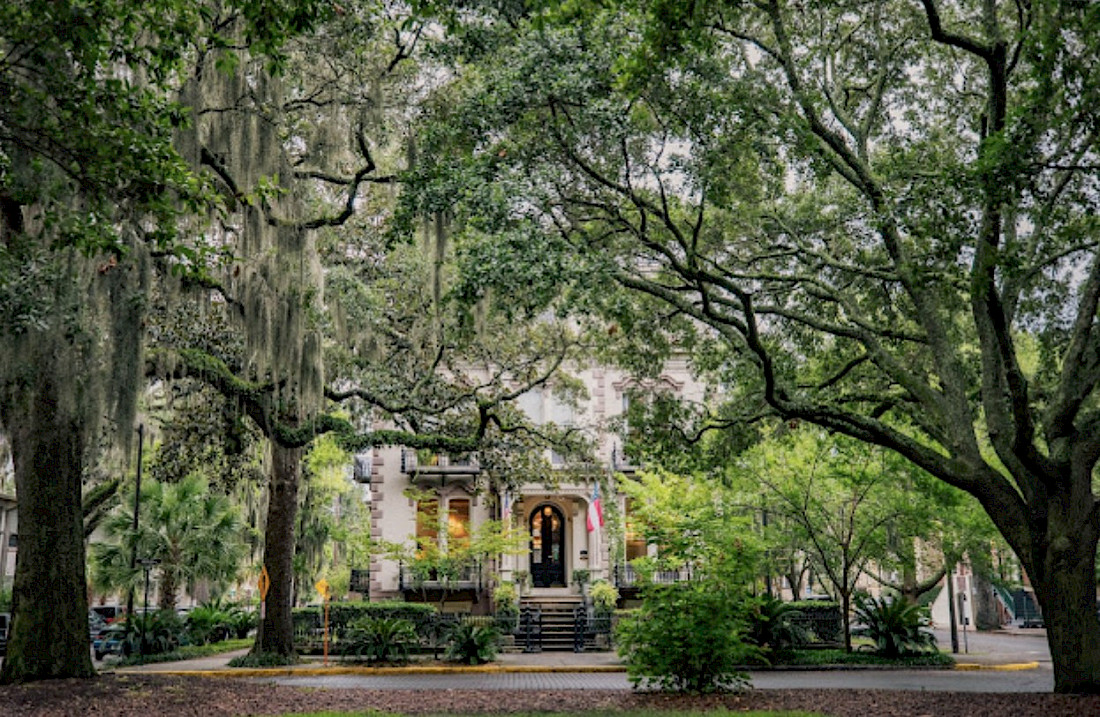 Ghost stories in Savannah are popular. Being able to tell a good ghost story is something that locals pride themselves on.  There are more than 27 companies that offer ghost tours of the city that proves this point!  You can take an evening moonlit walking or trolley tour, and even one in a hearse! All of them claim that 60 to 70 percent of the buildings and beautiful Victorian homes that are shrouded in moss are actually haunted. As a matter of fact, a favorite local saying is that "you are nobody in town until somebody haunts you or your house!" Here are just some of Savannah's eeriest places where ghosts linger and scary and heart-wrenching tales are told making them interwoven into the cultural fabric of Savannah.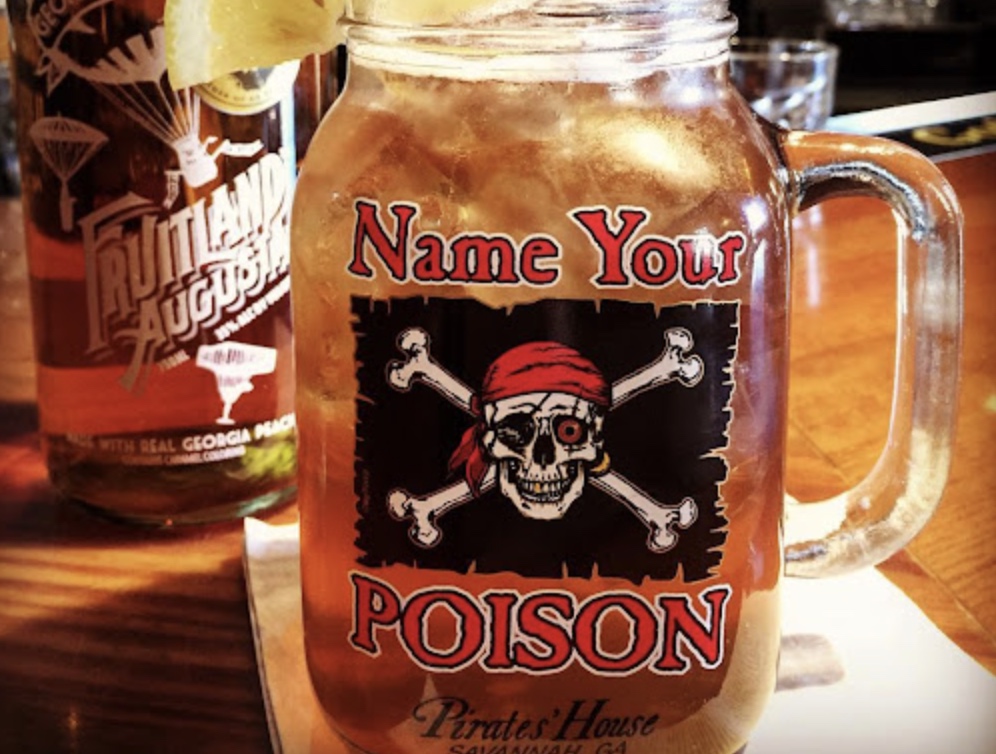 Haunted Restaurants, Taverns & Inns
Pirate House
Located near the Savannah River and thought to be the oldest house in Georgia, this restaurant was once the haunt of pirates in the 1700s. It is said to be one of the most haunted places in the city. Pirate's House opened in 1753 as an inn for seafarers and quickly became a meeting place for pirates. Legend has it that the events that took place here inspired Robert Louis Stevenson's classic, Treasure Island.  Pirates would kidnap drunk men from the inn and drag them through a tunnel that ran underneath the tavern and sell them into a life of servitude. Although the tunnels have collapsed,  or have they… the ghosts of these rowdy buccaneers linger in the walls of this haunted restaurant.
Olde Pink House Restaurant and Tavern
This neoclassical pink home with its Greek portico supported by Doric columns dates back to 1771 on the land that was granted by the crown of England to a wealthy cotton farmer, James Habersham, Sr. Over the years the house served as a Bank, tearoom, and a speakeasy. With more than 300 years of history, this house is teeming with ghosts. James Habersham, Sr.,  died in the house and his spirit never left. Some say he committed suicide after finding out about the infidelity of his wife. Mrs. Habersham also haunts the house and is said to hiss at people that come too close to her. Slave children that died during the Yellow Fever outbreak are often seen running about in the wine cellar of the tavern.
Moon River Brewing Company
One doesn't normally think that a brewing company could be haunted but this one has a pernicious poltergeist that shakes things up! Mischievous ghosts stalk this building that has been the site of gruesome murders, countless shootouts, and even a couple of lynchings! Built-in 1821 as the City Hotel it saw its share of violence that may have something to do with the aggressive apparitions that linger here. Today this gentrified brewing company offers beer with names like Cosmic Terror, burgers, and… "spirits!" 
17Hundred90 Inn and Restaurant
It is a story of romance and betrayal. Many people that have heard the story of Anna Powers often ask to see room 204 where she lived. According to folklore, Anna was the bride of an arranged marriage who fell in love with a sailor in the 1800s. As the sailor's ship sailed away down the Savannah River to the sea, Anna jumped from the third floor and fell to her death in the courtyard below. Some think she was pushed by her angry husband that paid for her passage to Savannah. Anna is said to be a friendly ghost that has a habit of moving the clothes and jewelry of the guests that stay in room 204. Another friendly ghost, a young boy called Thaddeus scatters shiny pennies on tables and on the bar.
Marshall House
This elegant inn was once used during the Civil War as a hospital for the wounded and for two yellow fever epidemics. Many have reported seeing soldiers with missing limbs on the first floor, hearing children running down the halls, faucets turning on by themselves, and much more. It has been named the #2 Best Haunted Hotel in the nation by USA Today in 2021. If you plan to book a room, it is said that the fourth floor is the most haunted.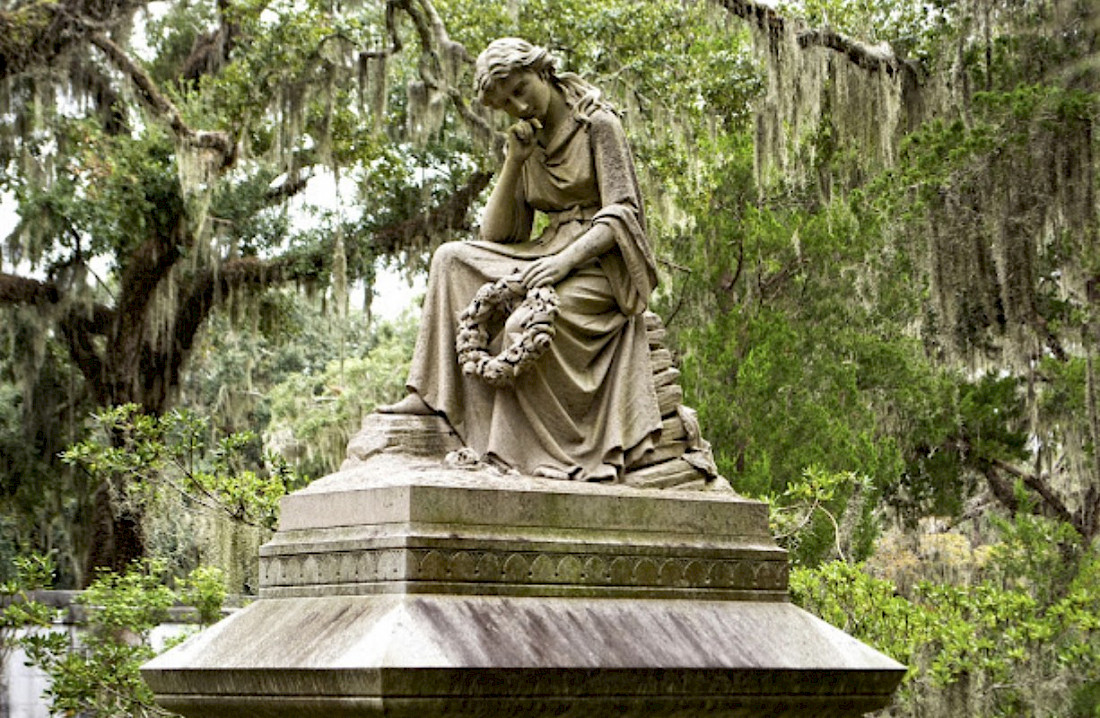 Ghosts and Gravestones
Bonaventure Cemetery
One of the most iconic locations in Savannah is Bonaventure Cemetery. If it looks familiar it is because Bonaventure was featured in the best-seller, Midnight in the Garden of Good and Evil by John Gerendt, and parts of the movie were filmed here. Established in 1846, the cemetery encompasses more than 100 acres along the Wilmington River. The historic section is Victorian with ornate marble carvings and beautiful statues of lost loved ones set amid a winding path that is lined with oak trees cloaked in Spanish moss.  Legend has it that the statue called Little Wendy which graced the cover of Midnight in the Garden of Good and Evil is haunted by the ghost of Lorraine Greenman, the little girl that posed for it. Another statue is that of Gracie Watson, a six-year-old that died of pneumonia and is said to appear in a white dress and then vanish without a trace when you get too close.
Colonial Park Cemetery
During the Civil War, Federal Troops used the cemetery as their headquarters for the take over of Savannah and legend has it that they desecrated some of the graves and damaged many headstones. It is also the final resting place of many mass graves. The spirits here are said to be restless and some visitors experience eerie sensations, feel cold spots and see strange glowing orbs that float about.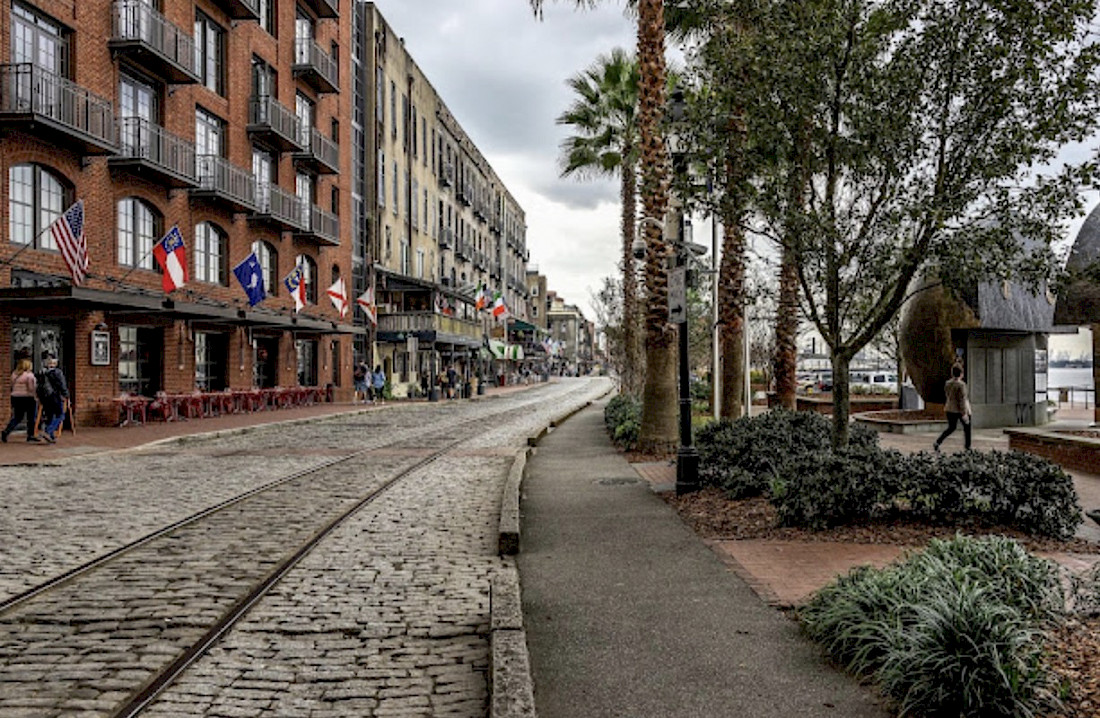 Out on the Street
 
River Street @ Night
This iconic cobblestone street with trendy restaurants and shops is wonderful to explore, many shopkeepers will share their ghostly tales with you when asked. It said in the evening it can be a paranormal paradise! Back in the day, River Street was where indentured servants and enslaved people worked loading and unloading heavy freight from the ships in the harbor, many died tragic deaths. Enslaved people were housed in warehouses that line River Street and today, although many have been re-purposed, they still exist and so do the remains of shackles and visible holes in the walls where people were chained. As you stroll along River Street at night, remember, to keep your eyes open for unusual occurrences. It is no secret that Savannah has a dark past and some of the remnants and ghostly figures can still be discovered today.
Factors Walk
This place is just plain eerie, and best of all it is off the beaten tourist path. It is located at the bluff's level behind River Street. Today you will find trendy shops and restaurants, but in the 19th century, it was the place where men and enslaved people use to bale, factor, and sell cotton. The ghosts that inhabit Factors walk have some of the saddest stories in Savannah. Murders, lynchings, suicide, and more… Factors Walk has seen it all.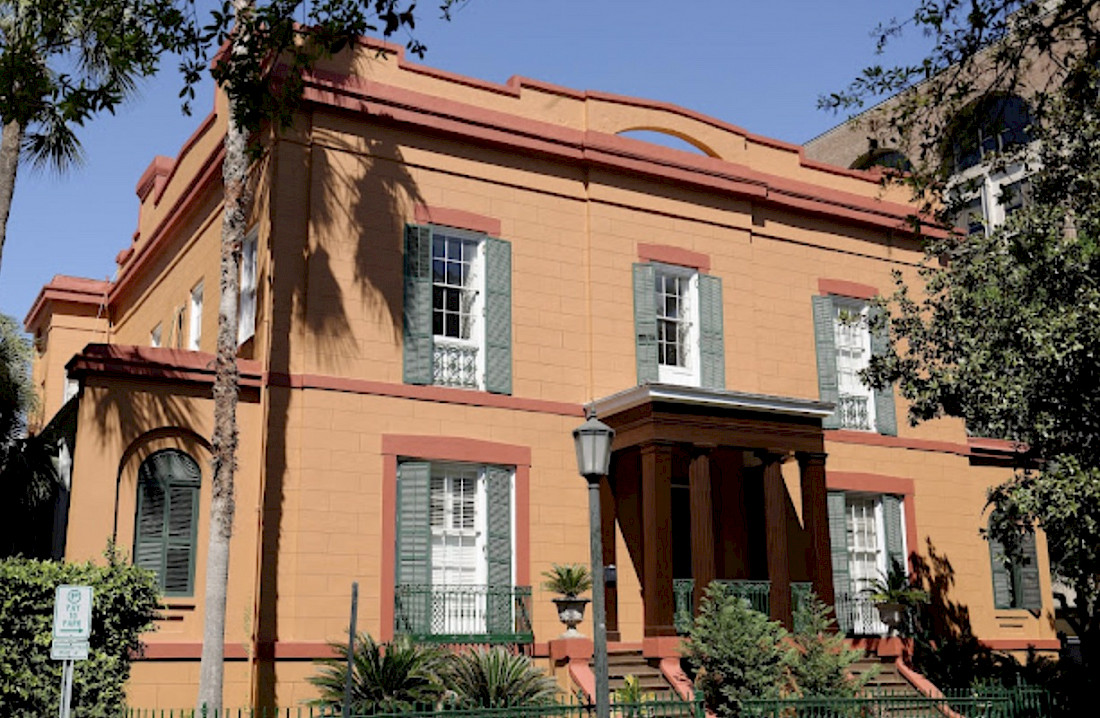 Haunted Homes
 
Sorrel-Weed House
This house is one of the architectural gems of Savannah and is considered an excellent example of Regency style with Greek Revival elements. Located on Madison Square the house has made a cameo appearance in the movie Forest Gump. Although beautiful architecturally, this house has a ghostly past and is considered to be one of the most haunted houses in America. It all starts with Francis Sorrel, a wealthy plantation owner who built the house. He married Lucinda Moxley who died of Yellow Fever five years later. Two years after his wife's death Sorrel married again, this time to Lucinda's sister, Matilda who committed suicide when she found out about her husband's infidelity with an enslaved woman named Molly. A few weeks later, Molly committed suicide by hanging in her quarters on the estate. The restless spirits of Molly and Matilda haunt the Sorrel-Weed house causing many paranormal occurrences to this day.
Hampton Lillibridge House
Demonic presences and ghostly visions are routinely reported being seen in this house. It is so haunted that owner Jim Williams, an American antique dealer that was the inspiration for the main character in the book Midnight in the Garden of Good and Evil, asked a Catholic Bishop to perform an exorcism on the house, to no avail as it is said that the house is still inhabited by a demonic presence. After four trials for an alleged murder that took place in his house in 1981, he was acquitted in 1989. The book is based on Hansford's murder and Williams' trials for the killing.
432 Abercorn
Although a private home, this house is the site of a triple homicide and of a slave burial ground. One of the owners, Benjamin Wilson left his six-year-old daughter tied to a chair for days until she died of exhaustion. Many rumors abound about this house including one that Anton LaVey tried to purchase the house to use it as the East Coast branch for his organization, the Church of Satan. Visitors report hearing voices and laughter and seeing strange orbs of light.
These are just a few of the best-haunted places to visit in Savannah where you can enjoy some spirited good fun. Today Savannah offers unparalleled Southern hospitality and charm that is coupled with interesting shops and attractions, excellent restaurants, and a dash of ghostly fun.