Travel Tip Tuesday | Cruise Safety
Ways Cruise lines are Keeping Passengers Safe in 2021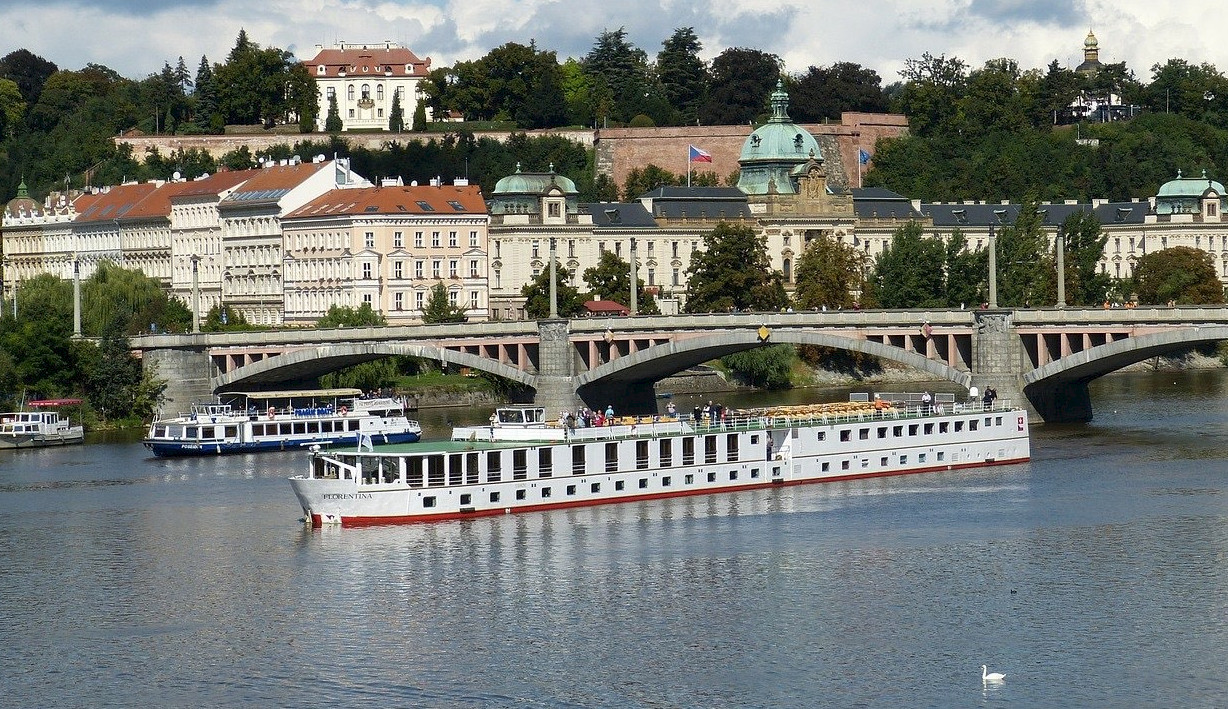 We all know that vaccines are around the corner and that travel is happily on the horizon! If you want to take a cruise you are probably wondering if you should in 2021 or 2022 and, more importantly, how to decide what cruise ship to take and where to go.
Tours of Distinction's staff has thought long and hard about what cruises to offer our clients. We have developed a checklist of cruise protocols that we look for.  We have divided our checklist into four basic categories with related thoughts, some based on CDC mandates. When we are 100% comfortable that the cruise line is meeting our standards then we offer it in our TOD cruise line-up. We thought we would share what we look for with you to help you navigate this (almost) post world of Covid travel.
On and Off-Board Protocols for Covid - Prevent the Spread
Crew members and passengers are tested three to four days before boarding.
The new CDC gold standard mandates that all cruise ships are equipped with testing laboratories and that crew members and guests are tested daily. This is especially important when touring in different ports of call.
The vessel must have outside, well ventilated single isolation cabins for those that may test positive for COVID in order to stop the possibility of spreading the virus.
Some vessels are asking passengers and crew members to wear computer-based bracelets that record the bracelets of everyone that has been near them. If anyone tests positive, this data can be used to prevent spread. Additional uses of these bracelets could be used to do things like unlocking cabin doors and charge amenities and drinks.
Ship's officers should include a doctor with experience in pulmonary and cardiac care.
All guests and crew members will have to be fully vaccinated once the vaccination becomes available in order to board a vessel. 
Turn Around Time Between Cruises
Tours of Distinction looks very carefully at the time when one cruise ends and another cruise begins. Deep cleaning is imperative especially in public areas as well as in kitchens and cabins. In order for a deep clean to take place, TOD prefers to use vessels that take one to two days for a deep clean rather than one to two hours. At this point, we also prefer cruise lines where cabins are rotated and used on every other cruise to allow for shampooing of carpets and sanitizing mattresses and other items in the room.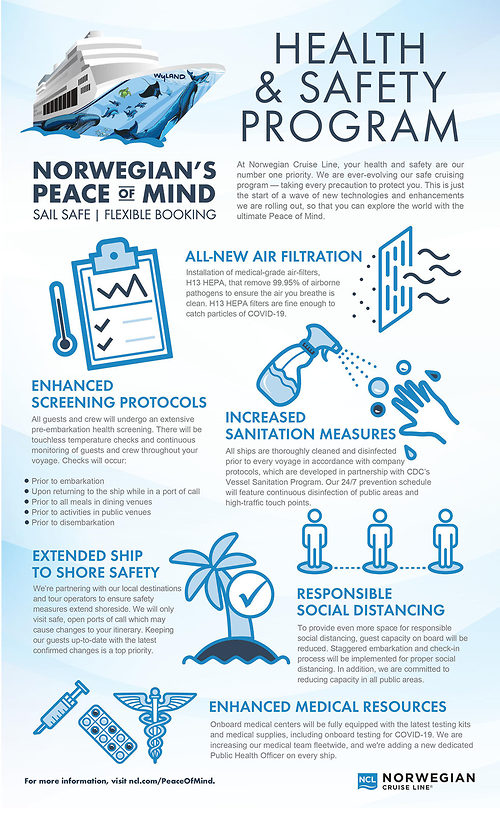 Sanitizing and Social Distancing
According to current CDC rules, masks should be worn by crew and guests even if they have been tested many times. The CDC says it is ok to slip masks down to eat or drink, but not to socialize. 
The CDC also mandates the six-foot social distancing protocol regardless if you are outside on the deck or inside in a public space, no matter how many times you have been tested. Vessels have been reconfigured to make this easier.
Restrooms, high traffic touch-points, spa facilities, deck lounges, and restaurants must be thoroughly sanitized by staff after each individual use.
Implementation of no-touch technology should be made available to make purchases and to check into rooms.
More outdoor dining options should be offered and limited and socially distant dining options be made available with little or no self-serve buffets.
The Itinerary & Destinations
The CDC mandates that each ship should have a report on how it will handle a covid emergency. Ports of call should have one airport, an isolation facility, and or a good hospital. 
No more than 3% of the population of ports of call should test positive. Currently, many ports in the Caribbean and in Asia meets this standard. 
As far as destinations go, be aware that pulling into a port of call depends on the positivity rate. Look to destinations where ports are and have been open. Cruise with an open mind because a port of call could change due to a Covid outbreak so familiarize yourself with what the cruise lines' back -up destinations are to avoid disappointment.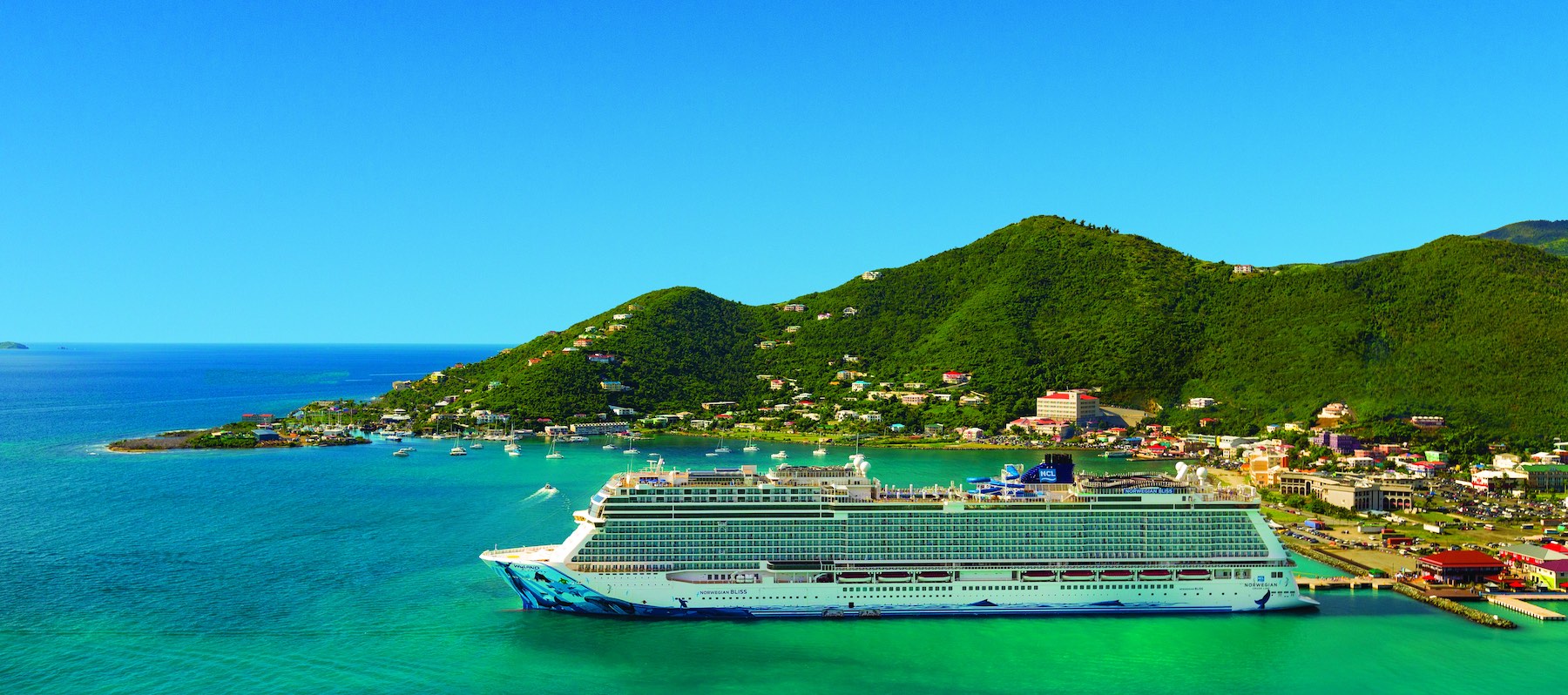 We hope these parameters will help you determine what questions to ask and what to know when booking a cruise. We believe that one of the best reasons to book a cruise is purely psychological. As human beings, we all need something to look forward to. And, if booking a future cruise will make you feel better, we are here to help. We will consider it a mental health priority!
---
Why Tours of Distinction?
50 Years of Travel     |     Custom & Scheduled Departures      |     Mostly Inclusive     |     Over 500,000 Travelers
Learn More (/why-tours-of-distinction/what-makes-us-distinct/)