Burgundy at its Best
There is almost nothing more satisfying than a slow barge cruise through the beautiful scenery of Burgundy, France. The slow pace of the river, the unspoiled landscapes, and the unchanged medieval villages transport you back in time. This area is blessed with some of the most beautiful countryside (and wine) in Europe. This is a destination that everyone should visit at least once in their life.
One of the best ways to do this is from the deck of a luxurious barge - only accommodating a small group of passengers - that has been specially chartered by Tours of Distinction.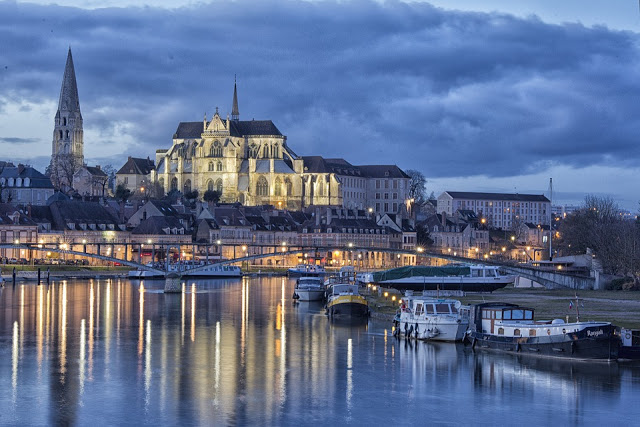 Imagine cruising along the bucolic canals of Burgundy, a journey that offers a diversity of sights from bustling outdoor markets and wine tastings to very special excursions such as a visit to the Royal Saltworks. 
This attraction is a UNESCO World Heritage Site that consists of a complex of buildings that once housed the salt workers. After touring this amazing site, built at the wish of King Louis XV, take time to stroll through the garden before returning to the barge.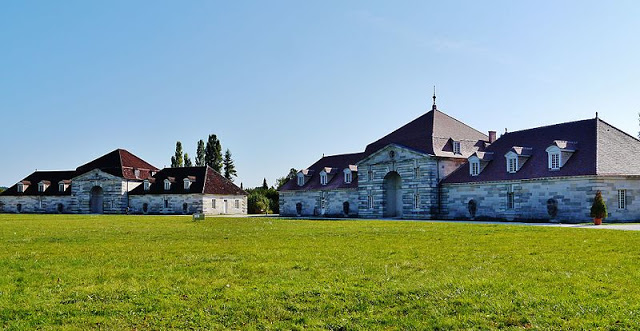 Dole, France
Another excursion, perfect for feline lovers, is the "Trail of the Perched Cat."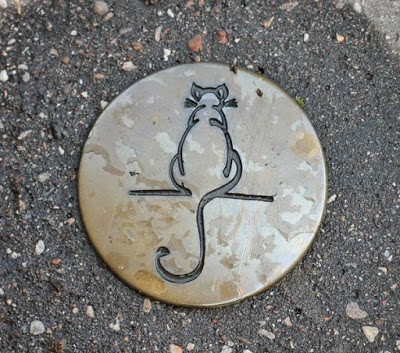 Dole is a small town in the Jura region of France known as "the little Venice." It was once the capital of the County of Burgundy before it became part of the French kingdom in 1678.  Today, visitors enjoy this town's rich cultural heritage and history. One of the best ways to explore Dole is to look for the pavement plaques of a "perched cat" and follow them through this charming medieval village. The Perched Cat is a reference to Marcel Ayme, the author of the tales about the Perched Cat who spent his childhood in Dole. This trail is so much fun because it takes you on a tour of the most scenic and appealing parts of this town.
Dole was also home to another famous man, Louis Pasteur who is best known for his discovery of the rabies vaccine. A visit to his home reveals that he also worked in a number of very different areas from the study of crystals and diseases in silkworms, to the fermentation of beer and wine. A visit to his home offers the chance to view his legacy as a benefactor to humankind.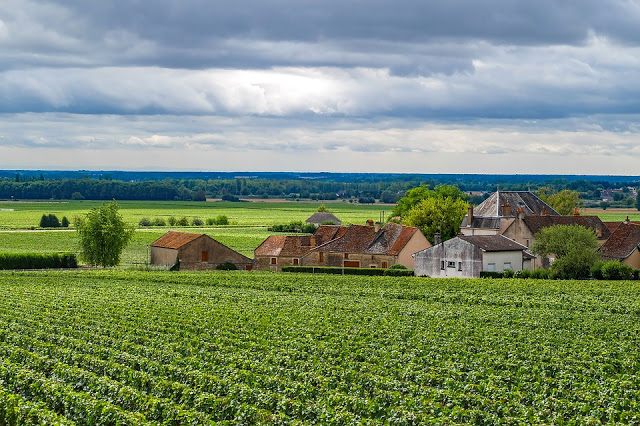 Saint Jean de Losne, France
No barge cruise is complete without a visit to Saint Jean de Losne, a bustling town that is at the crossroads of waterways along the Saone River that was once a mecca for riverboats. Attractions in this quaint town include Saint John Baptist Church built in a whimsical mix of Gothic and Renaissance styles that houses gorgeous stained glass windows and a magnificent organ.  Don't miss a chance to pop into the Sailors House, one of the oldest in town that recounts the history of navigation.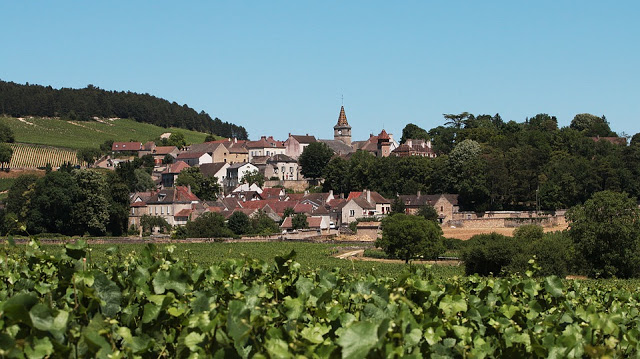 The cruise from Saint Jean de Losne to Petit Ouges is breathtaking because of the gorgeous landscapes of the Saone Valley that go as far as the eye can see.
Imagine quaint chateaus interspersed with sloping hills that are punctuated by beautifully tended vineyards and honey-colored villages mellowed by time. This fairytale landscape is mesmerizing. As the landscape slips by, you cannot but help think…yes, this is the real Burgundy, and then, you sit back and relax, and take in even more of France's most sublime scenery.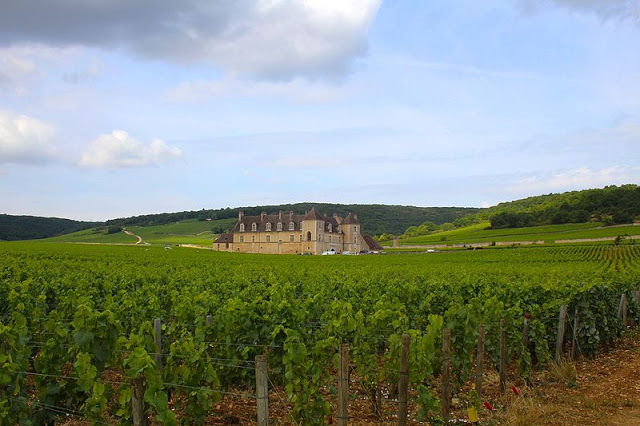 Dijon, France
A highlight of any trip to Burgundy is a visit to Dijon. A must see here is a visit to the iconic Chateau Clos De Vougeot that was built in the 12th century by monks and still houses medieval presses and vat houses, a Cistercian cellar and even original kitchens. In addition to wine, another famous product is mustard! 
Don't miss a stop at the Maille mustard shop that has been in business since 1747. The secret here is that the mustard seeds are macerated in wine, not vinegar.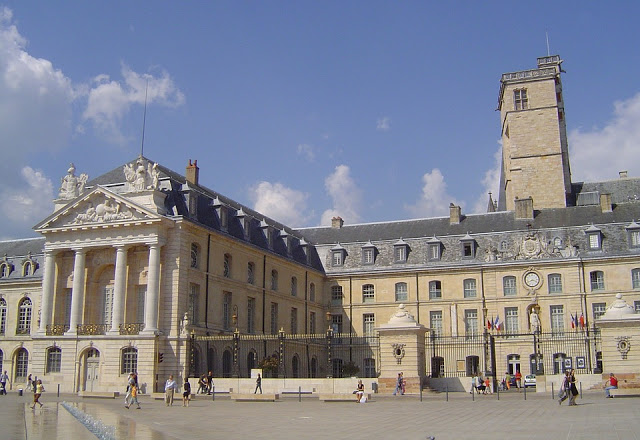 Dijon was the capital of the Duchy of Burgundy in the 14th and 15th centuries who made the city a center for arts and architecture. Visitors today wander down quaint cobblestone streets that lead to sumptuous palaces, gardens, museums, gated townhouses, shops, and restaurants.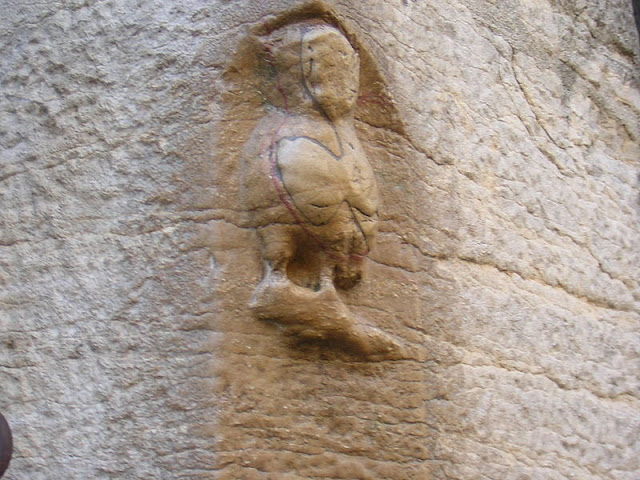 The centerpiece of this city is the Palace of the Dukes that is home to the Fine Arts Museum located near Liberation Square. The owl is Dijon's city symbol and there are three owl trails that lead visitors on a tour of the most historic areas of the city.  When you pass by the owl located by the Notre-Dame Cathedral, built in the 13th century, don't forget to rub it for good luck with your left hand, and make a wish!
About the Tour
This tour departs August 28 and returns September 6 and includes:
All transfers
International round-trip air
1 pre-night hotel accommodation in Paris
1 post-cruise hotel accommodation in Dijon
20 meals (5 lunches and six dinners)
Unlimited beverages including beer, wine, soft drinks and specialty coffee
The six-night cruise also offers shore excursions, unlimited bike usage, and free wi-fi plus port charges and taxes.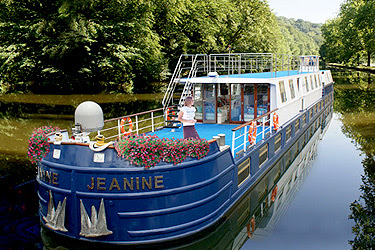 A Tours of Distinction professional tour guide will accompany all TOD guests on this cruise and the gratuities for the Tour Director, Drivers and Local Guides are also included in the cost. The only cost that is not included in this tour are the gratuities for the ship staff.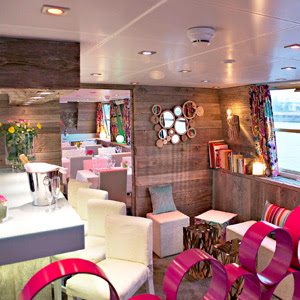 The vessel is the newly renovated MS Jeanine that accommodates only 24 passengers.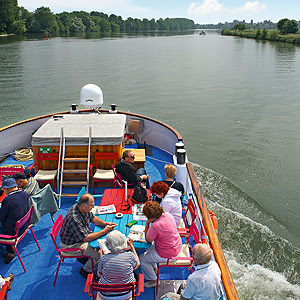 Jeanine has a spacious salon and bar area with comfortable furnishings, a separate dining room and a sundeck wreathed in flowers with chairs and parasols. On the lower deck, there are 12 comfortable cabins with twin beds, ensuite bathrooms, and large opening windows.
A perk of this trip is that guests on board will sample 24 different wines and 18 different kinds of cheese.