Travel Tips - How To Choose The Best Seat On A Motor-coach!
How to Choose the Best Seat on a Motor-coach!
Traveling with a group in a motor-coach is fun and entertaining. Sometimes getting to your destination is half the fun - especially when traveling with old friends or making new ones! There are a few tried and true techniques to snagging the best seat on the motor-coach to make the time fly by.  Although everyone has their own preferences, here are a few things to keep in mind.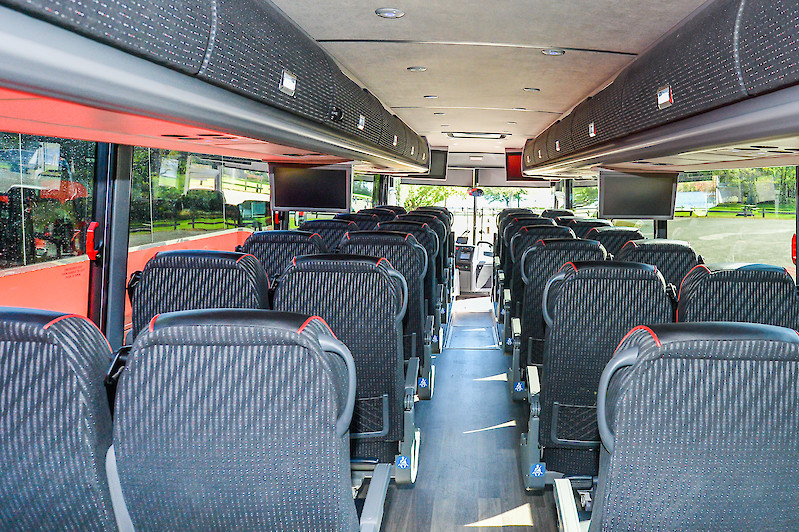 Aisle or Window

Some folks love to gaze out the window, others like to stretch out a bit more by taking an aisle seat. Your leg room and bathroom access is limited if you choose the fine view of a window seat. If you choose the aisle, not only will you have more legroom, but you can get up and down as much as you please. The drawback to an aisle seat is that you could get bumped into by passengers walking by.
 

View of the Screen

If you enjoy watching movies while you travel and your motor-coach is equipped with a large screen monitor, be sure to snag a seat with a good view of the screen.
 

The Restroom

Depending on the length of your journey, take note where the restroom is. Being somewhat close can be helpful, but you also run the risk of being bumped by passengers waiting to use it.
 

The Sun

When you get on the motor-coach, if it doesn't have shades or tinted windows, figure out which side of the bus the sun will be on during your journey. If you don't want the sun beating down on you, sit on the other side!
 

Last Minute

If the bus isn't full, ask your tour director if you can change your seat.
About Tours of Distinction
For more than 45 years, Tours of Distinction has understood that your vacation time is precious. Travel is a way of life for our team members and we want to share our discoveries and in-depth knowledge with you. Our clients seek authenticity and our team's expertise and hands-on assistance will ensure that your journey with us is fun, fulfilling and that it fits your budget.  Our goal is to make sure that every day of your journey with Tours of Distinction is the best that it can be.
For almost a half a century, Tours of Distinction has offered a diverse collection of small escorted group and individual tour itineraries carefully crafted by our Professional Travel Team. We specialize in everything from carefree day trips and multi-day adventures to 7-14 day journeys of a lifetime, nationally and internationally. Whether you are a first-time traveler or a seasoned globetrotter we are here to provide you with expert service because when it comes to travel, service and our years of experience make all the difference.