Around the World in 10 Cocktails
How to Travel the World With These 10 Cocktails
In the "spirit" of traveling the world, we decided to whip up a few of our favorite cocktails from around the world! Sipping your drink of choice may remind you of places you have been or those destinations that you dream of visiting. If you don't have all the ingredients, many package stores are offering curbside pick-up and, there are services such as drizly that offer home delivery.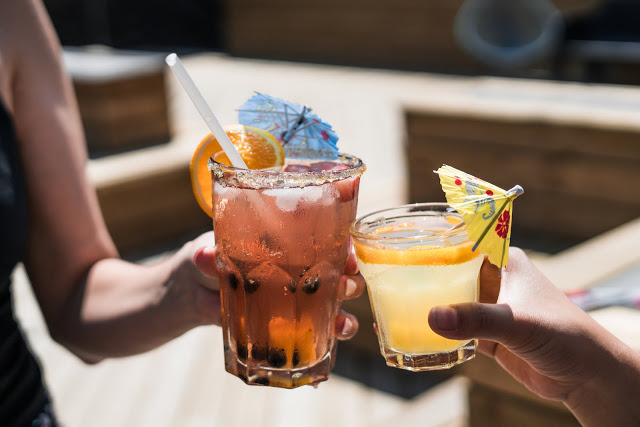 Here is our list of the top ten drinks that will make you feel like you are on vacation! If you try one of these drinks, you just might feel transported to one of your favorite destinations regardless of the weather outside and your surroundings!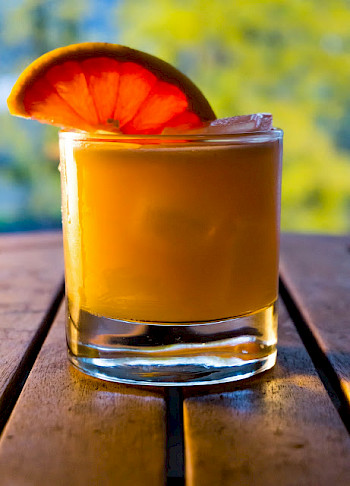 The Caribbean's Rum Punch - Zesty and Delicious
This drink, that brings to mind the Caribbean has a 400 plus year history. The word punch is thought to have its' origins in the Hindi language of India that refers to five elements. The perfect rum punch has to have five elements to be authentic - sweet, sour, alcohol, water, and spice. One of the most valuable spices in the world at that time was nutmeg, the traditional spice used in a rum punch. Nutmeg was introduced to England and, later brought to the Caribbean by sailors from the East India Company. As soon as England colonized sugar-producing colonies, rum was made and became more popular than beer or wine. Rum punch as we know it today dates from 1655 when Jamaican rum produced in the West Indies became the drink of choice, worldwide and was mixed with lime, sugar, water, and nutmeg.  Rum punch is traditionally made with one part lime juice, two parts simple syrup or sugar, three parts rum, and four parts water and ice. The drink is topped with Angostura bitters and nutmeg.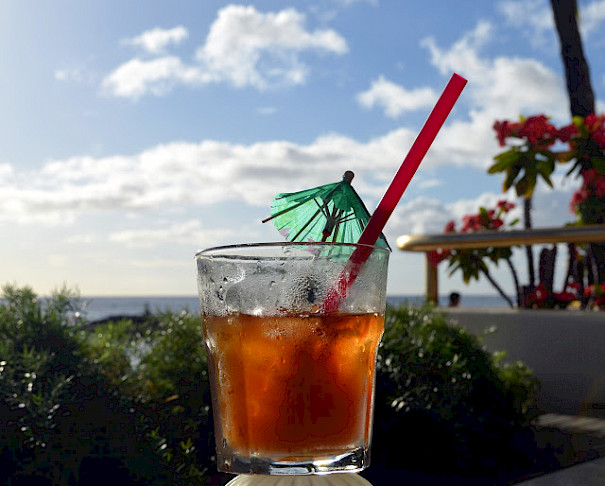 Hawaii - Mai Tai Sweet & Smooth
A sip of this drink brings visions of Waikiki Beach, Don Hoe, and the Tiki culture that was popular in the 1940s and 1950s.  Trader Vic created the tiki culture with his popular chain of Polynesian-themed restaurants that spanned from Seattle to Havana, Cuba in the 1940s - early 1960s. As the legend goes when Trader Vic first created and served the Mai Tai to some of his friends from Tahiti, they exclaimed "Maita'i roa a'e," that means, "out of this world" and, as simple as that this drink was named! In 1953, the Mai Tai arrived in Hawaii and was the star cocktail at the Royal Hawaiian and Moana Surfrider Hotels. The Mai Tai played a prominent role in the 1961 film starring Elvis Presley called Blue Hawaii and, was a favorite of President Richard Nixon!

The traditional Mai Tai has lime, rock candy syrup or sugar water, rum, orange Curacao, and orgeat syrup that has a slight almond flavor. When Trader Vic brought the Mai Tai to the Hawaiian Islands the recipe changed to be more tourist-friendly!  The Royal Hawaiian Mai Tai calls for orange and pineapple juice, orange Curacao, light rum, and dark rum. This drink is shaken until it is fresh and frothy. It is never blended and is served in a wide mouth double rocks glass.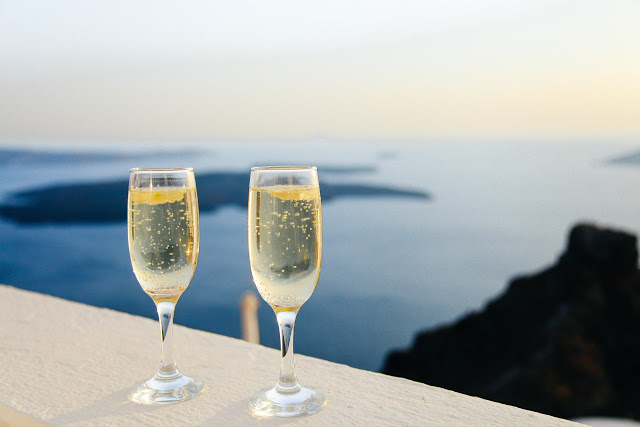 France - Champagne - Time to Celebrate
Champagne technically refers to those sparkling wines that are produced in the Champagne region of France, if it is not from that region, it is not champagne, it is sparkling wine. Believe it or not, Champagne was created by accident back in the day when the region of Champagne was trying to equal the wines of Burgundy. The twist here is that the fermentation process of the stored wine was stopped in the cold winter months. When spring arrived the fermentation process started again and one of the by-products of this process is the formation of carbon dioxide gas that produced bubbles and sometimes made the bottles explode from the pressure.  This sparkling wine grew in popularity and quickly became a favorite of French and British royalty, and then, of people around the world. 

The problem that had to be solved was the exploding bottles! Dom Perignon did not create champagne but he did help standardize production methods to avoid exploding bottles by using thicker glass bottles that withstood the pressure and a rope snare that helped to keep the corks in place. Today champagne is one of the best known, most protected, and least understood of all the wines. It is a celebratory drink that makes its' appearance at weddings, holidays, the coronation of kings, and the launching of ships. Ernest Hemingway enjoyed 4 ounces of champagne with 1 1/2 ounces of absinthe and called this drink, Death in the Afternoon!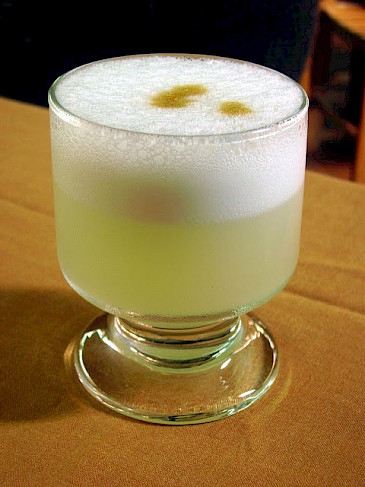 Peru's Pisco Sour - Foamy and Fruity
Peru and Chile have debated for years over where this signature drink originated.  Both countries claim to have created this tasty cocktail, and each country considers it to be their national drink. Most experts agree that the foamy and fruity pisco sour is of Peruvian origin. This drink has a very unique taste that is a mix of sharp tang and sweet.

The drink's name comes from pisco, a yellowish to amber colored brandy produced in the winemaking regions of Chile and Peru that was developed by 16-century Spanish settlers. Historians believe that this drink was invented in Lima, Peru in the 1920s, by Victor Vaughen, an American bartender. In Chile, the drink is attributed to Elliot Stubb, an English steward on the British owned ship called Sunshine.

A pisco sour drink is made with three parts pisco and one part sugar syrup, lime juice, and egg whites. This mixture (that doesn't sound very appetizing but is delicious) is shaken with ice until there is a thick layer of foam at the top. The drink is poured into an old fashion glass and topped with a dash of Angostura bitters. The Chilean version uses pisco, pica lime, and excludes the bitters and egg white.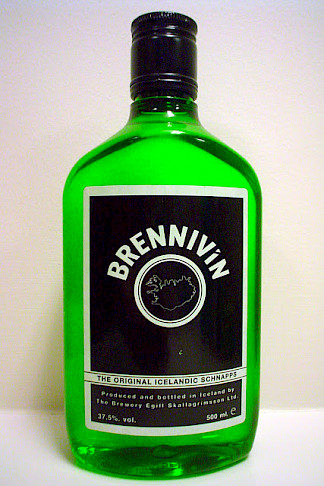 Iceland's Brennivin Aquavit - Sweet and Savory
This unusual aquavit is a clear unsweetened schnapps that is considered to be Iceland's signature distilled beverage that is made from fermented grain and flavored with caraway seeds. Brennivin translates to "burning wine." It has earned the interesting nickname, Black Death because at one time the government of Iceland made manufacturers bottle this liquor in an all-black bottle with a big skull on the front! The result, of course, was that this aquavit became even more popular! Today's bottle no longer displays a skull but the name, Black Death has stuck! Traditionally Icelanders drink this neat with fermented shark, considered a delicacy. 

While drinking a shot of Brennivin is customary, the Icelandic Tourist Board suggests a cocktail called the Arctic Solstice that was created by Villi K of B5 in Reykjavik. This drink calls for two ounces of Brennivin, one ounce of Chambord or Chateau Monet Creme Framboise, and one ounce of fresh lime. Shake these ingredients together with ice, add the mixture, and top with soda water to fill a collins glass. It is fun to garnish this beautifully colored tropical drink with mint and a slice of grapefruit.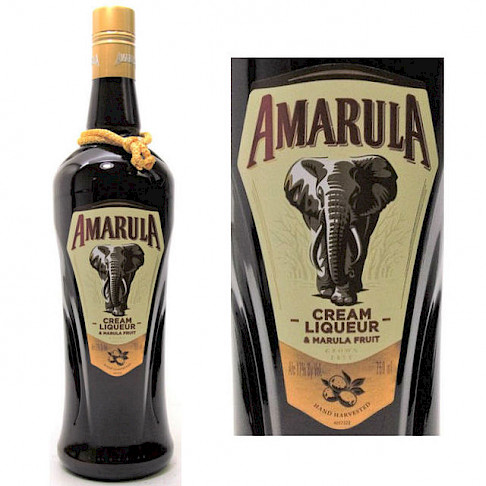 South Africa's Amarula Cream - Favorite of Elephants
Amarula is a delicious creme liqueur from South Africa. It is made from the fruit of the African Marula tree, which is known locally as the elephant tree. Every summer, the Marula tree bears bright yellow fruit. Elephants travel for miles to eat the ripe fruit of this tree signaling that it is time to harvest it. The velvety smooth liqueur made from the Marula tree has a slightly fruity caramel flavor similar to Baily's. 

The marula fruit is hand-gathered, destoned, and then the pulp is crushed and fermented. After the fermentation process is completed, the marula wine is distilled and aged in French oak barrels for two years. These barrels impart a vanilla spice flavor, adding to the uniqueness of this liqueur. After it is aged, dairy creme is infused giving Amarula it's rich, velvety texture.

If you are in the mood for something decadent try an Amarula Brandy Alexander cocktail that can be made with two ounces of brandy, two ounces of Amarula, two ounces of creme and a dash of nutmeg, combine with ice and serve in a martini glass.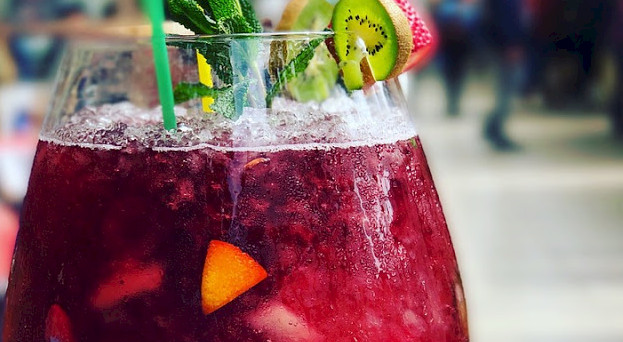 Spain's Sangria - A Fruity Delight
Sangria is as Spanish as paella, the flamenco, and bullfighting. Legend has it that the first vineyards were planted by the Phoenicians in 700 A.D. and expanded by the Romans more than 2000 years later. Back in those days water was undrinkable and was often mixed with alcohol to kill off any bacteria. The first sangria, a word that means blood in Spanish, was made from a red table wine that was mixed with water, sugar, herbs, and spices. Sometimes this mixture was heated and served like a mulled wine. Traditionally, in Spain, this drink is made with citrus fruit, Spanish Tempranillo, and other wine from Rioja. There are many variations of sangria. 

Sangria was introduced to the Americas in the early 1800s and was officially introduced to the United States at the 1964 World Fair in New York. Today Sangria is often thought of as a wine punch that has fruit, spices, and other alcohols in it. Today, under European law, all sangria must be made in Spain or Portugal and have less than 12% alcohol by volume. 

The Food Network's sangria recipe calls for 2 bottles of chilled red dry wine like Rioja, 1 cup of brandy, 1 cup of orange juice, 1/4 cup of sugar, 2 oranges cut in thin rounds, 2 lemons (preferably Meyers), 3 limes (key lime preferred), 2 apples cored and cut into chunks, and two cups of cold club soda. Mix the ingredients together and chill. Serve with ice in tall glasses.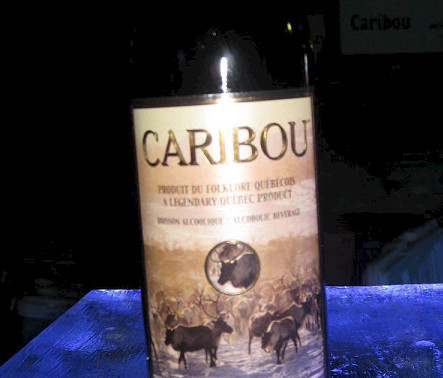 Warm Up to Canada's - Caribou
This iconic Canadian drink originated in Quebec and is always served at the Carnaval de Quebec. This drink dates back to the late 1600s when French-Canadian fur traders transported furs from the deep interior of Canada to Europe and America.  Popular folklore says the drink was originally made from a mixture of alcohol and caribou blood, although it is thought that the trader's red wine was mistaken for caribou blood by indigenous people. This drink kept the fur traders warm as they traversed the snowy landscape of Canada's icy interior. Today, this drink keeps revelers at Canada's winter carnivals warm! One version of this festive and warming drink combines whiskey with red wine and cinnamon and, another version blends port, brandy, vodka, sherry, and maple syrup.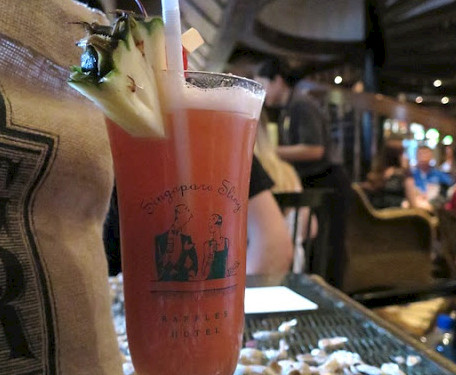 Singapore Sling - Pretty in Pink
This cocktail was created when Singapore was the capital of the British Crown Colony of the Straits Settlement in the early 1900s at the famous Raffles Hotel. It was an iconic symbol of colonialism created by the Sarkes brothers, hoteliers of Armenian descent. Drinks historian, David Wondrich came across a 1903 reference to this drink that referred to this drink as "pink slings for pale people."

As legend has it a Chinese bartender, Ngiam Tong Boon is said to have created this pale pink gin-based recipe in 1915 and that it was intended for women. The color was more than visual appeal, it also made it seem like women were sipping a refreshing non-alcoholic punch.  It just wasn't "proper" at that time for women to drink! 

According to Wine Enthusiast, the early 20th century Singapore Sling at Raffles consisted of 1 ounce of Raffles Ging, 1/2 ounce Luxardo Cherry Sangue Morlacco, 1/2 ounce of D.O.M. Benedictine, 1/2 ounce simple syrup, 3/4 ounce fresh-squeezed lime juice, 2 dashes of Angostura bitters, soda water to top and a lime wedge for garnish. All these ingredients except for the soda water are put in a cocktail shaker filled with ice and shaken for 20 seconds. The mixture is poured into a chilled highball glass and topped off with soda water and garnished with a lime wedge.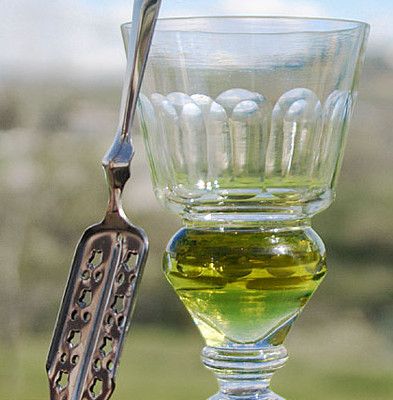 Switzerland & France Absinthe - The Myth of the Green Fairy
Throughout the centuries wormwood was used as a medicine, not as an intoxicant. The ancient Greeks would soak wormwood leaves in wine or spirits and used it to aid everything from women in childbirth to rheumatism, jaundice, and anemia. Absinthe was first made in Neuchatel, Switzerland in the 18th century. This anise-flavored spirit is made from wormwood, green anise, sweet fennel, and other medicinal and culinary herbs. The recipes remain highly guarded secrets.

Absinthe was used by French soldiers in the 1830s when France expanded into North Africa. They were given wormwood to prevent dysentery and to treat fevers. The soldiers began to spike their water with absinthe and dubbed it "une verte" for its distinctive green color. Returning to France, they brought their taste for this drink with them and introduced civilians to absinthe.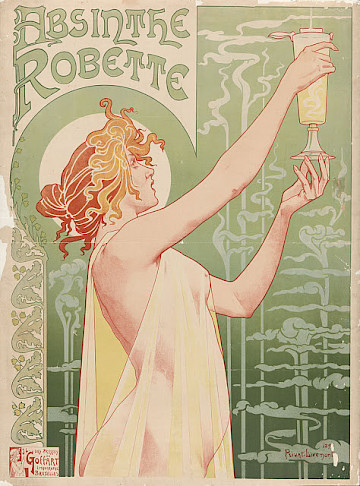 This drink became the rage of all the salons in Paris and was popular with artists, writers, poets as well as with all classes of society. It inspired paintings and poems. Legends grew about its long history and hallucinogenic effects adding to its allure. The mythology of the green fairy of absinthe appealed to people around the world because to them it promised new ideas. Unfortunately, the consumption of absinthe was opposed by social conservatives and considered to be a dangerously addictive psychoactive drug and hallucinogen that was eventually banned because of murder and its degenerative effects on people! It was banned in the United States and in much of Europe in 1915. 

Recent studies have shown that the psychoactive properties of absinthe were greatly exaggerated and a revival for this drink began in the 1990s. Today more than 200 brands of absinthe are in production and it is once again legal in the United States and throughout the world.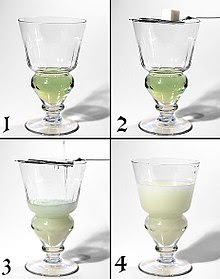 The traditional French preparation of absinthe involves placing a sugar cube on top of a specially designed slotted spoon and placing the spoon on top of a glass filled with absinthe. Ice water is poured over the sugar cube and mixed with absinthe which magically turns into a milky opalescence color. The water and sugar bring out the herbal essences of is pale green drink. One sip and you will understand why it was so popular!
*You must be 21 years of age or older to consumer alcohol in the USA. Please drink responsibly.