Amish Country: A Simpler Time
Words by: Diana Ballon | Images by: Diana Ballon and Rick Eckley
On a hot July morning, my husband, two kids and I load up the car to make the seven-hour drive from Toronto to northeast Ohio, where we will be sharing the road with Amish on bicycles and in horse-drawn wagons. Here in Holmes County and the surrounding area, about 48,000 Amish live, the largest population of Amish in the world.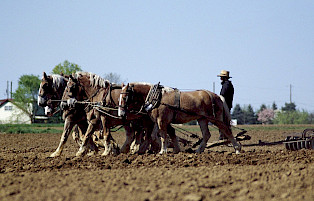 I have chosen to visit Amish country en route to visiting family in Columbus because I want to introduce our children to an alternative community where simplicity, closely-knit family values, community-mindedness and the church are privileged over what see as "modern advancements." Although the Amish lifestyle can vary substantially depending on the order, among most Amish orders here, there is no electricity: no Blackberry, no home phone —much less a cell phone (though many do share use of a phone booth).  Instead, the people live lives of austerity, hard work, simplicity and thriftiness.What I am first struck by is the beauty of this countryside.
We drive the rolling hills, past red barns and silos, diamond-shaped road signs indicating tractor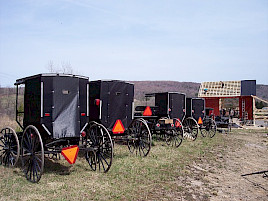 crossing, alongside pastures of horses and patchwork fields with black and white cows.
Simple clapboard and vinyl-sided homes sit quietly on crooked side streets, interspersed with the occasional one-room school house. Occasionally, you can catch a glimpse of the women and girls dressed in bonnets with chin straps, what are referred to as "coverings," and boys and long-bearded men in straw hats.
Over the next four days, we travel along back country roads, eating traditional Amish cooking at local restaurants, and visiting the many quilting, hardwood furniture, leather and cheese shops that reflect the produce and workmanship of the Amish and Mennonite who make up about 85 per cent of the population here.
Our first two nights we stay at the White Oak Inn, the main building originally a lovely arts and crafts style home, built from the white and red oaks that surround it. The inn is located eight miles outside the town of Danville, and just outside the hub of Amish community. What I love here is the stillness. You can hear it. We stay in a lovely guest house, formerly a chicken barn, which is adjacent to the main inn, and next two luxury log cabins. During the day, the kids feed crackers to Buster and Butterfly, the sheep in the barn, and at night, they catch fireflies in jars.
"The Amish exist because of a community mindset, and to express individual thought out of the expected norm is considered prideful and rebellious,"
Innkeepers Yvonne and Ian Martin, who moved here from demanding jobs in Ontario, are the perfect guides to all things Amish in the area. They provide lists of suggested tours of the area, and feed us massive country breakfasts in the mornings that keep us nourished much of the day.
Our first evening, we eat dinner at Spearman's—an intimate old school diner only five minutes from the inn, which has been converted from an automotive service centre, and is now part of a Marathon gas station. Its classic home cooking include chicken and dumplings over mashed potatoes with gravy, and other comfort food with a choice of about 20 different pies for dessert. Servings are massive, and prices are bargain basement.
The next day, we follow our GPS around more back roads and up a steep hill to Holmes County Pottery, where artist Cary Hulin sells beautiful craft pottery—microwave-safe bowls, mugs, birdhouses, casserole dishes, beer steins and other wares that he crafts and finishes in a Korean-style kiln he built himself.
We visited nearby Bowden Bells, where Jan Bowden has created whimsical garden art out of recycled glass and metal, and cool jewellery with pendants made from beer cap lids; her husband Vince has made bells out of fire extinguishers and dive tanks.
That night we stay at the The Barn Inn in Millersburg, which was originally built in 1917 as a barn, and then converted to an inn in 1997. The luxurious Renaissance suite where we stayed has a stunning two-person whirlpool tub lit by an overhead chandelier, and a spacious and elegant bedroom with vaulted ceilings. Perfect to share with the kids.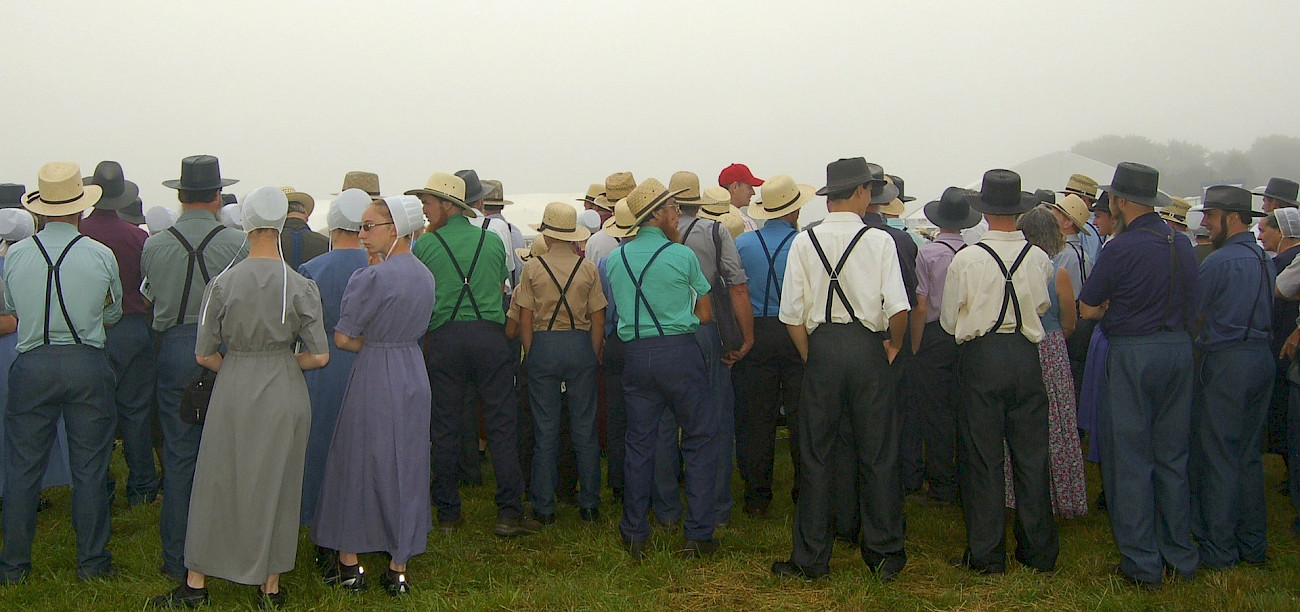 In the morning, I rise early to grab a cup of coffee in the front room, and discover the innkeeper Loretta Coblentz in the kitchen, preparing breakfast for her guests. I sit in the doorway with my mug of coffee, while Loretta regales me with stories about her and her husband Paul's own experiences within the Amish community, and other topics related to Amish life.
She tells me about the traditions of the church and whether the Amish pay taxes (they do)—the same kinds of topics she speaks about when addressing her guests every morning [in the dining room], as they finish up their breakfast.
"The Amish exist because of a community mindset, and to express individual thought out of the expected norm is considered prideful and rebellious," says Coblentz. However, according to an old order Amish staff-person at the Amish & Mennonite Heritage Center, only about 15 per cent of the Amish leave the community and even then, some of them return.
Because Amish families are large, and "the vast majority" stay in the community, the population continues to double every 21 to 22 years, according to an Ohio State University study of a 2010 religious census. By 2050, the researchers predict that there will be more than a million Amish people.
I hope, as the population increases, that this unique and peaceful community will continue to quietly challenge outsiders' own assumptions about what it means to be advanced.