Discover the United Sates Piece of Germany
Frankenmuth, Michigan. Little Bavaria in America.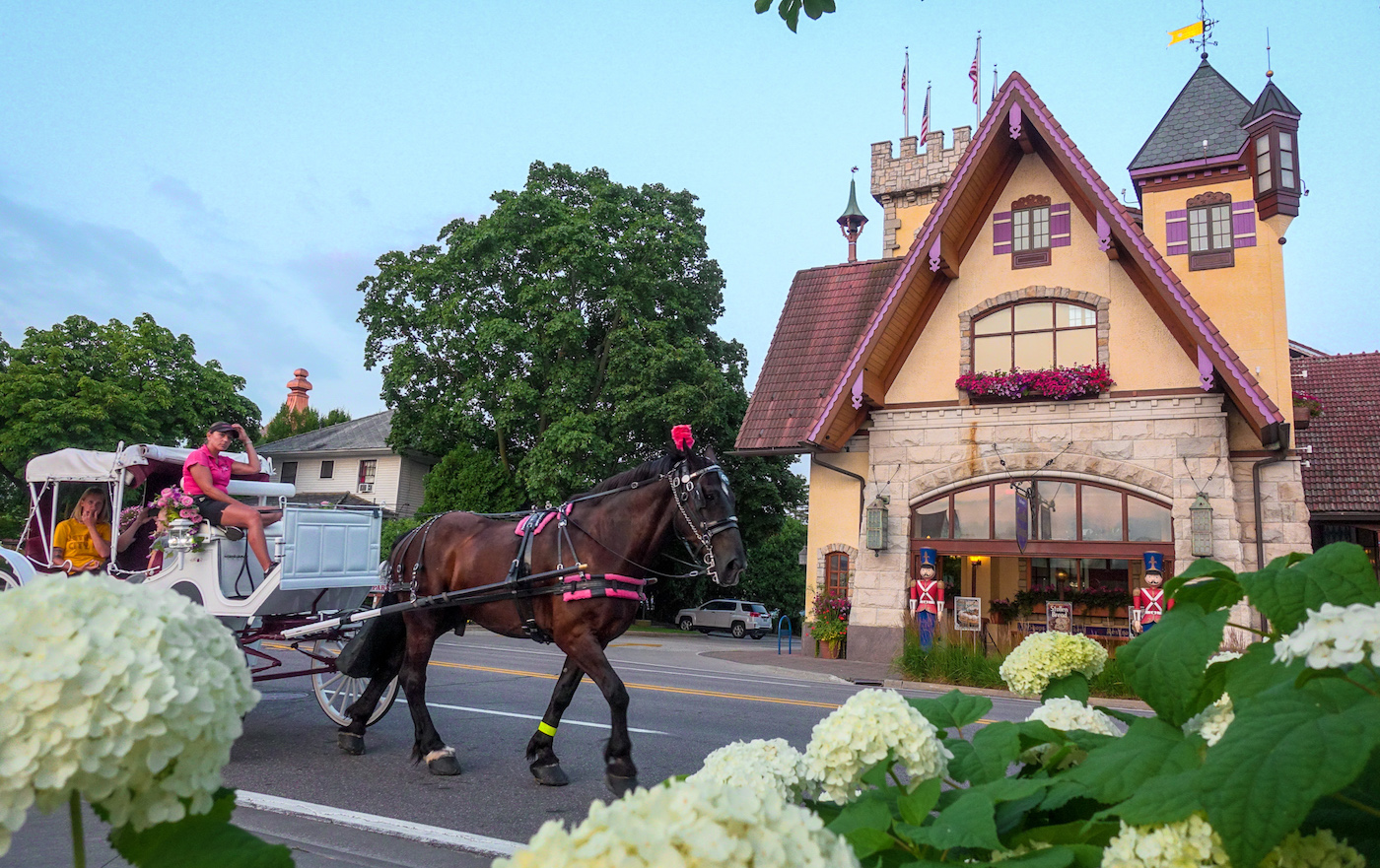 Just because you might not be planning a trip to Germany, that doesn't mean you have to curb your wanderlust. There are so many destinations all around us in the United States, all we have to do is look! One of those destinations is Frankenmuth, affectionately known as Michigan's Little Bavaria.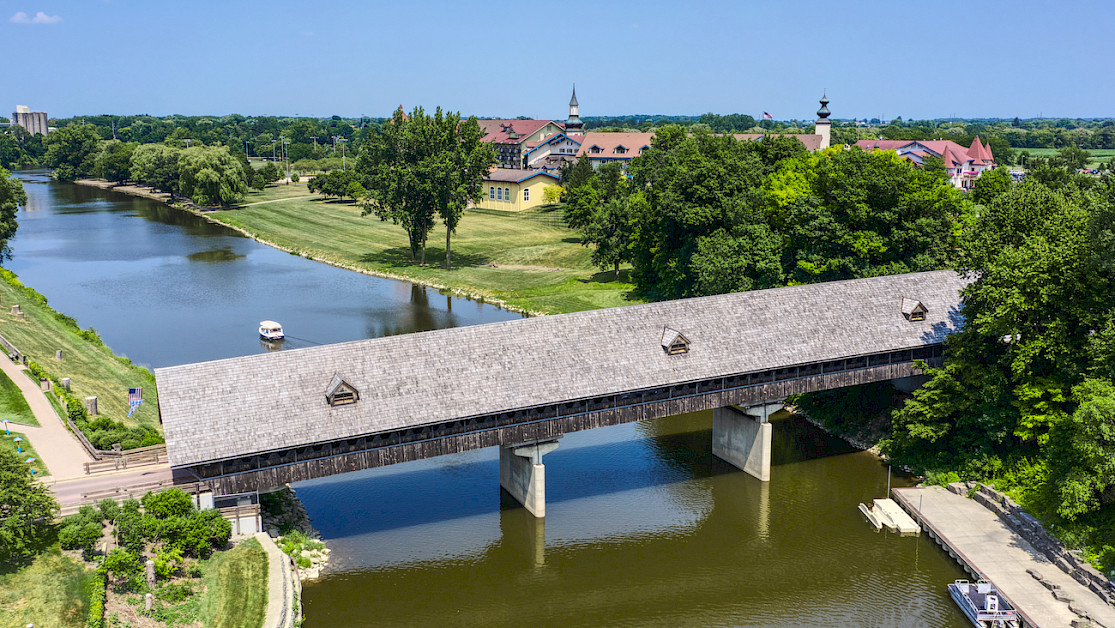 The minute I saw the rustic-covered wooden bridge that spans the Cass River that flows through the town, I was captivated. I felt as though I was transported to a small German hamlet on the Rhine. I couldn't wait to discover every nook and cranny this town has to offer. I decided to start my journey of discovery with a river cruise to get the lay of the land and to learn about the history of this exciting town that keeps its' German heritage alive and well.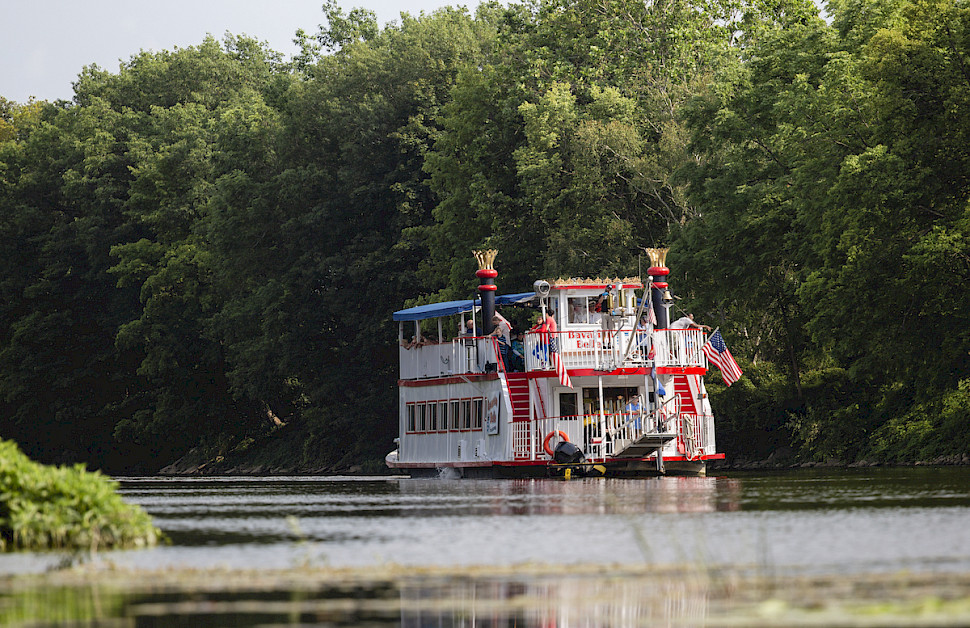 The Bavarian Belle Riverboat is an authentic stern-driven Paddlewheel riverboat and is something that you would expect to see on the Mississippi River. The vessel is comfortable with an enclosed lower deck, bathrooms, gift shop, and snack bar as well as a canopied upper deck that offers splendid views of the surrounding countryside. On this relaxing one-hour cruise I learned about the history of Frankenmuth as the boat plied the tranquil waters of the Cass River. I had a birds-eye view of the scenery from the top canopied deck and even caught a glimpse of some wildlife. The boat docked at the Waterfall at River Place Shops. Stepping off the boat into this colorful Bavarian village, I felt like I was transported to the Alps! There are plenty of unique shops, forty-plus to explore including Black Star Farms Winery and the Grand Traverse Distillery that produce vodka, whisky, and gin. This beautifully landscaped shopping area is a short walk from downtown and definitely worth visiting.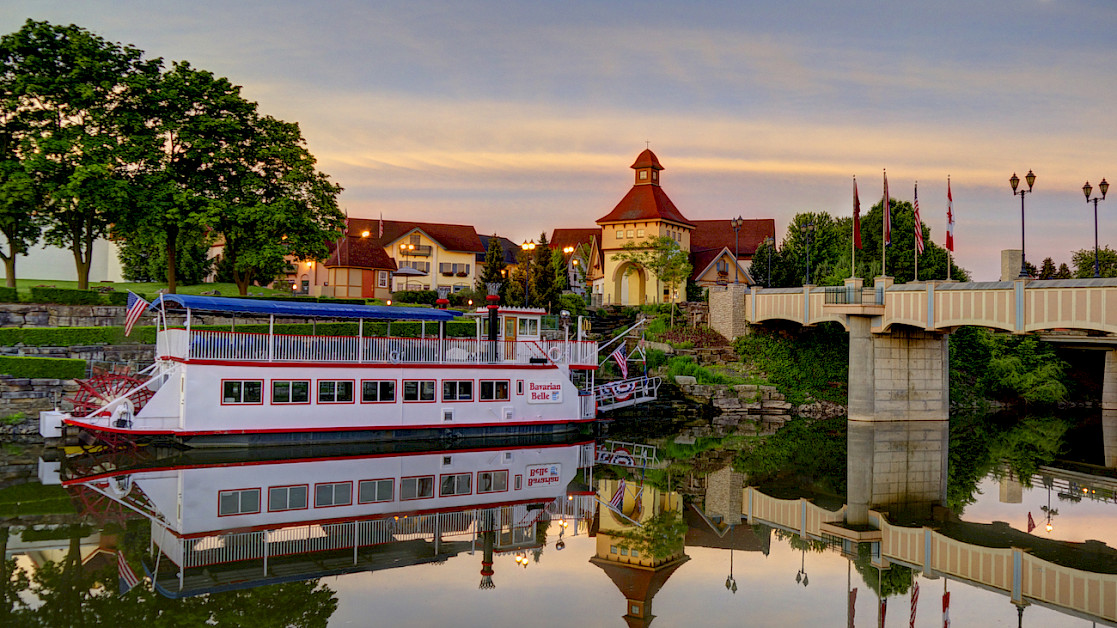 I enjoyed the short and pleasant walk back to the center of town. Best of all it is well signed so I had no chance of losing my way.  Back in town, walking on the streets with German names like Gunzenhausen, Hubinger, and Haas, and seeing people wearing lederhosen and dirndls, I realized that Bavarian heritage here is alive and thriving. People that live here are proud to maintain their heritage, which so many visitors come to enjoy.  I really like that about Frankenmuth. It is a friendly place to visit and one that makes visitors feel immediately at home. To me, that is half the fun of visiting a destination, to get to mingle with the locals and to see how they live.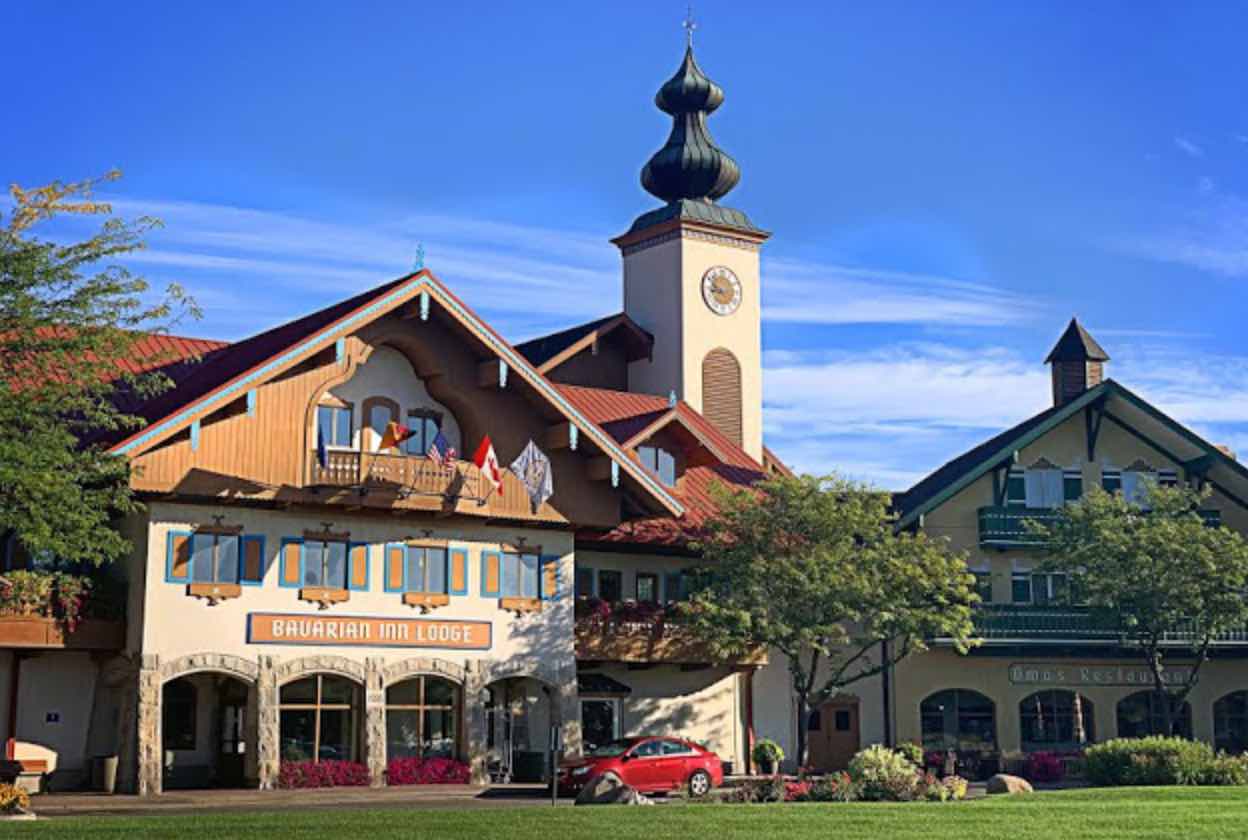 The Alpine architecture is all around me — I feel like I am back in Bavaria because there are so many colorful buildings and shops that represent this treasured heritage.  I like the traditional feel of Frankenmuth… it is authentic. The Bavarian Inn, for example, looks like it was transported from the Alps and is a picture-perfect spot for a memorable photo.  The Bavarian Inn is crowned with a magnificent Glockenspiel Tower that houses a 35-bell carillon, a beautiful figurine movement, and an illuminated clock, all imported from Germany. Before striking the hour, and on each quarter-hour, the clock sounds the five-bell Westminster chime. At Noon, 3 p.m., 6 p.m., and 9 p.m. each day the Bavarian Inn Glockenspiel plays several musical selections that are followed by a figurine movement depicting the Pied Piper of Hamelin. It truly transports you to Bavaria!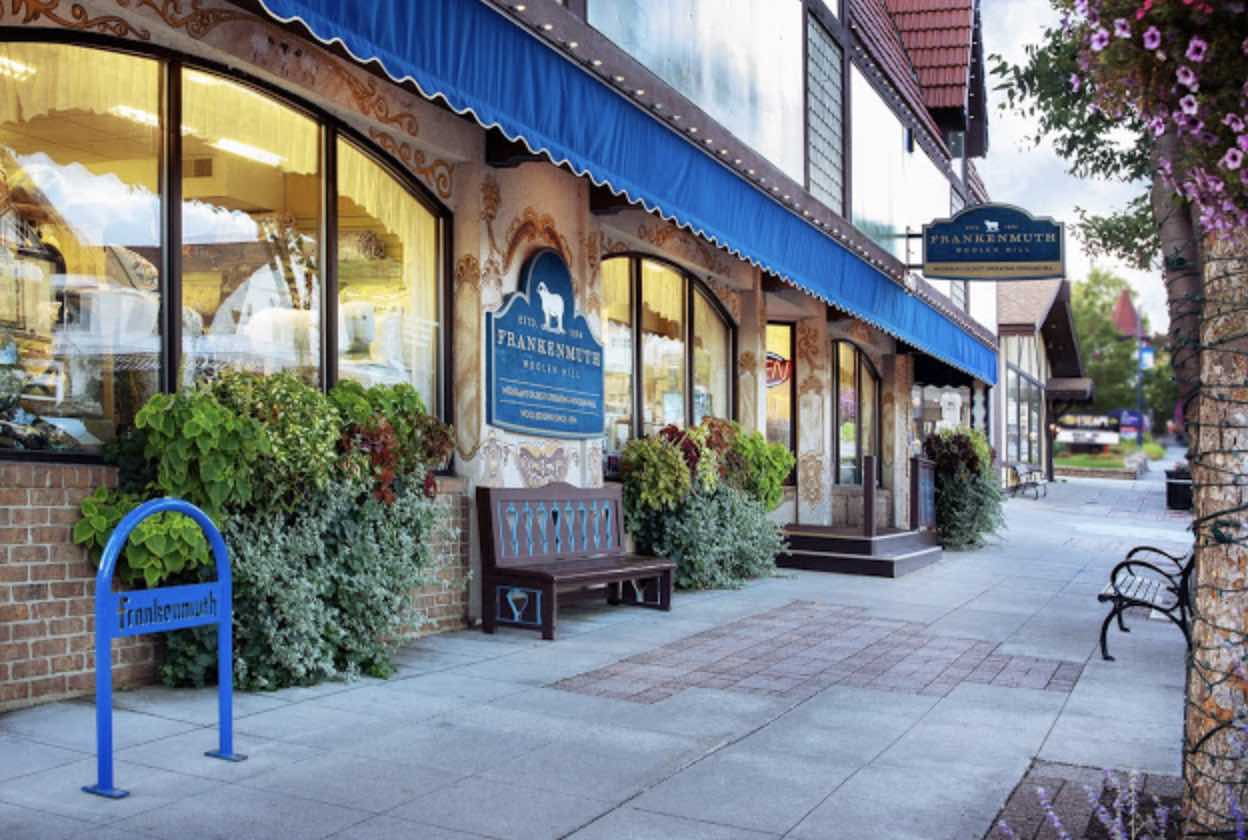 When I found out about the Frankenmuth Woolen Mill, one of the nation's largest manufacturers of wool bedding, located in its original location since 1894, I knew I had to pop in for a quick visit. It was fun to look at the original carding room and see equipment that dates back to the 1800s. This 125-year-old factory came into existence to process wool from local farm flocks into warm, wool bedding.  A short video puts the process of making wool into perspective and points out that wool made here today uses the same production methods as those used by the company's founders back in 1894. Today, Matt and Abby Curtis are proud to be only the fourth owners of this historic mill.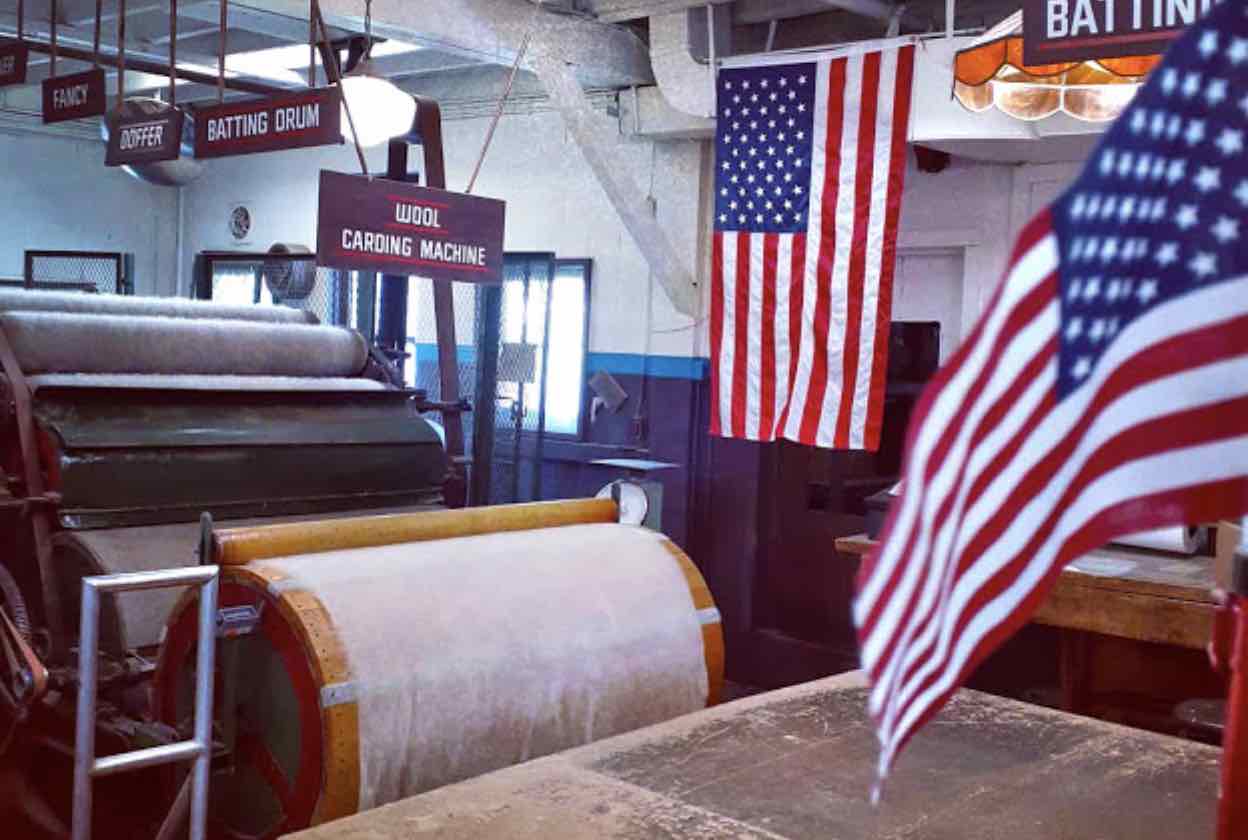 A highlight here is a window in the shop that opens up into the factory where you watch the wool process in action. I was surprised at the amount of work it takes to transform raw wool into the soft, warm fabric that people have been using for centuries. The shop has a wonderful assortment of Heritage lace, fabrics, wool bedding, wool pillows, and colorful quilts for sale.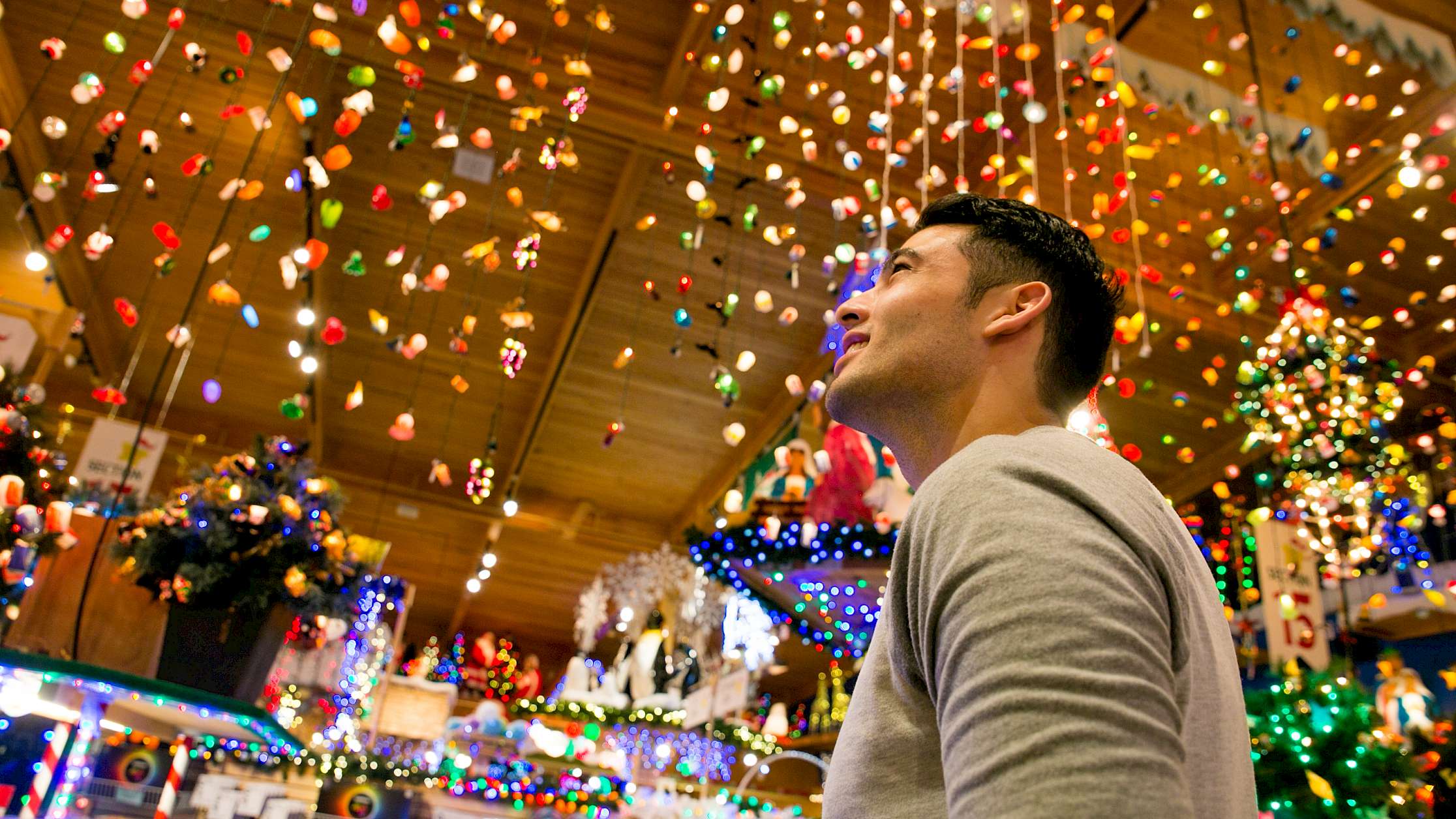 One of the major attractions in Frankenmuth is Bronner's which is a Christmas wonderland of decorations, trims, trees, gifts, and goodies. The business started in 1945 and is the largest year-round Christmas Shop in the world that covers the space of 5.5 football fields with one showroom spanning the length of  1.5 football fields! The main showroom has a jaw-dropping 300 decorated Christmas trees, with 100,000 lights over 6,000 ornaments, 500 styles of nativity scenes, and 150 styles of nutcrackers! I love Christmas and this is Christmas year-round… it is so much fun to browse and buy… I felt like I was on a treasure hunt!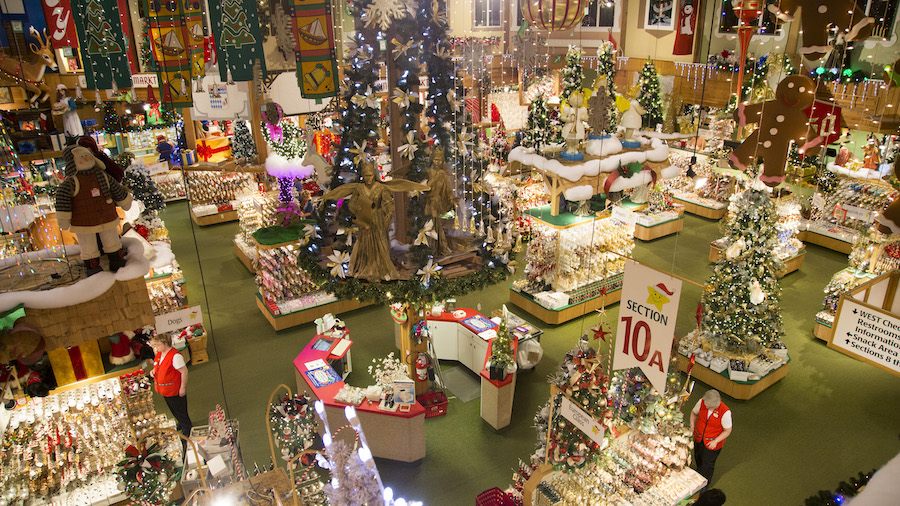 A really unexpected treat was to find artists on hand that could hand paint and personalize ornaments that I picked out for gifts…and for me too! What was even more amazing were the prices …. more than 50% of the ornaments found here are made exclusively for this shop…no wonder visitors from all over the globe make a stop here. Another thing I liked about Bronner's is that it offers something for every budget with many ornaments costing only $10 - and, better yet, two-thirds sell for under $20.  Trust me, you will find some extraordinary ornaments… that you and your friends and family will treasure for years.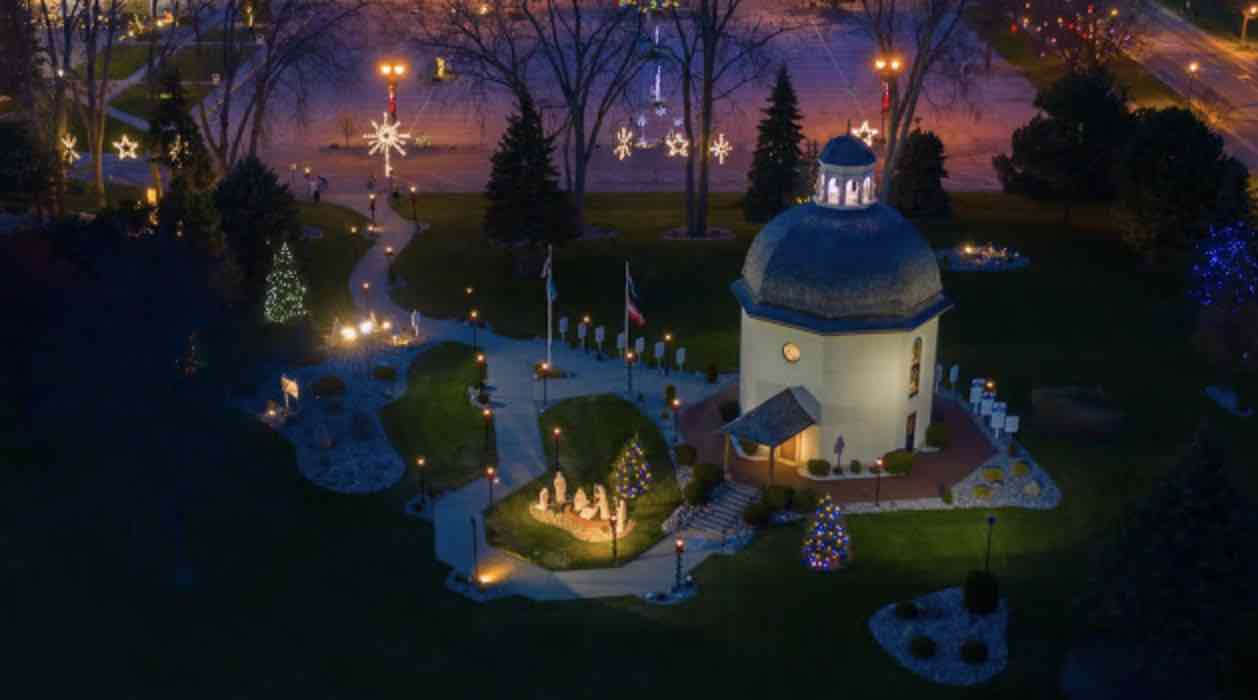 One thing not to miss on the grounds Bronner's is the Silent Night Chapel erected in 1992 with permission from Austria. It is a replica of the original chapel in Salzburg, Austria which marks the site where "Silent Night" was first sung on Christmas Eve in 1818. It was an unexpected delight…that made this experience so authentic. I never expected to see this perfect replica of the Silent Night Chapel here…don't miss it!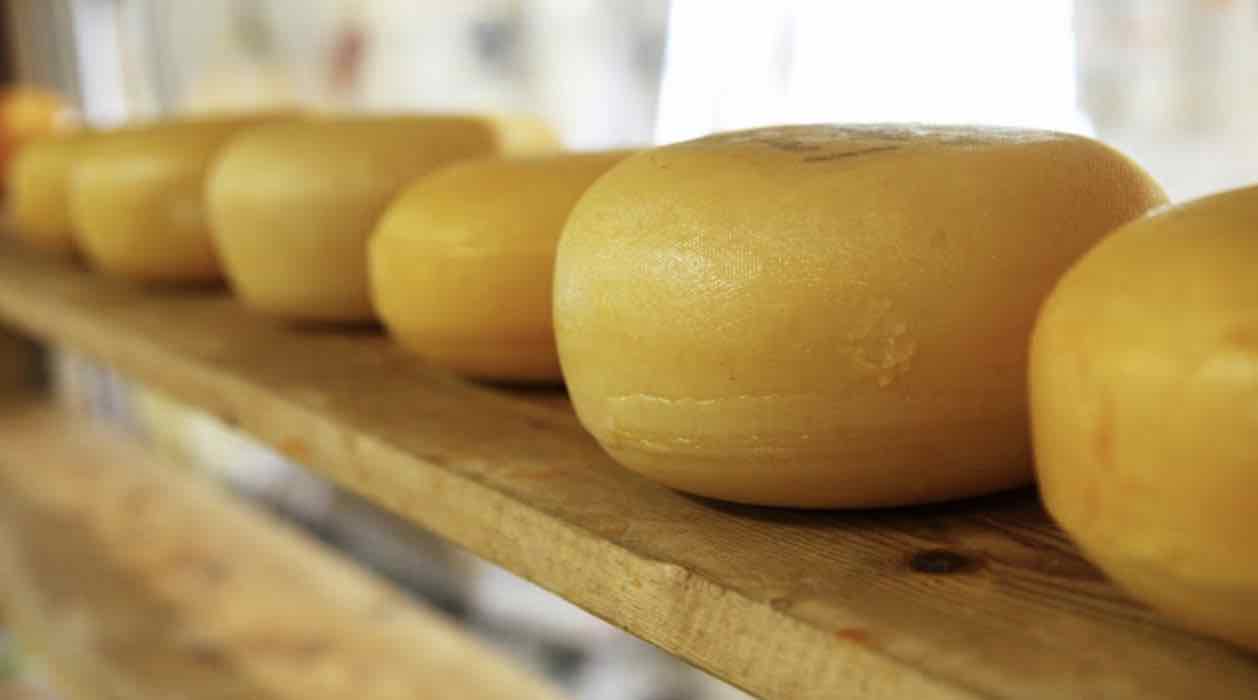 When I think of Germany, and I have visited there many times,  I think of food - cheese and sausages to be precise. Right on Main Street, I found the Frankenmuth Cheese Haus that has been in business for more than 50 years. Here you will find homemade cheese spreads and chocolate-filled cheeses that are too decadent for words. They also carry a mind-boggling array of 270 domestic and imported types of cheese as well as an excellent selection of mustard, pretzels, crackers, and sausages. They also ship worldwide!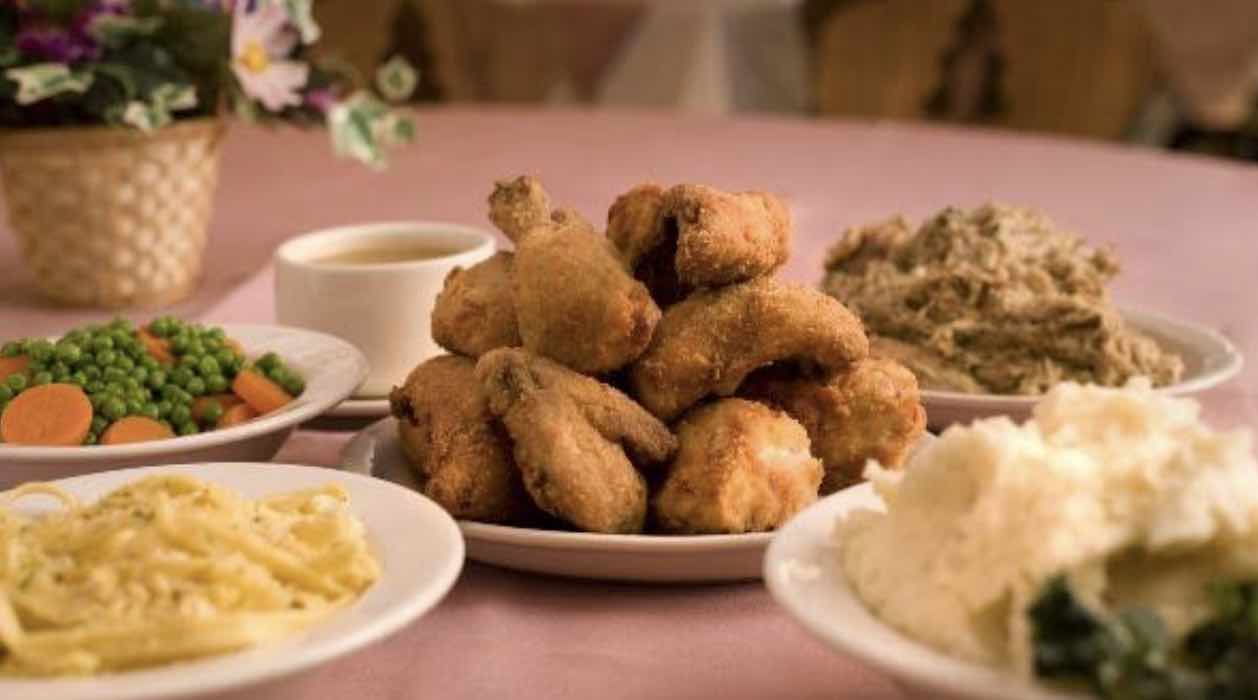 Although you can drink dark German beer and feast on sauerbraten and schnitzel, Frankenmuth has been known for more than a century for serving family-style chicken dinners with side dishes like homemade mashed potatoes with gravy, buttered noodles, vegetables, stuffing, and stollen with cranberry relish served in their own bowls for everyone to heap onto their own plates.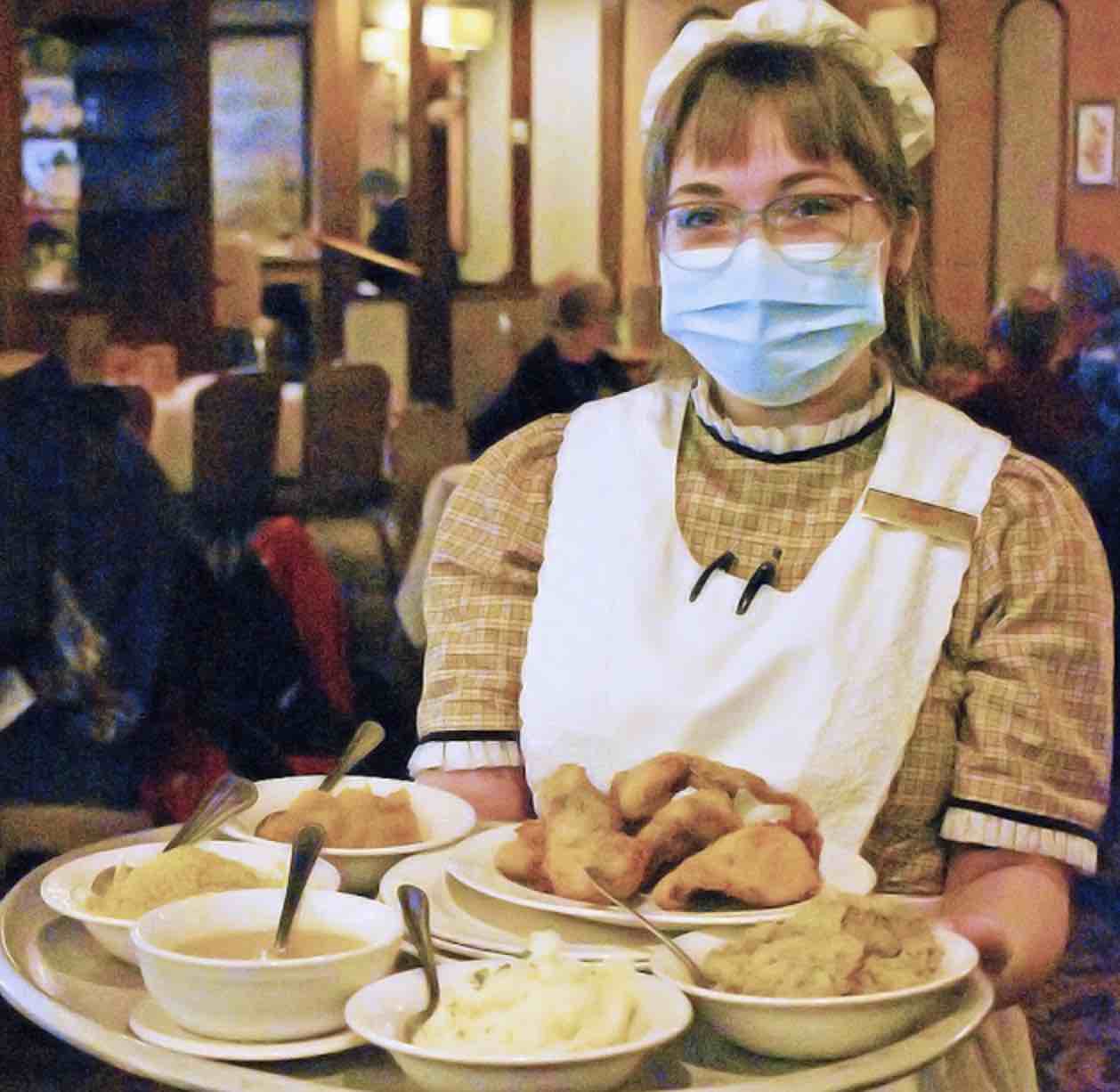 The two restaurants best known for serving this dish are Zehnder's and the Bavarian Inn Restaurant, located on Main Street across the street from one another. In both restaurants, the chicken is parboiled and cut into ten pieces and coated with a light breading then deep-fried. If you can't decide which one to choose, do what I did, lunch in one, dinner in the other! 

Although the chicken dinners are similar in both restaurants the decor isn't. The Bavarian Inn has a distinct Bavarian vibe and waiters and waitresses dress in traditional German outfits. Zender's has a colonial look, think George Washington's dining room at Mount Vernon! At Zender's staff dresses in traditional American colonial costumes. Dining at either restaurant is like a walk back in time where dinner is served like grandma used to - it is a delicious and heartwarming experience regardless of the restaurant you chose.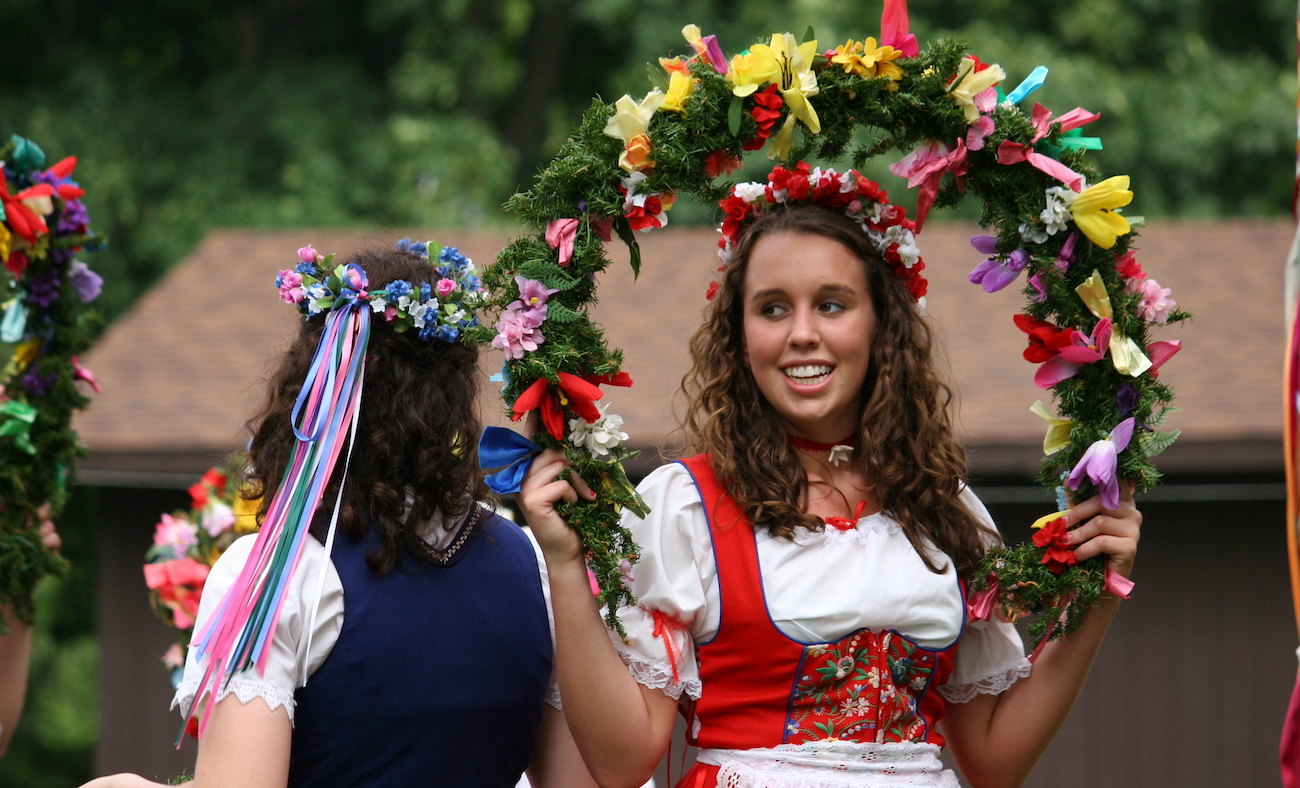 If you want to do something different close to home  - and yet want to feel like you are miles and miles away on another continent, then head to Frankenmuth with Tours of Distinction. You will discover Bavarian heritage, friendly people, interesting attractions, and fabulous Bavarian food right here in America! Proust!